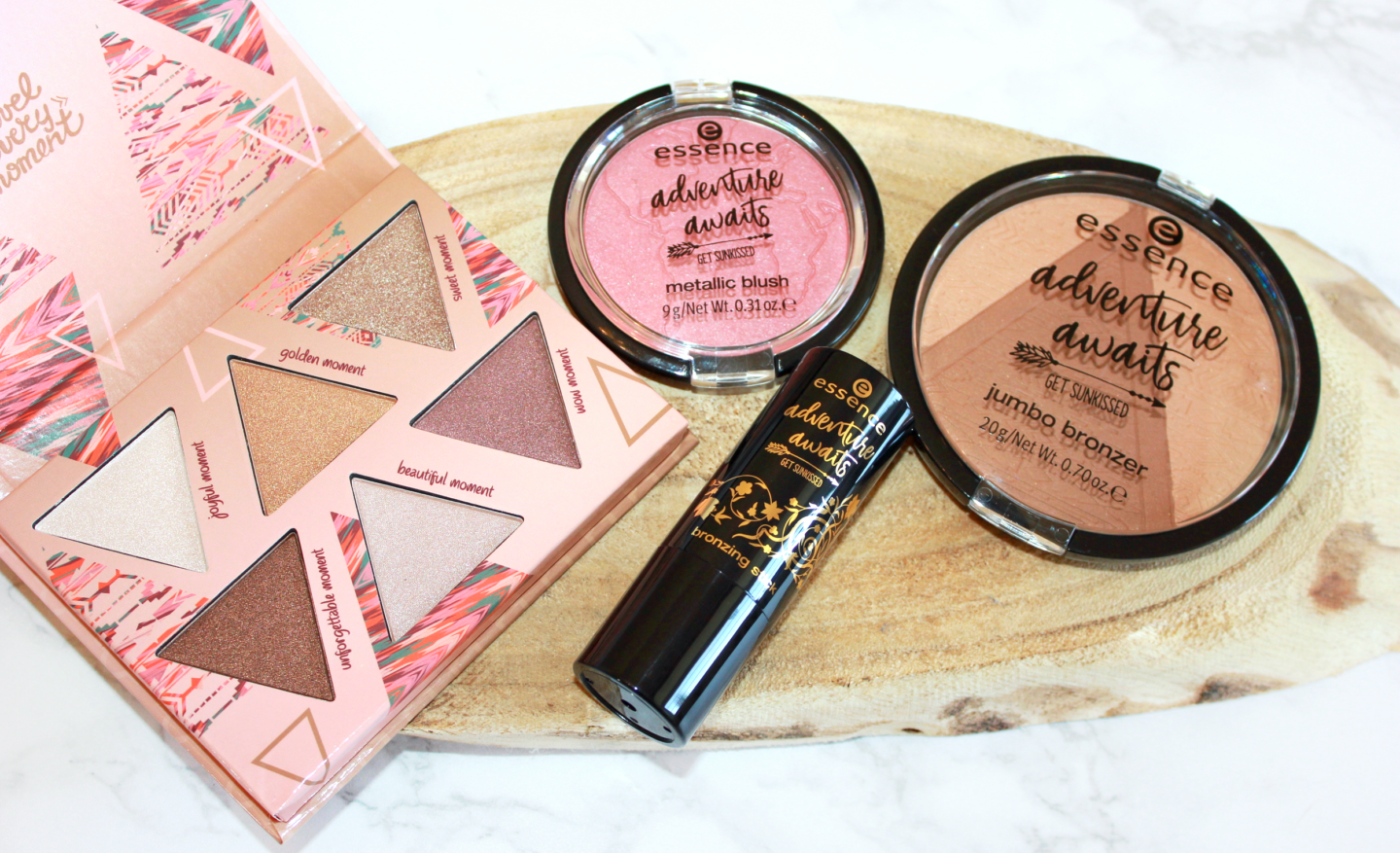 Who's excited for another Essence trend edition review?! I know I am!! This time they charmed our drugstores with their new Adventure Awaits – Get Sunkissed limited edition collection, inspired by traveling, cultures and the all-over adventure that comes with it. From passport holders, nail art, body lotion to bronzers, this collection has got you covered to go on your next adventure! When I saw this beautiful display at my drugstore, I was drawn in by the whimsical design and patterns of this collection, so I decided to pick up a few goodies which I'm sharing my thoughts on today.

BRAND'S DECRIPTION  
Collect moments! Inspired by the beauty of asia, africa and the orient, the new essence trend edition "adventure awaits – get sunkissed" whisks you away on a journey full of adventure. With lively colours, ornaments, ethnic patterns and awesome bronzing products, the beauty pieces reflect the influence of different cultures and create summer looks full of diversity.
ESSENCE ADVENTURE AWAITS BRONZING EYESHADOW PALETTE €4,59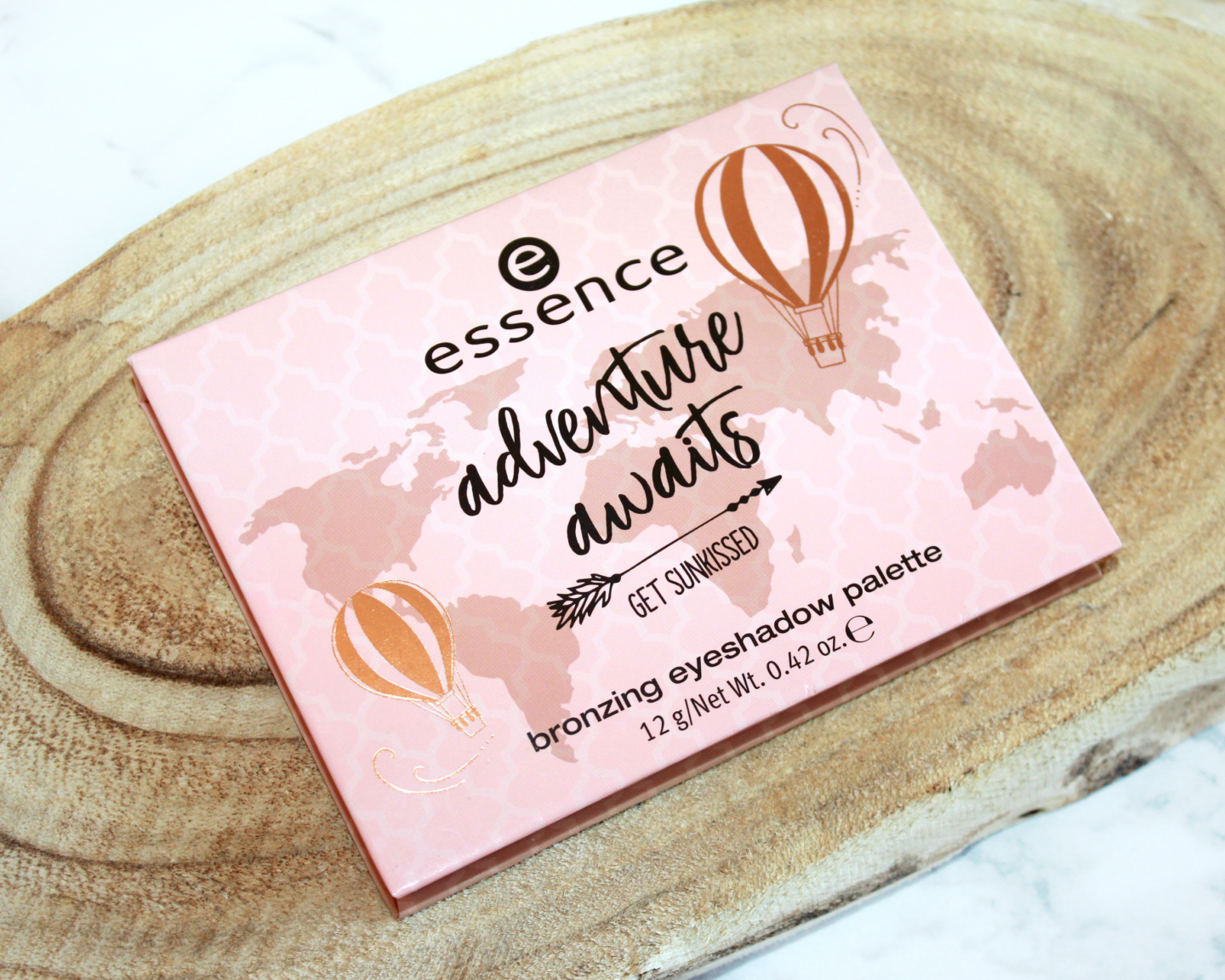 First up we have the bronzing eyeshadow palette, which has the cutest packaging I think Essence ever did with an eyeshadow palette! It's made out of a sturdy cardboard material, closes magnetically and has the prettiest ethnic patterns on the inside and world-map on the front. I've never really seen a lot of these actual eyeshadow palettes by Essence before, but I definitely hope they come out with more of these in the future!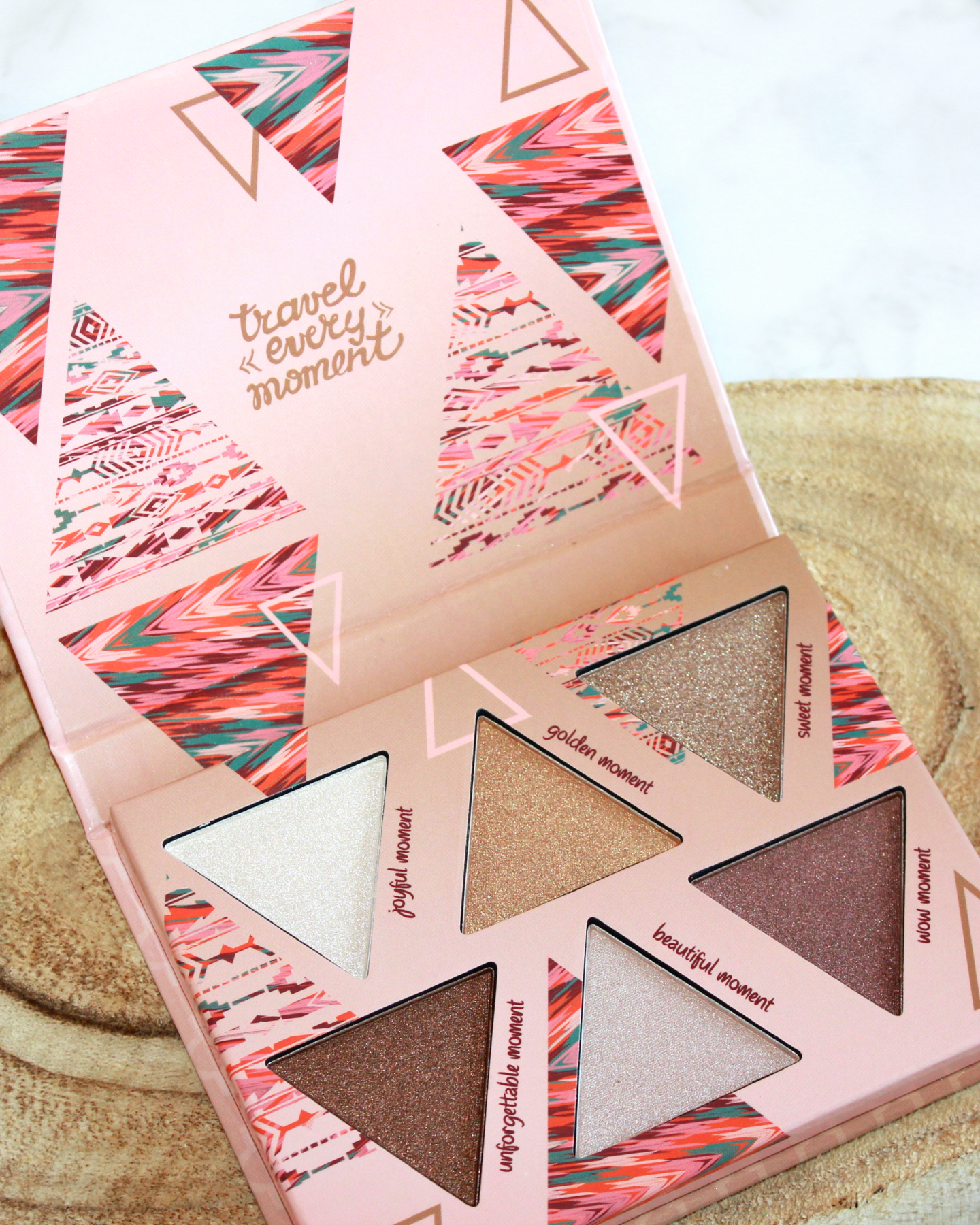 On the inside you get a beautiful assortment of warm-toned shimmery shadows, all in a triangular pan. I thought these shades looked so beautiful and right up my alley. The only downside with this palette is that there are no matte shadows, only shimmery. I like a palette to have everything I need and with this one I'll have to use another in conjunction. It's not the end of the world, but definitely worth mentioning!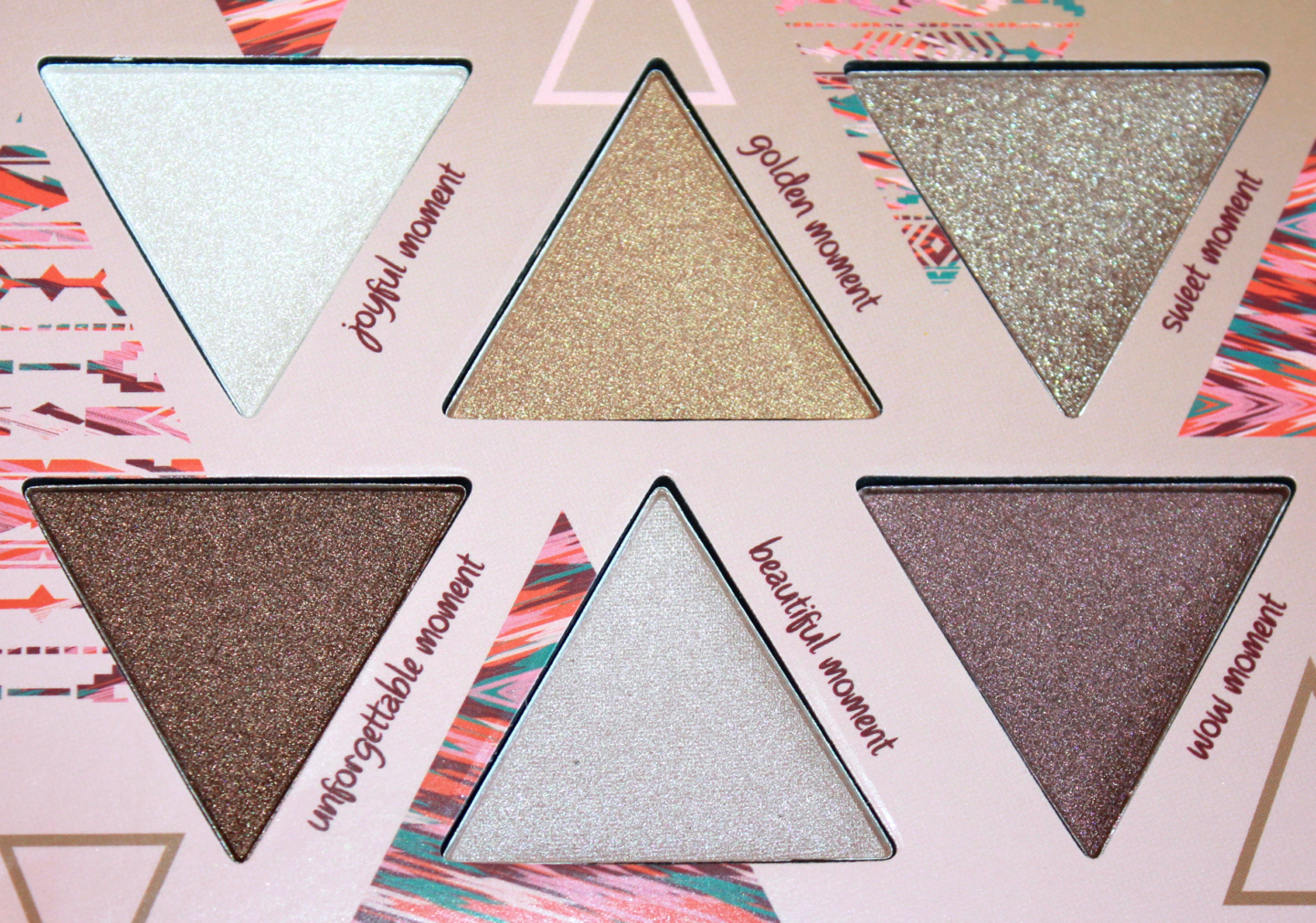 What I love about this shade selection is that there's quite a nice range of bronze tones in this palette. You have a few lighter shades, medium shadows and then also your deeper smokey shades.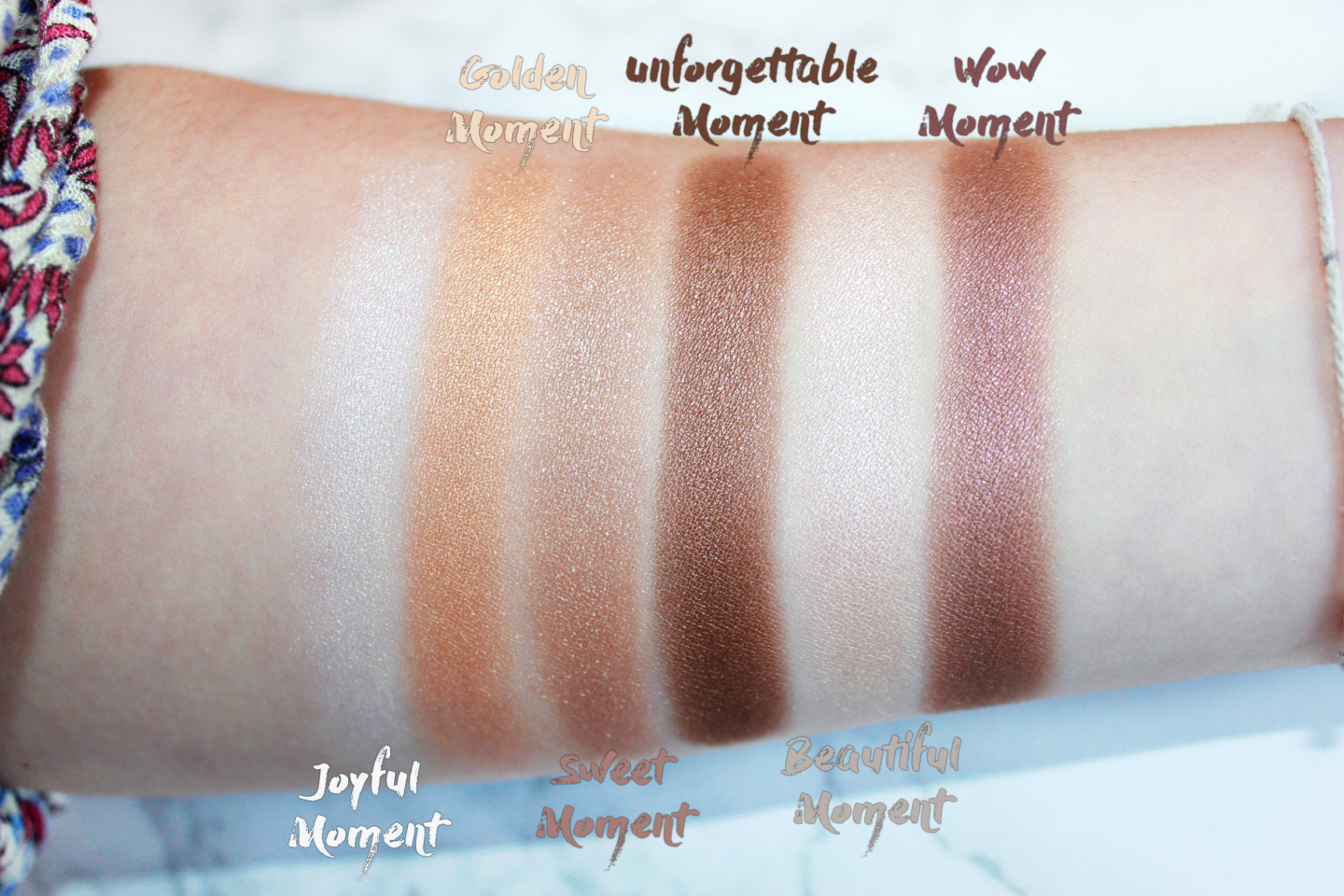 ♥ Joyful Moment: a light frosted white with a metallic finish.
♥ Golden Moment: a medium-toned warm rustic gold with a shimmery finish.
♥ Sweet Moment: a light to medium warm brown with a shimmery finish.
♥ Unforgettable Moment: a medium to dark warm brown with a metallic finish.
♥ Beautiful Moment: a cool-toned creamy beige with a soft shimmery finish.
♥ Wow Moment: a deep brown with a pink sheen to it.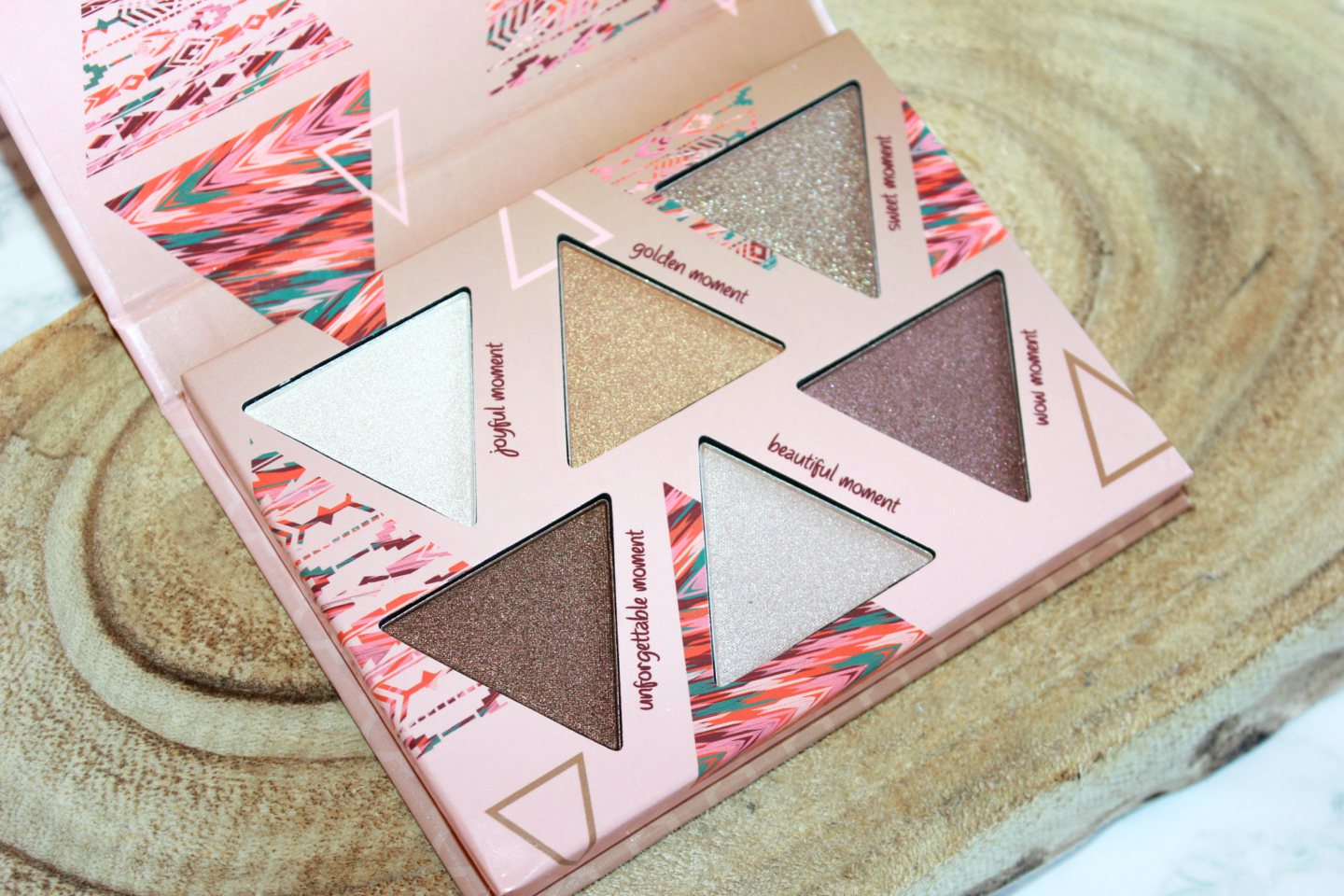 Overall these shades are nicely pigmented. They're not out of this world, but for the price they are really nice. I've actually used Joyful Moment as a face highlight many times since it looks gorgeous on the cheeks! If I had to pick one favorite shade, it would be Sweet Moment which is such a beautiful all-over lid color.
These eyeshadows lasted all day on my eyelids (with an eyeshadow primer) and during application, I didn't have any fall-out whatsoever. I've noticed that they are more pigmented when used wet, but they work either way!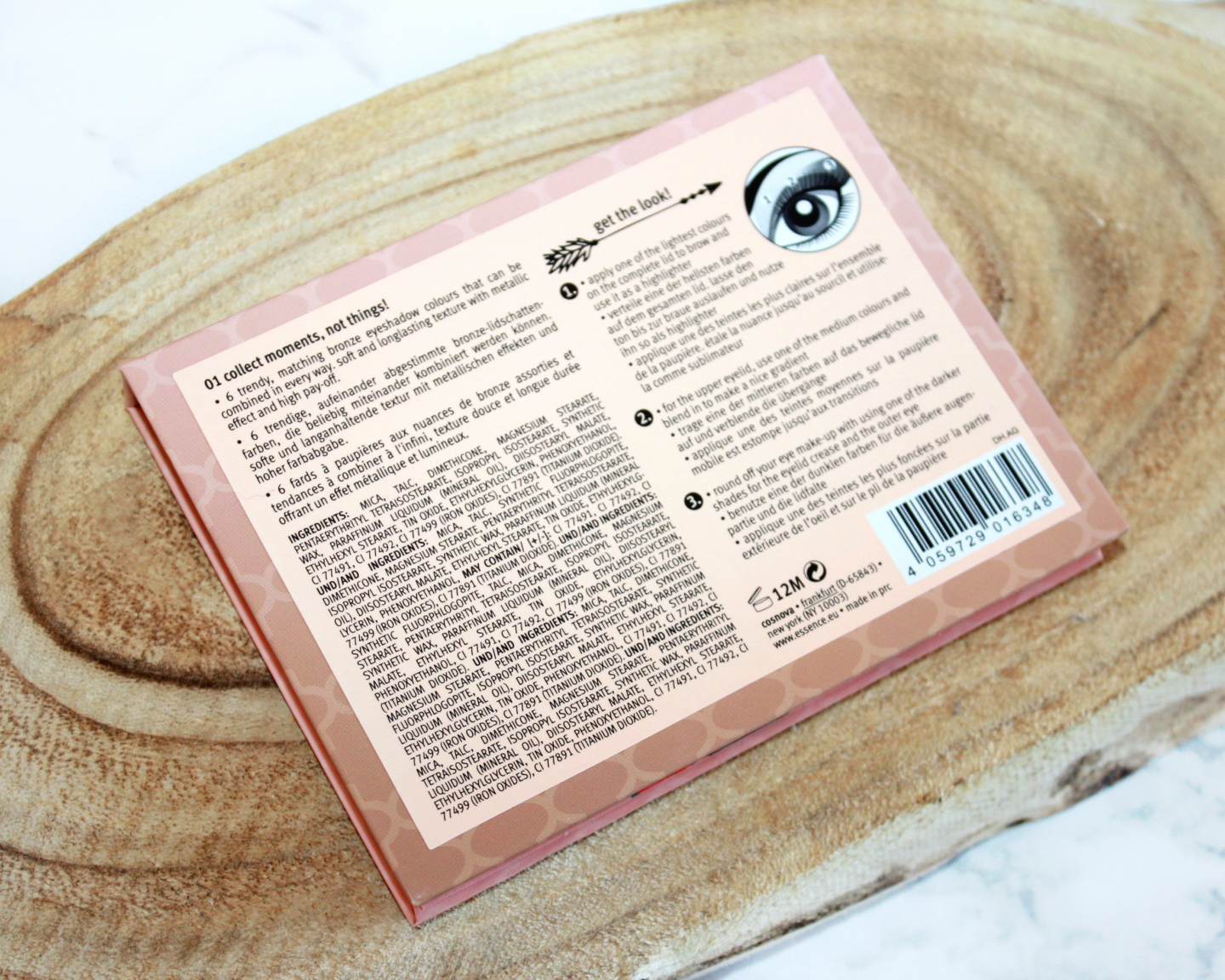 ESSENCE ADVENTURE AWAITS BRONZING STICK IN '02 TRAVEL MAKES ME HAPPY' €3,59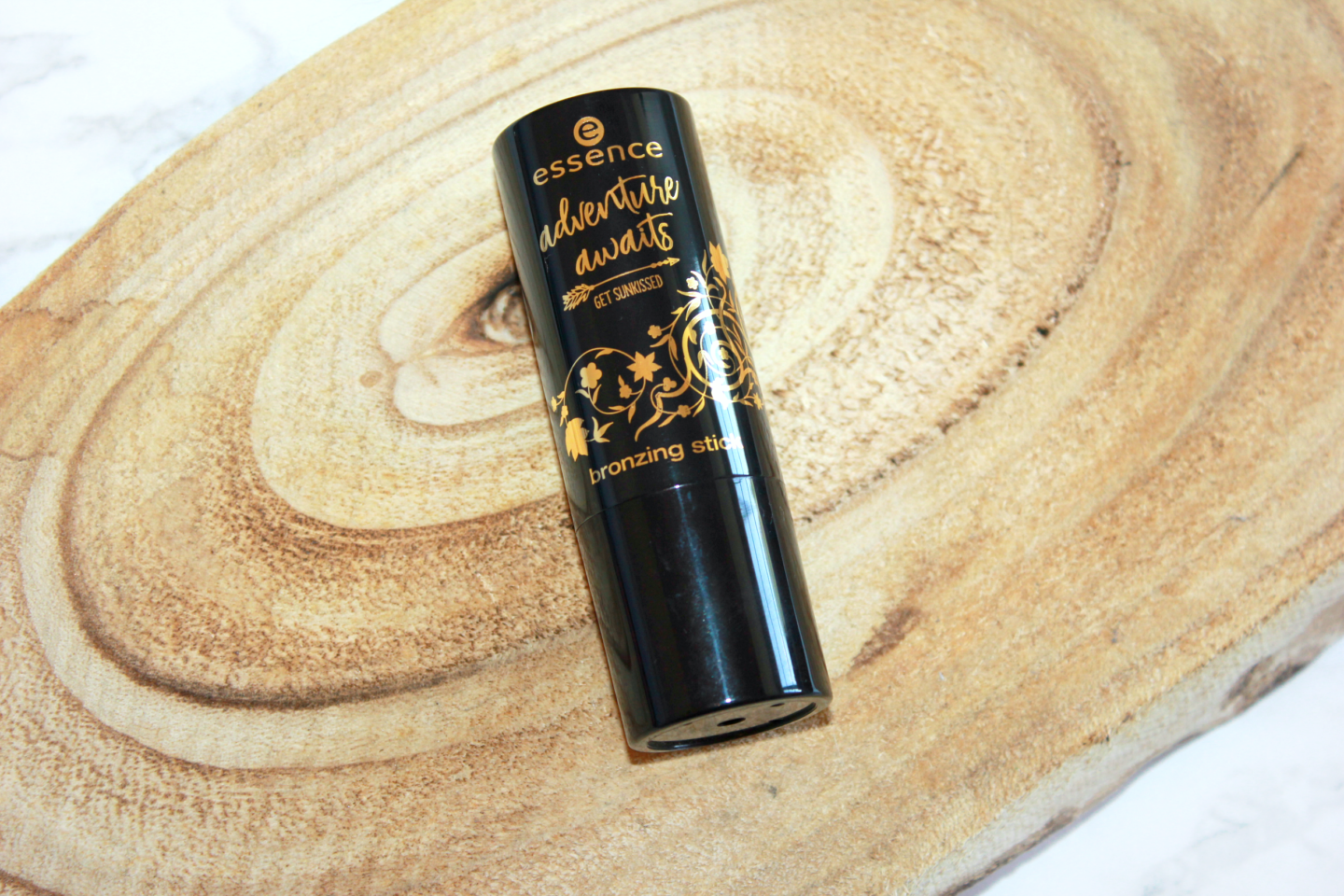 The bronzing stick was one of the items I was most excited to try. I love a good cream contour, but it's not easy finding one at the drugstore that's not too dry and blends out easily. Luckily for me, this one works like a dream! The twist-up packaging is quite basic, but it feels really sturdy and not cheap at all. There's also a generous amount of product in here (13.6 g!) which I'm pretty sure will last me a couple of months.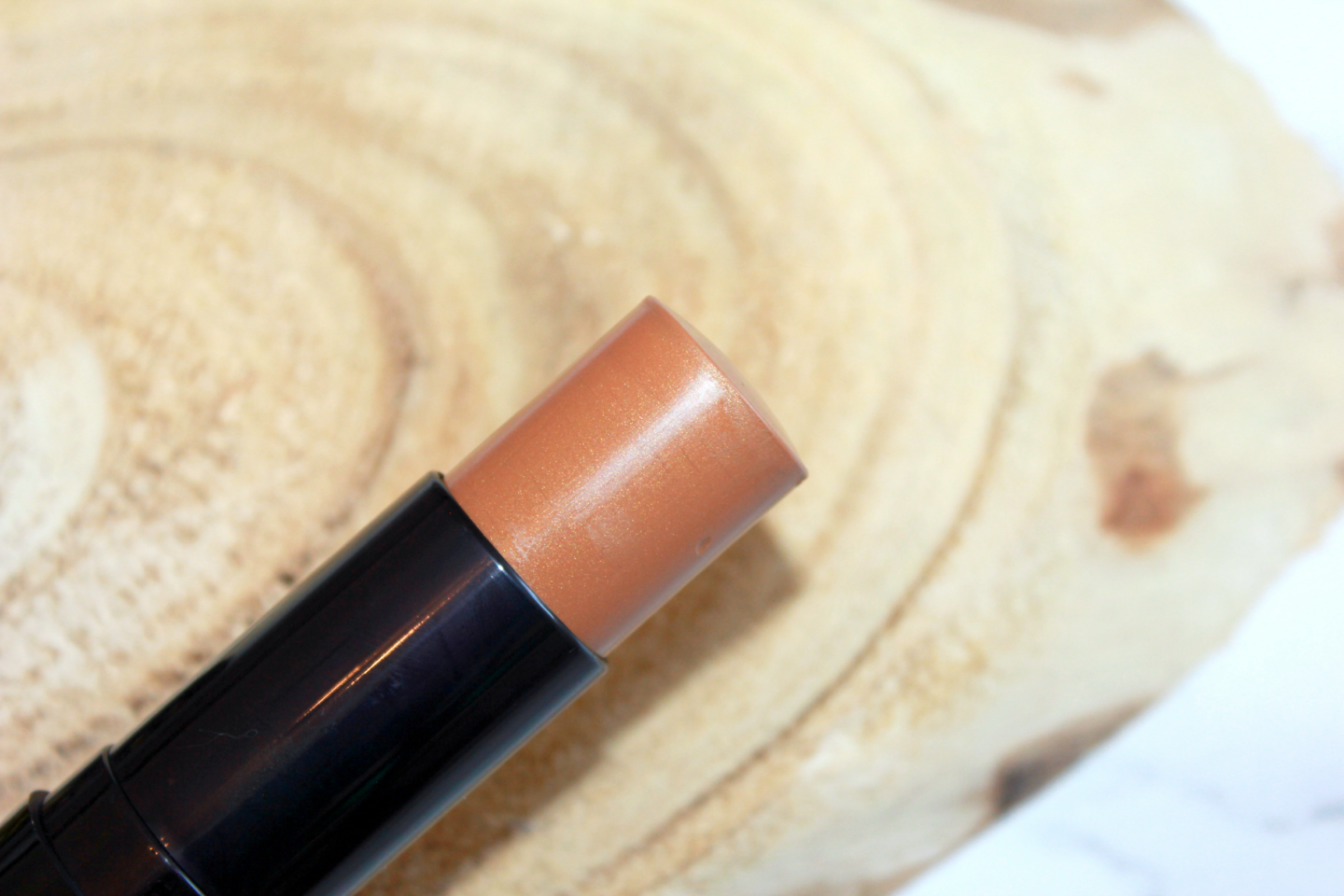 There was a totally of two shades to choose from, but I went for 'Travel Makes Me Happy' which is the darkest shade out of the two. Even though the other one was more cool-toned and would've been better to contour with, it looked way too light for my skin-tone.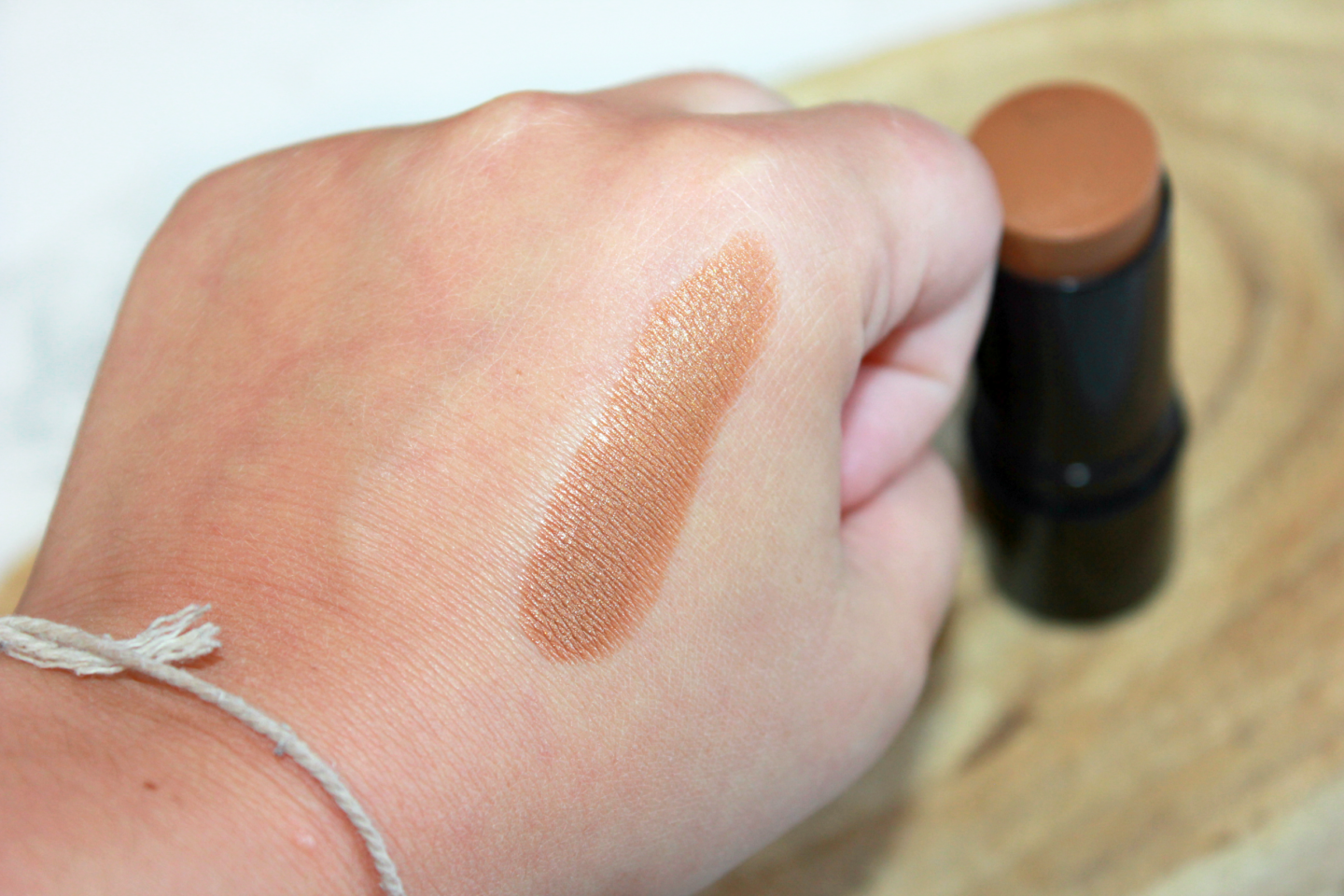 Travel Makes Me Happy is a warm coppery brown bronze shade with a subtle sheen. The sheen isn't really that noticeable once you blend the cream into the skin, which is soooo easy to do! The formula of this bronzing stick is super creamy and soft, it applies like butter and blends into the skin super effortlessly. Even though this shade isn't the best to contour with, it's a beautiful cream bronzer perfect for creating that sun-kissed effect.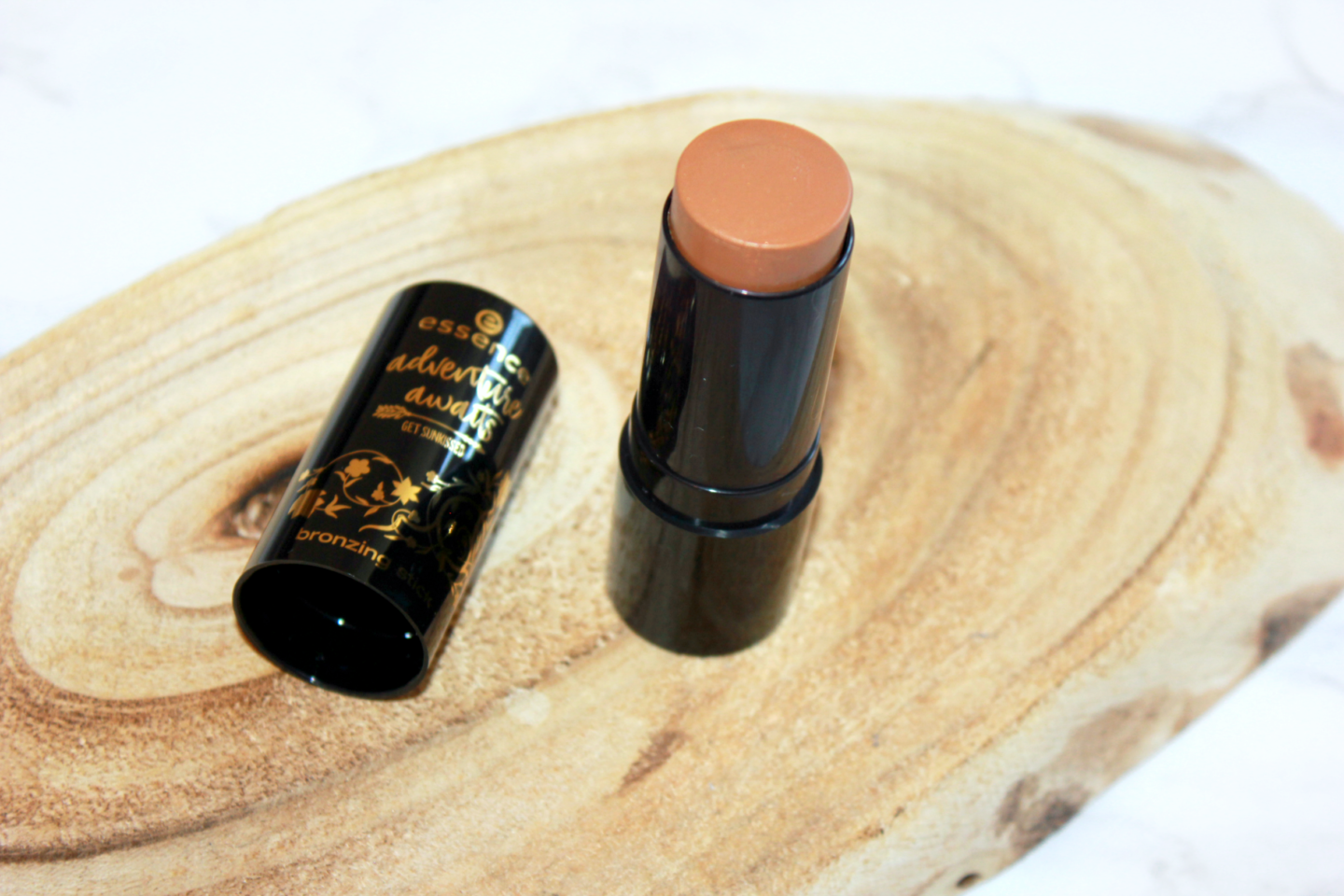 Seriously though, if you're into cream contouring and bronzing, you NEED to check out this product! This is hands-down the best product out of this entire collection when it comes to the formula and quality.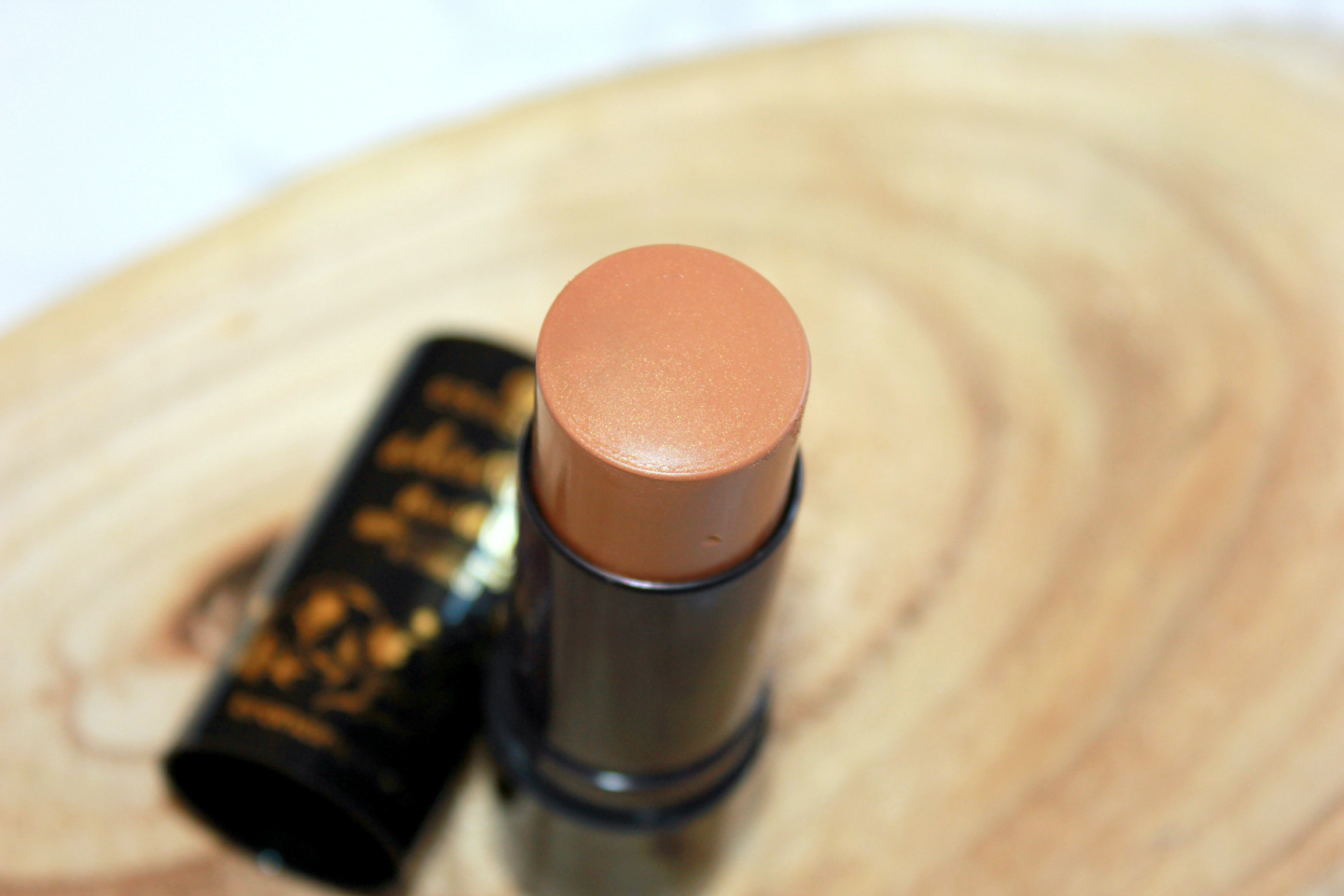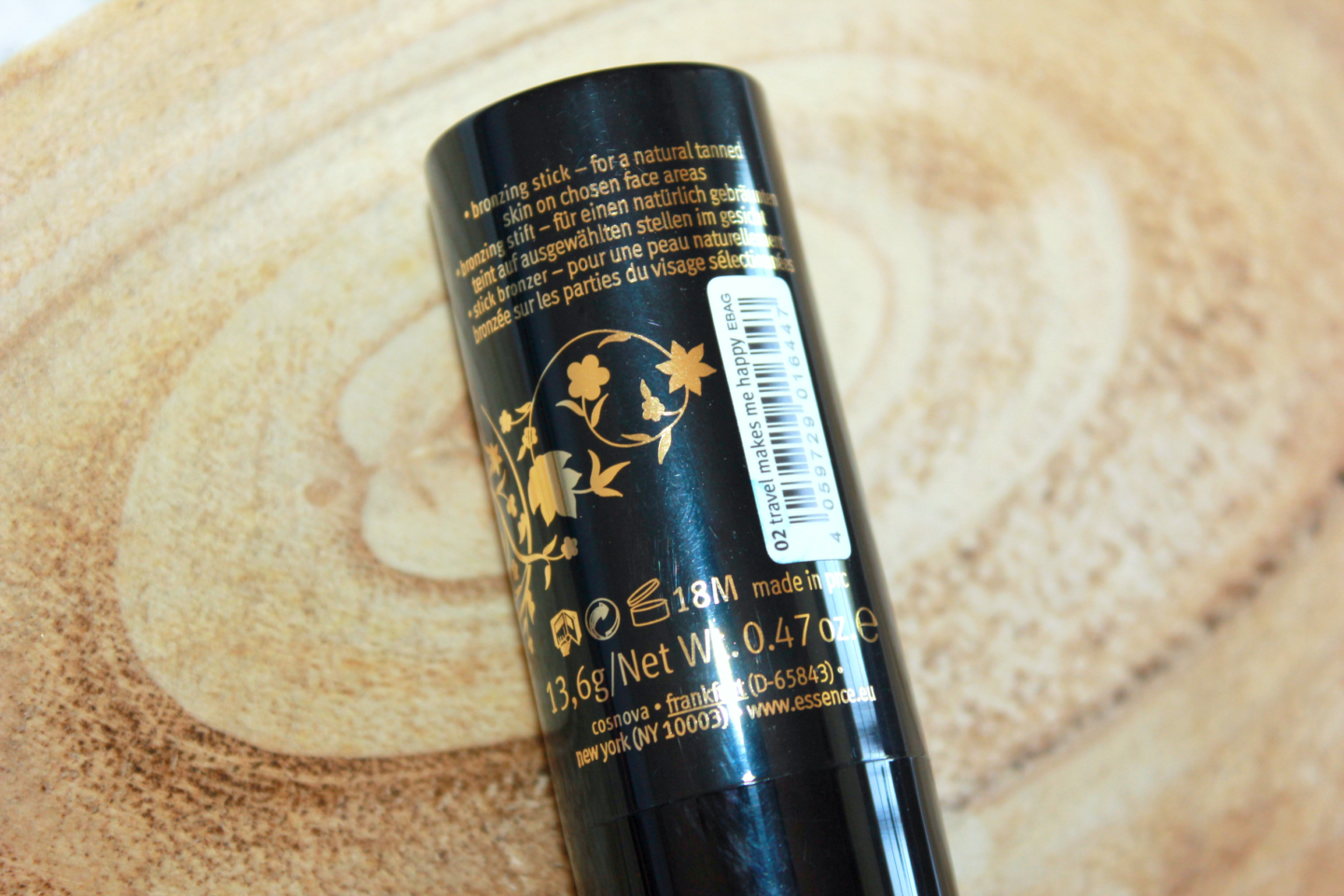 ESSENCE ADVENTURE AWAITS JUMBO BRONZER IN '01 MY HAPPY PLACE' €4,39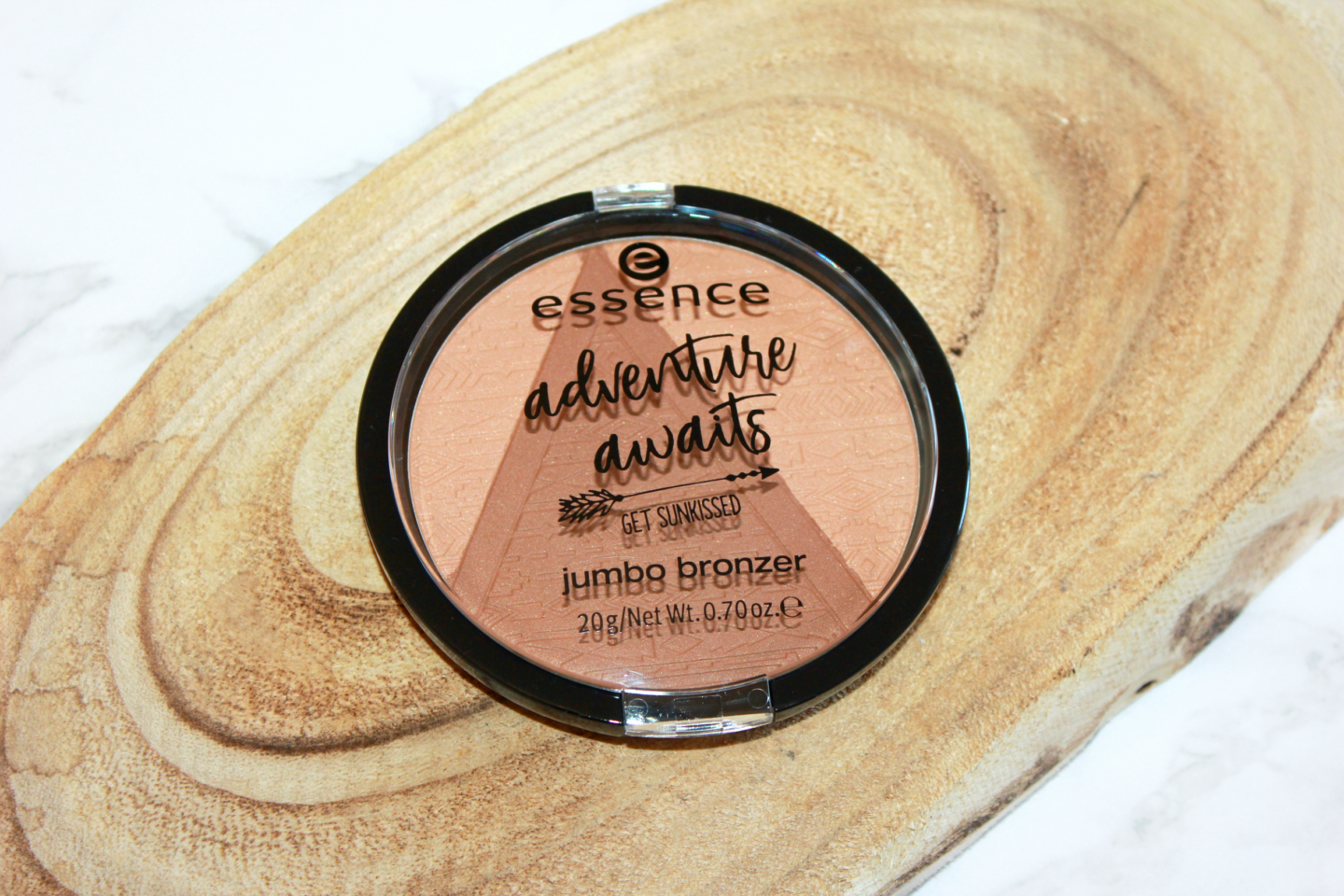 Of course I couldn't pass up on the actual bronzer from this collection, the jumbo bronzer! Again, there were two shades to pick from but this time I picked up the lightest one. I liked the undertone of 'My Happy Place' the best and I also like to go a little bronzer happy from time to time. The packaging of this jumbo bronzer is super basic (mine actually already broke, but I am using it all the time), but the powder itself has a beautiful tribal print embossed into it. The print is still super noticeable after I've been using and abusing this bronzer for weeks, which I love!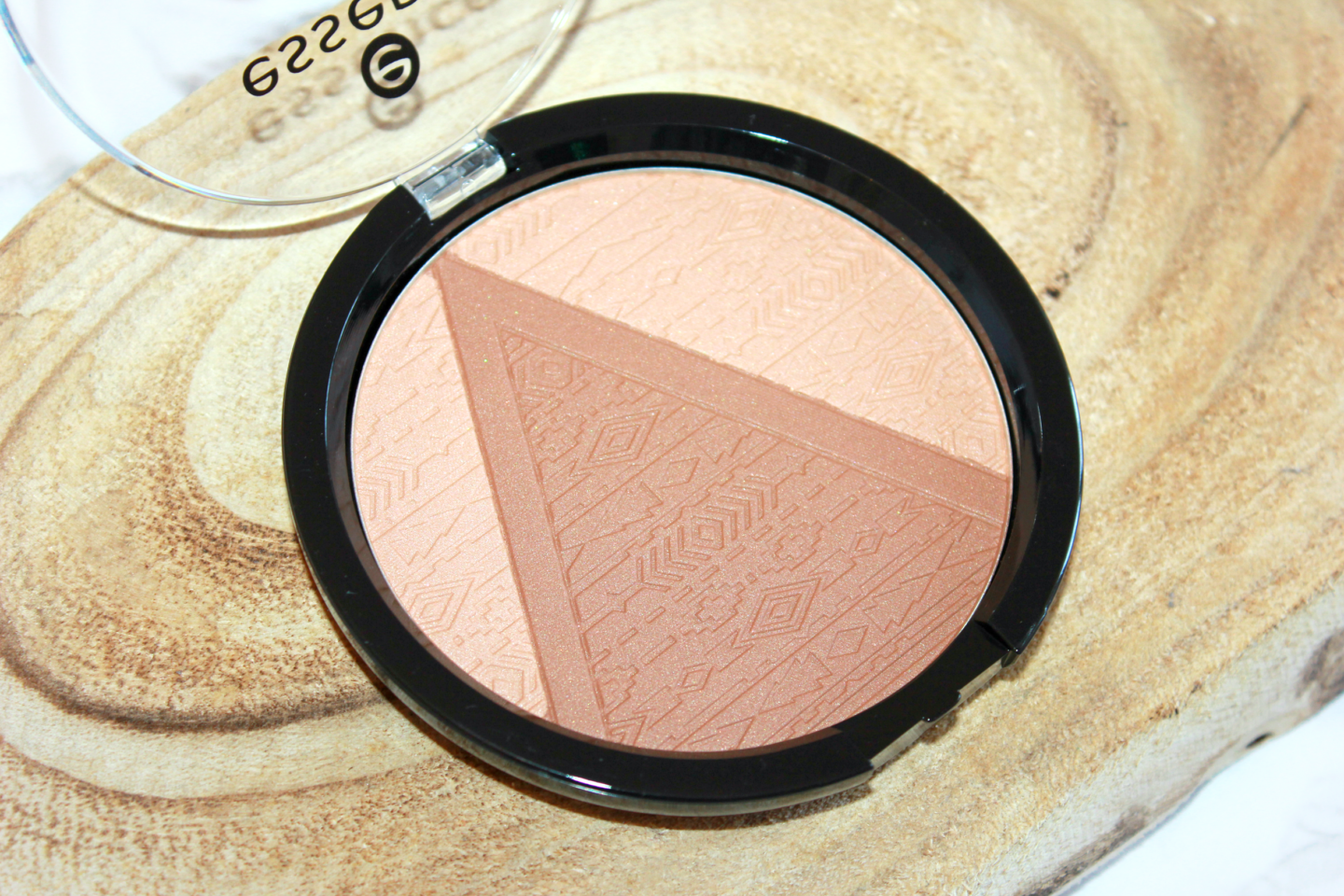 The great thing about this bronzer is that you have two tones to choose from, or mix together. What I usually do is pick up the darkest shade for contouring and then mix them together to create a beautiful bronzing shade.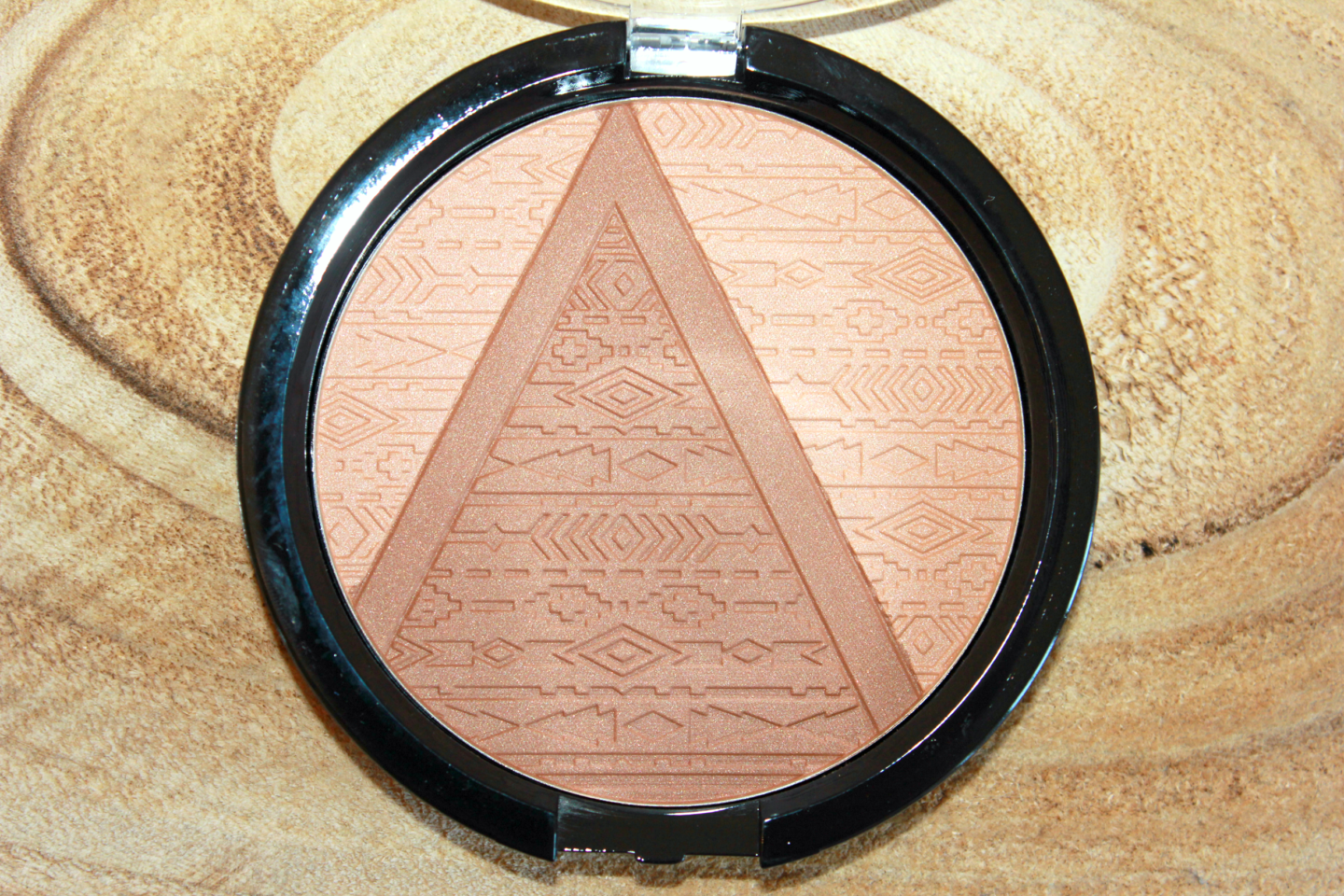 My Happy Place is a light to medium warm-toned bronzer with a subtle sheen. The formula of this bronzer is really soft and not too powdery. It actually applies super even, doesn't look streaky or patchy and adds a nice sun-kissed luminous bronze effect to the skin.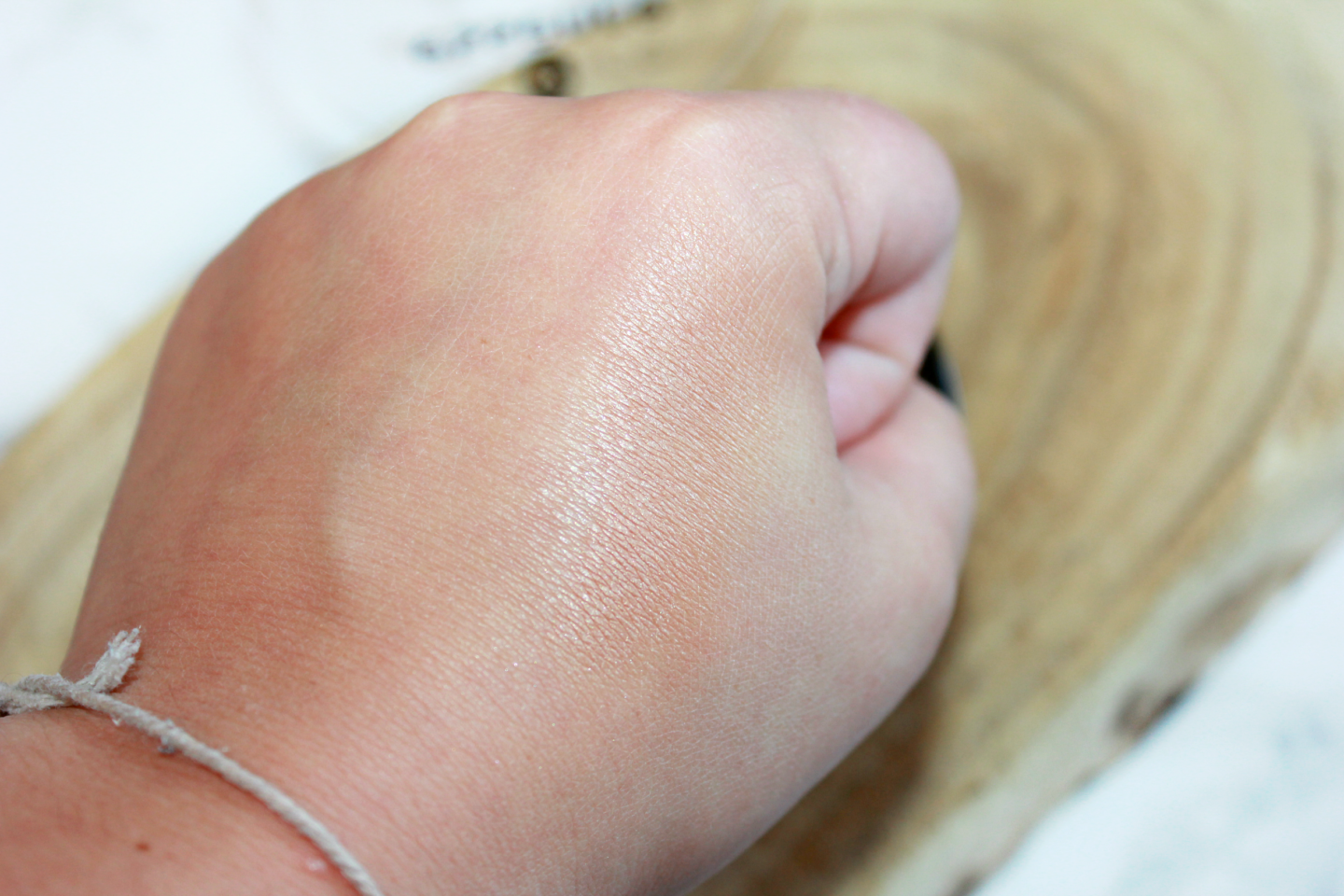 This swatch doesn't look too pigmented, but in reality it does pack a little more punch to it! It really just depends on where you focus your brush in the pan.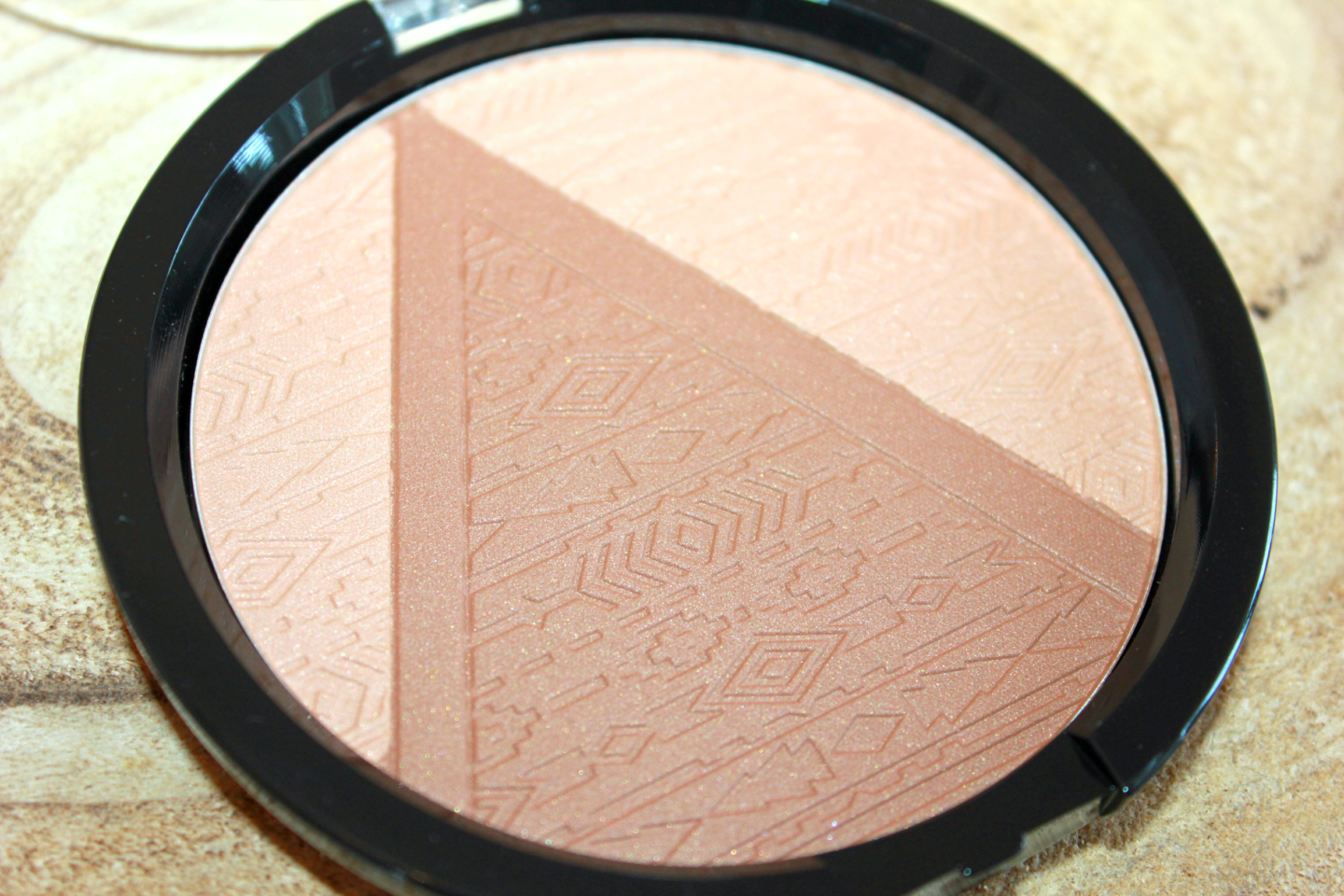 What I love about this bronzer besides the formula and shade is that I don't have to be afraid to go overboard. It's a buildable formula which allows me to start off with a small amount and build up the shade. It's also quite long-lasting and just looks so beautiful and radiant on the skin!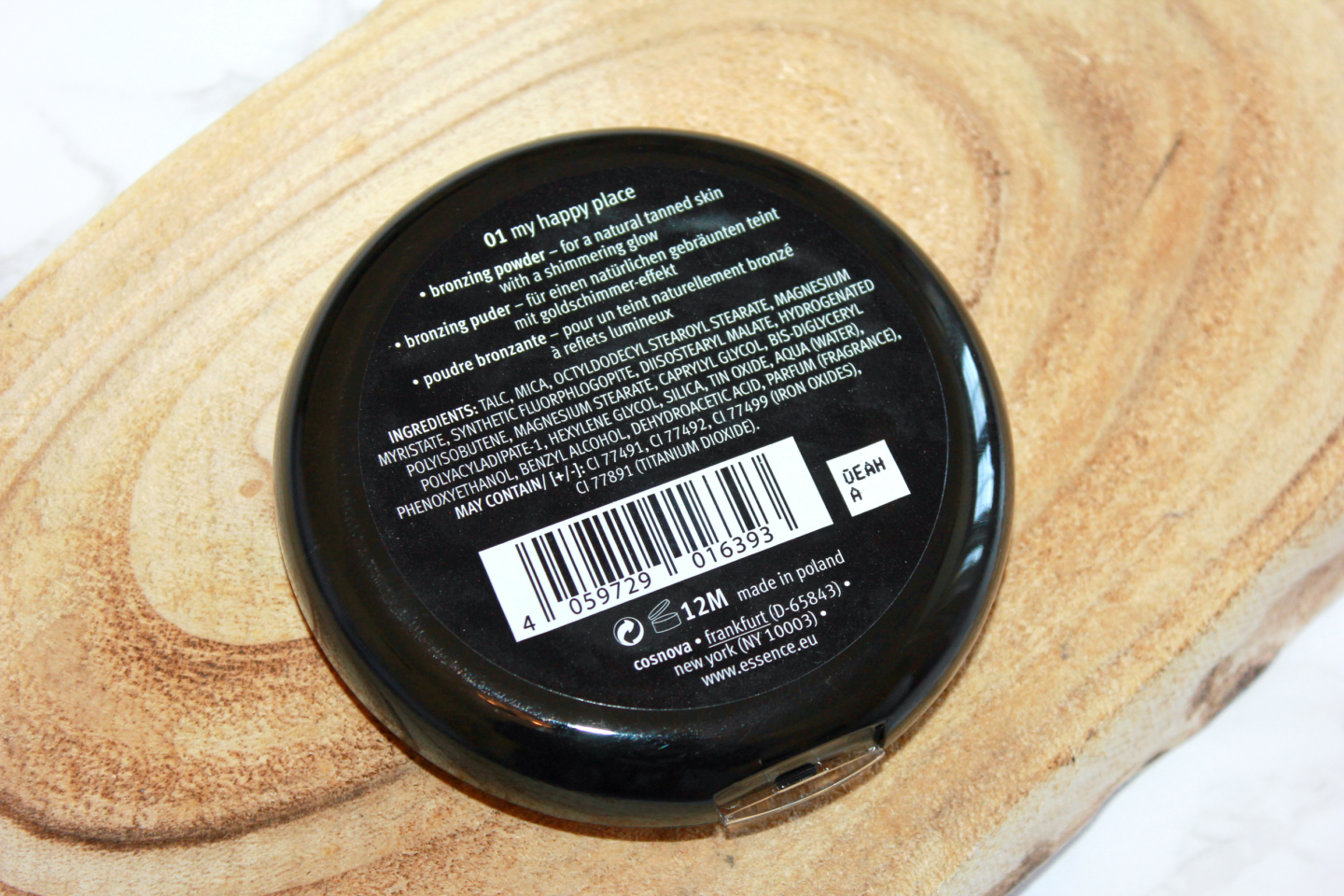 ESSENCE ADVENTURE AWAITS METALLIC BLUSH IN '01 WANDERLUST FEELING' €3,59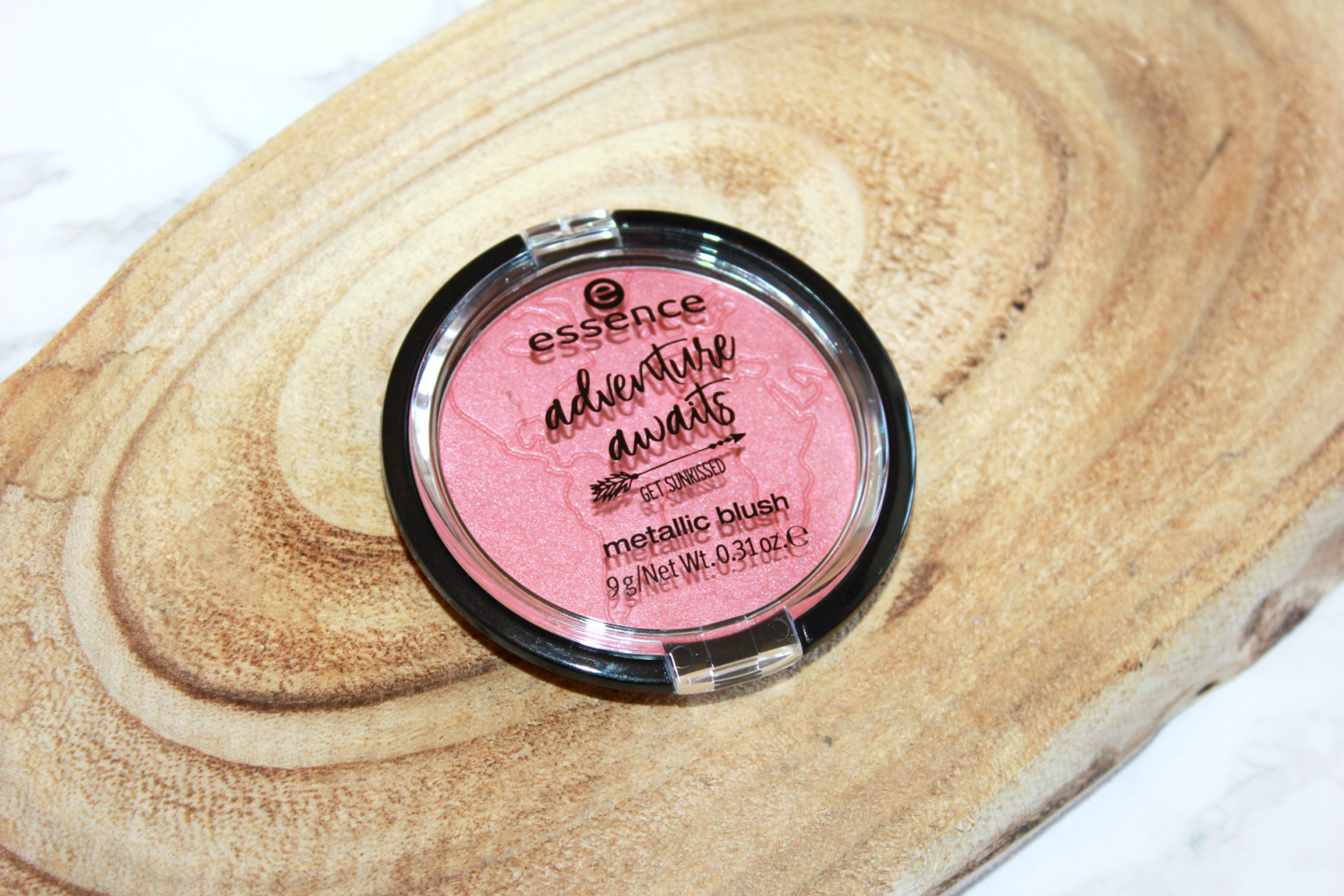 Last but not least, I decided to pick up one out of the two metallic blush shades in 'Wanderlust Feeling'. At first I was a bit afraid of the wording 'metallic' because for some reason, I'm not really too fond about anything metallic. Luckily the metallic effect translated onto the cheeks beautifully and adds a dewy, radiant flush to the cheeks. Even though the packaging looks quite basic, the powder itself is embossed with a beautiful map pattern, which I think looks so beautiful! Even after using it a couple of times, the pattern is still visible.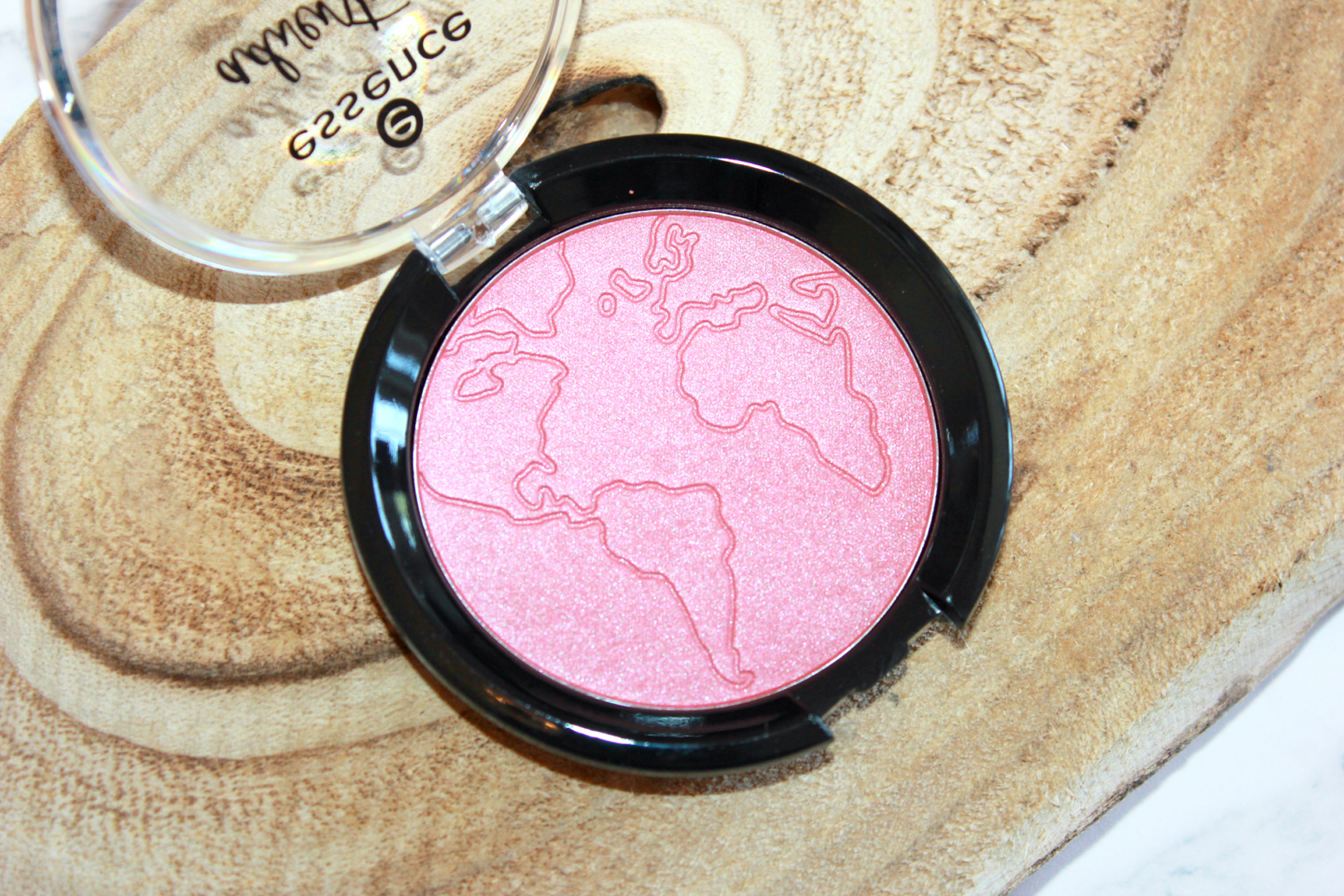 Wanderlust Feeling is a neutral-toned bubblegum pink with a soft metallic finish. Luckily for me, it's not too pigmented. It actually has the right amount of pigment that I like in a blush. I prefer building up my blush rather than it being too pigmented and me looking like a clown.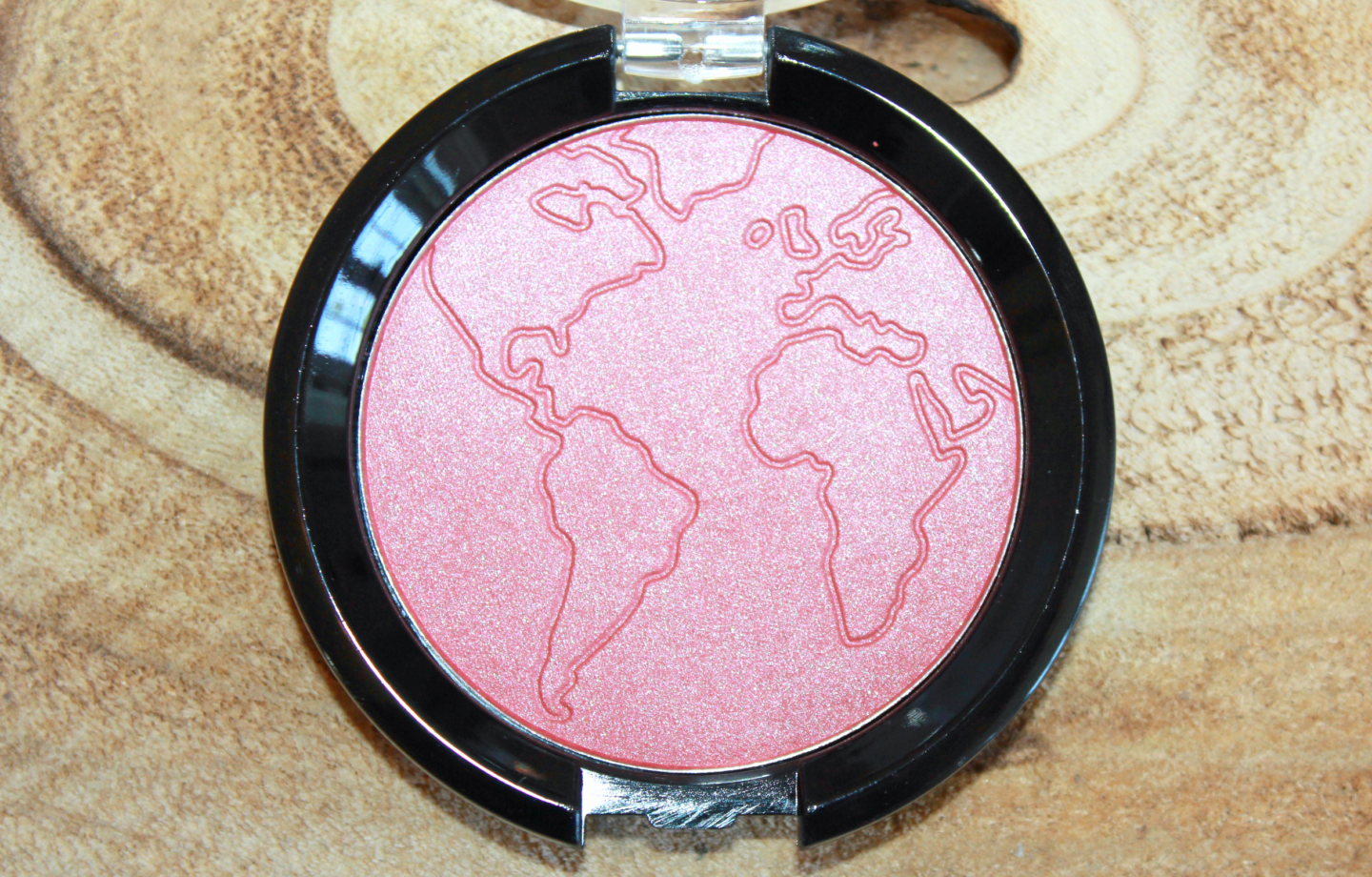 This blush is buildable, it doesn't feel powdery whatsoever and it applies onto the cheeks super easily! It's actually quite soft and smooth and there's barely any powder kick-up in the pan.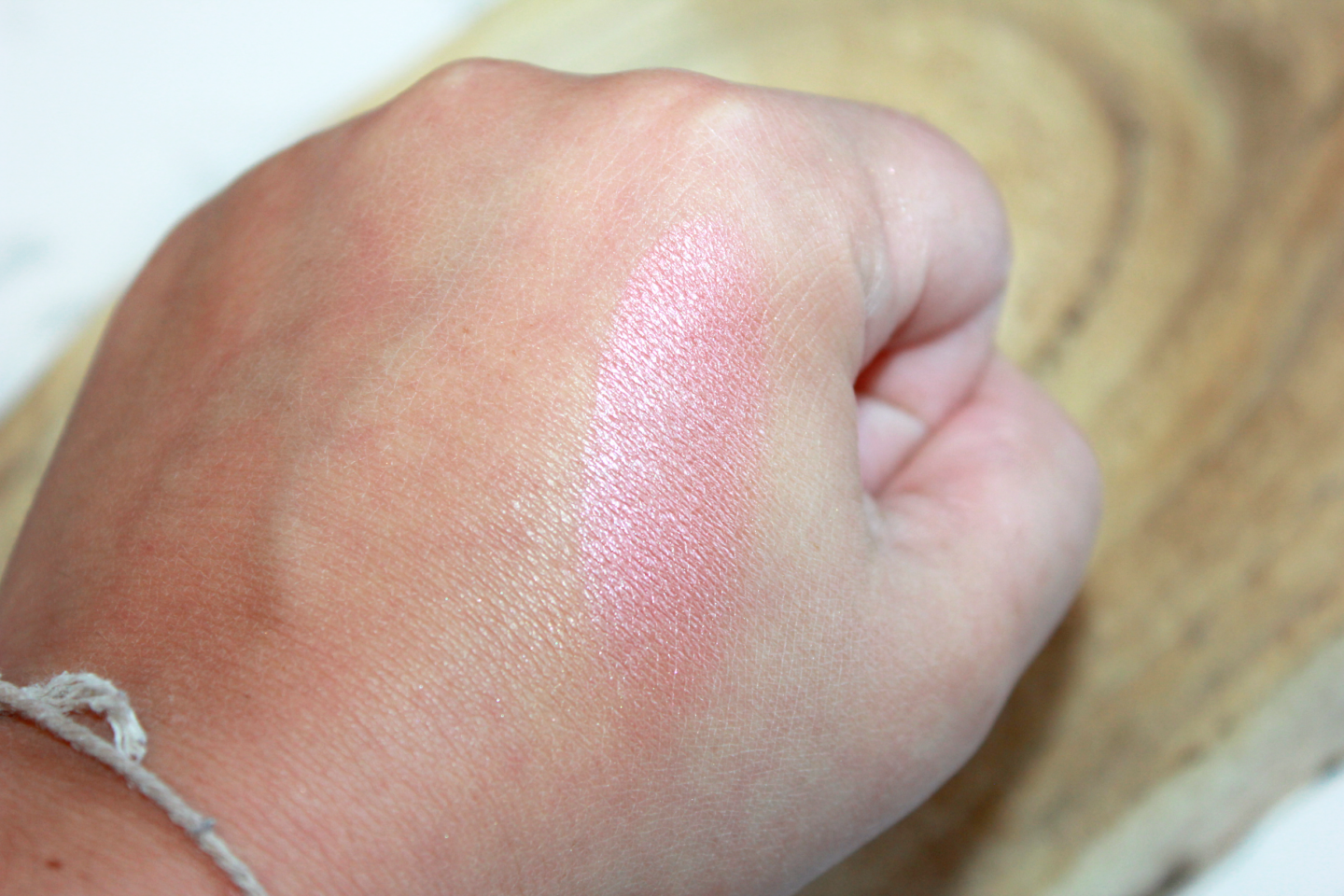 As you can tell by this swatch, Wanderlust Feeling is not too pigmented but it still shows up just enough on the skin. The effect it gives on the cheeks is so beautiful, it looks like a highlight and blush combined without it accentuating any texture on the skin.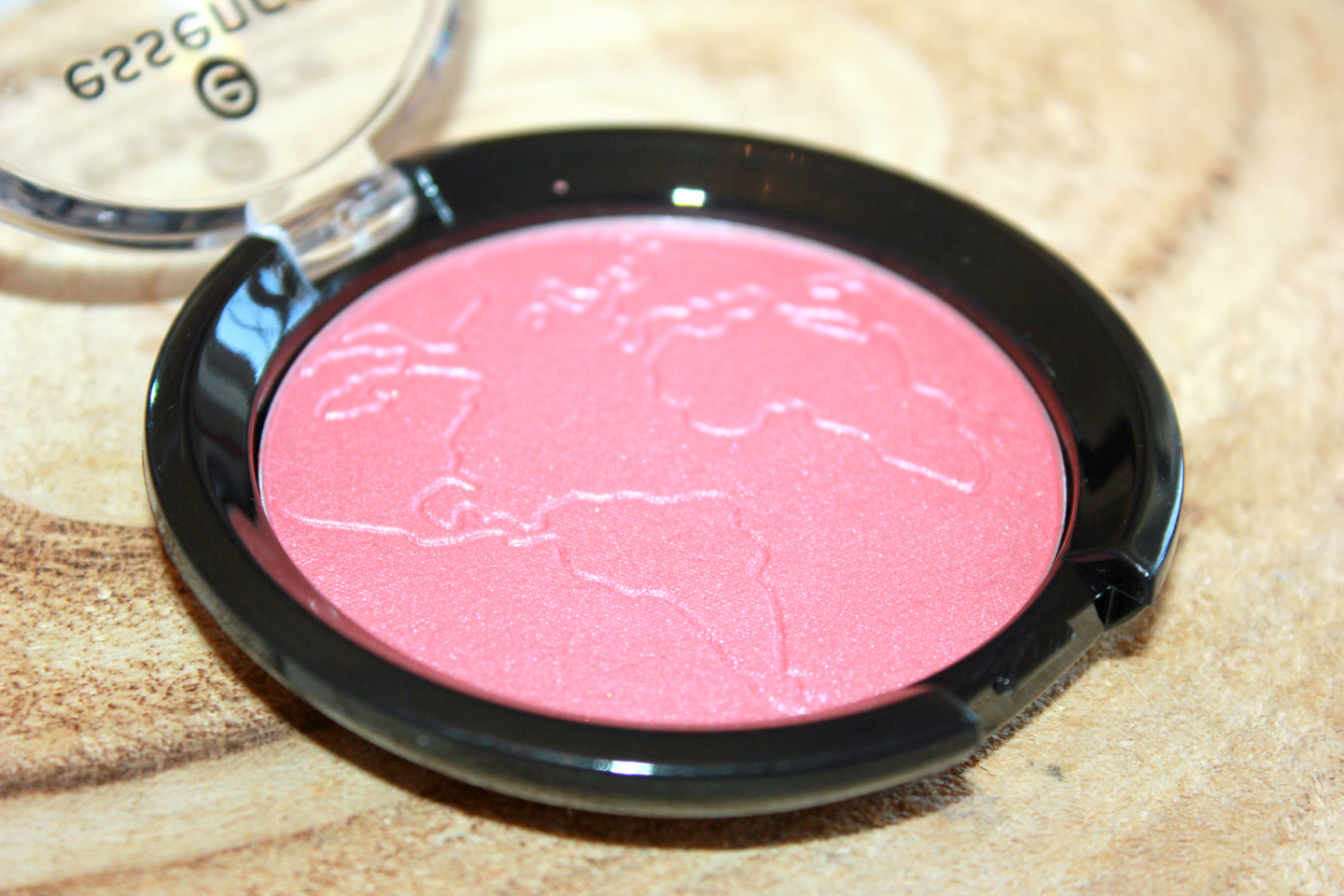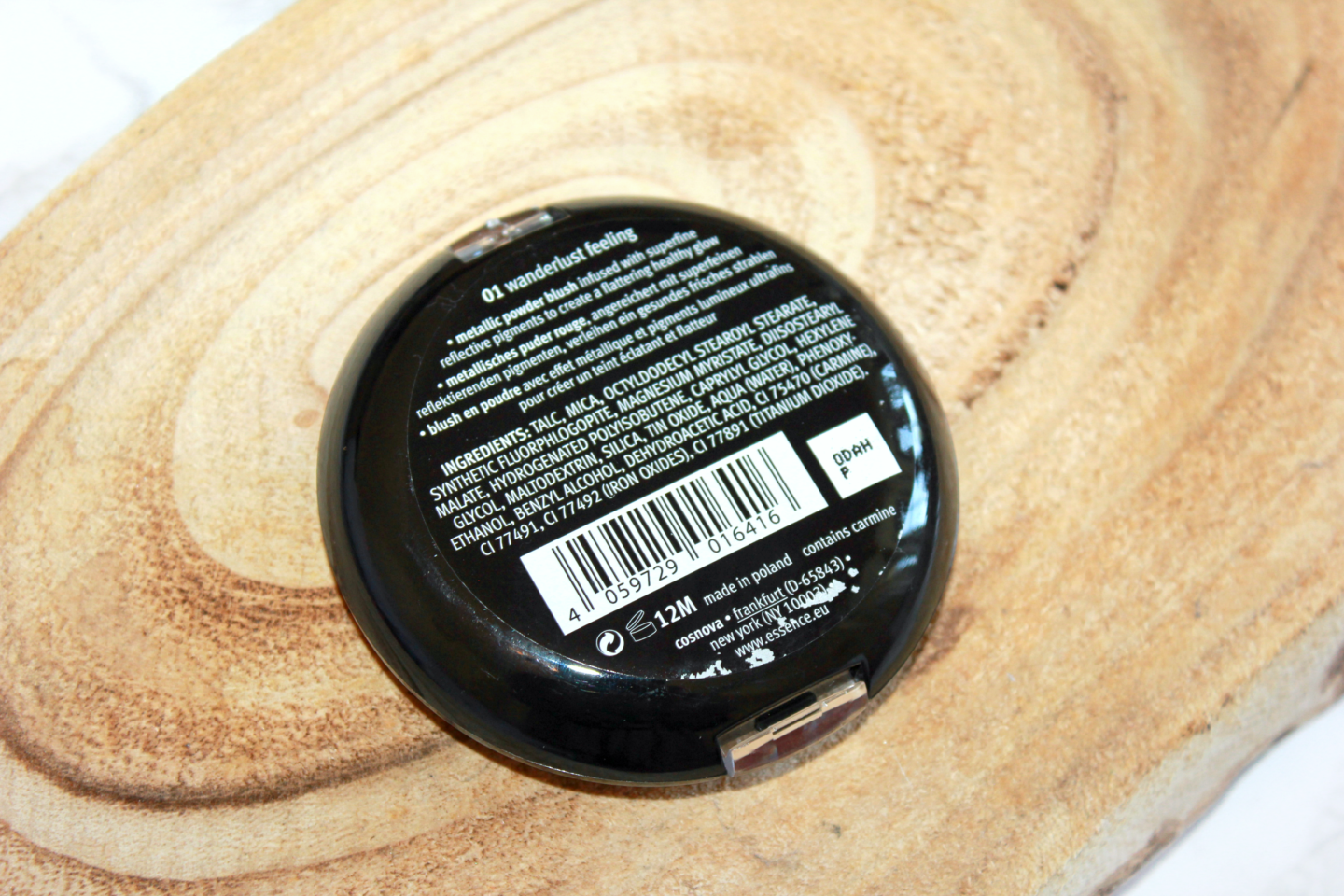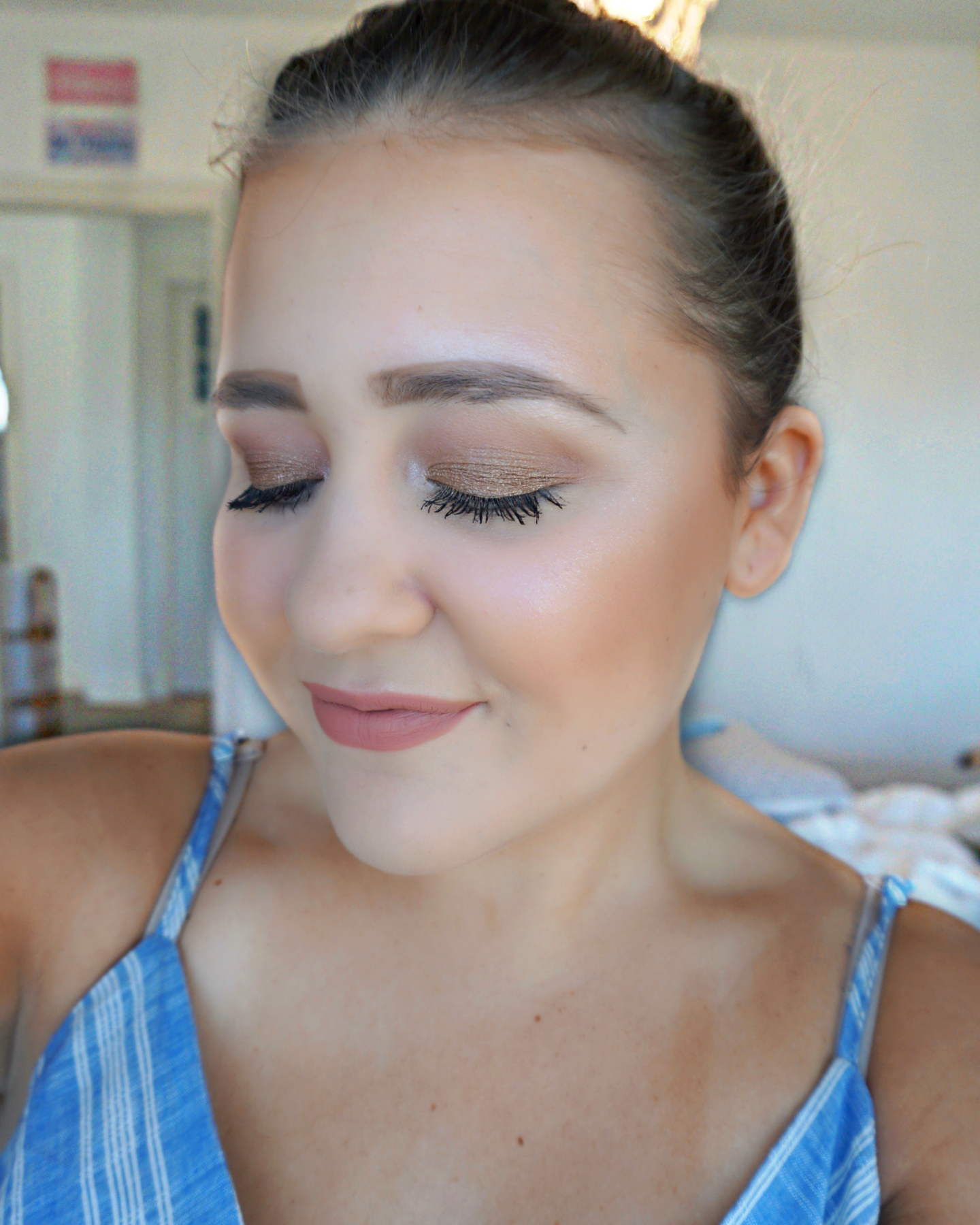 Bronzer: Essence Adventure Awaits Bronzing Stick & Jumbo Bronzer | Blush: Essence Adventure Awaits Metallic Blush | Highlight & Eyeshadow: Essence Adventure Awaits Bronzing Eyeshadow Palette
I have to admit, I haven't been this amazed by the quality of an Essence trend edition in quite some time now. Not only is the packaging and the entire theme of this collection beautiful, the products are also really amazing and long-lasting! This collection gets a big thumbs up from me!
AVAILABILITY
The Essence Adventure Awaits trend edition is a limited edition collection available until mid August at your local Essence stand. If there's anything from this post you would love to get, definitely don't sit on it for too long and run to your local drugstore! Every single product I talked about retails between €3 to €5, which is crazy affordable if you ask me!