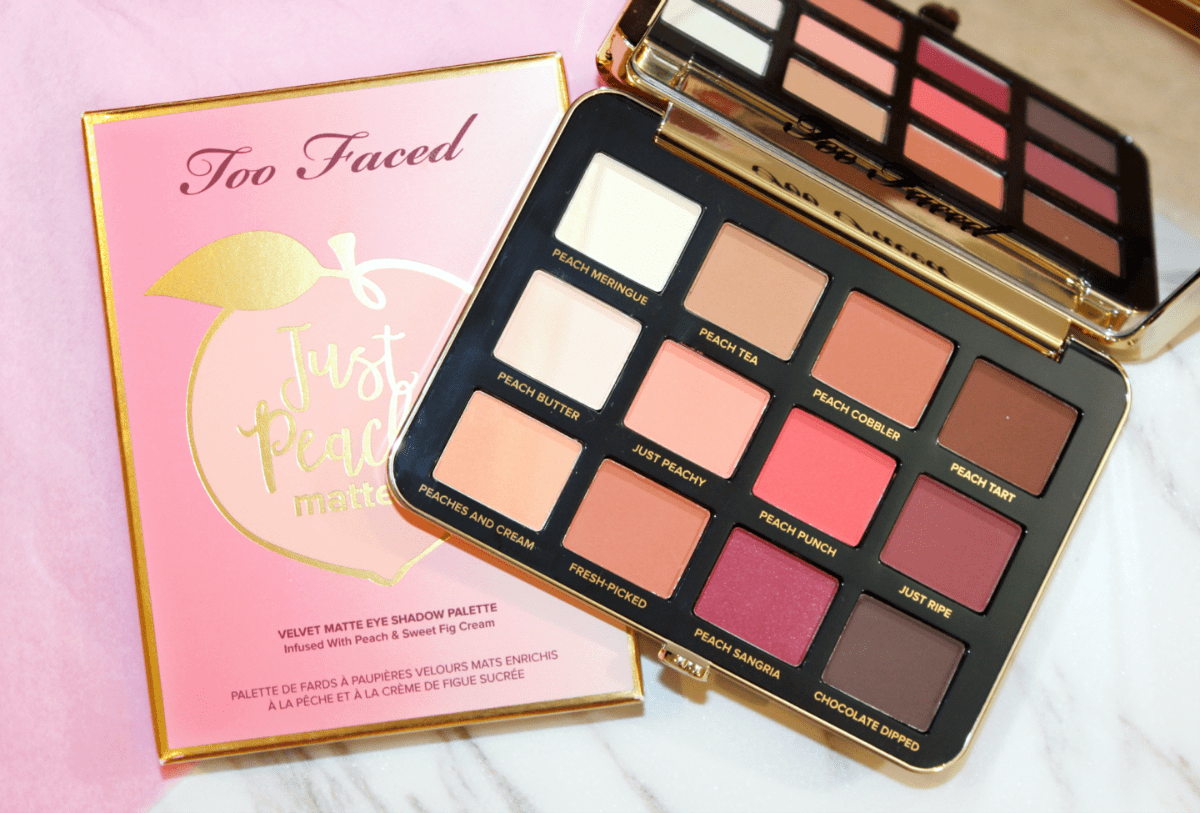 Hey loves! It's been a hot minute since I wrote a makeup review and I've missed it so much. Writing is so therapeutic to me, but life has been crazy lately. Anyway, I finally decided to focus on writing a new blog article, all about the new Too Faced Just Peachy Mattes eyeshadow palette. This palette is part of Too Faced's new Peaches & Cream collection, which comes with tons of face products, lippies and one palette (all peachy themed). As with all Too Faced products, the packaging of this entire collection is just absolutly eye-catching. I wanted to purchase everything from this collection, but I have to contain myself. There are so many brands relaesing their holiday collections, I have to make choices. That's why I decided to stick to the eyeshadow palette, which was definitely the item that drew me in the most.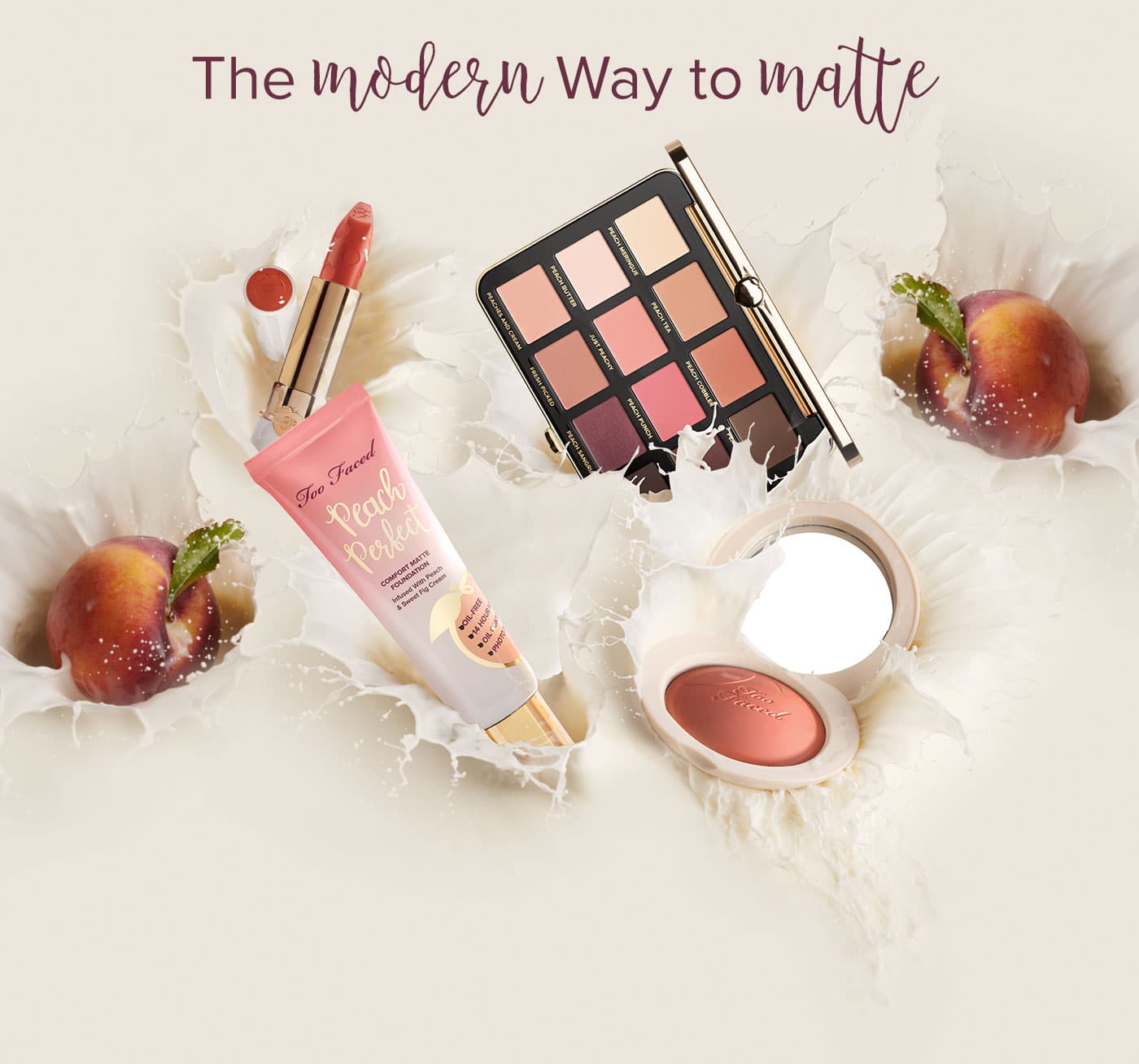 The new Peaches & Cream collection recently launched in Sephora and contains the following products:
♥ Sweetie Pie Bronzer
♥ Peach Kiss Moisture Matte Lipstick (20 shades)
♥ Peach My Cheeks Melting Powder Blush (6 shades)
♥ Peach Frost Melting Powder Highlighter
♥ Bronzer Peach Melting Cream Bronzer
♥ Primed & Peachy Cooling Matte Perfecting Primer
♥ Peach Blur Translucent Smoothing Finishing Powder
♥ Peach Mist Mattifying Setting Spray
♥ Peach Perfect Mattifying Loose Setting Powder
♥ Peach Perfect Comfort Matte Foundation (12 shades)
♥ Just Peachy Velvet Matte Eyeshadow Palette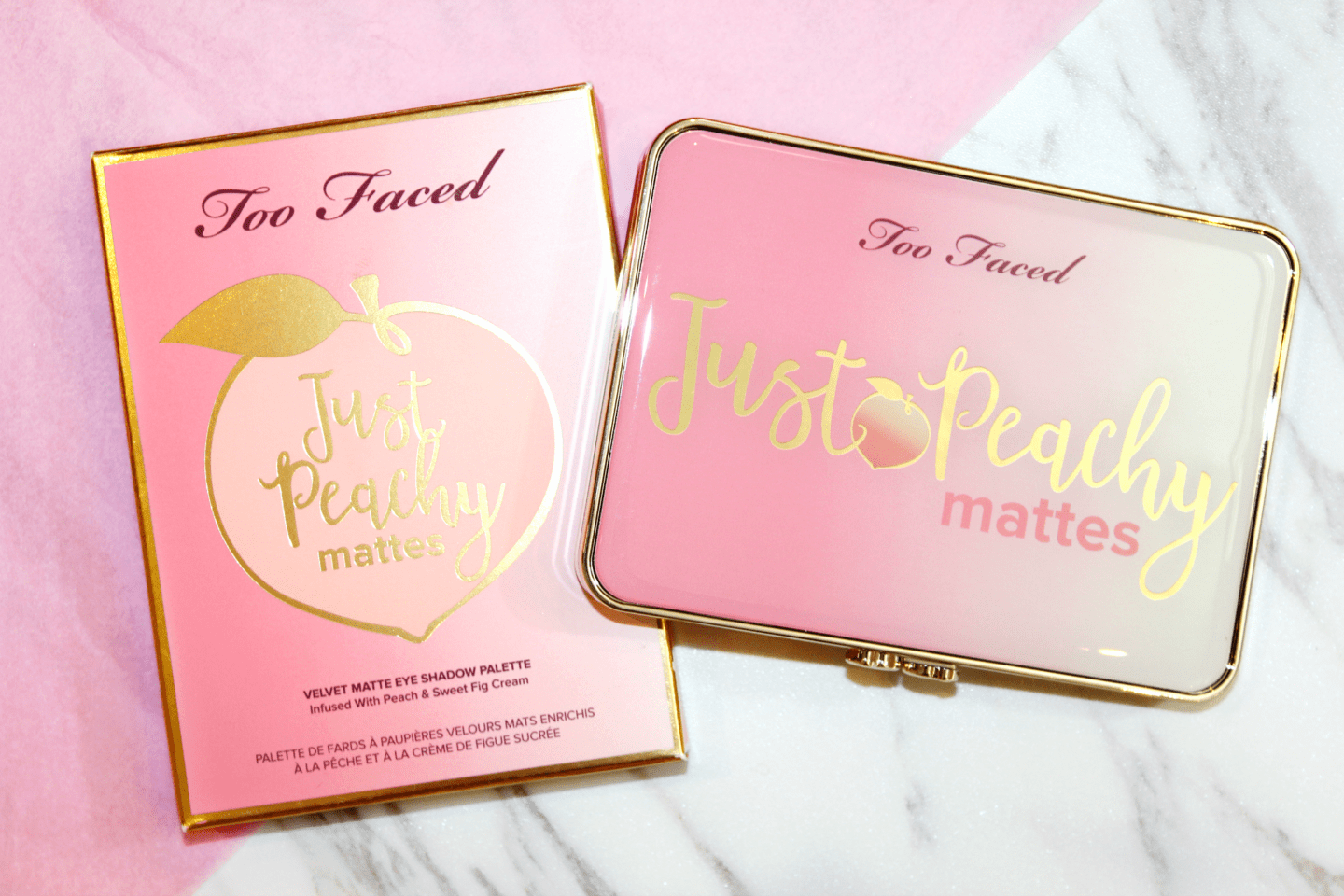 Packaging
The entire Peaches & Cream collection looks magnificent. Too Faced put so much thought and effort into the design of the packaging, the in-store Sephora display is definitely an eye-catcher! Since it's a permanent collection at Sephora, they made it visually very appealing since we all know pretty packaging sells.
The Just Peachy palette comes in a cardboard box with the exact same design as the actual palette. The palette itself is housed in a luxurious looking peachy pink ombré compact that has gold details. The design and feel of this palette definitely reminds a lot of the Becca x Chrissy Teigen / Jaclyn Hill palettes. It has the same glossy and gel-like feel to it and has a huge handy mirror on the inside. The details on this palette are gorgeous, such as the dual peach clasp to open the palette. The palette opens and closes magnetically, which also adds an extra luxurious touch.
Overall, the design of this palette is super adorable, girly but still quite sophisticated. What I also really appreciate is the fact that each shade name is printed right underneath each shadow. This makes a beauty blogger / youtuber's life a lot easier!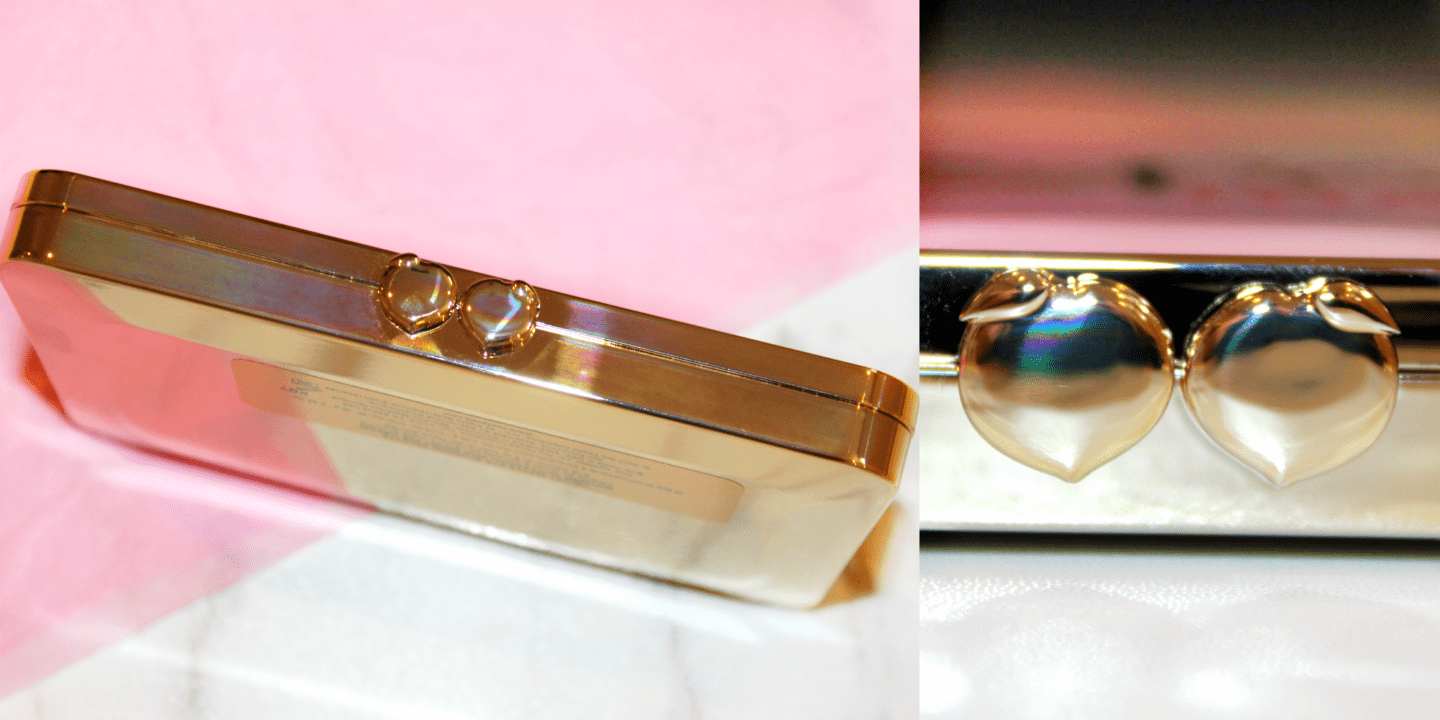 Brand's Description
This is what Too Faced says about the palette:
"Just Peachy Mattes is infused with refreshing peach and sweet fig cream in our exclusive modern comfort matte formula for intense color payoff that's beyond blendable. Create endless looks with 12 matte shades of warm peaches, buttery creams, and rich browns that smell and feel oh so good."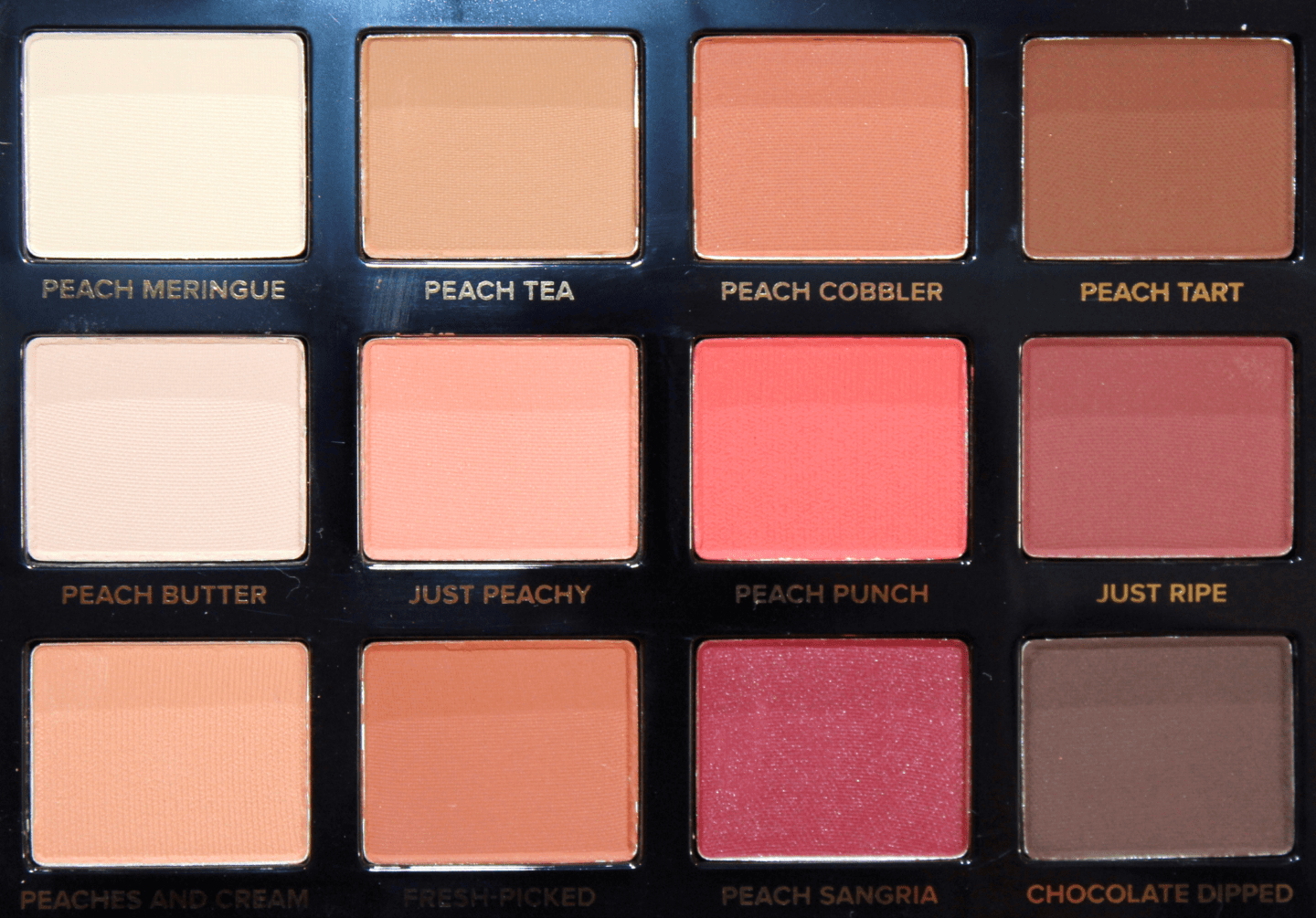 The Just Peachy Mattes eyeshadow palette is a new palette that recently launched in the Peaches & Cream collection, which is a permanent collection available exclusively at Sephora.
Unlike their previous Sweet Peach eyeshadow palette, the Just Peachy palette is a lot more peachy toned and contains matte shades only. I definitely love the tones in this palette way more than the shades in the Sweet Peach palette as they're so much more peachy, warm and perfect for creating peachy eyeshadow looks with.

♥ Peach Meringue: a light warm beige with a subtle yellow undertone and a matte finish. Although the texture feels a bit dry in the pan, it's easy to apply and blend.
♥ Peach Tea: a warm light to medium brown with orange undertones and a matte finish. The formula of Peach Tea is pigmented and very easy to work with.
♥ Peach Cobbler: a medium burnt orange with warm undertones and a matte finish. The texture is very similar to Peach Tea, as well as the color pay-off, which is pretty opaque and buildable.
♥ Peach Tart: a warm dark brown with a matte finish. The pigmentation is good, buildable and applies evenly.
♥ Peach Butter: a light warm beige with peachy undertones and a matte finish. Peach Butter has great color pay-off and is easy to blend onto the eyes with a smooth texture.
♥ Just Peachy: a bright medium warm orange with coral undertones and a matte finish. The color pay-off is a bit sheer, but it's easy to build up and blend.
♥ Peach Punch: a medium to dark warm coral with a matte finish. Peach Punch is very pigmented and super easy to work with, although it feels rather dry to the touch.
♥ Just Ripe: a muted warm dark plum with red undertones and a matte finish. The texture is a bit dryer, but there's a lot of color pay-off and it applies very effortlessly.
♥ Peaches & Cream: a light to medium warm peachy orange with a matte finish. This one is again a bit dry, but it's easy to apply and there's an opaque color pay-off.
♥ Fresh Picked: a medium to dark warm copper with a matte finish. Fresh Picked is very smooth and I have no trouble working with this shade.
♥ Peach Sangria: a dark warm berry with red undertones and a pearl finish. This is the only eyeshadow in the palette I wouldn't necessarily describe as matte, although the slight shimmer blends away on the eyelids. The consistency is again a bit powdery, but easy to blend.
♥ Chocolate Dipped: a deep neutral brown with a matte finish. The color pay-off with this one is excellent and the texture is quite smooth.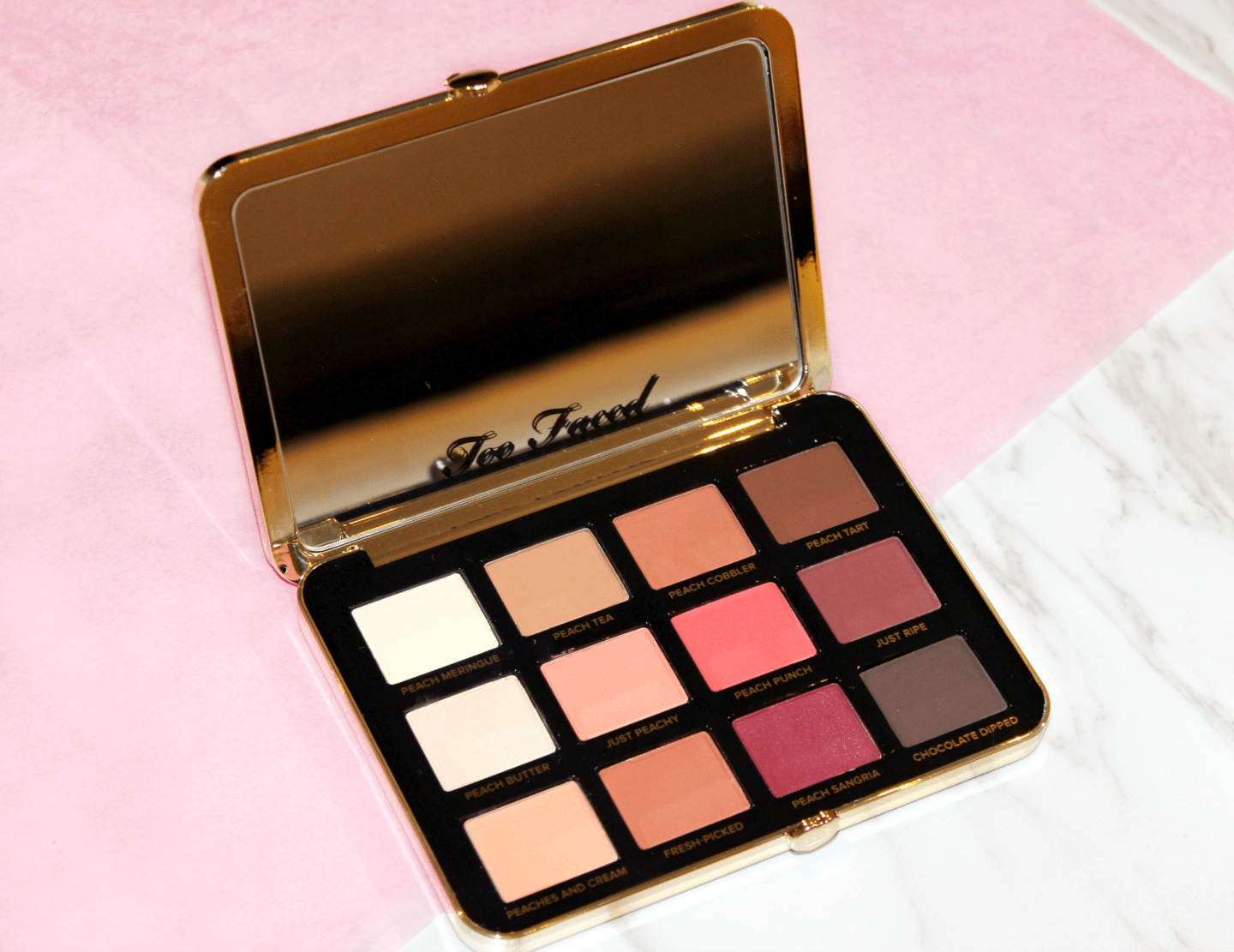 I have to admit, these shadows feel quite dry and chalky to the touch, which at first made me a bit skeptical. Although the formula is a bit dry and not as smooth as I had hoped, you don't notice this when you're actually working with the shadows. They're super easy to work with and the shades blend effortlessly.  The texture is not powdery whatsoever and there's barely any powder kick-up after going into the pans with your brush.
When it comes to pigmentation, most of the shades are pretty good, but some need a little bit of building up. Some of the shadows are more on the sheer side, but at the same time they're easy to layer and get the right amount of color density.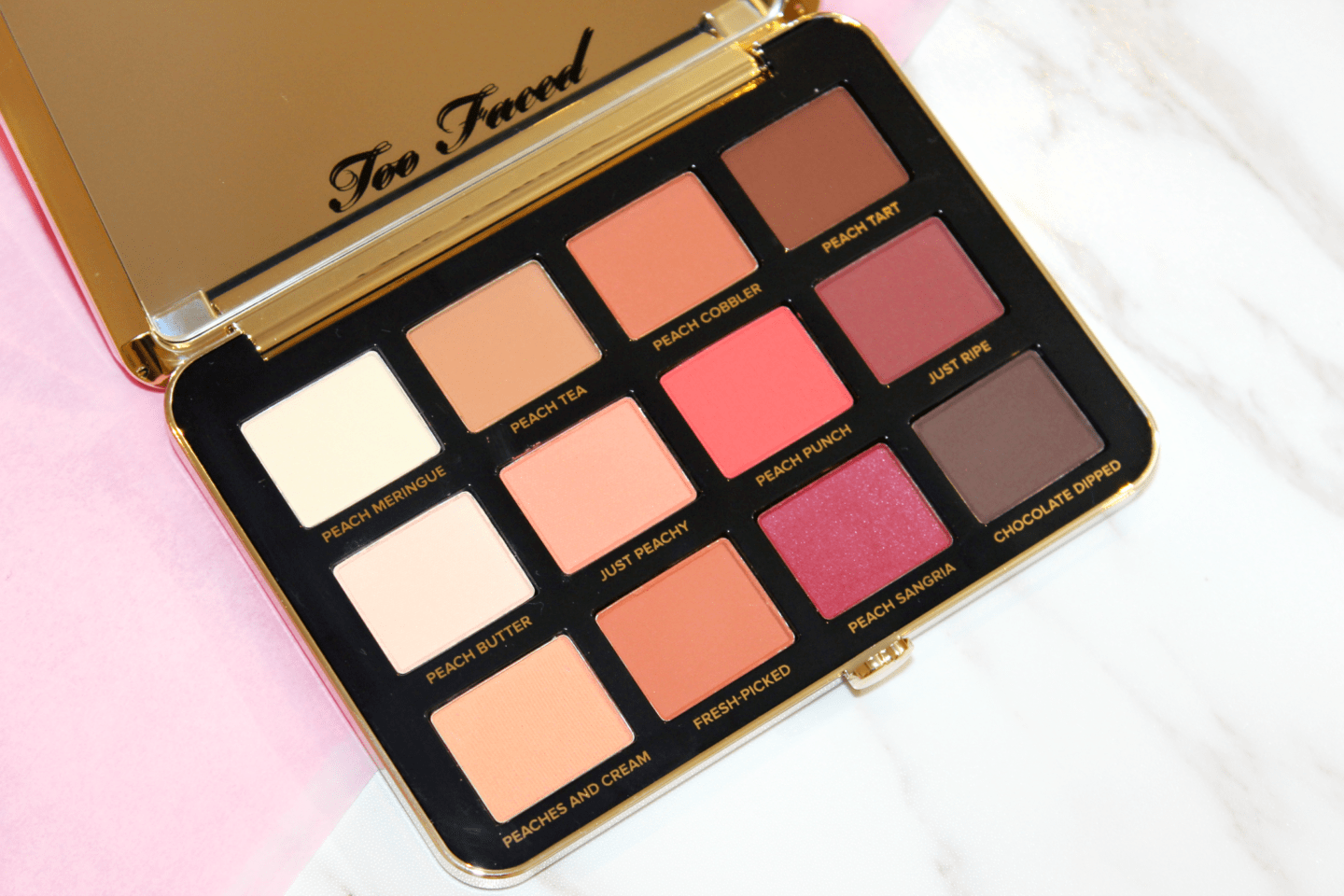 I really adore the warm color selection they went for with this palette and how peachy all of the shades look. There's enough diversity in the palette to create a wide variety of looks, considering the all-peachy undertones. However, there are a few shades that look similar when you first look at the palette. Peach Meringue and Peach Butter look very similar, however, the undertones are different which I don't really mind. The same goes for Peach Cobbler and Fresh Picked. In this case, I would've liked another deeper shade as they are almost identical (slight difference in undertone). But aside from this, I think this is a perfect Fall palette!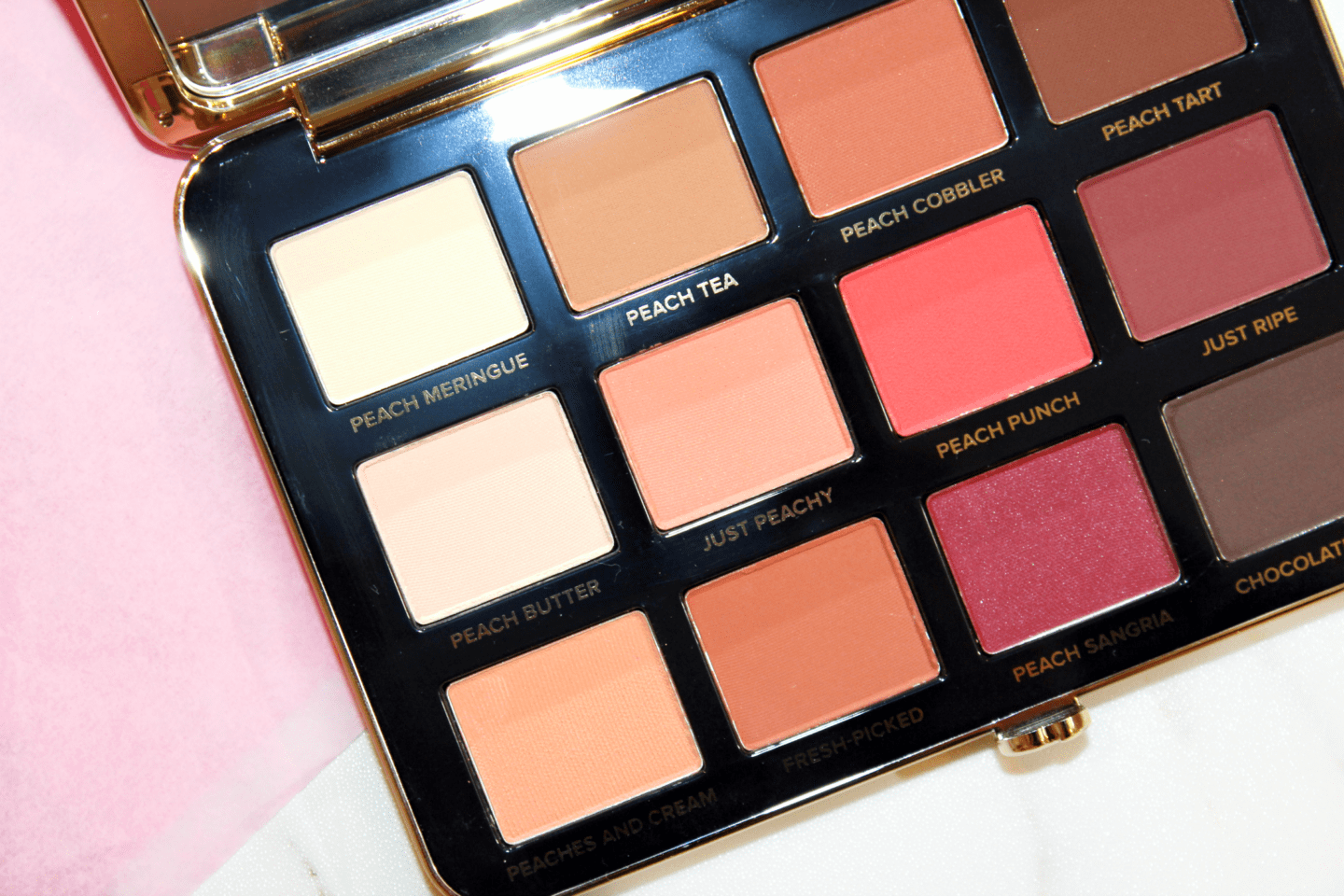 Although I have never tried to wear this palette without an eyeshadow primer, I do believe you're better to use a good primer with these shadows. Without primer, they would fade more easily and adhere less to your eyelids. Over a good base, the lasting-power is pretty good. On me, they last for about 7 hours before fading slightly.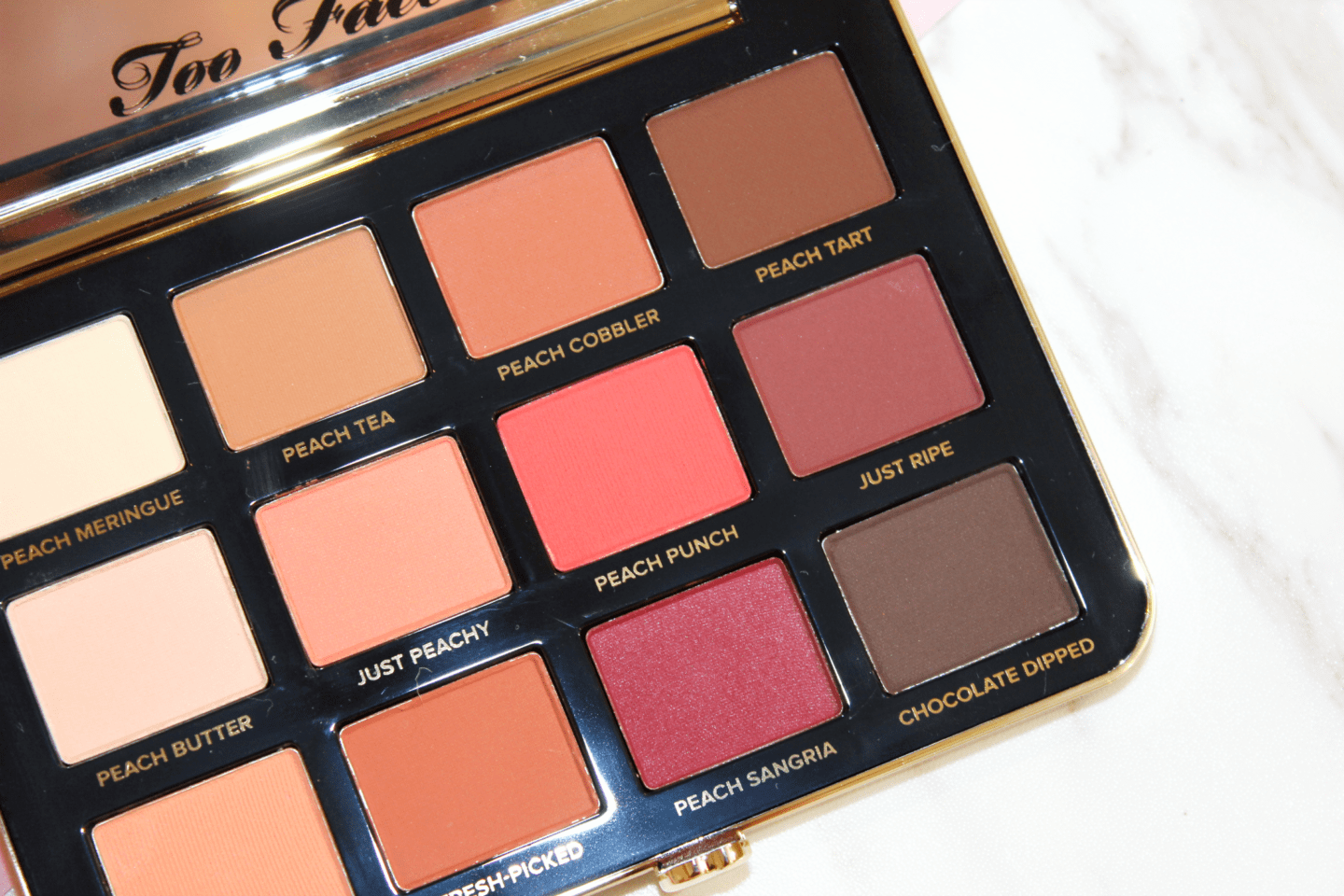 The fact that this palette only contains matte finishes is probably a blessing for some and a nightmare for others. I personally don't mind a matte eyeshadow look, but when I can add glitter I definitely will. Since I have such a huge eyeshadow collection already, I can always use another shadow or palette in conjunction whenever I feel like bedazzling up my look. So just think of the Just Peachy palette as a perfect everyday palette to start off any eye-look with, or to create matte looks with.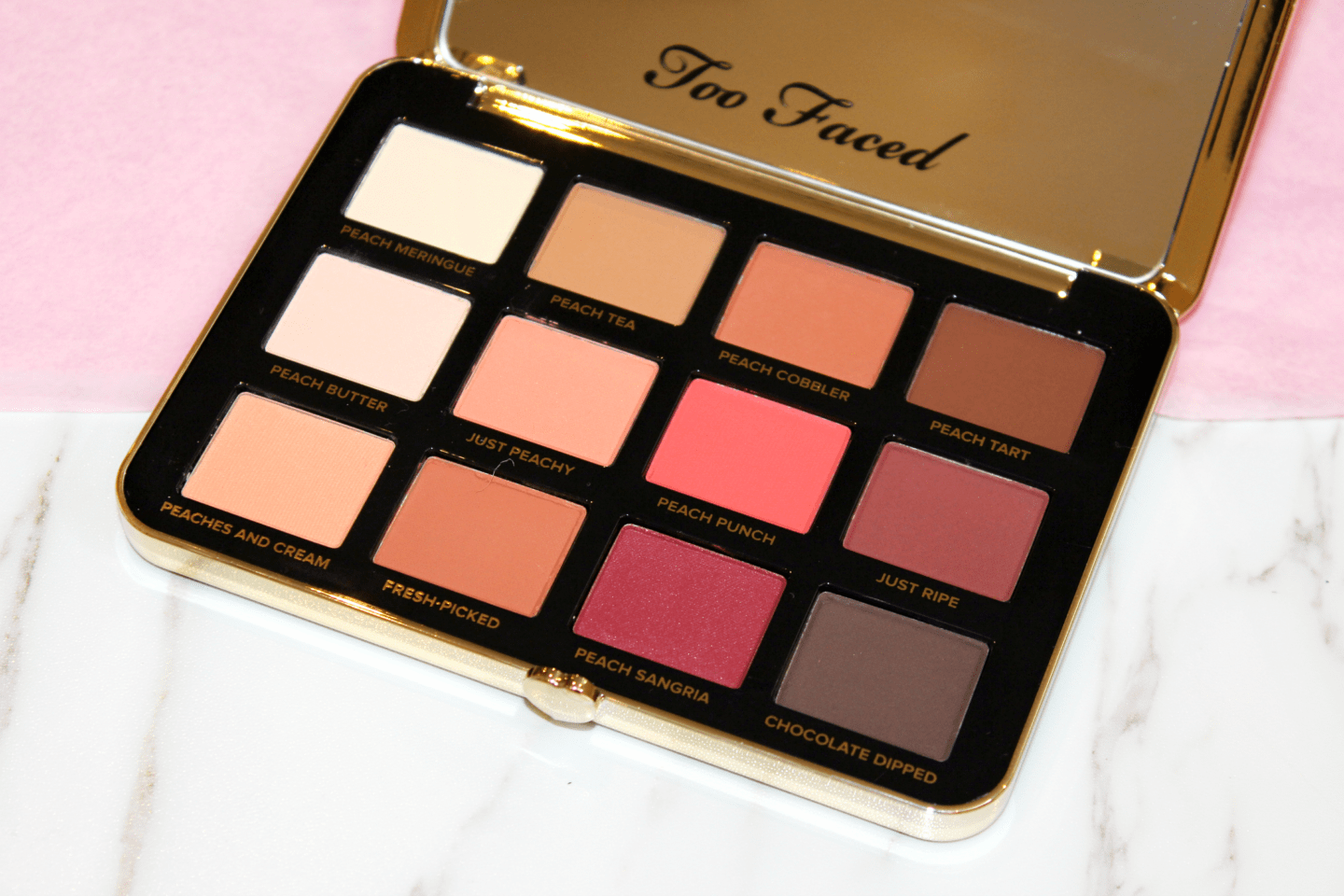 Scent
The eyeshadows have a sweet creamy peach scent to them, but compared to the Sweet Peach palette the scent is a lot more subtle and creamy. I personally don't mind the scent since it doesn't linger and it's not noticeable when the eyeshadows are applied onto the eyelids.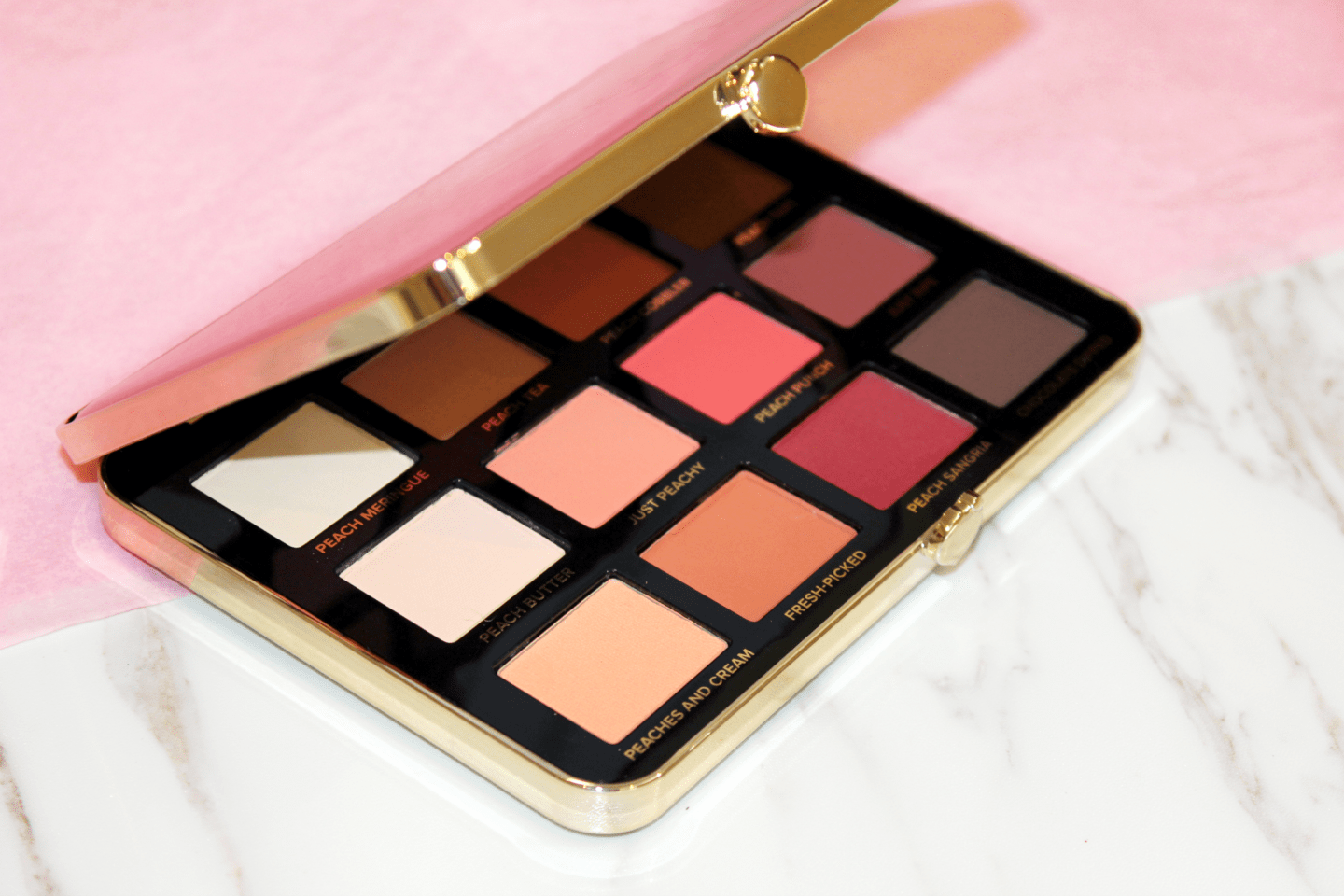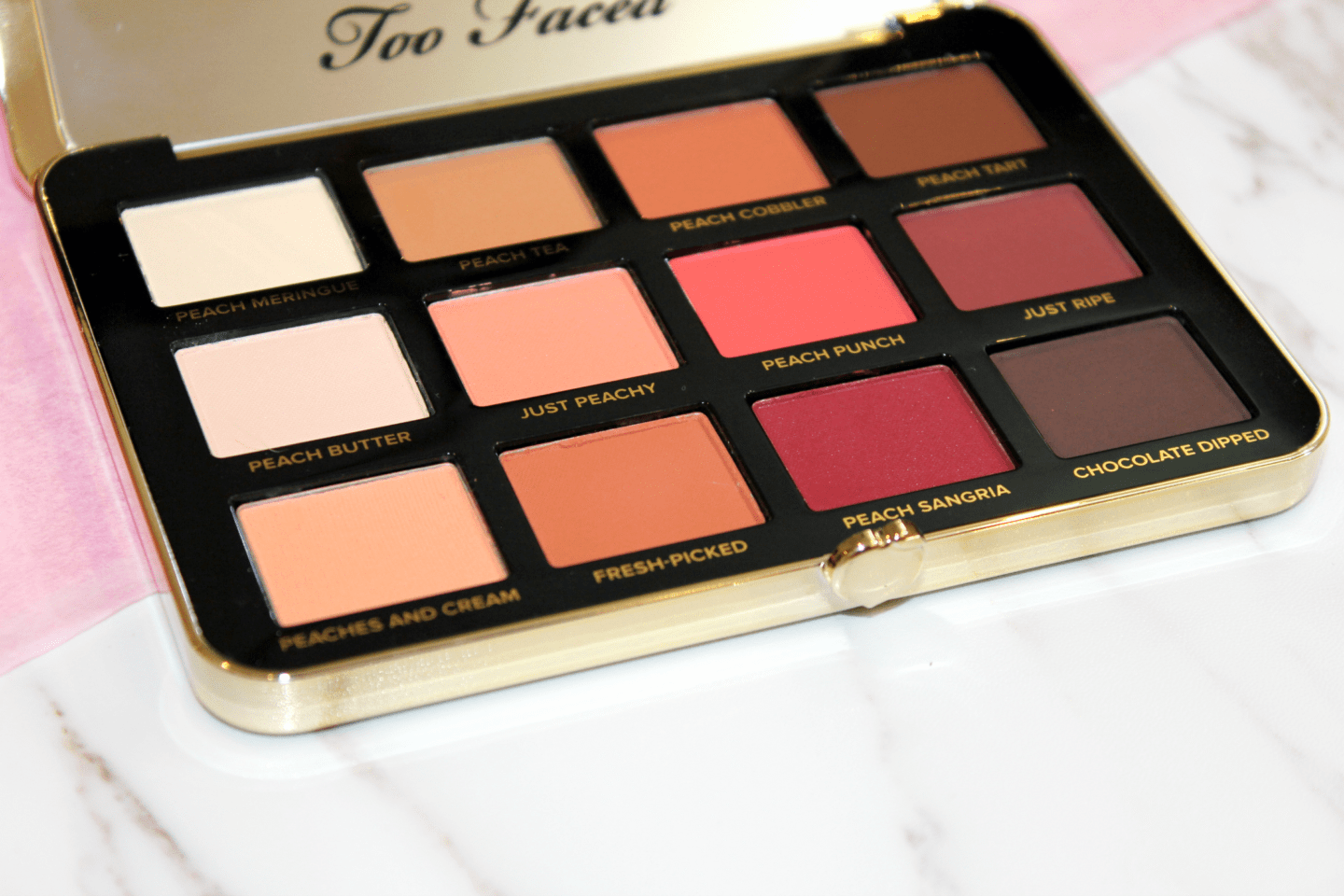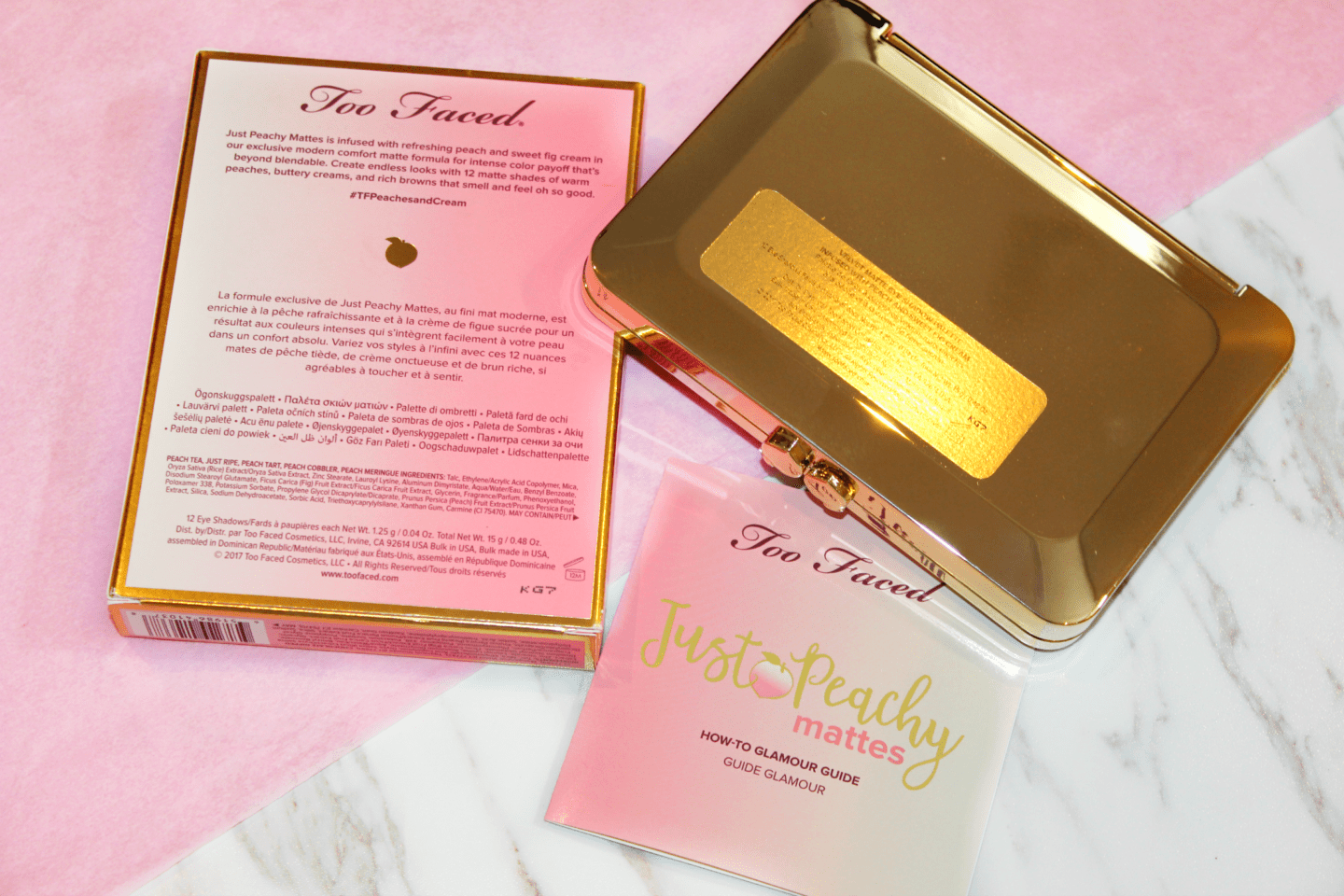 You also get a how-to glamour guide with the palette, which has a few different looks for inspiration with a step-by-step guide on how to achieve them. I never really use these charts, but they're definitely great for beginners or days when you don't have a ton of inspiration. Here are more eyeshadow makeup looks that I love!
I'm wearing the Too Faced Just Peachy Mattes eyeshadow palette on my eyes for this look. If you want to know how to get this look yourself, check out my tutorial!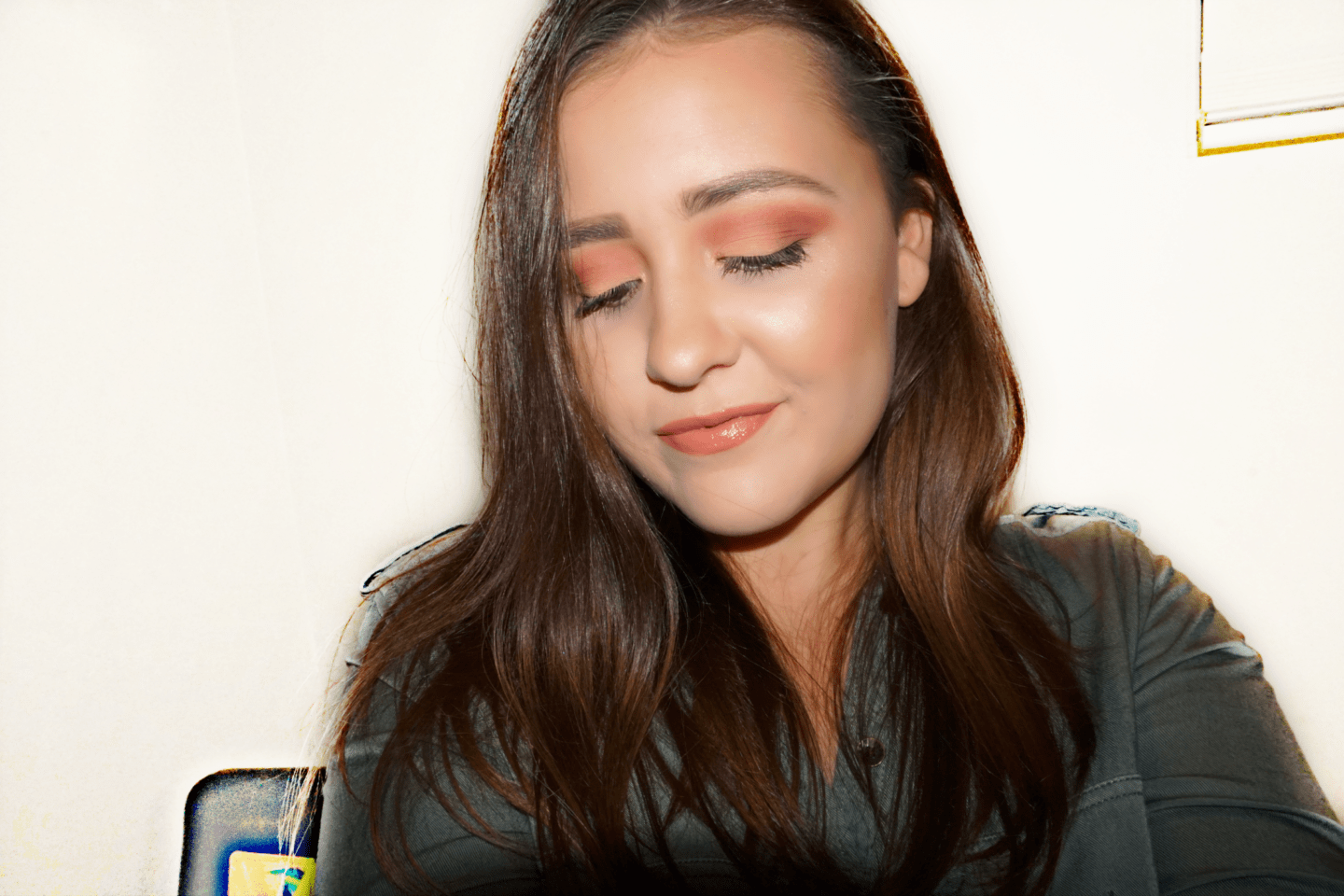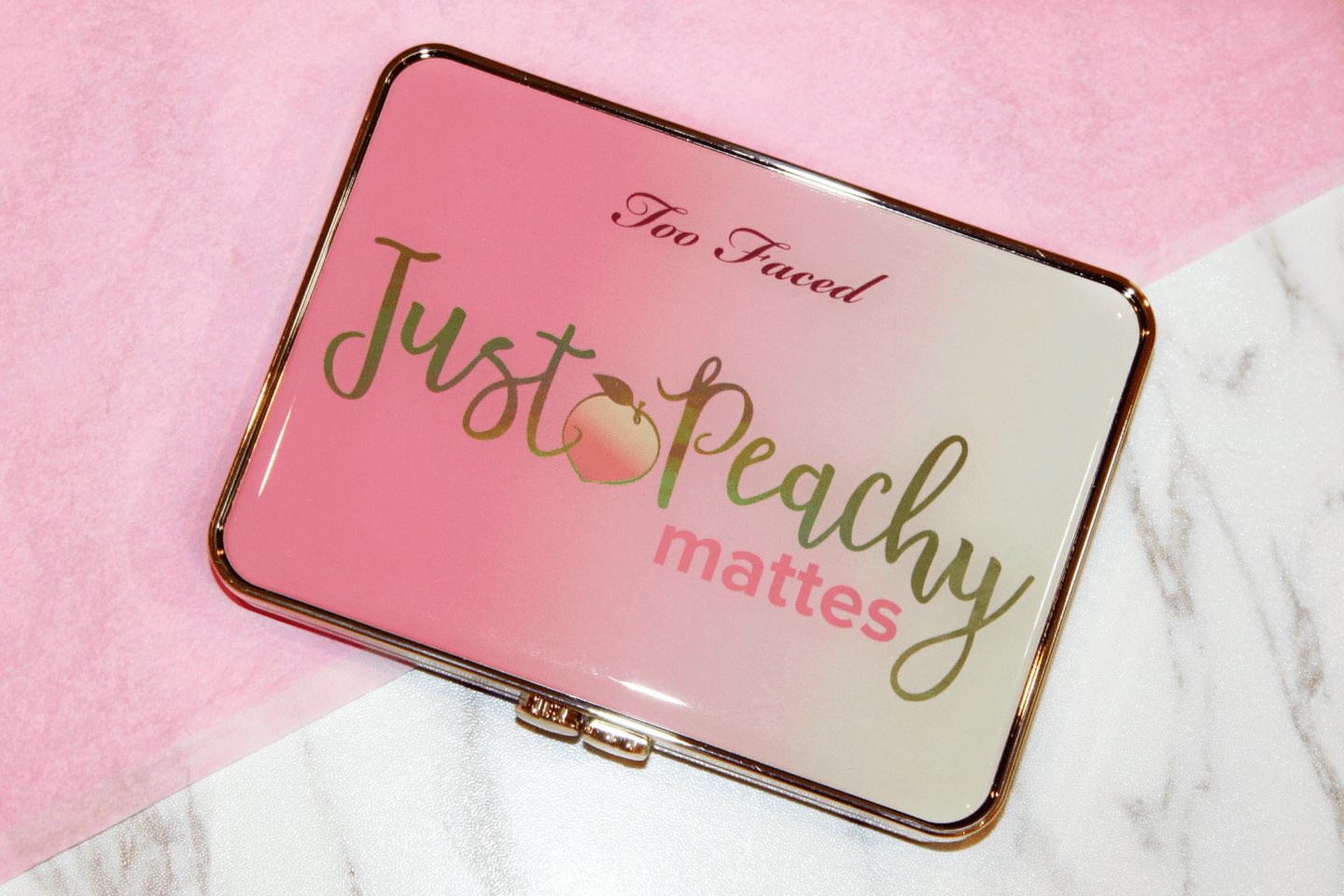 If I had to compare this palette to Too Faced's previous palettes I definitely think they stepped up their game! Although these mattes feel a bit dryer than their past shadows, they're easier to work with, they're pigmented (although some were a bit sheer) and the packaging is just way too cute. I wouldn't have minded a few shimmer shadows in the palette personally, but I don't mind the all-matte finishes either. Oh and may I add, I'm obsessed with the color selection and the scent as well!
Availability
The entire Too Faced Peaches & Cream collection is exclusively available at Sephora (both in stores & online) and on the official Too Faced website. The Just Peachy Mattes Eyeshadow Palette retails for US $45 / CAD $55 (15 g), which comes down to $3,75 per eyeshadow pan. When you look at it like that, I think this palette is absolutely worth the money. Granted, you pay a lot for the brand and packaging, but as long as the actual product is amazing it's worth!