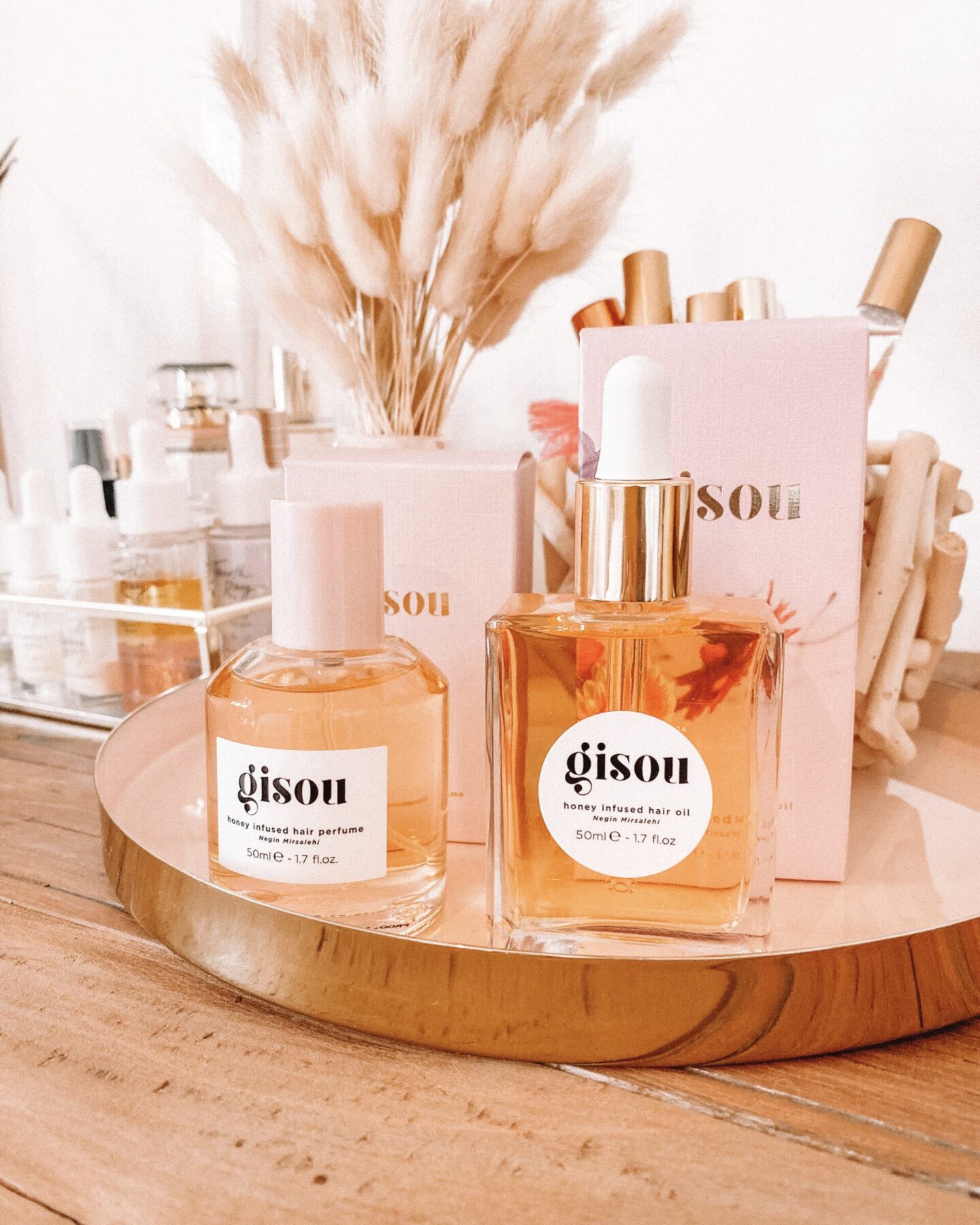 We've probably all come across Gisou scrolling through instagram at some point. The luxurious haircare brand founded by famous influencer Negin Mirsalehi kept intriguing me since the beginning. The beautiful glass bottles, the fact that it contains honey,… I kept trying to resist because of the high price tag, but the brand kept calling my name. I finally caved and purchased my first bottle of honey infused hair oil. I was so pleasantly surprised by the scent of the hair oil that I later on also purchased the honey infused hair perfume. It's almost been a year since I first purchased from Gisou, so I've definitely been putting these products to the test!
Shop Gisou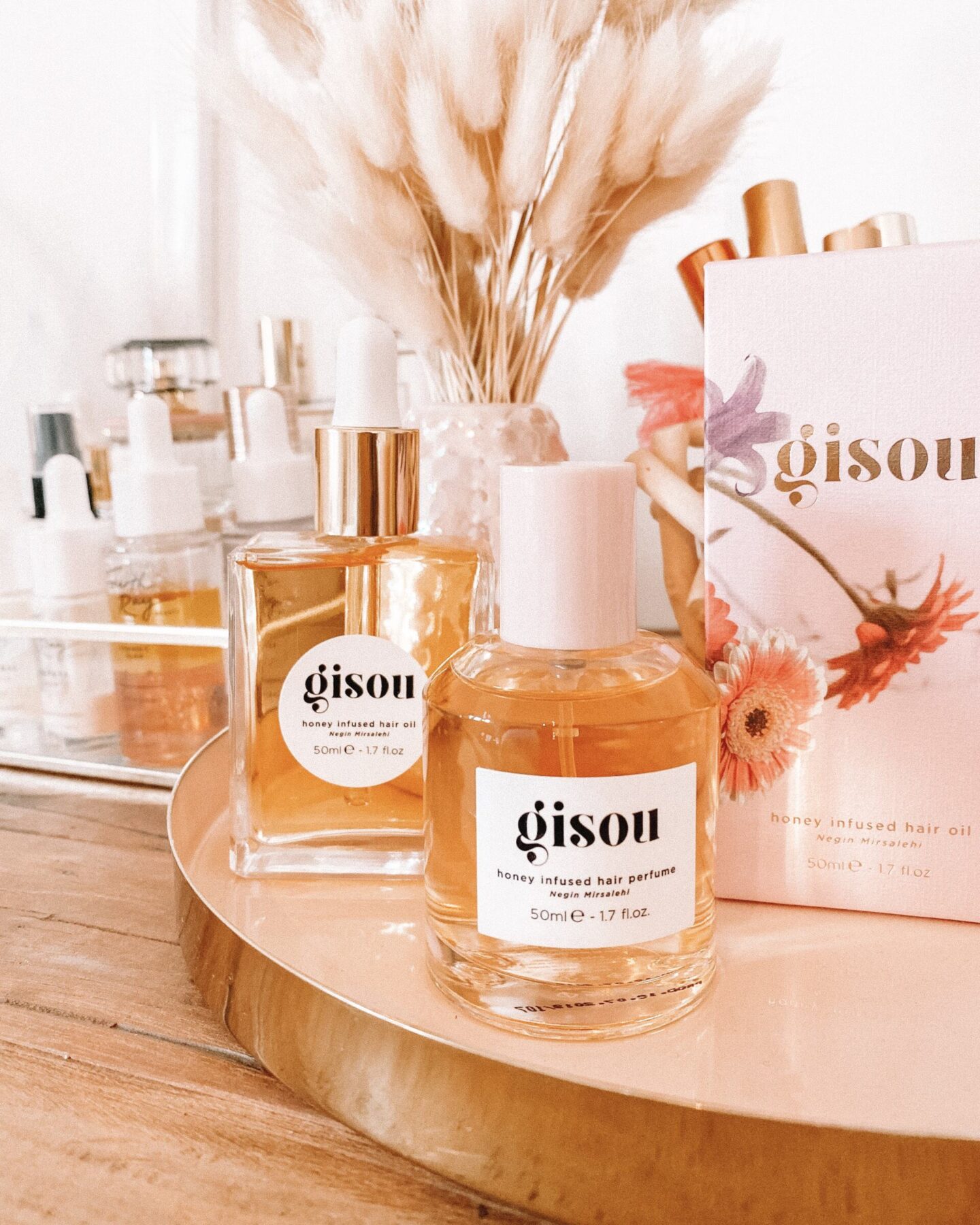 There's no denying the fact that the packaging of Gisou products is to die for. It's so simply, yet so elegant and feminine at the same time. The cardboard box has a soft shade of pink with gold lettering. The glass bottles look so luxurious, chic and are a beautiful addition to any makeup vanity.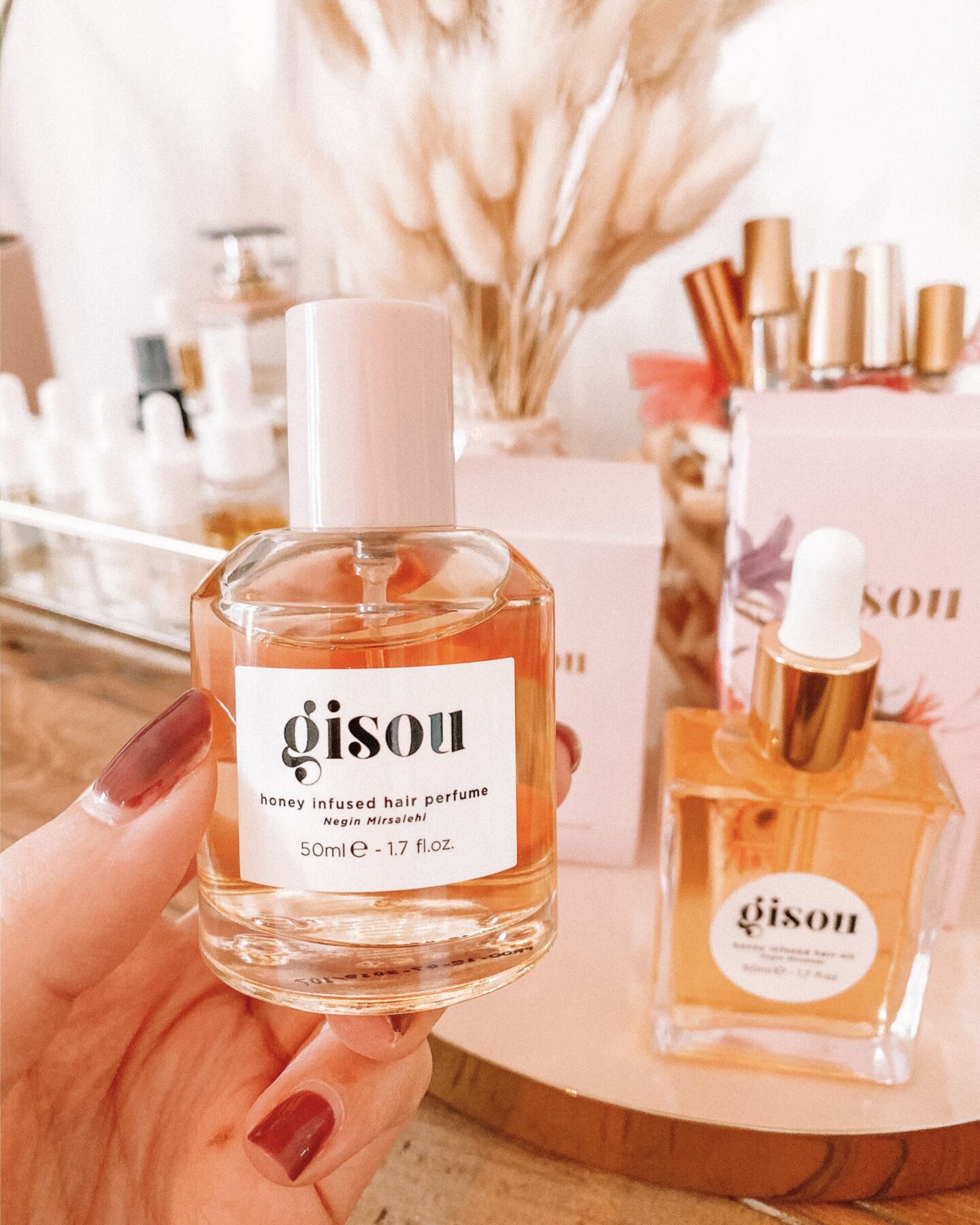 Honey Infused Hair Perfume
The key ingredient in the hair perfume is, of course, honey. And I can honestly say I do notice a hint of honey in this delicious smelling hair perfume. The scent is very floral and feminine and in my opinion, also very unique. I've never smelled anything like the Gisou products before.
My favorite way to use this product is to spray it in my hair once I'm done styling it. The heat of my styling tools can make my hair look a bit dry sometimes, and I do feel like this hair perfume adds a bit of moisture back into my hair, along with a divine floral scent. I not only use this hair perfume on my hair, but also on my clothes and neck. The scent lingers on for about 4-5 hours before it starts to fade away ever so slightly, which I think is pretty average for a (hair) perfume. It's also nice to note that the hair perfume is formulated without silicones and of course, is cruelty-free.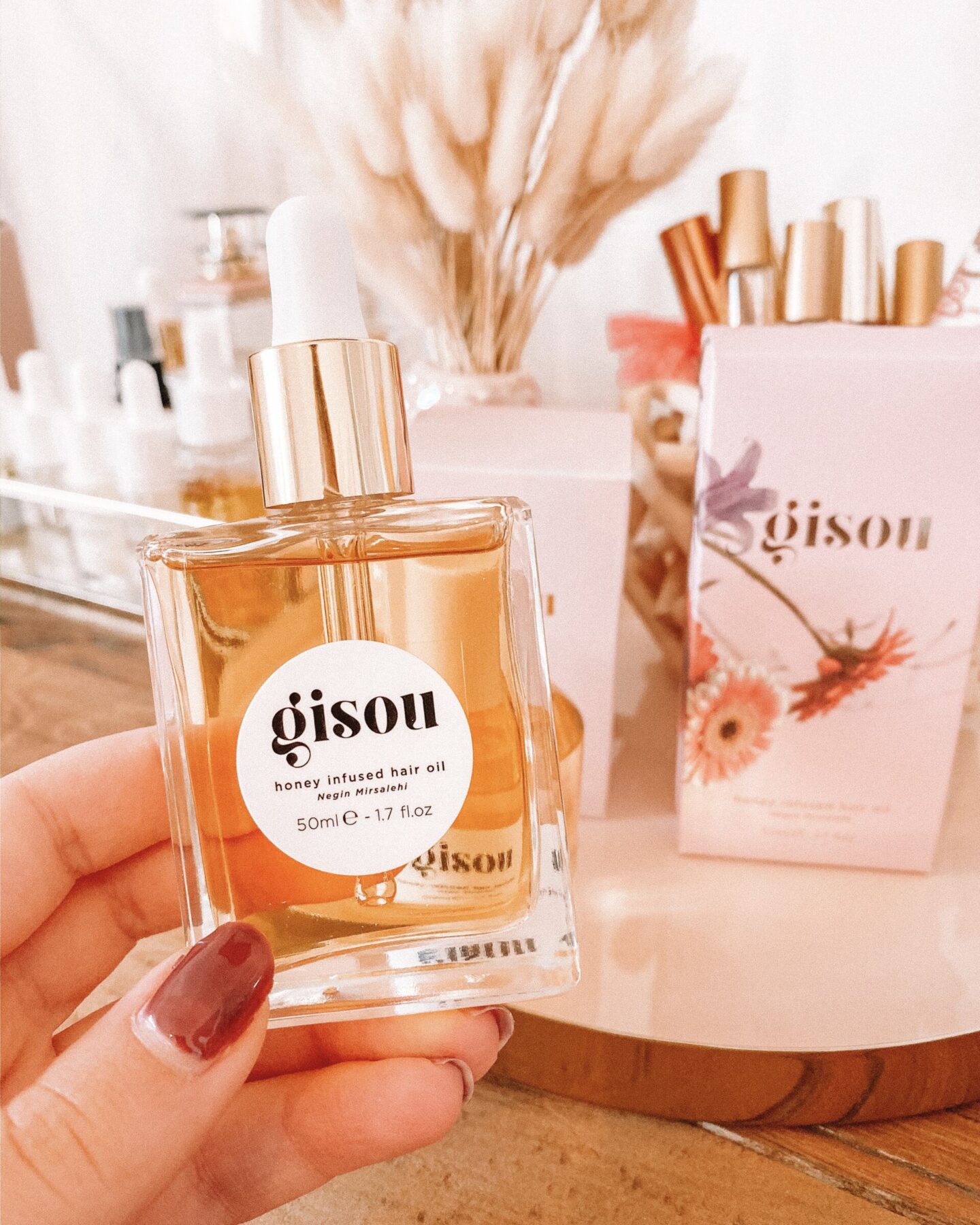 Honey Infused Hair Oil
The honey infused hair oil claims to deeply condition, strengthen and nourish your hair thanks to the key ingredient, honey. Speaking of ingredients, the hair oil does contain silicones which is important to note especially if you have curly hair. Silicone-based products in curly hair may produce build up since the ingredient doesn't dissolve in water. I for one, have very straight and thin hair and I actually don't mind silicone in my hair products, as long as it's not too overpowering. If you take a closer look at the ingredient list, you'll also notice that honey is actually at the bottom of that list. I guess the hair oil would've become too sticky if they added too much honey. The hair oil also contains sweet almond oil, coconut oil and vitamin E.
The smell of the hair oil is, just like the hair perfume, floral and feminine. It actually is the exact same scent as the hair perfume, just more subtle. The consistency of the oil is of course quite oily but you can also clearly feel the silicones. I use about 1-2 drops on my wet, tangled hair and this adds just the right amount of moisture. The hair oil doesn't make my hair feel greasy as long as I don't apply too much. It smooths out my hair and makes it feel soft once it's dry. Sometimes, when my hair is extra dry on the second day, I just apply a little drop to the ends of my hair and it gets rid of any frizziness. This goes to show how versatile this product really is. You could use it as an overnight treatment, before styling, after styling, add it to your hair mask,… Just make sure to never over-apply this product, since it can tend to get greasy if you do (trust me: been there, done that!). This is also my second bottle I've purchased this year, which really says a lot. I always go for the travel size (50ml), which lasts me about 6 months.
My final thoughts? I really enjoy using both products and they have become a staple in my haircare routine. But the big question remains, are these products worth the hefty price tag? The hair perfume 100% is! The scent is divine and it's not more expensive than an average perfume bottle. So worth it! The hair oil on the other hand, depends on your budget honestly. I'm sure you can find alternatives that do the same thing to your hair for a fraction of the price. But will the packaging be as luxurious, the scent be as divine,…? Probably not! Another selling point for me? The Gisou products are made in The Netherlands with honey from the Mirsalehi bee graden and are not tested on animals. Bottom line, I'm a huge fan of both products and I will continue to repurchase them once I run out.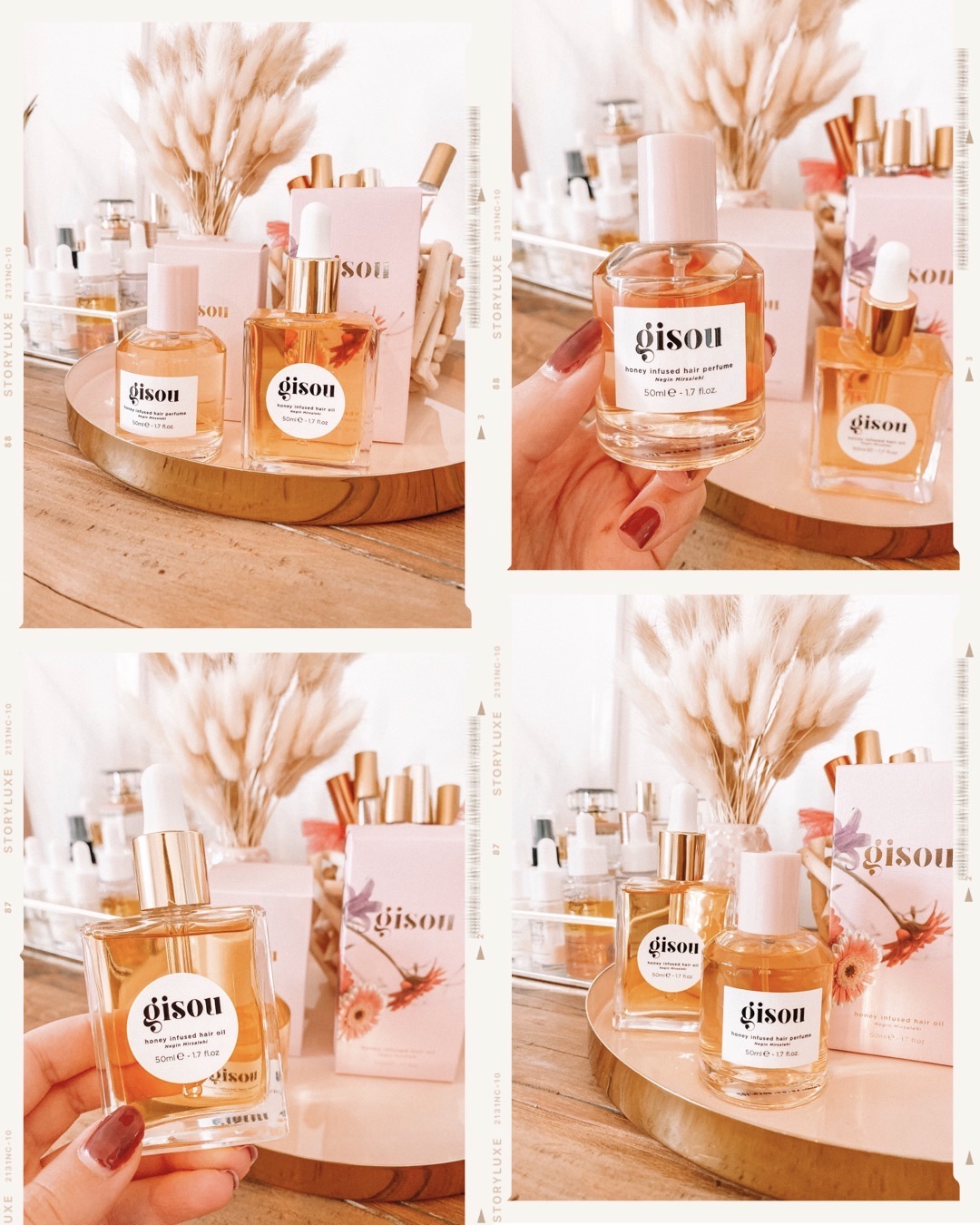 Both products are available to purchase on the Gisou website and a few luxurious department stores. The Honey Infused Hair Oil retails for €40 (50ml) and the Honey Infused Hair Perfume will cost you €38 (50ml).
Have you tried out any Gisou products? What are your thoughts? Is it worth the money?