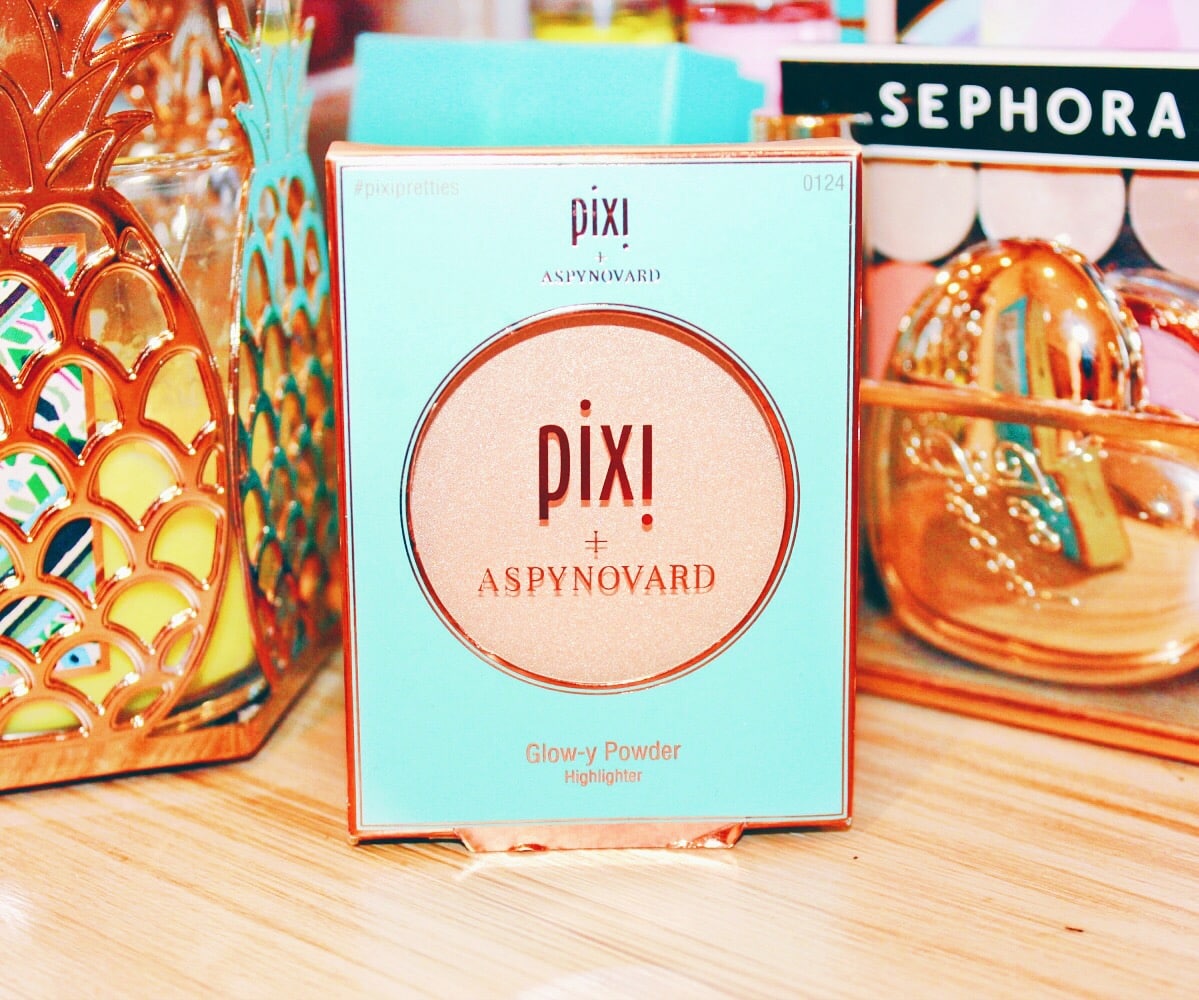 There's nothing I love more than seeing my favorite Youtubers collab with awesome brands. I get a little spark of proudness inside and it's also an excellent excuse to buy more makeup (I can't not support them, right?!). So when I saw that Aspyn Ovard was releasing a small collection of makeup products with Pixi Beauty I got so excited. Together they released three Glow-y powders and an eye accent kit. One of the Glow-y powders in Santorini Sunset is a gorgeous highlight that immediately caught my eye. The collection is available online and at select Target stores in the US, where I happened to be a few months ago. I thought getting that highlight would be impossible and had a feeling it would be sold-out, but to my surprise it wasn't! I immediately threw it into my shopping cart & today I'm sharing my thoughts on this new(ish) collab.
About Aspyn Ovard
Aspyn is a lifestyle blogger and youtuber with a huge following. I have been following her for years now and am always inspired by her gorgeous Instagram feed. She also has a vlog channel, where she posts about her daily life with her husband, Parker.
Her beauty style is very natural, glowy and minimal, which is reflected by her collection with Pixi. The fact that she released three glow-y face powders and a lower lash mascara / brow gel set makes the most sense as those are her favorite products to use.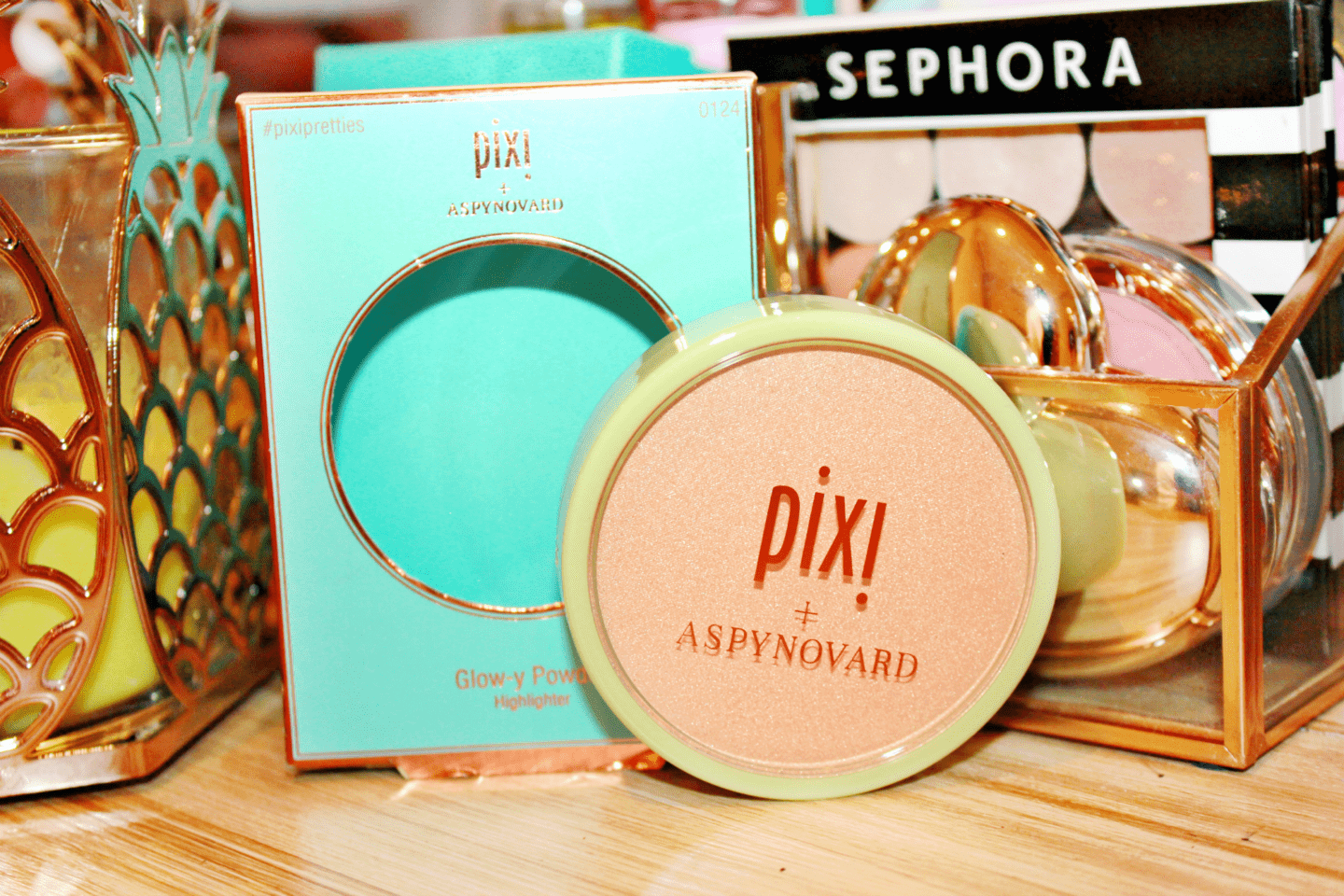 Packaging
Aspyn's Glow-y highlighter is housed in a mint blue and gold cardboard box with a see-through front. The actual highlight comes in a round green compact and a clear lid, which you twist open to get to the powder (think Colourpop Super Shock Shadows type of thing). I'm personally not the biggest fan of the 'twist-open' packaging, but I do really enjoy the design and the fact that the pan is very generously sized (10 g).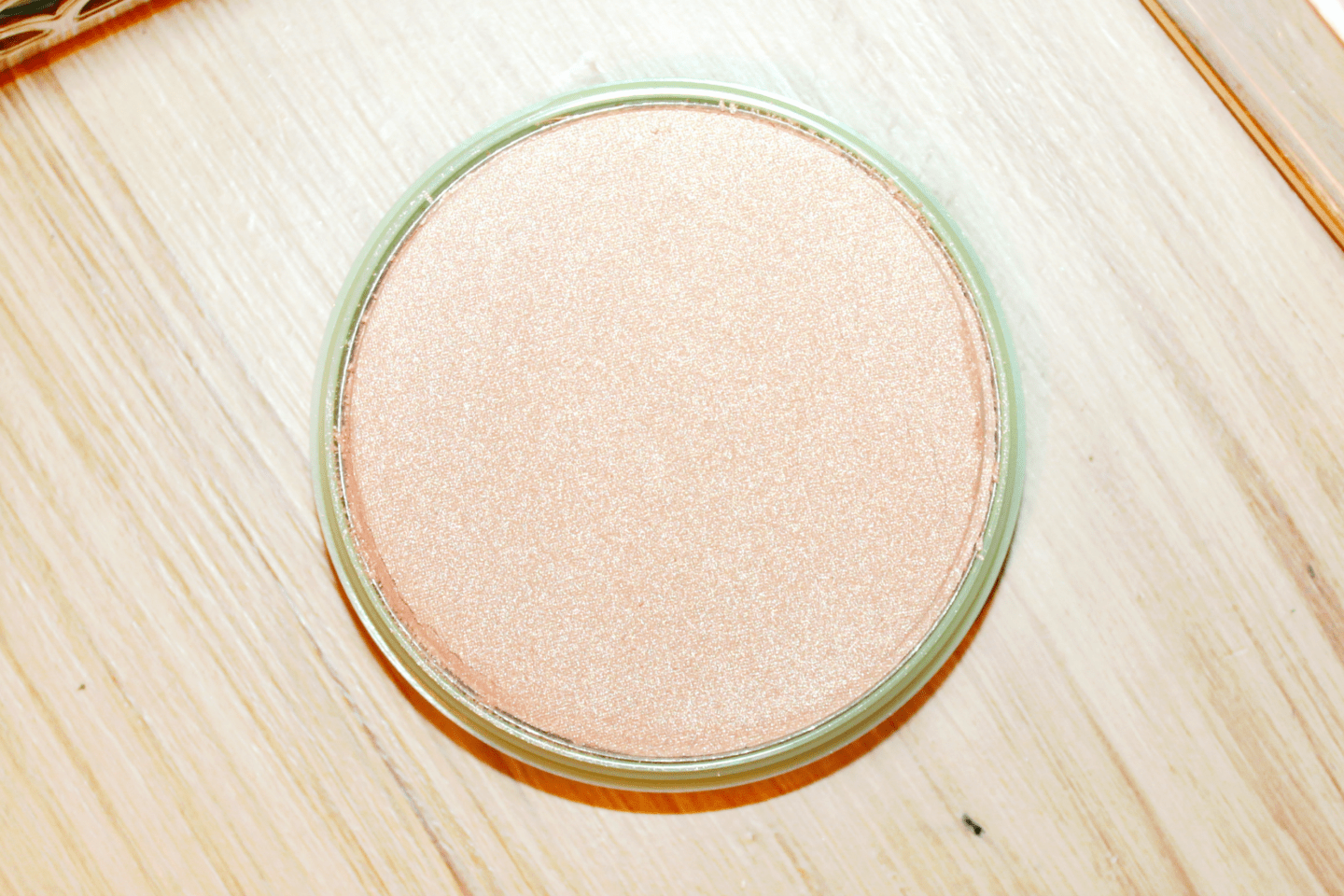 Out of the entire collection, the Santorini Sunset glow-y powder highlighter definitely caught my attention the most. It reminded of a mix between Becca's Opal and theBalm's Mary-Lou Manizer, which are some of my all-time favorite highlighters.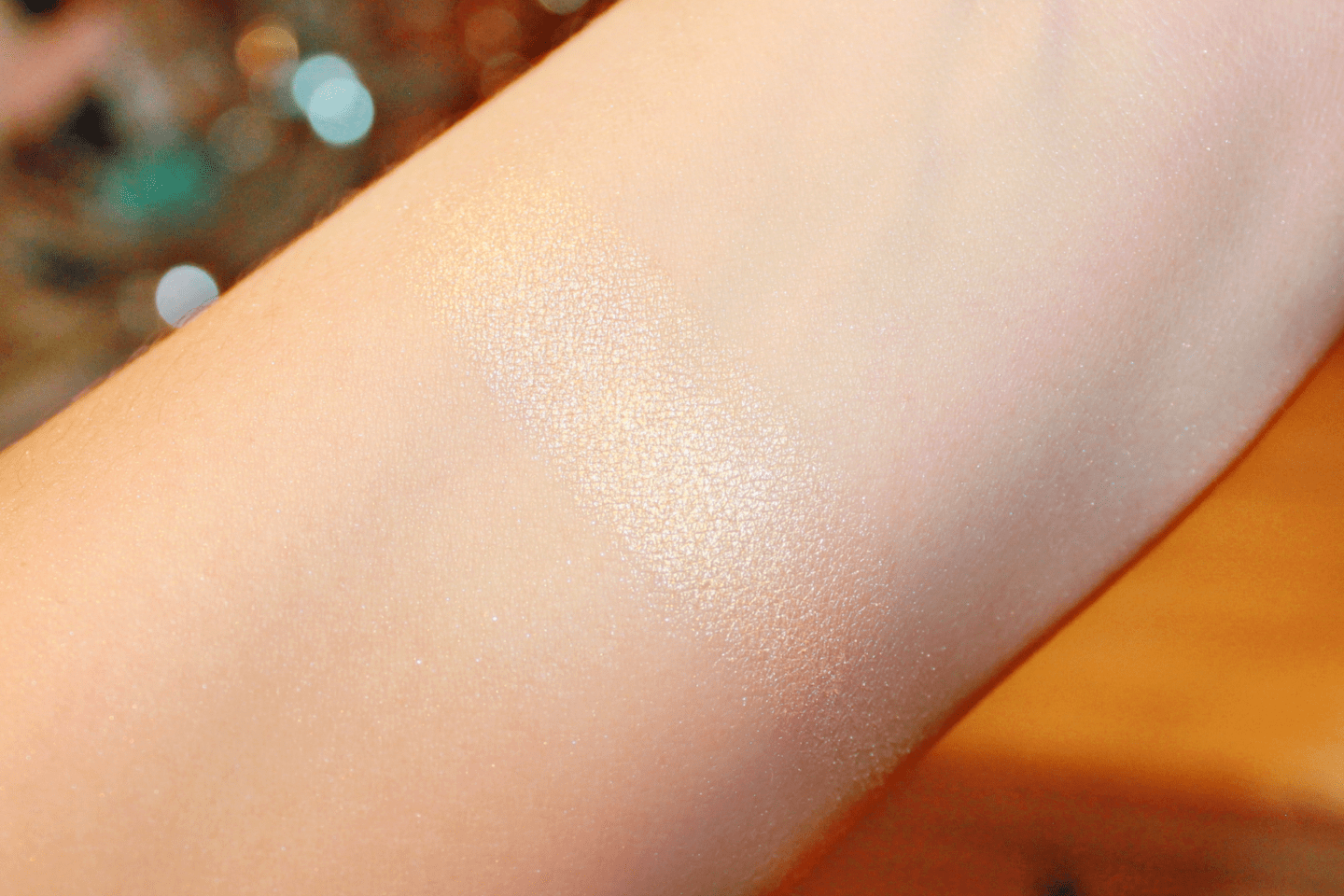 Santorini Sunset is a soft peachy golden highlight. It definitely looks a lot darker in the pan than what it looks like swatched or on the actual cheeks. I would say Santorini Sunset is suitable for fair to medium skin-tones.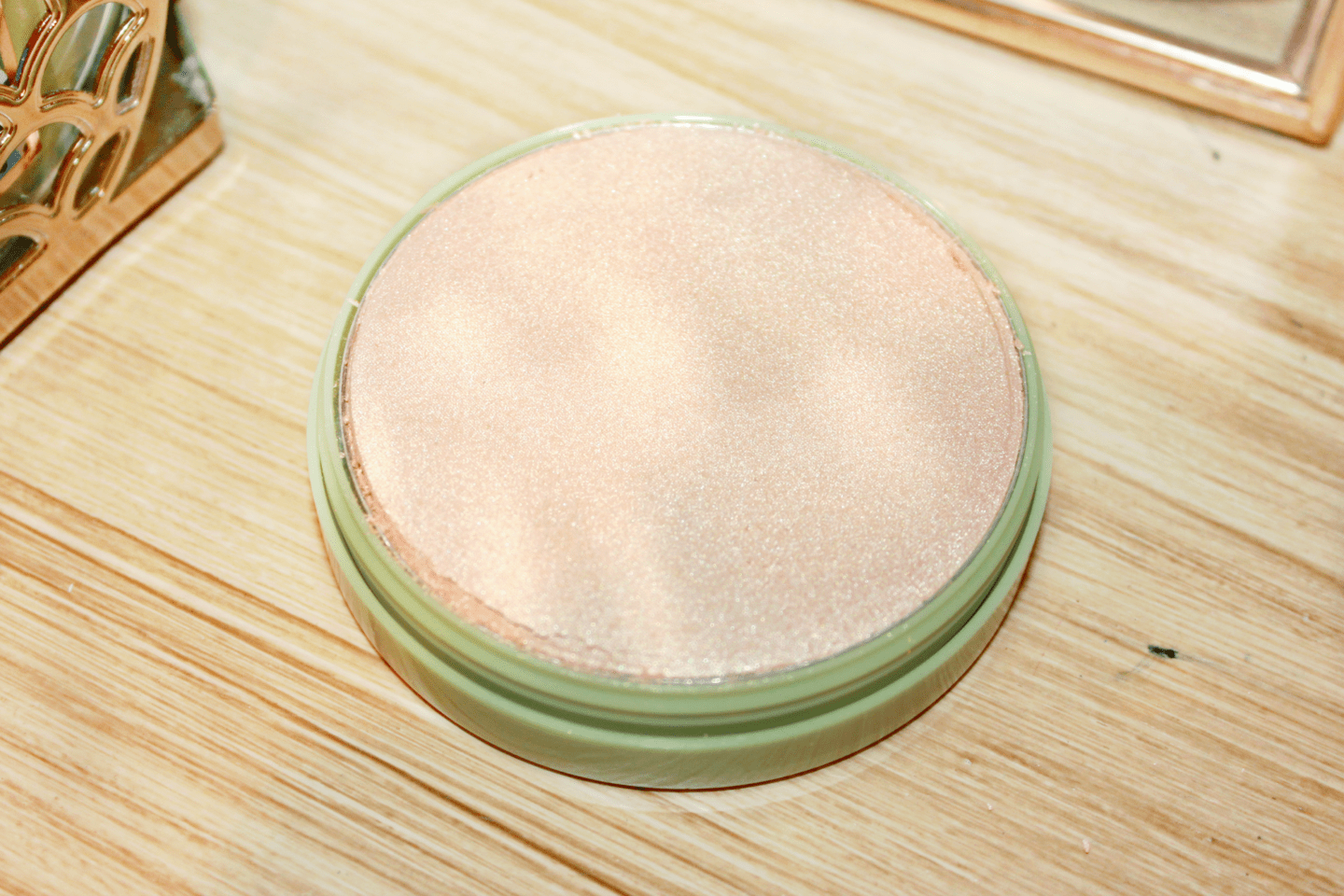 The pigmentation of Santorini Sunset is so amazing! You definitely need to build it up and apply light layers, unless you like a bright & intense highlight (welcome to the club!). Once applied to the cheeks, Santorini Sunset looks so luminous, dewy and even a little bit wet, which is just gorgeous. There's no chunks of glitter, just a sheen with lots of luminosity.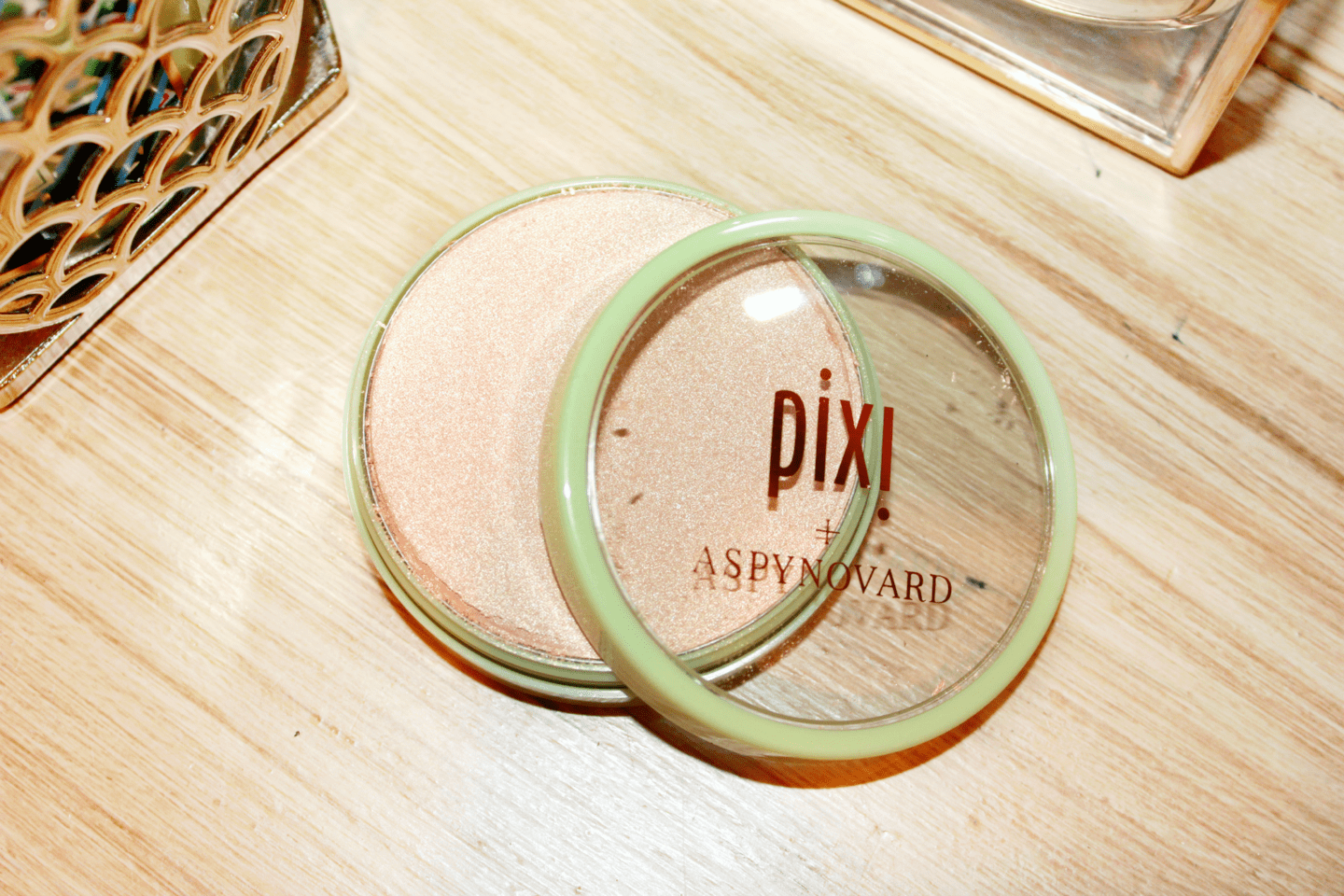 The formula of Aspyn's highlighter is very soft and velvety. The texture is super easy to blend and there's just a little hint of accentuating skin texture, but nothing major. With this highlight, you're able to go for a more subtle sheen, or build it up to glow to the Gods.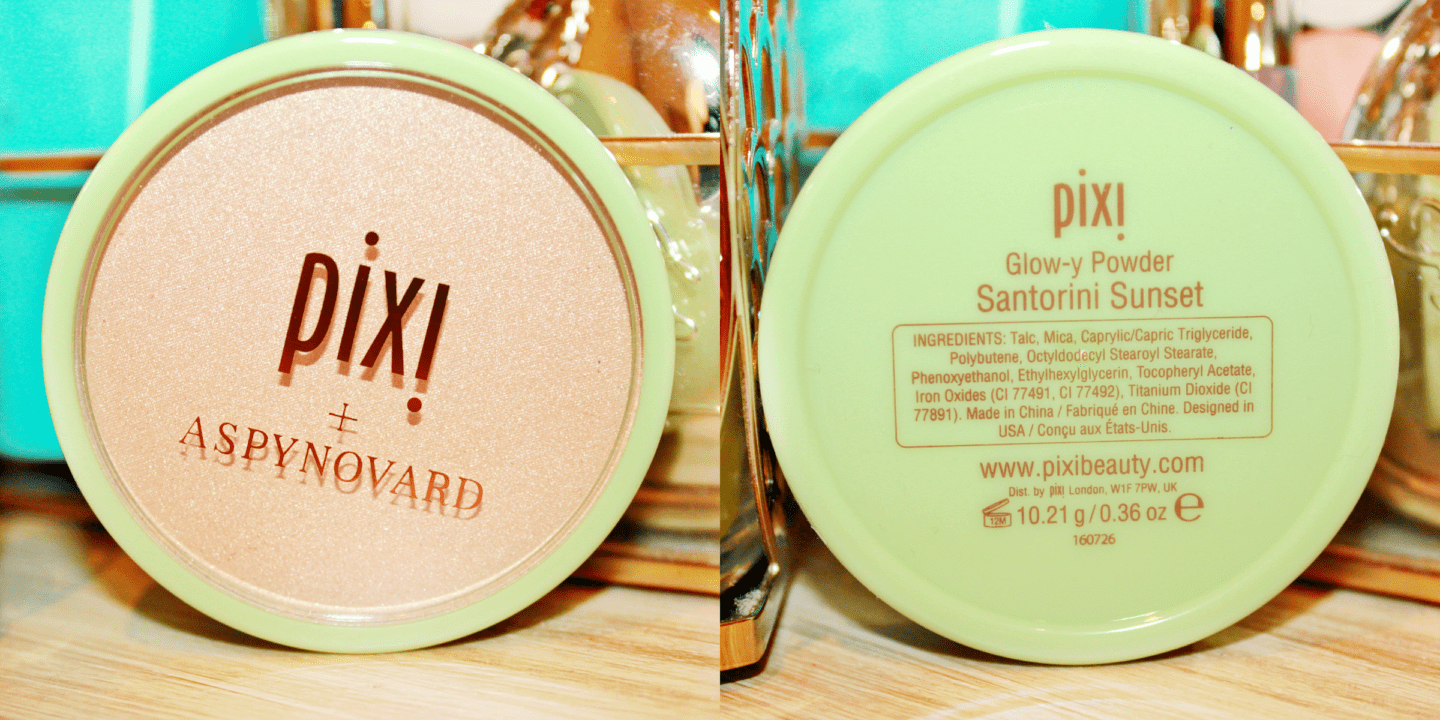 The lasting-power of Santorini Sunset is average. It's definitely still noticeable by the end of a long day, just not as intense as when you first applied it to your skin. I would say it starts to fade a little bit once you pass the 7-hour mark, which is pretty normal for a highlight.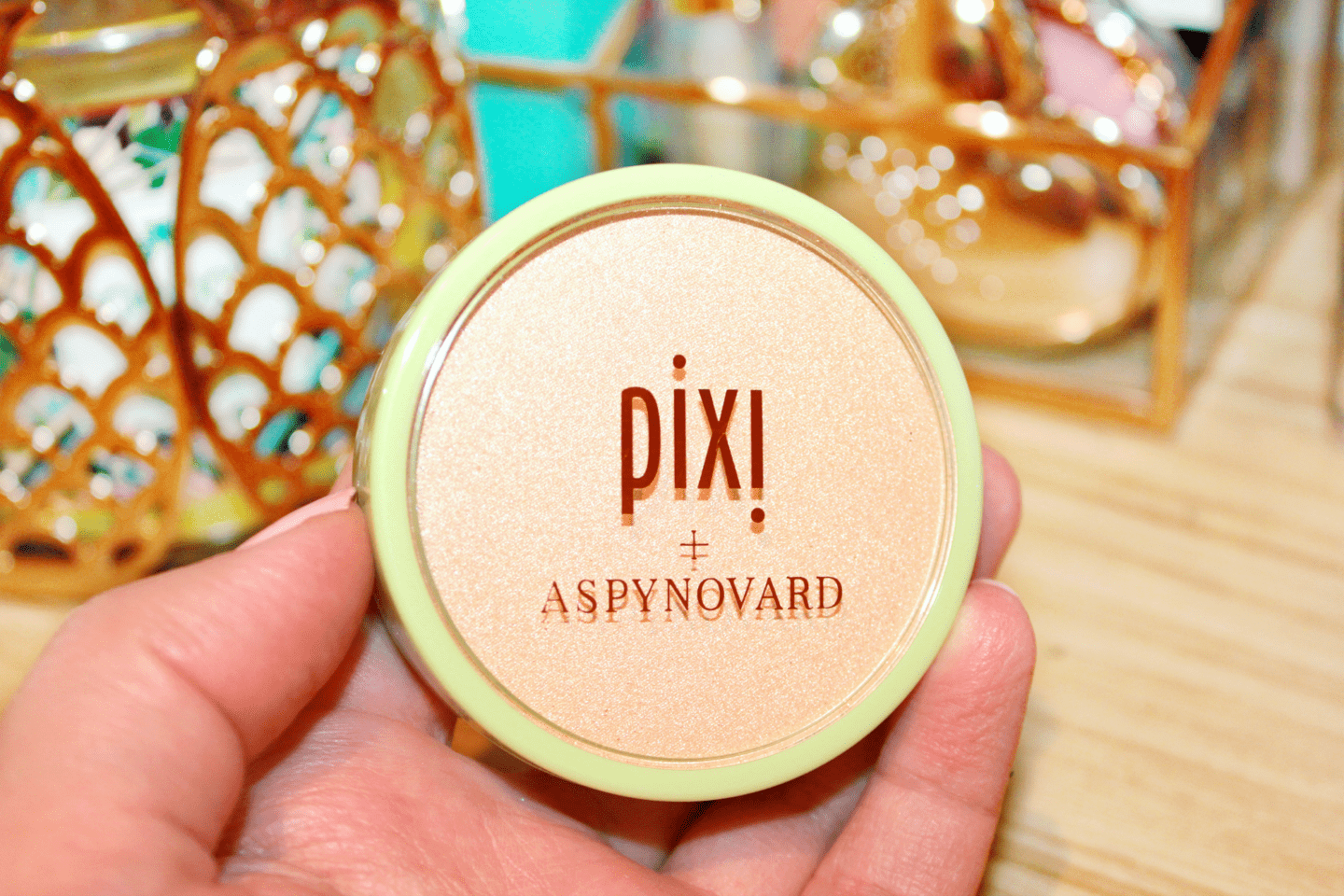 I did notice that the powder isn't firmly pressed into the pan, meaning there's quite a lot of powder kick-up and the powder is quite fragile. I wouldn't necessarily take this traveling with me, as I would be paranoid the powder would break and crumble into a million pieces.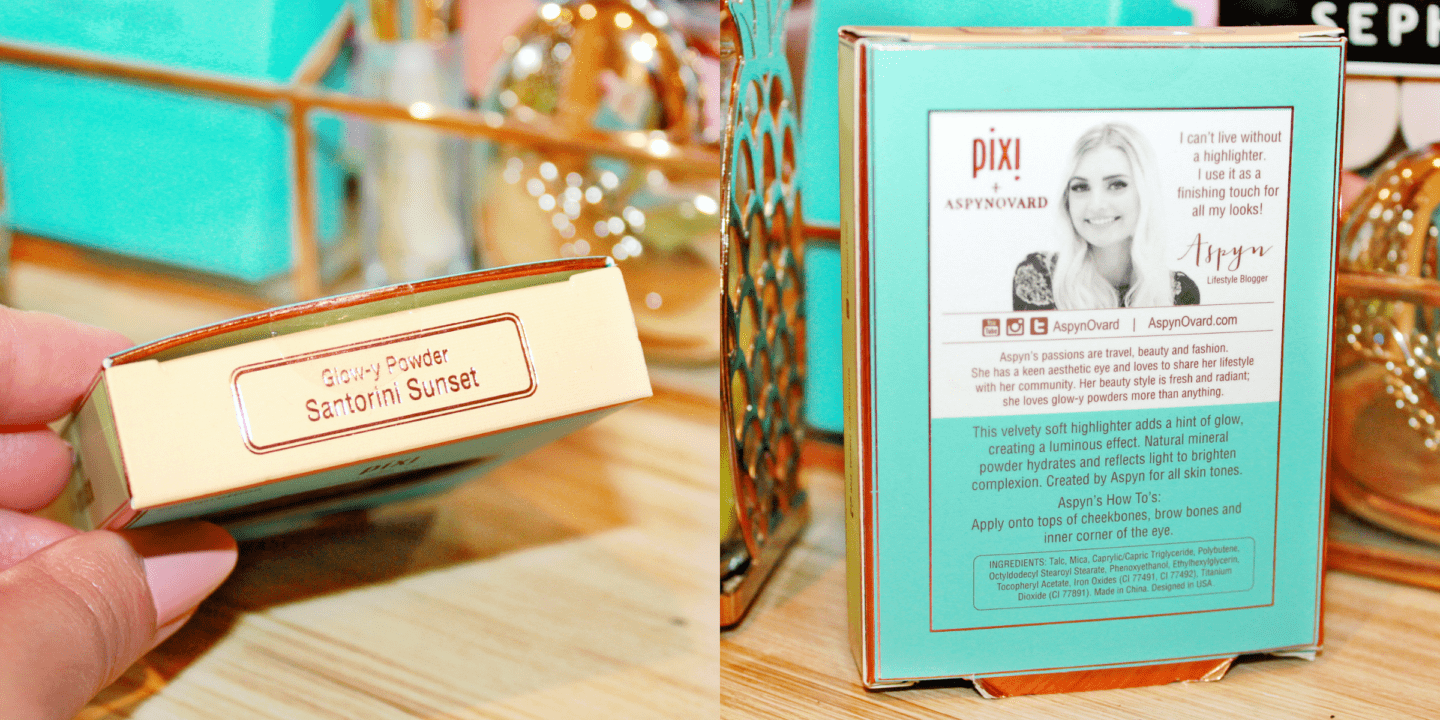 I'm all for this cute packaging they went for with this collection! It represents Aspyn so perfectly & I'm so happy she was able to release such a stunning collection reflecting her personal style.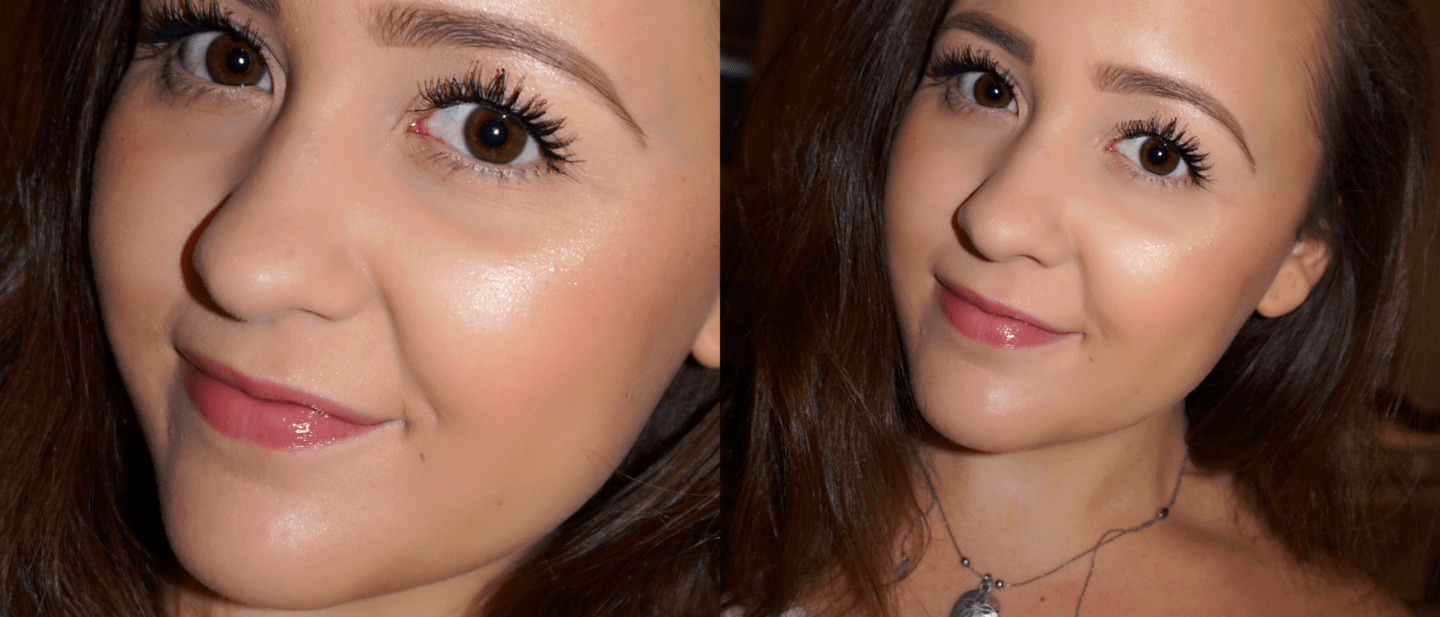 I'm wearing the Pixi x Aspyn Ovard Santorini Sunset Glow-y powder highlighter on the tops of my cheekbones and around my eyebrows. As you can tell, it looks quite intense and so pretty!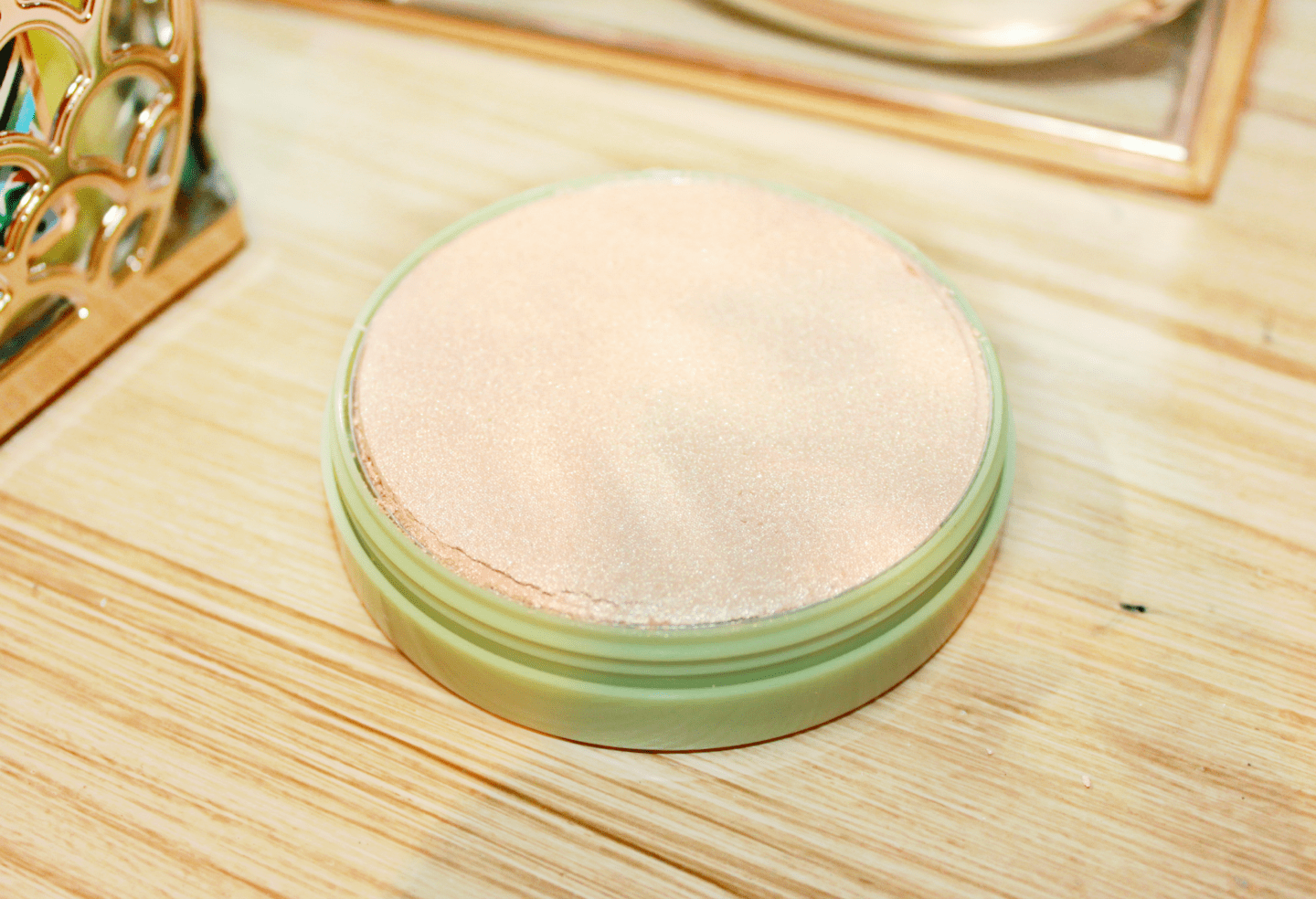 Overall, this is definitely one of my favorite highlighters from the drugstore. I do have to admit that the price is up there for being a drugstore product, but it's still quite affordable considering the huge amount of product you get. The packaging could've been better in my opinion, but the quality of what's on the inside does make up for that!
Availability
If you live in the US, you can get your hands on this Pixi Glow-y powder highlighter at Target for US $16 (10g). However, for those of you living in the UK or Europe, your best chances of getting this beauty is through the official Pixi Beauty website, where it retails for £14. Another way to get your own Glow-y powder is through Asos, where it will cost you €19.