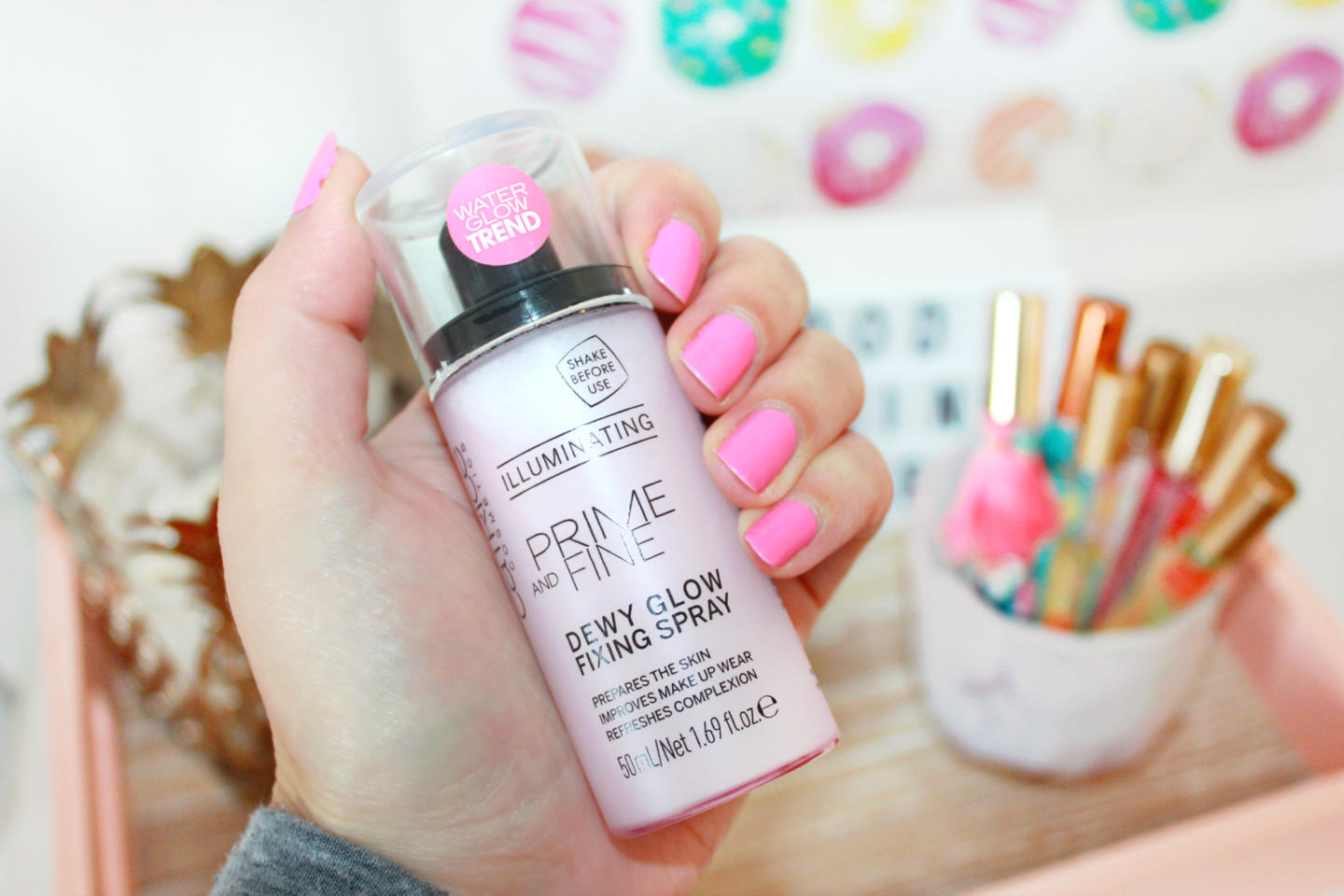 I used to think makeup setting sprays were completely useless and gimmicky, until I discovered my ride or die Urban Decay All Nighter. Whenever I set my makeup with that spray, it's bound to stay on for a longer period of time. It also locks in all the powders and makes my makeup look less powdery. Ever since then, I've been on the hunt for a great drugstore dupe. About a year and a half ago, Catrice released their first setting spray, the Multitalent Fixing Spray which I actually really loved. However, when I saw they were releasing an illuminating dewy version of their fixing spray, I was ecstatic! They also released a mattifying spray, which I didn't pick up since I'm not a huge fan of matte skin. I love for my skin to look radiant, healthy and dewy, so of course I had to give the new dewy spray a try.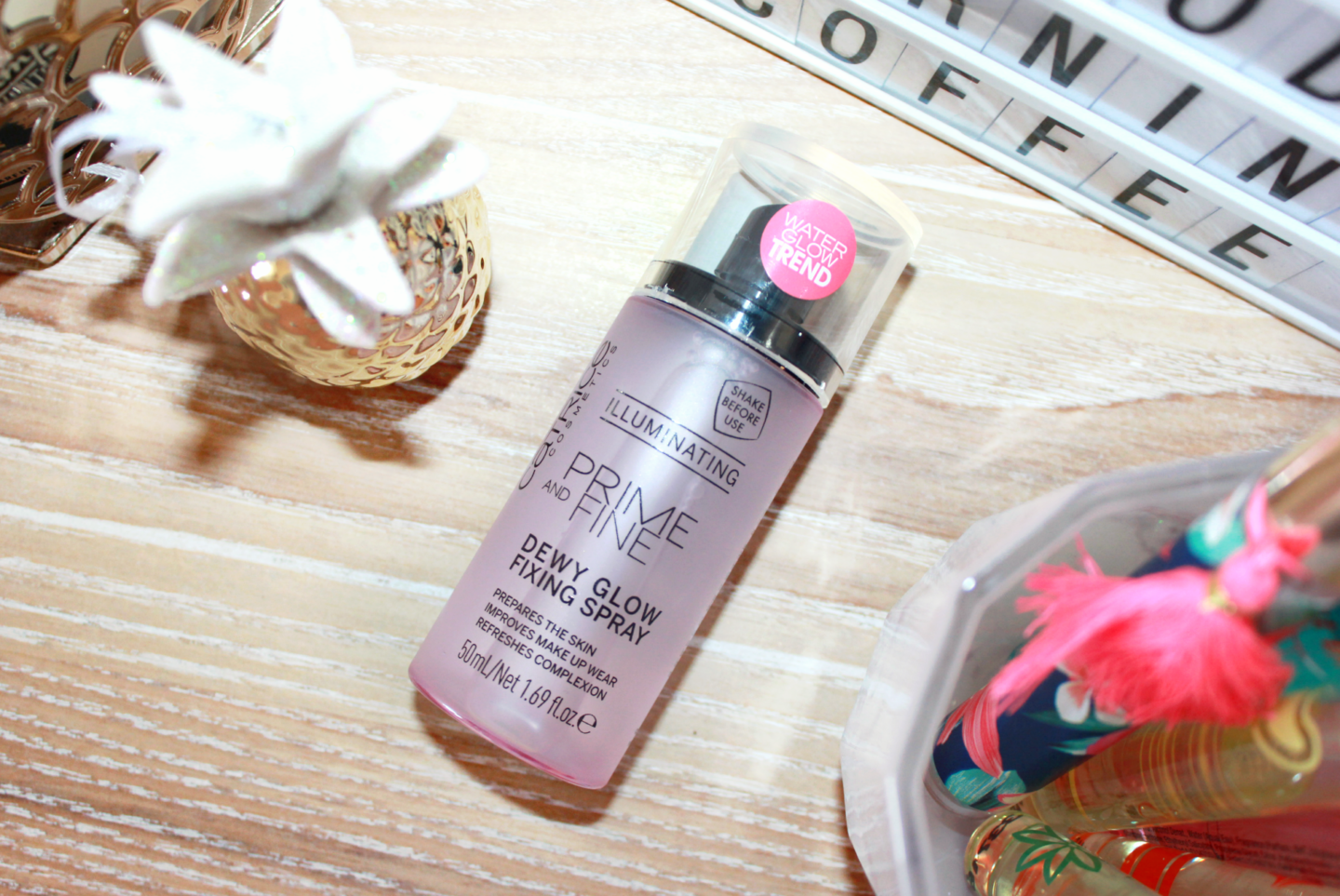 Packaging
This packaging looks almost identical to their OG Multitalent Fixing Spray, just with a hint of pink instead of purple. The bottle is smaller than your typical setting spray since it only contains 50 ml of product. I have a tendency to spray quite a bit of setting spray on my face, so I'll run out of this bottle in no time, which is the only downside. I do really love how sophisticated this packaging looks. The light pink matte see-through bottle combined with the simple black font looks anything but cheap.
Brand's Description
Illuminating Finish. The originally Korean trend "Dewy" has conquered the world of beauty straight from the international runways. "Dewy Skin" is usually created with liquid textures and leaves behind a fresh, light summery glow on the skin. The Prime And Fine Dewy Glow Fixing Spray offers a natural Wet Look. The transparent spray refreshes the skin, extends the durability of make-up and conjures-up a radiant complexion with a Dewy finish. Shake well before use!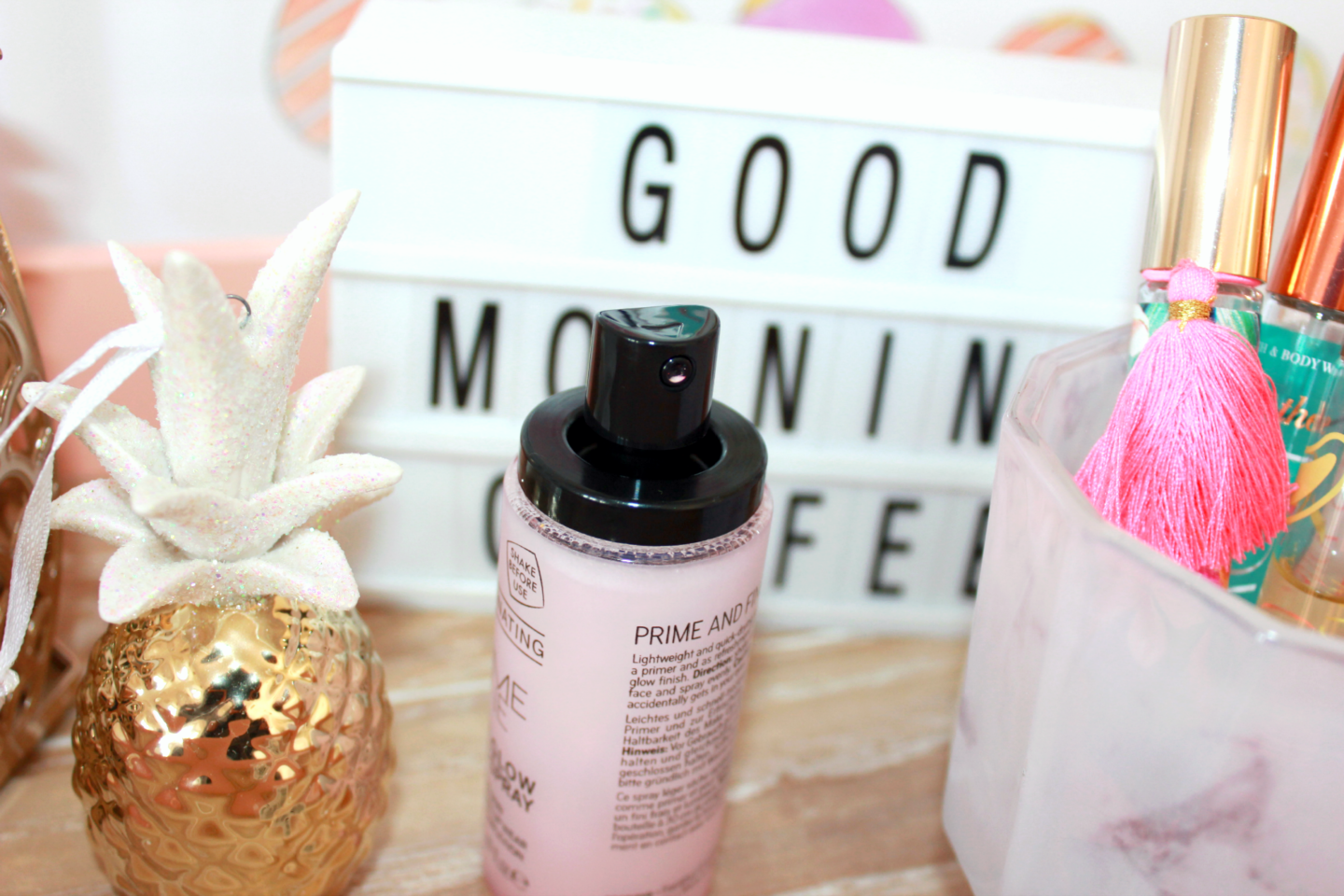 The first thing I noticed is that there's some powder on the bottom of the solution before you shake the spray. The powder looks a bit shimmery, which I'm guessing is what makes this a dewy fixing spray. This also means that you REALLY have to take the "shake before use" seriously.
According to Catrice, this isn't just your typical setting spray. You're supposed to be able to use it both as a setting and priming spray. I've only used it as a setting spray so far and I love it for that! Although the spray is a little bit harsh, it deposits the right amount of product per spray. I would recommend holding it as far away from your face as you possibly can, that way it's less aggressive. It does take a while for it to dry down, but once it does I'm left with a beautiful glow on my skin. Luckily, it's not too overpowering to the point where my skin would look oily, it's just a healthy dewiness. The spray gets rid of any powderiness and overall, makes my makeup look that tiny bit better and fresher. By the end of the day, my skin still looks quite fresh and above all, not oily which is what I was initially afraid of. I've also used it to freshen up my makeup, which it does really well as well!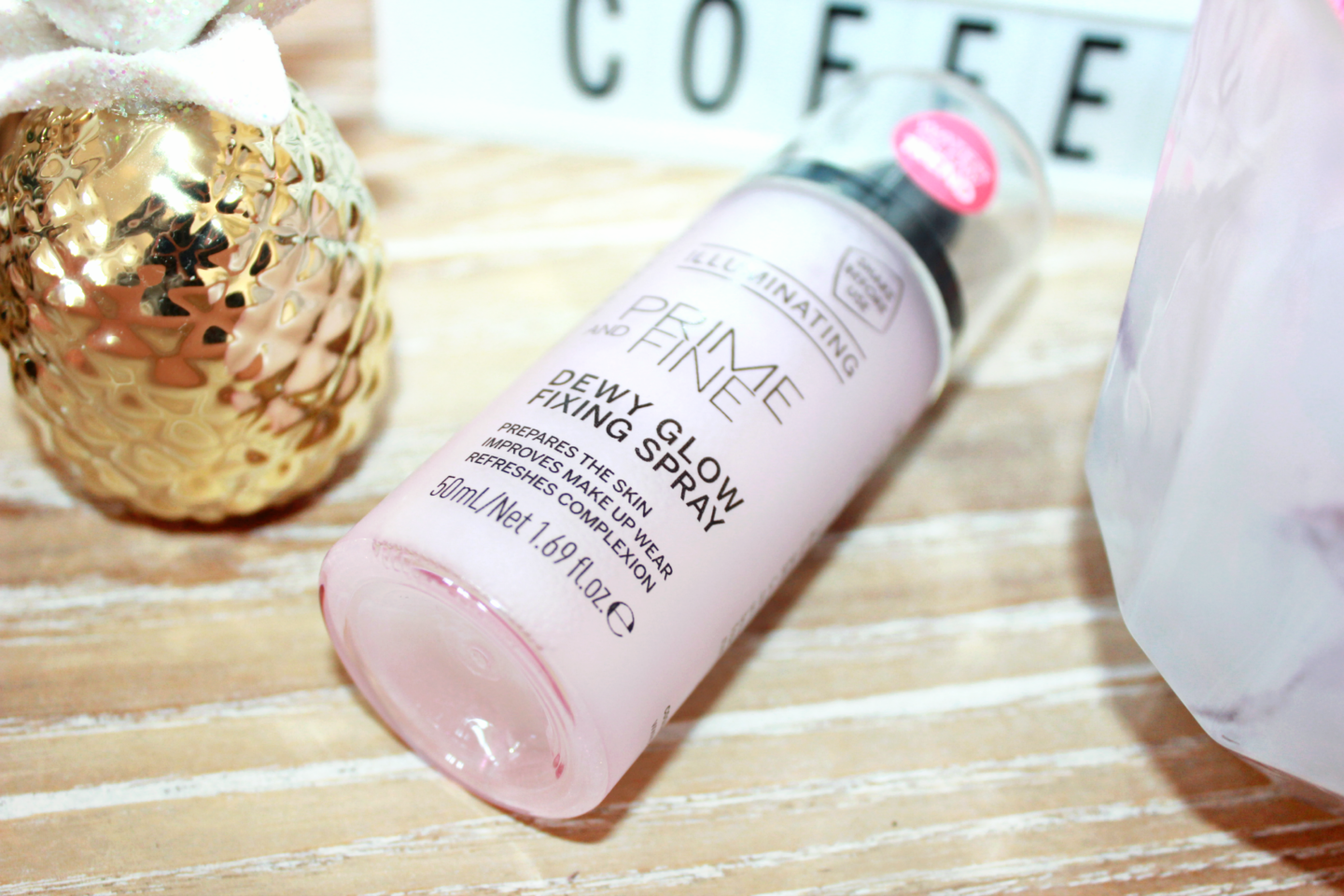 This spray definitely has a very noticeable scent to it, which luckily fades away once it dries down. I'm still mentioning this fact, as it can throw off some people. I can imagine if you're really sensitive to scents that this spray may be too fragranced for you. I personally don't really mind it since it does fade away.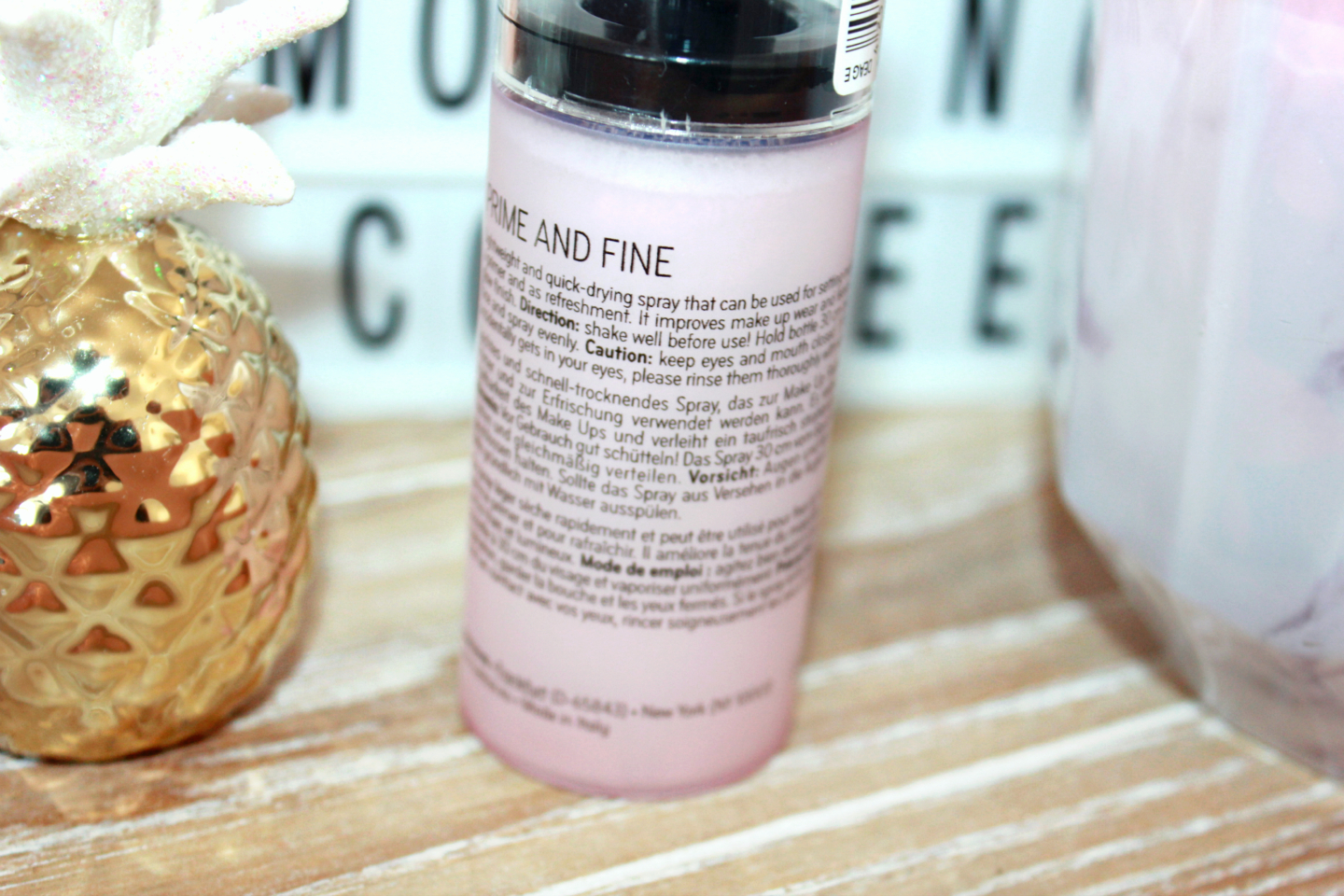 Ingredients
Aqua (Water), Butylene Glycol, Betaine, Ppg-26-Buteth-26, Peg-40 Hydrogenated Castor Oil, Hydroxypropyl Cyclodextrin, Silica, Mica, Pentylene Glycol, Disodium Phosphate, Tin Oxide, Sodium Phosphate, Benzyl Alcohol, Sodium Benzoate, Potassium Sorbate, Parfum (Fragrance), Ci 77891 (Titanium Dioxide). Vegan.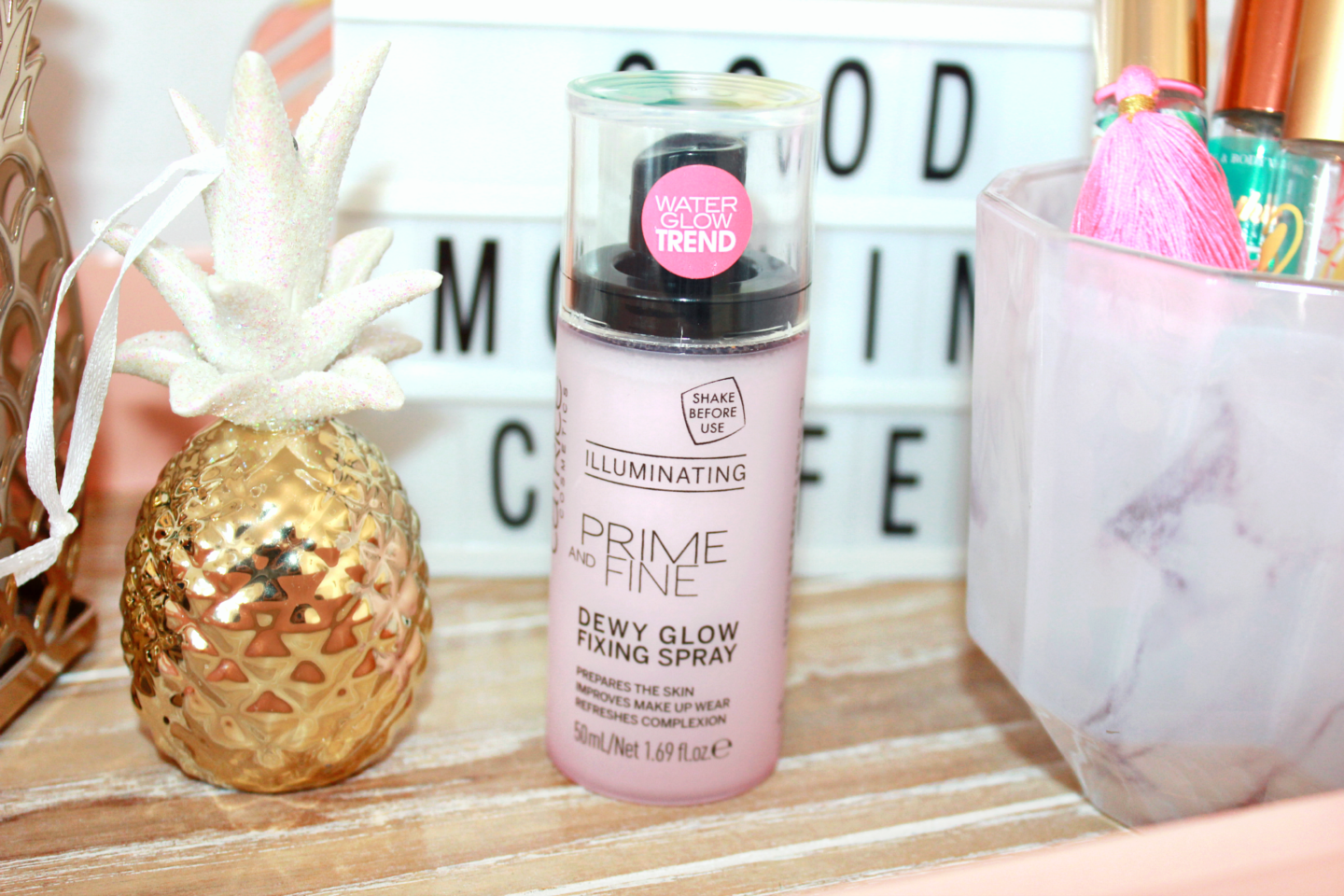 Since Catrice's new Galactic Highlighter Drops weren't a really big hit for me, I'm so happy this spray ended up working really well on my skin! Whenever I spray this to set my makeup in place, it makes my face look so dewy and glowy without looking oily. This may be a spray I have to stay away from during the Summer time, but during the cold Winter months I'm all for it! If you have more oily skin, I wouldn't recommend this at all. In fact, I think the new anti-shine version might be amazing for you. But for my dry skin girls out there, you need this in your life! Oh and the best part?! Most of their new makeup isn't only cruelty free, but also vegan!
Availability
The new Catrice Illuminating Prime & Fine Dewy Glow Fixing Spray is now available at your local drugstore for €4,59 (50 ml). Unfortunately, it's only sold in stores that have the larger displays. If you live in The Netherlands or Belgium, you can get yours at Kruidvat (in stores & online). This spray is so good & so affordable, but I do wish it contained more product!