When it comes to makeup I wouldn't necessarily label myself as a lazy girl, on the contrary. But if there's one thing I'm ALWAYS putting off until the absolute last minute, it's cleaning my makeup brushes. Although I'm such a neat freak, I find myself always waiting until the last minute to clean my dirty brushes, which is such a bad habit. But since I've been doing makeup for such a long time now, I've accumulated quite a bit of brushes. Cleaning all of those brushes takes me an eternity and it's just such a boring process.
That's why I was so happy when the people at The Brush Bar reached out to me, asking if I wanted to review some of their products. The Brush Bar is an online store that specializes in brush cleaning products, all made to make the brush cleaning process go somewhat faster and easier. I was so excited to get these products in the mail since I'm always down to trying out new products to help my brush cleaning process and make my life a bit easier.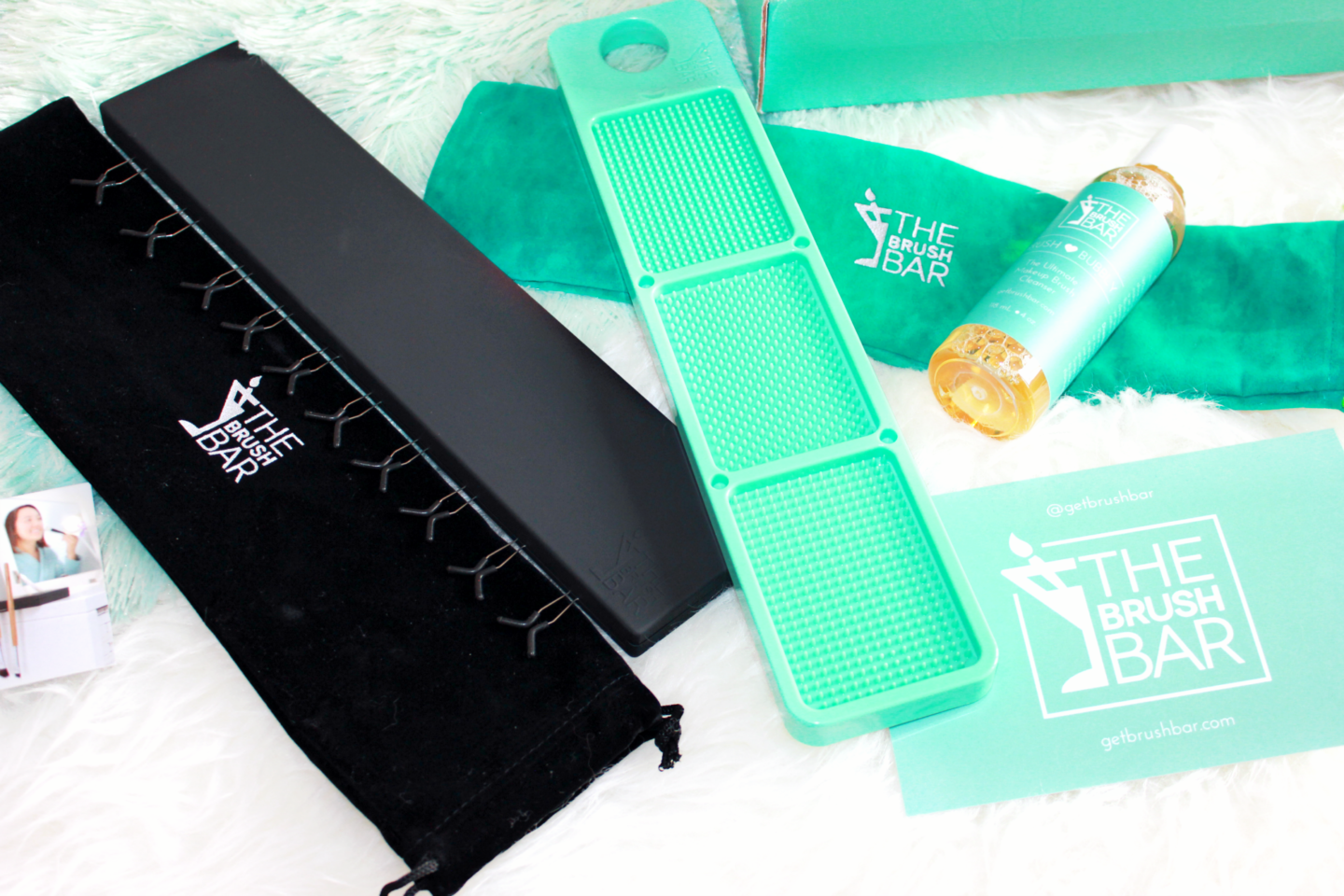 Why Wash Your Brushes Regularly?
Dirty makeup brushes can cause bacteria to transfer onto your face and therefore clog your pores and cause breakouts. If you think about it, it's actually disgusting to wait for over 2 weeks to clean your makeup brushes, although I often wait longer. So bad!! If you take great care of your brushes, they'll also last you for a longer period of time.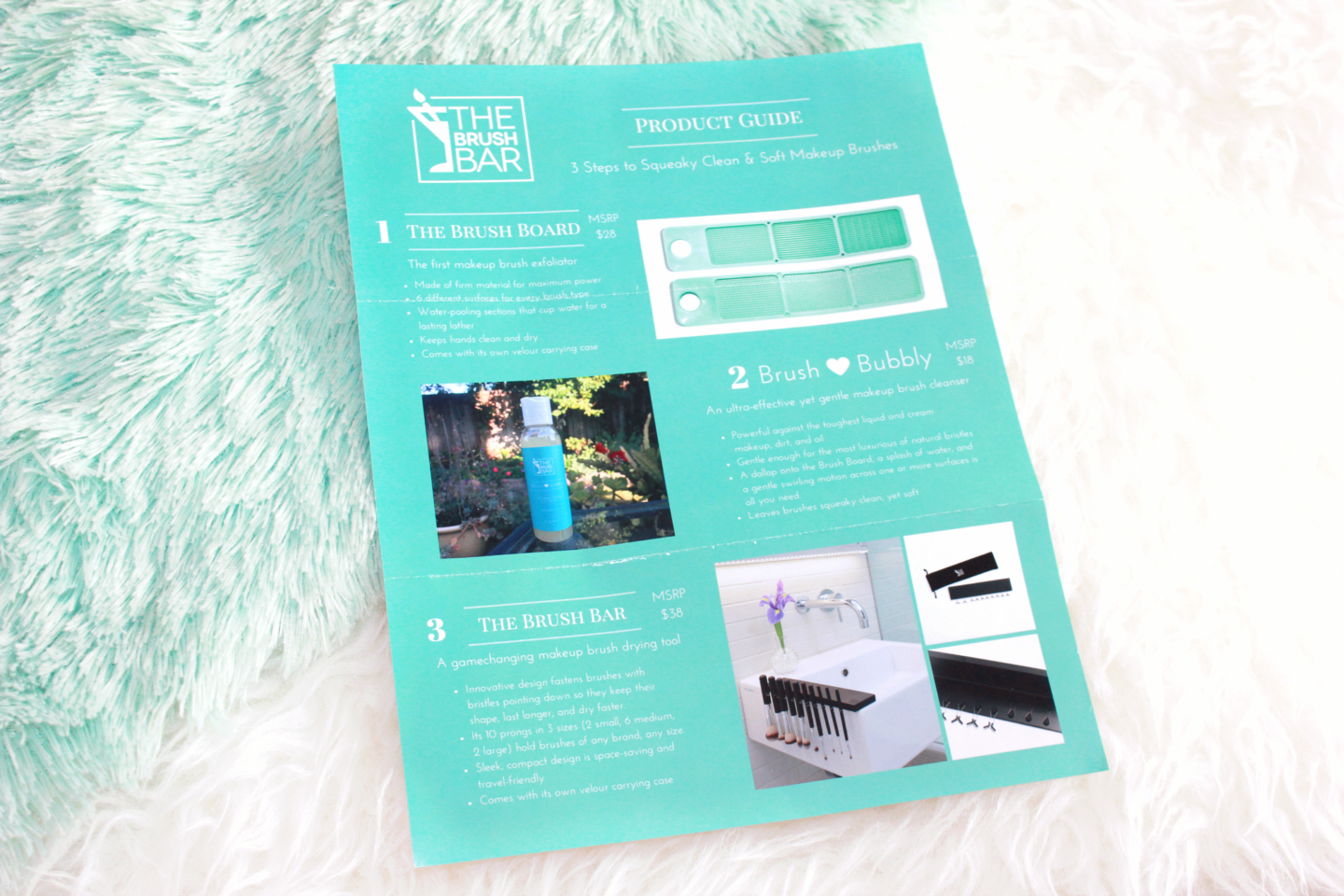 So far, The Brush Bar only has 3 brush cleaning accessories, which I'll be talking all about in today's post. I definitely am hoping they'll expand their range in the near future though! Maybe some Tiffany blue brushes?!
♥ The Brush Board
♥ The Brush Bubbly
♥ The Brush Bar
If you would like to see my entire step-by-step brush cleaning process, you can always check out the video I made in which I demo these products!
1. The Brush Board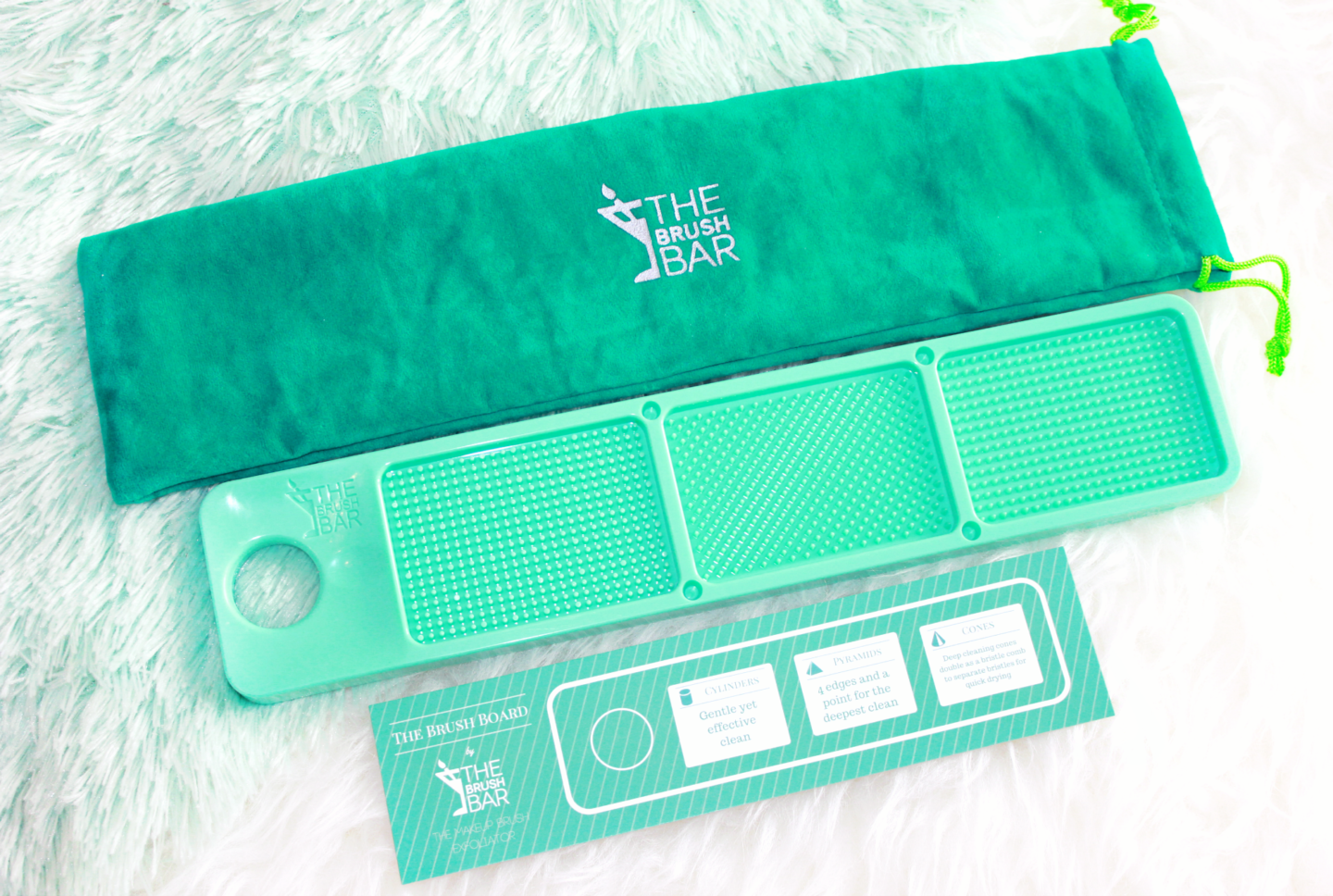 The first product is the Brush Board, a double-sided makeup brush exfoliator that has 6 different surfaces for every brush type. The different textures are supposed to help scrub between and around the brush bristles, making it easier to get your brush clean. The Brush Board comes in a super luxurious Tiffany blue velour pouch and feels extremely sturdy and durable! Since it's a pretty large board, you could even fit the board from one side of the sink to the other, 'hanging' the board if you have a smaller sink.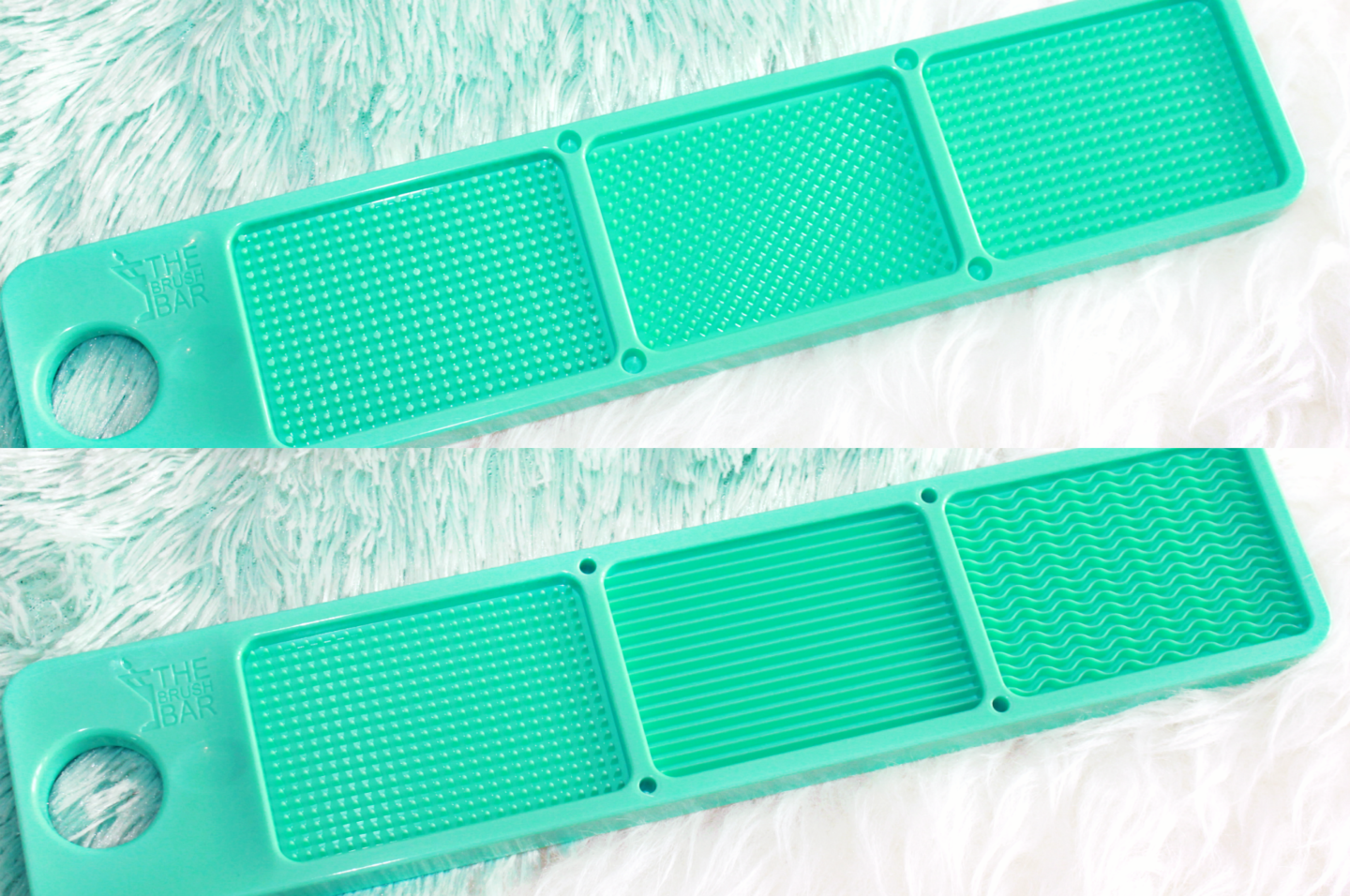 One side of the bar (top) has cylinders for a gentle yet effective clean, pyramids for the deepest clean and cones for a deep clean and comb to separate the bristles for a quicker dry. The other side (bottom) has a triangular prism for a medium scrub (my favorite), ridges for a dual purpose clean and waves scraper.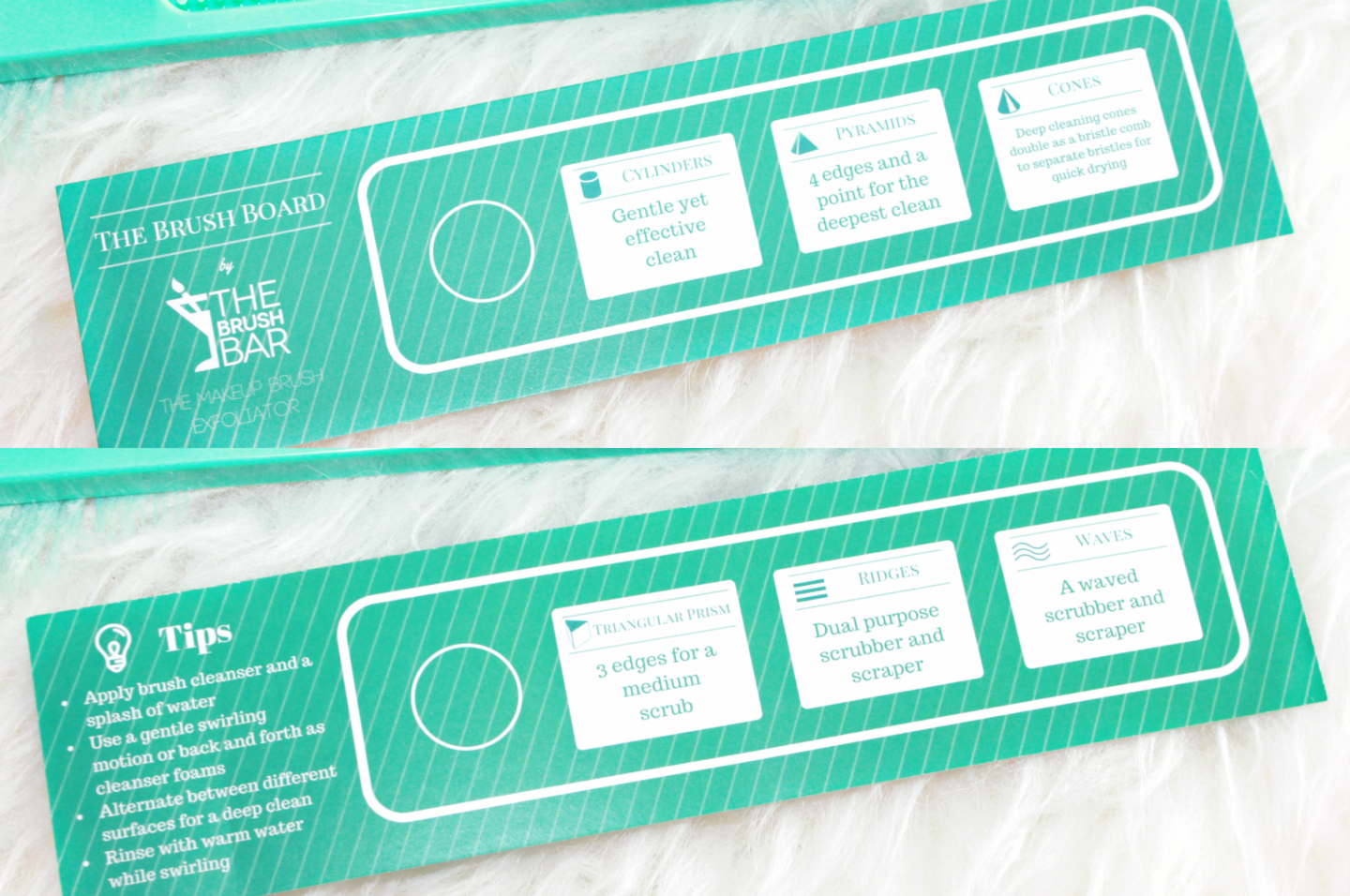 How I like to use the Brush Board is to apply some brush cleanser (the Brush Bubbly or baby shampoo) onto one of the surfaces and start rubbing my dirty wet brush in it. I usually start off with the Triangular Prism and then work my way onto the other surfaces if needed. This bar makes it so much easier to clean my brushes and does so in a more effective and clean way, I love it!
2. The Brush Bubbly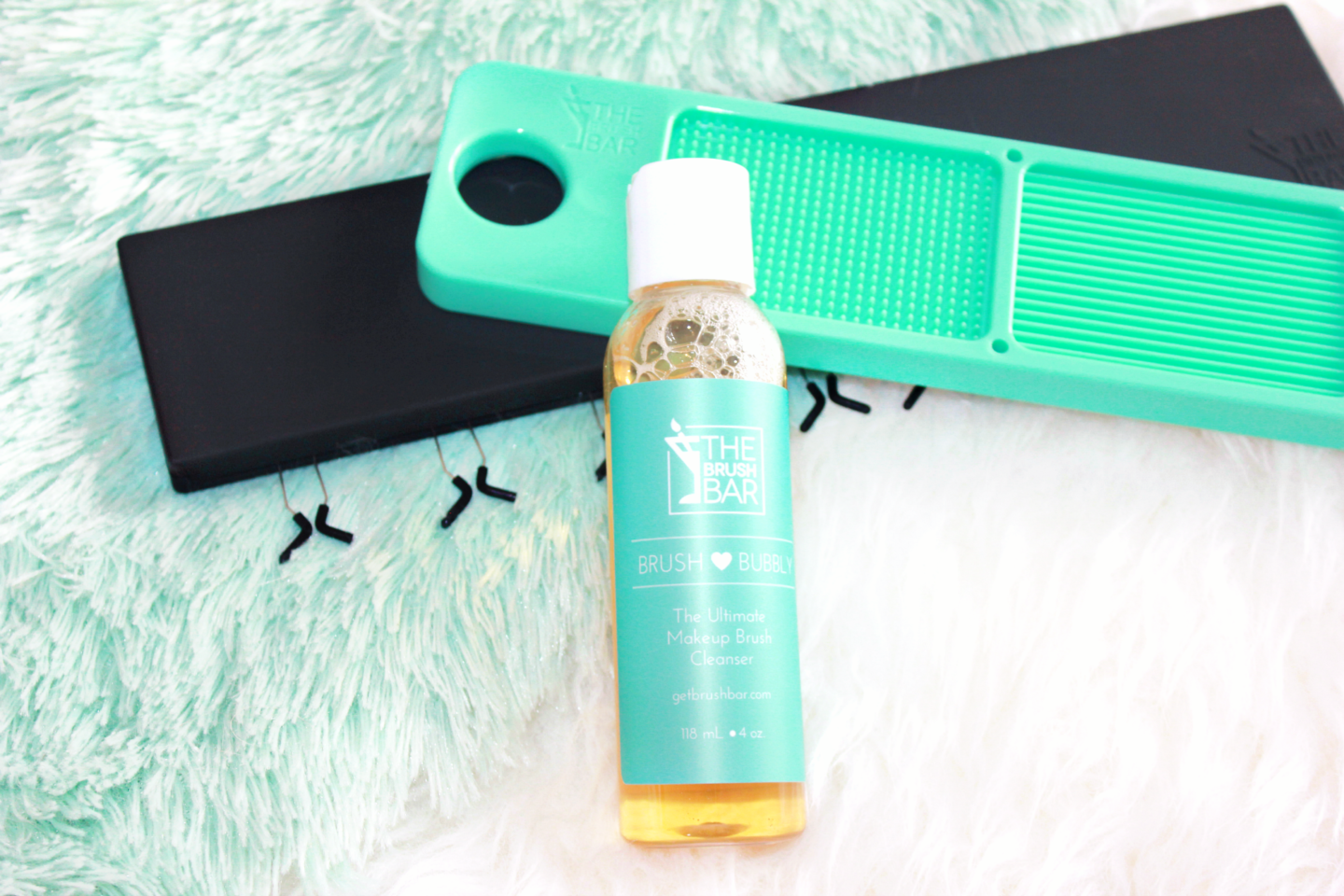 The Brush Bubbly is a gentle, yet effective makeup brush cleanser which is supposed to remove any makeup, dirt or oils. The texture is very liquid, unlike the baby shampoo I was used to using to clean my brushes. All you need is to apply a very small amount of this onto the Brush Board, add a little bit of water and start swirling your brush until it's clean!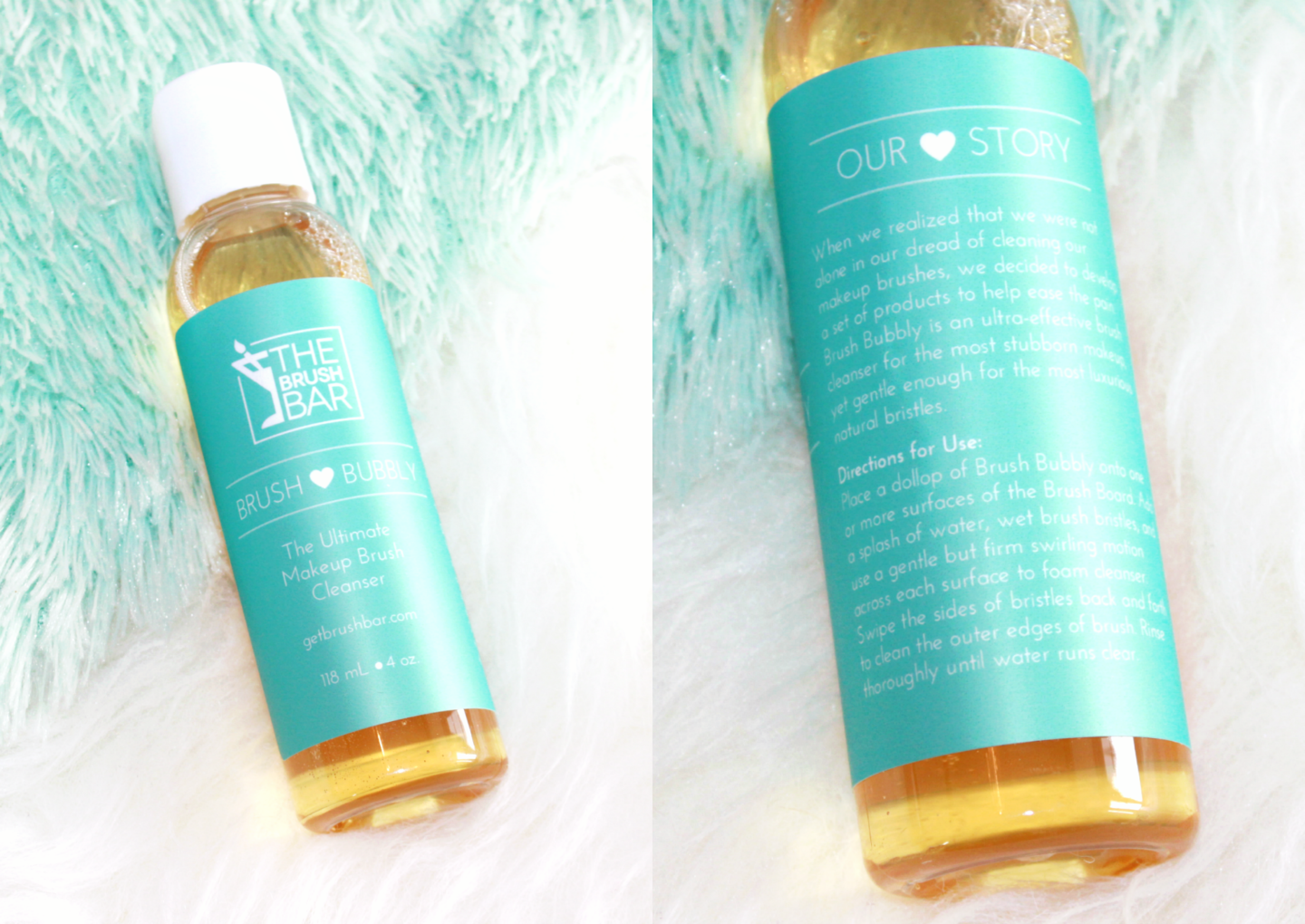 What's really intriguing to me is the fact that the Brush Bubbly doesn't smell like anything. It doesn't have a shampoo-like scent, nor does it smell bad or chemically. It's just super neutral, which I actually really don't mind. It does a great job at getting rid of any dirt that was left on my brush and once it comes in contact with water, it laters so nicely, creating a bubbly liquid that's effective, yet not harsh on my makeup brushes. It leaves my brushes feeling really soft, and most importantly, free of any bacteria.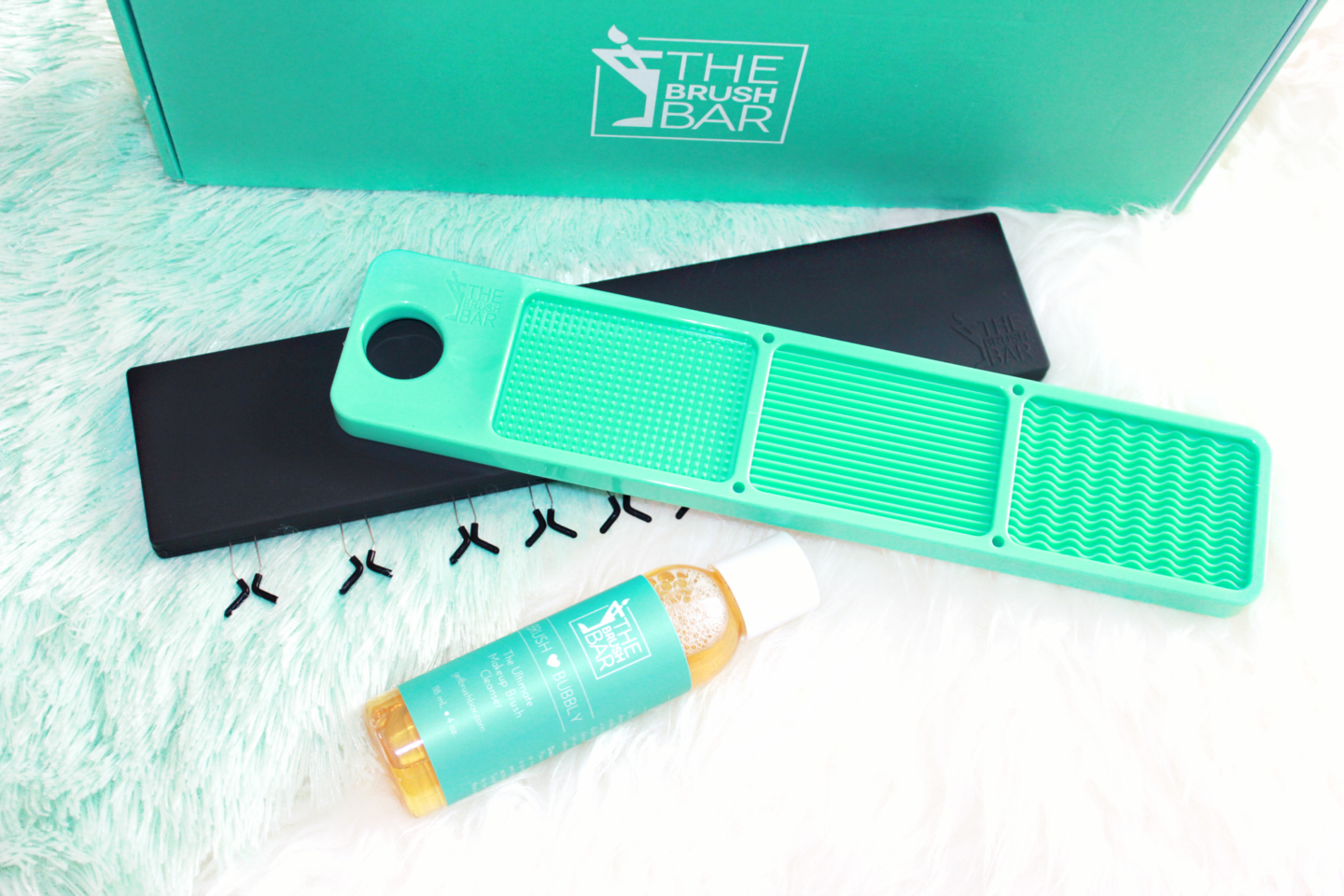 3. The Brush Bar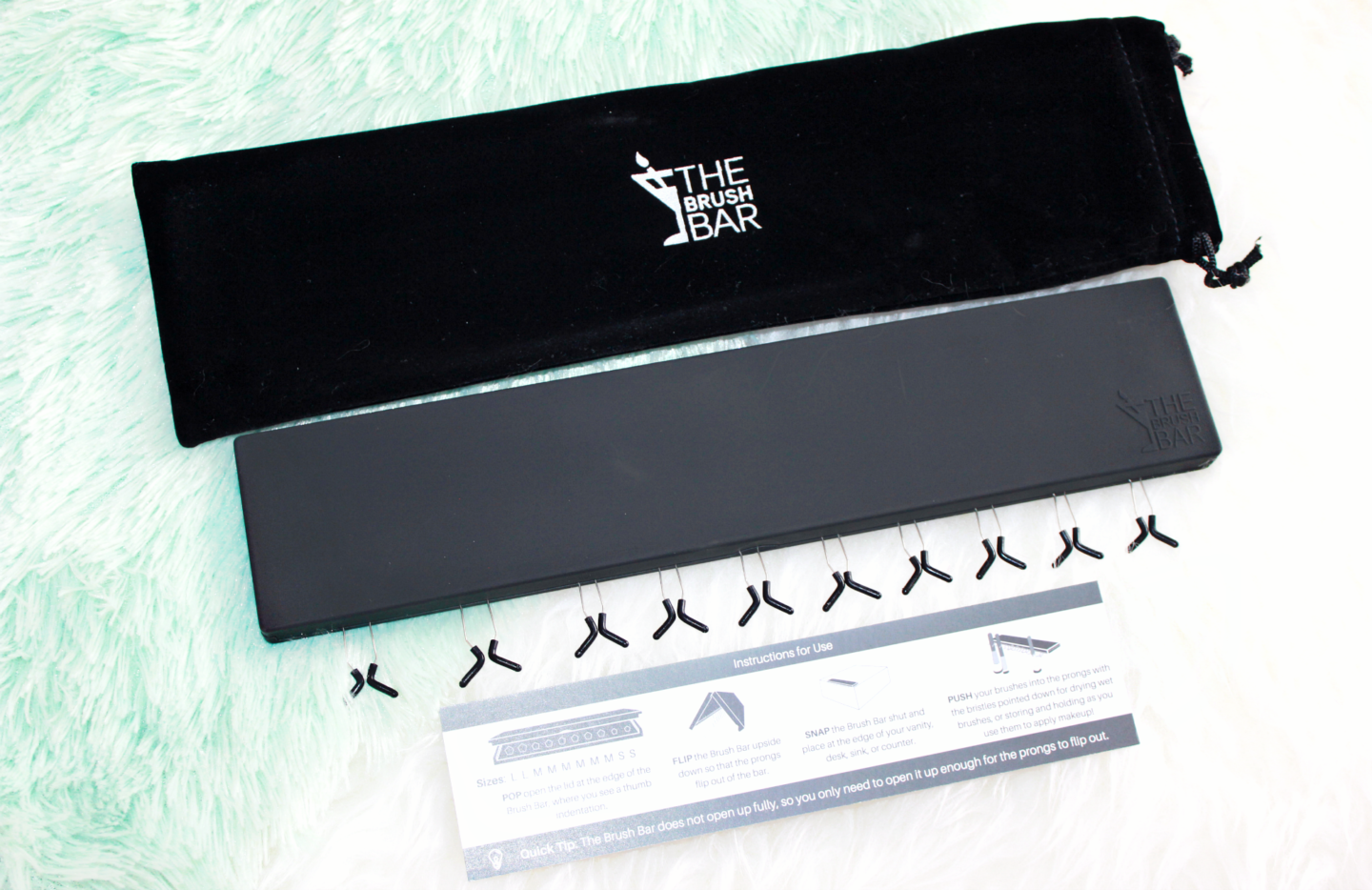 To make the drying process of your brushes a whole lot easier you have the Brush Bar. The Brush Bar is a sleek matte black drying tool which you can open up partially, flip out the 10 prongs and close back up again. Thanks to its weight, you can place it on the side of your sink and secure 10 makeup brushes upside down to dry. This drying rack comes with 10 prongs that fit 3 different sizes of brushes: 2 small ones, 6 medium sized prongs and 2 larger prongs.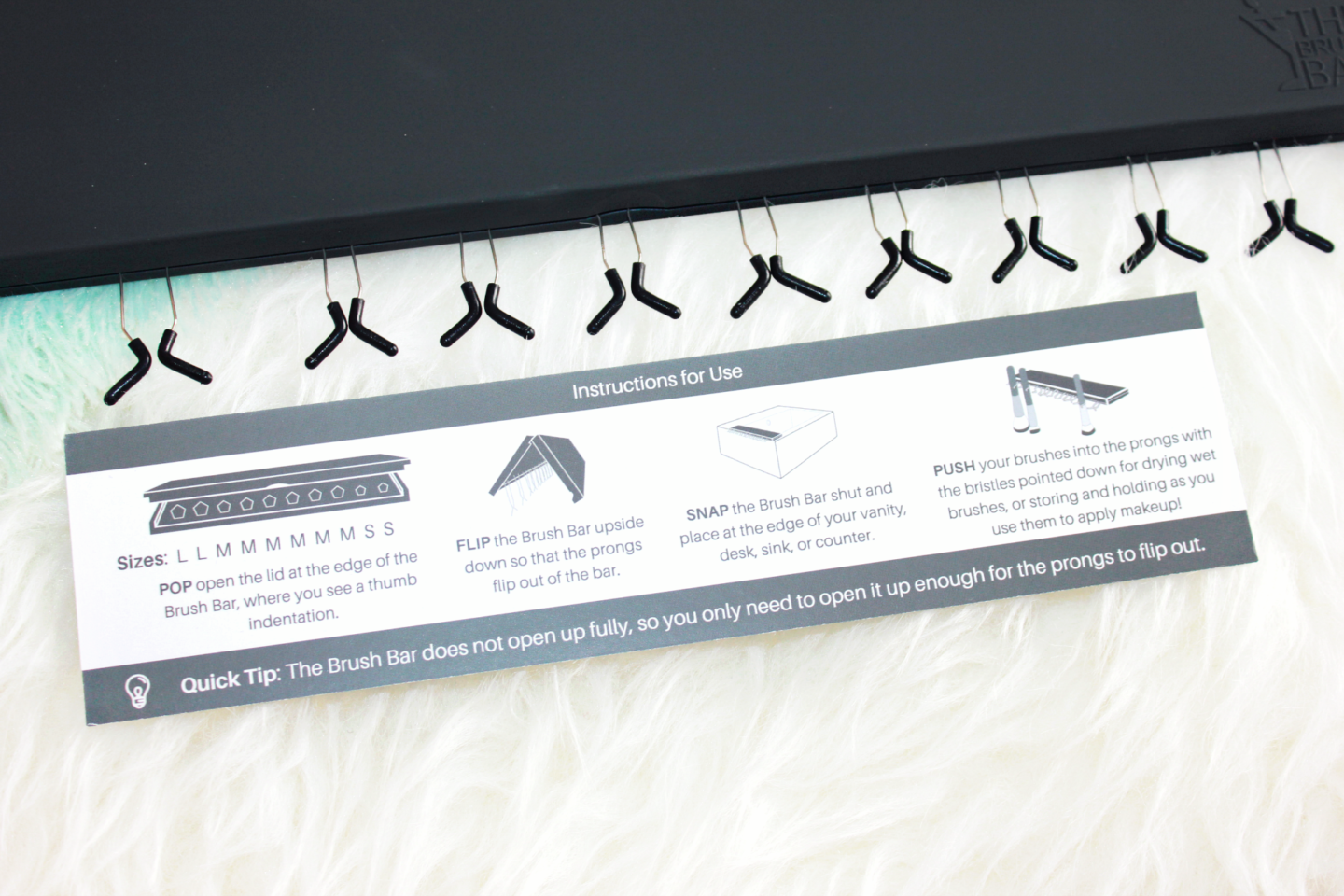 What I love most about this board is that it holds your makeup brushes upside-down, which is really important during the drying process. This will prevent the water from getting into your actual brush and messing up the glue. I also love how you can easily fold it up again to store it away in the black pouch it came in.
At first I was afraid the prongs weren't going to be strong enough to hold my brushes, but to my surprise they were still hanging in there the next day! I love this concept so so so much, I wish it came in a bigger size with more prongs, because I have at least 10 times the amount of brushes this baby fits.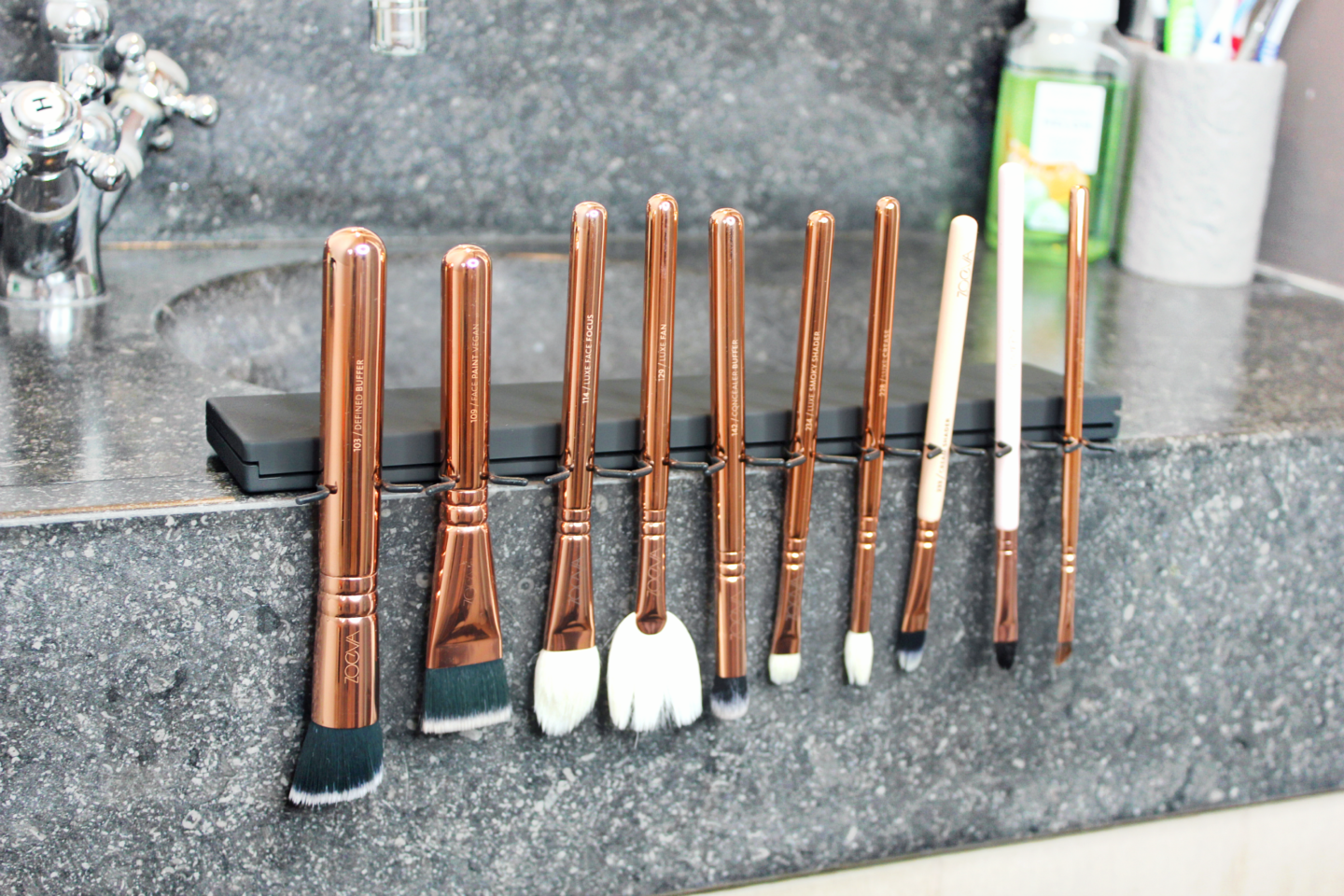 As you can see, the Brush Bar fits all kinds of different sized brushes, from foundation brushes to small eyeliner brushes.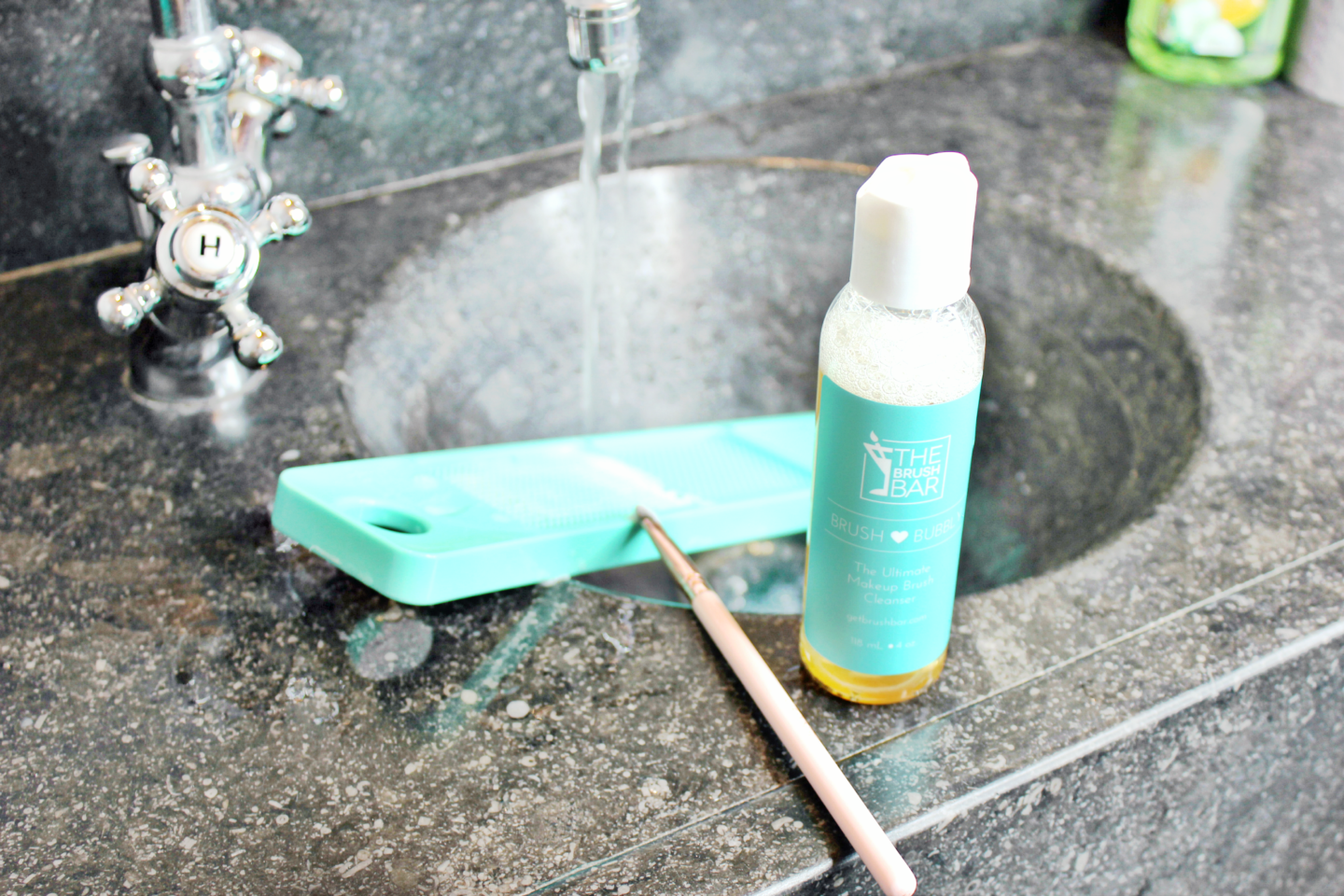 I'm just so obsessed with the overall packaging, quality and esthetics of this brand! The royal Tiffany blue just looks so luxurious and you can tell a lot of time and effort was put into the development of these products.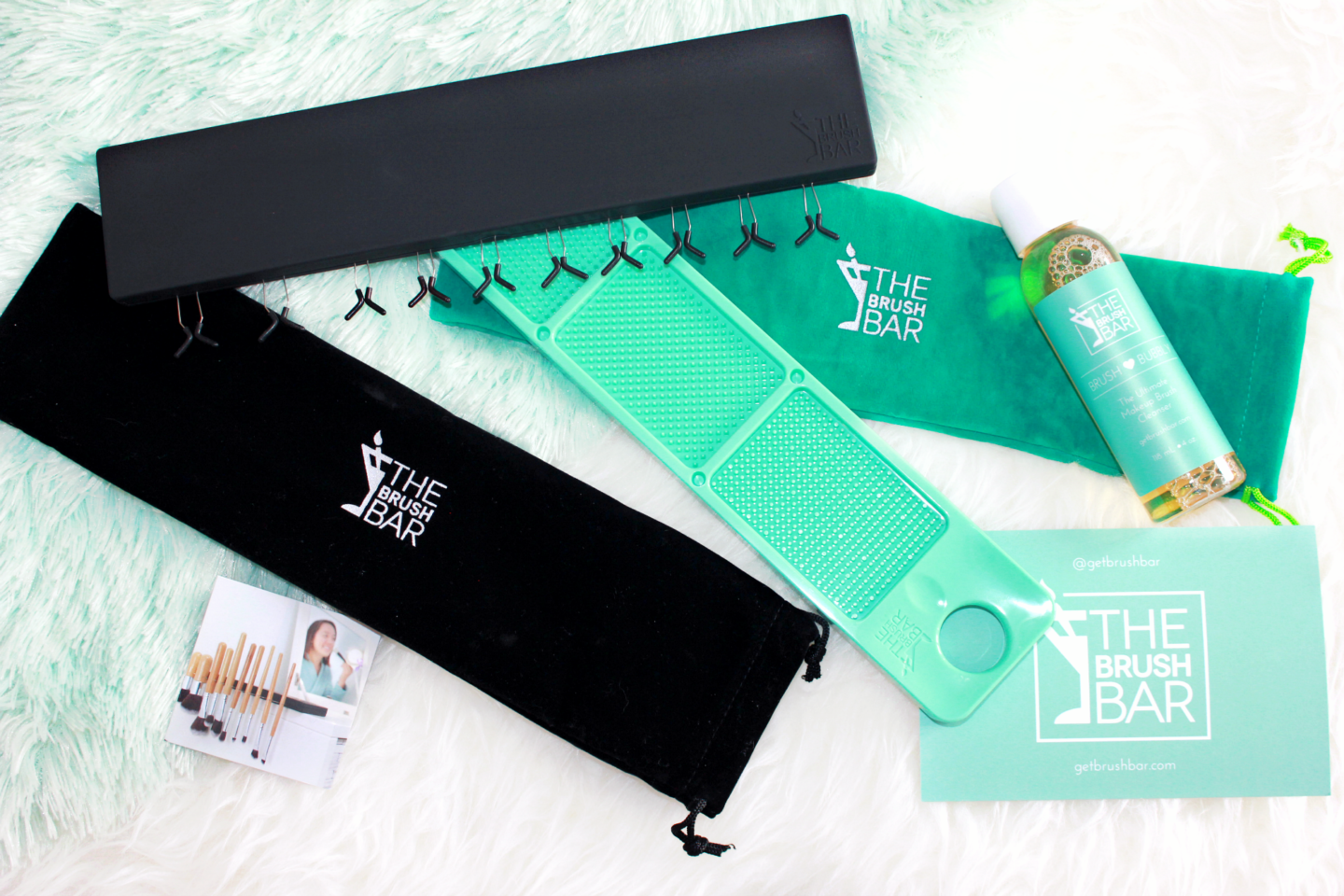 These three products all together just make for a winning combo if you ask me! The Brush Board makes it so easy to clean my brushes, the Brush Bubbly is a great makeup brush cleanser and the Brush Bar has made my life so much easier when it comes to drying my clean brushes.
Availability
The Brush Bar products are exclusively available at GetBrushBar.com, where you can either purchase everything separate or in a value pack. The Brush Board retails for $28, the Brush Bubbly for $18 and the Brush Bar will cost you $38. However, if you're interested in purchasing all of the products I featured in this post, you can purchase the Makeup Brush Care Pack for $68, which saves you $16. I personally think the Brush Board & Brush Bar are totally worth the money, whilst the Brush Bubbly is a little bit on the expensive side. Don't get me wrong, it's a great brush cleanser. It's just that I'm sure I'll go through it pretty quickly and baby shampoo does the job just fine.
If you're interested in purchasing anything from the Brush Bar, you can always use the coupon code "BLAISE15" to get 15% off your first purchase!