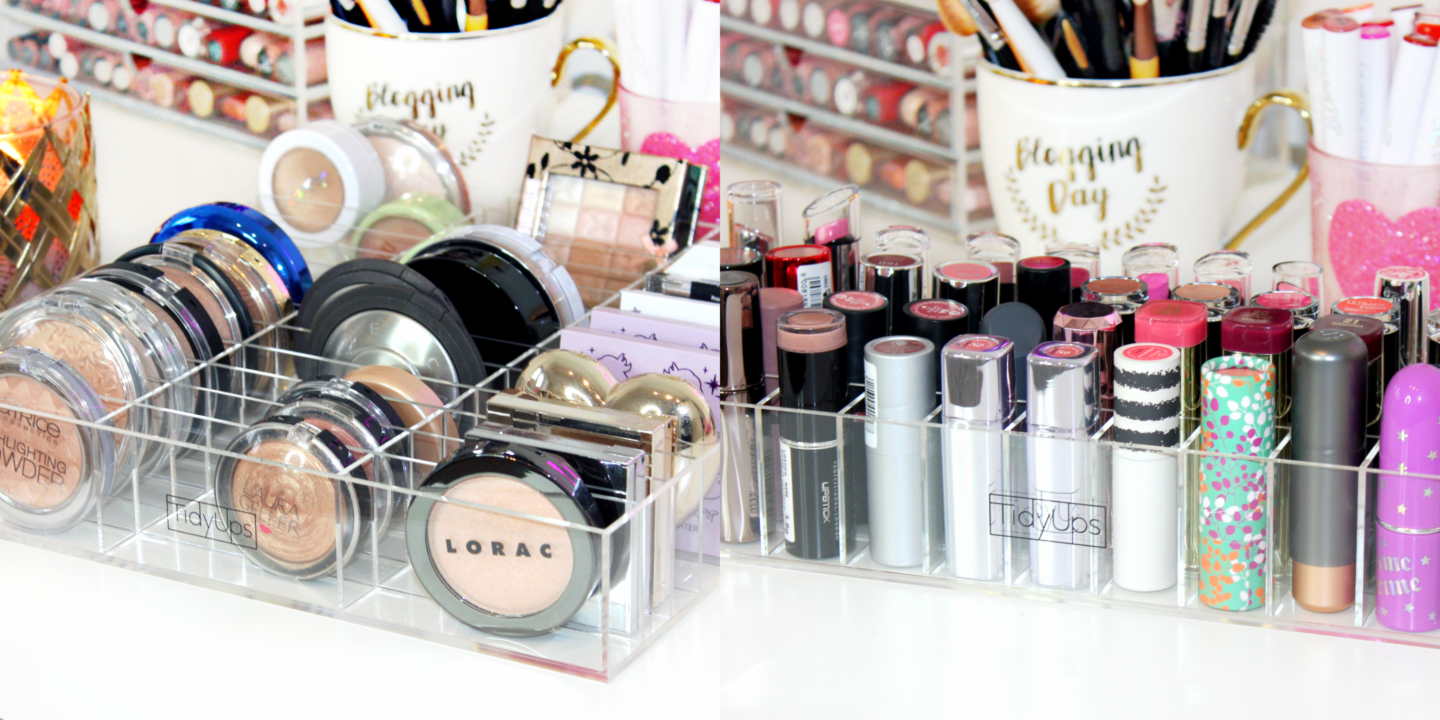 Ikea owes whoever decided to use the Alex drawers for makeup storage first A LOT! Every beauty addict and their mother uses the infamous Alex drawers to store their makeup, and for good reason. I jumped on this bandwagon a few years ago and I don't think I could ever look back. There's something about these drawers that makes them absolutely perfect for makeup storage. The size, the depth, the way they look,… it's as if they were made to store makeup products.
Being the OCD neat freak that I am, my hunt for the perfect makeup organizers that fit the Ikea Alex drawers was never-ending, until now. I have gone through so many acrylic organizers, plastic organizers,… you name it, I've tried it. I was just never fully satisfied, until I discovered that there were actually companies out there offering makeup storage specifically designed to fit my Alex drawers! My mind was blown and my hunt for a European based company began. That hunt wasn't easy, until I stumbled upon TidyUps, a Berlin-based company that offers exactly what I was looking for all along.
About the brand
"The TidyUps online store offers customizable acrylic boxes for your cosmetic storage, which you can use in a variety of ways. The acrylic boxes have been specifically designed to store compacts, foundations, lipsticks, lip glosses, makeup brushes, eyeshadows, eyeshadow palettes and other cosmetic products.
Thanks to removable dividers, you can individually arrange the size of the compartments to create the perfect solution for your personal make-up storage. The acrylic makeup organizers from TidyUps fits into the IKEA ALEX drawer cabinet with five or nine drawers as well as in the IKEA MALM dressing table – storage facilities, which are used by many beauty bloggers, YouTube gurus and make-up artists to store a large makeup and cosmetic collection."
One For Compacts Organizer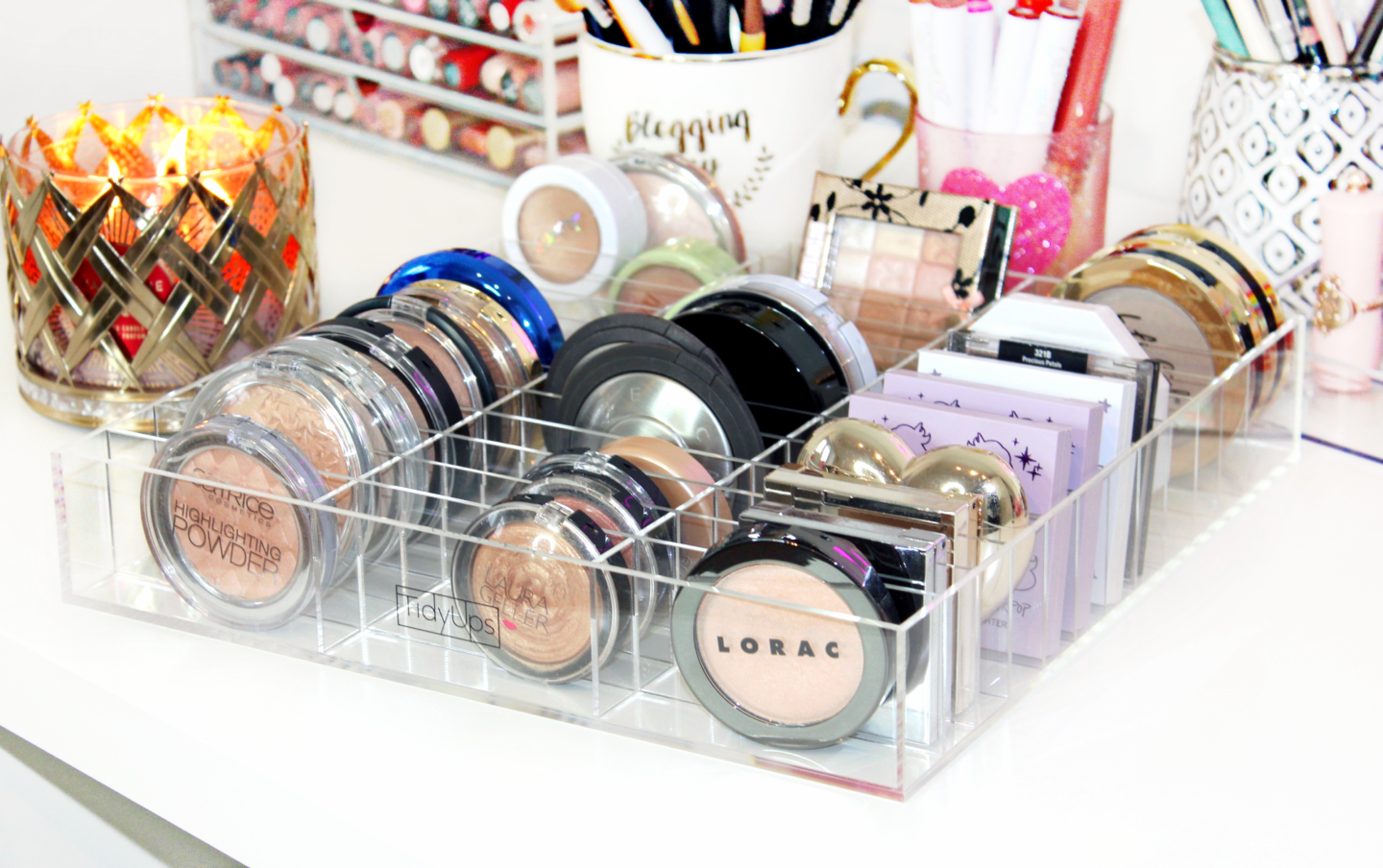 If you have a ton of compacts like I do, the One For Compacts organizer is your best friend, trust me! This acrylic organizer is customizable, so you can take out all of the dividers to fit the products you need to fit. When using all the dividers that come with the organizer, it will fit 39 compacts. I personally use this compact organizer to store all of my highlighters, which it fits perfectly! I do have a few more bulky compacts, which I did need to take out one divider to fit.
As I mentioned previously, the TidyUps organizers are designed to fit the Ikea ALEX drawers (both the 5 and 9 drawer systems) as well as the MALM drawers and vanity table. However, I also think they would look great placed on top of your vanity or anywhere else to display your beautiful makeup products.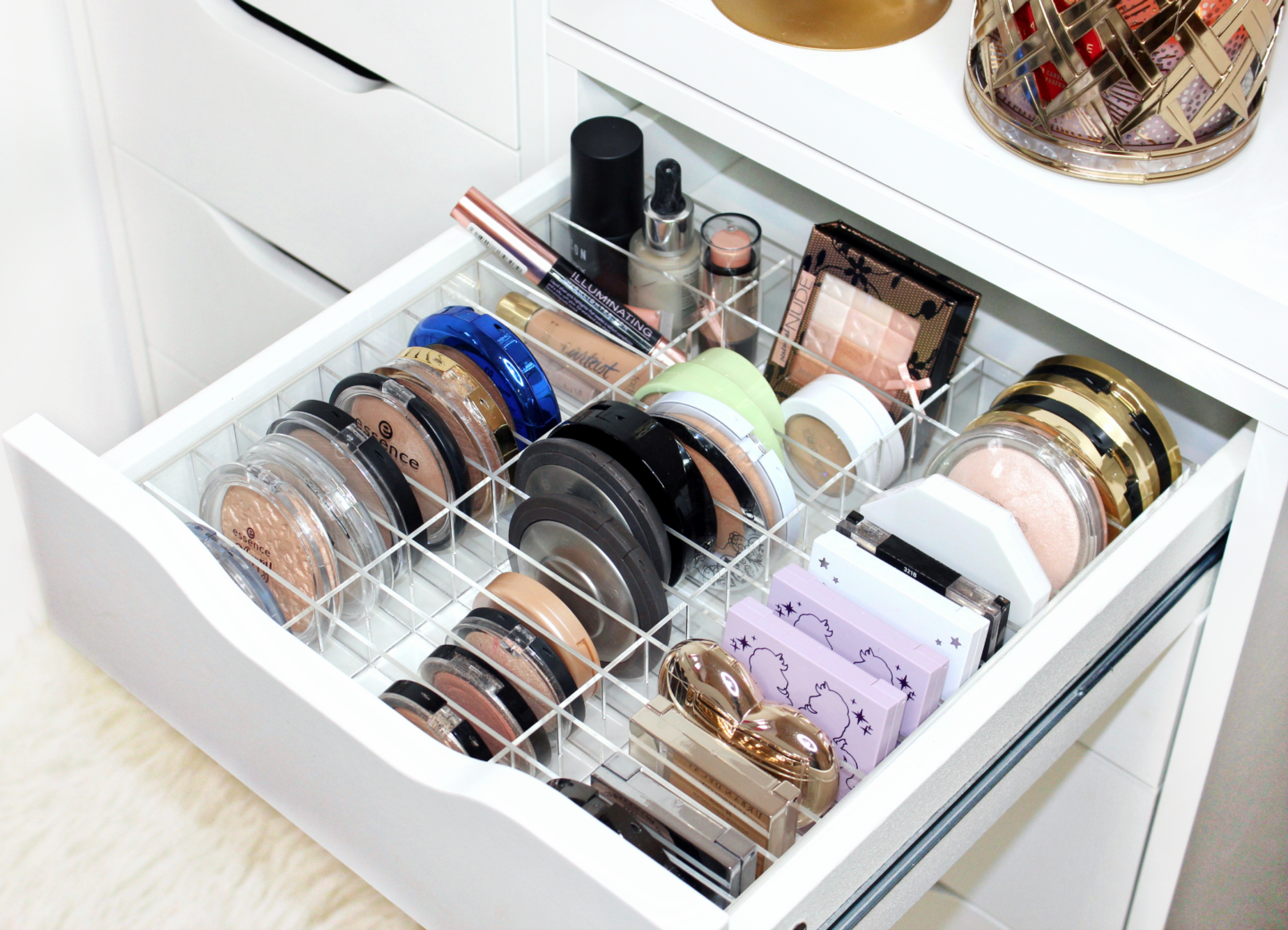 When this first arrived, the actual organizer and dividers came separate, but it's super easy to put it all together. Thanks to the customizable plug-in system it's also easy to change everything up to your needs, whether it's to store eyeshadow palettes, foundations, concealers,… it's all possible with this organizer!
One For Compacts Dimensions: w: 289mm x h: 50mm x d: 290mm
One For Lipsticks Organizer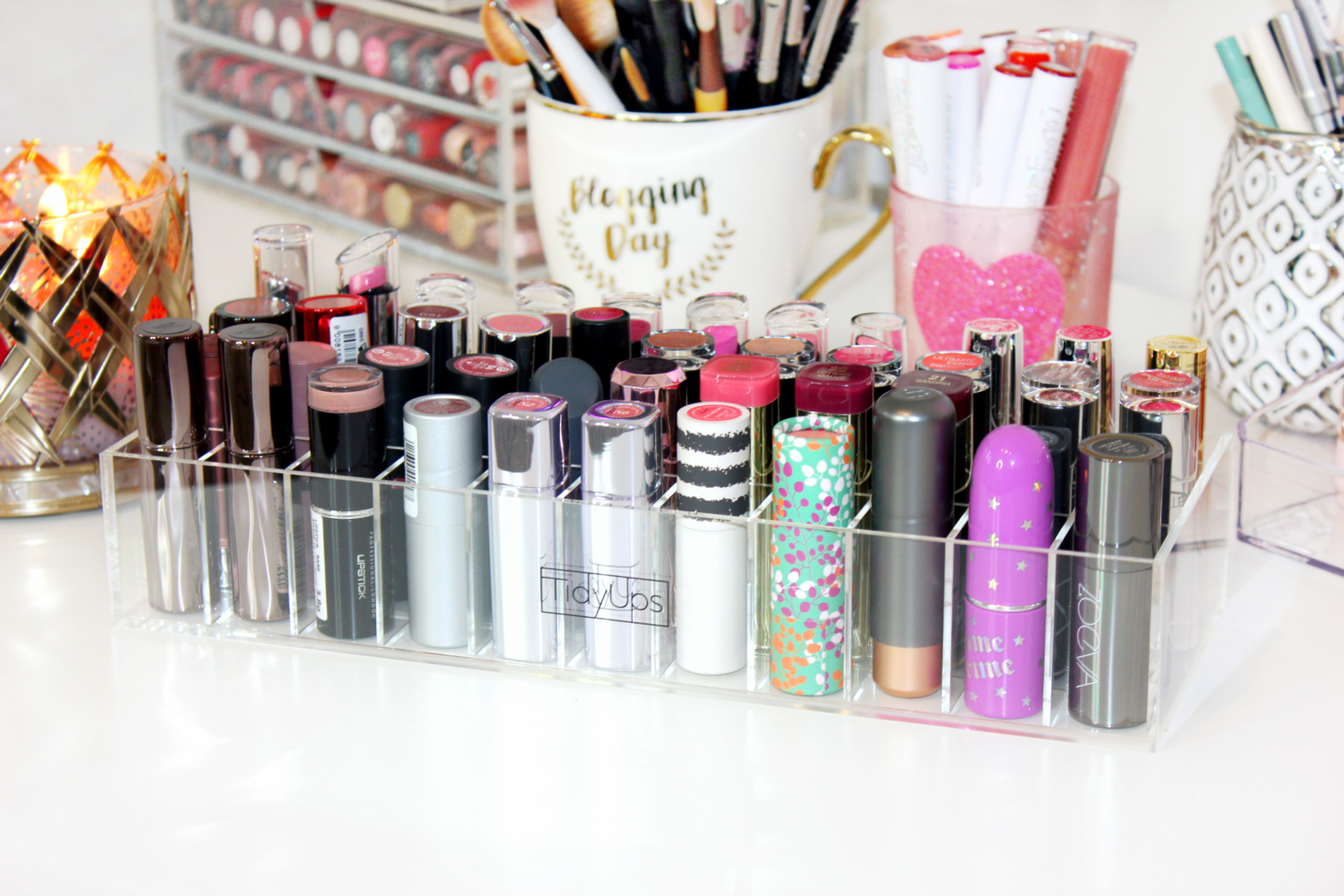 The One For Lipstick organizer is perfect for any lipstick junkies out there. Again, this organizer has the same customizable plug-in system and fits the Alex and Malm drawers. If you actually use every single divider like I did, this will hold 44 of your favorite lipsticks. I actually don't know if I should be embarrassed or proud to have so many lipsticks! Aside from lipsticks, you can customize this to fit your compacts, foundations, small palettes, mascaras,… I just love how versatile these are!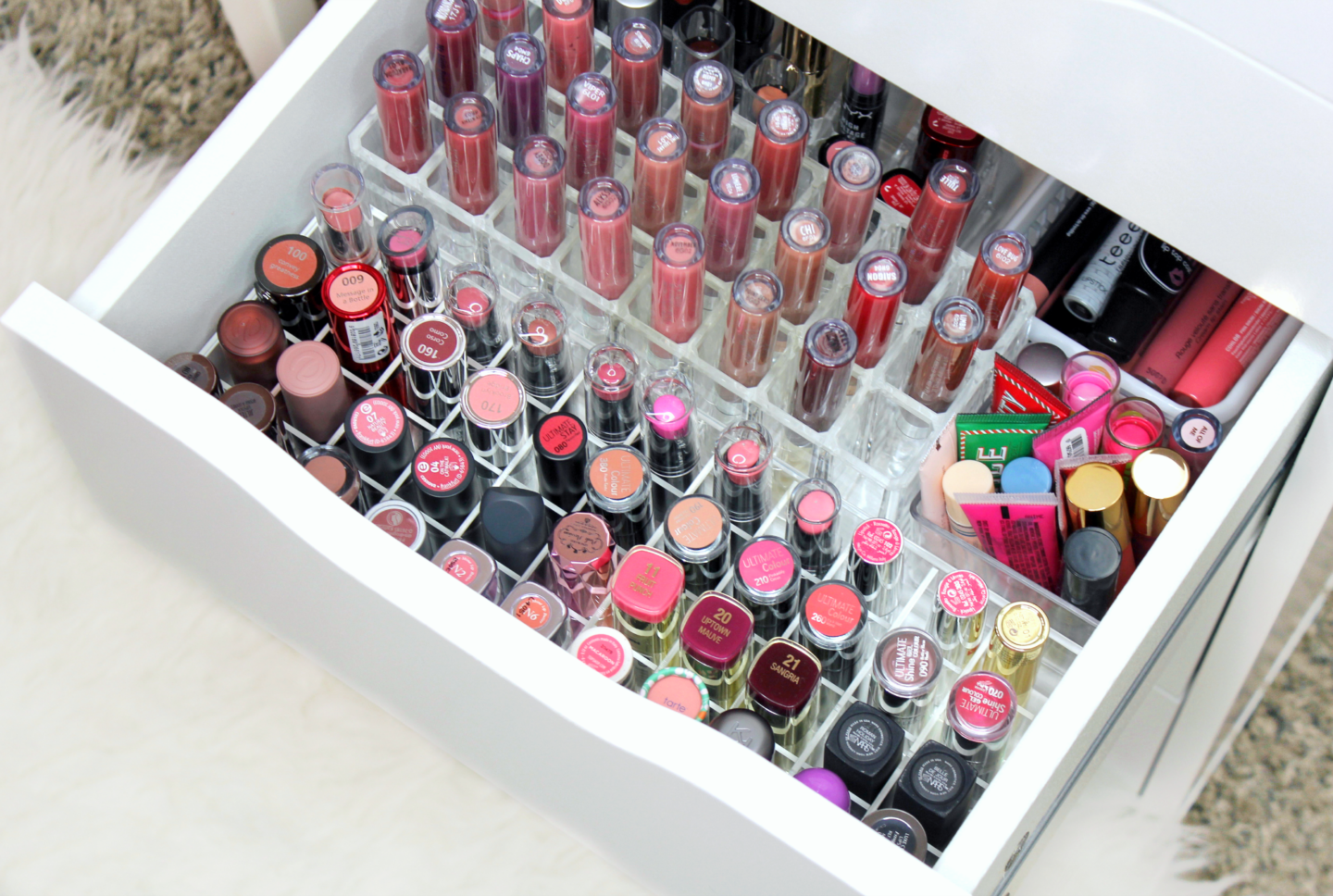 There's absolutely no denying that these organizers look so clean and neat, I finally have a better overview of all the products I actually own. The lipstick organizers would also look really nice displayed on your actual vanity!
One For Lipsticks Dimensions: w: 289mm x h: 50mm x d: 107mm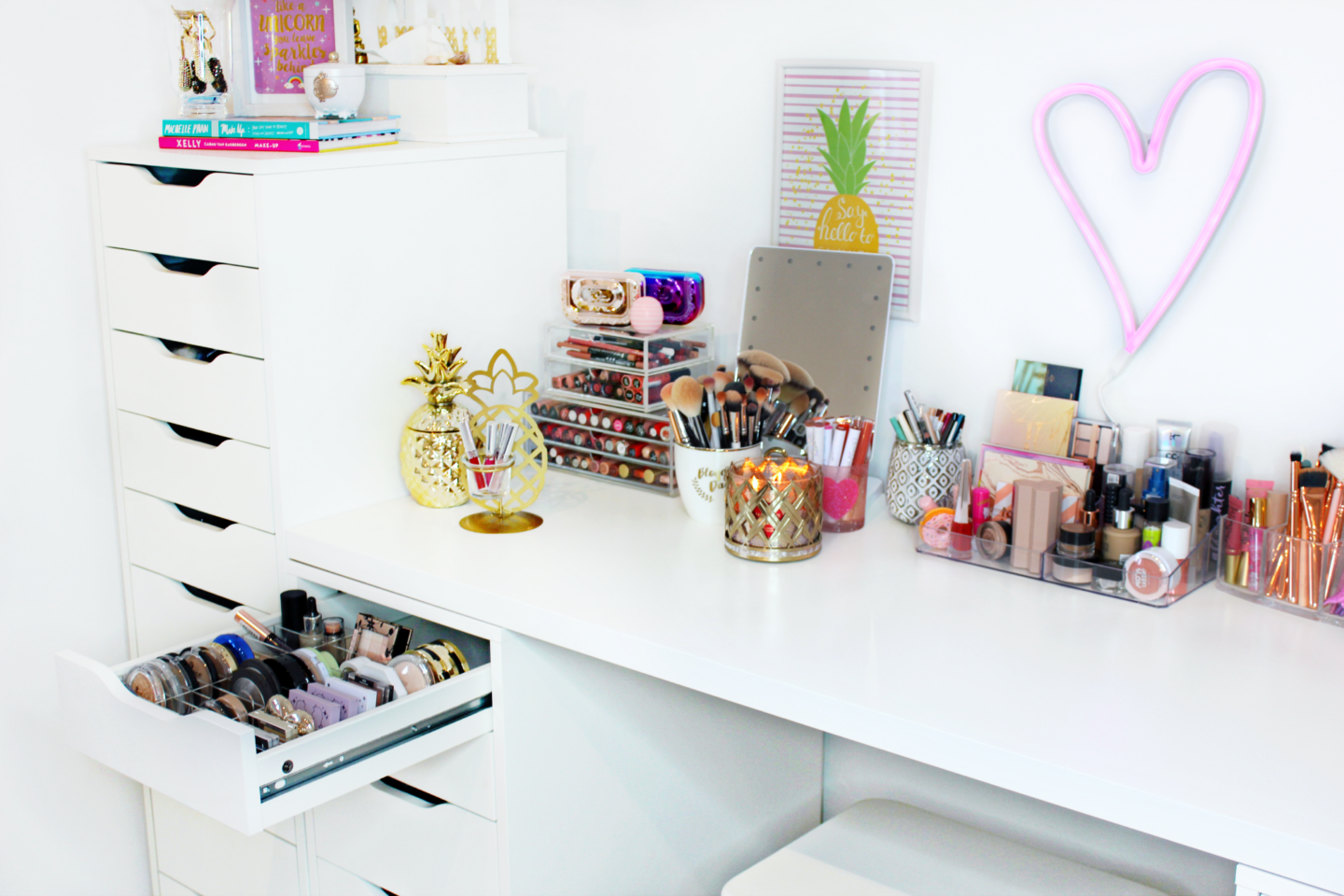 Even though the TidyUps organizers are a little bit on the expensive side, I definitely think they're worth it. The organizers feel extremely sturdy and are made from high quality acrylic. They're also hand glued and assembled, which adds to the high quality and durability of the products. If you take good care of them, these organizers will last you a lifetime and compared to other shops with similar products, they're actually decently priced. Trust me, I would know since I searched high and low for acrylic storage that fits my Ikea Alex drawers and ships from Europe.
Availability
The TidyUps One For Compacts organizer retails for €39,95, whilst the One For Lipsticks organizer costs €29,95. However, if you're interested in multiple organizers, they do offer various bundle packs. These two organizers are available in a set for €64,95 (Perfect Match Set of 2), which saves you about €5. Again, a teeny bit pricy, but so worth the investment if you're a neat freak like me! TidyUps is based in Germany, which is great for those of you living in Europe since we don't have to pay any additional customs. They also offer free EU shipping on orders over €100, which is awesome! Oh and for a limited time only you get free makeup label stickers to stick on the front of your drawers with any bundle pack purchase!