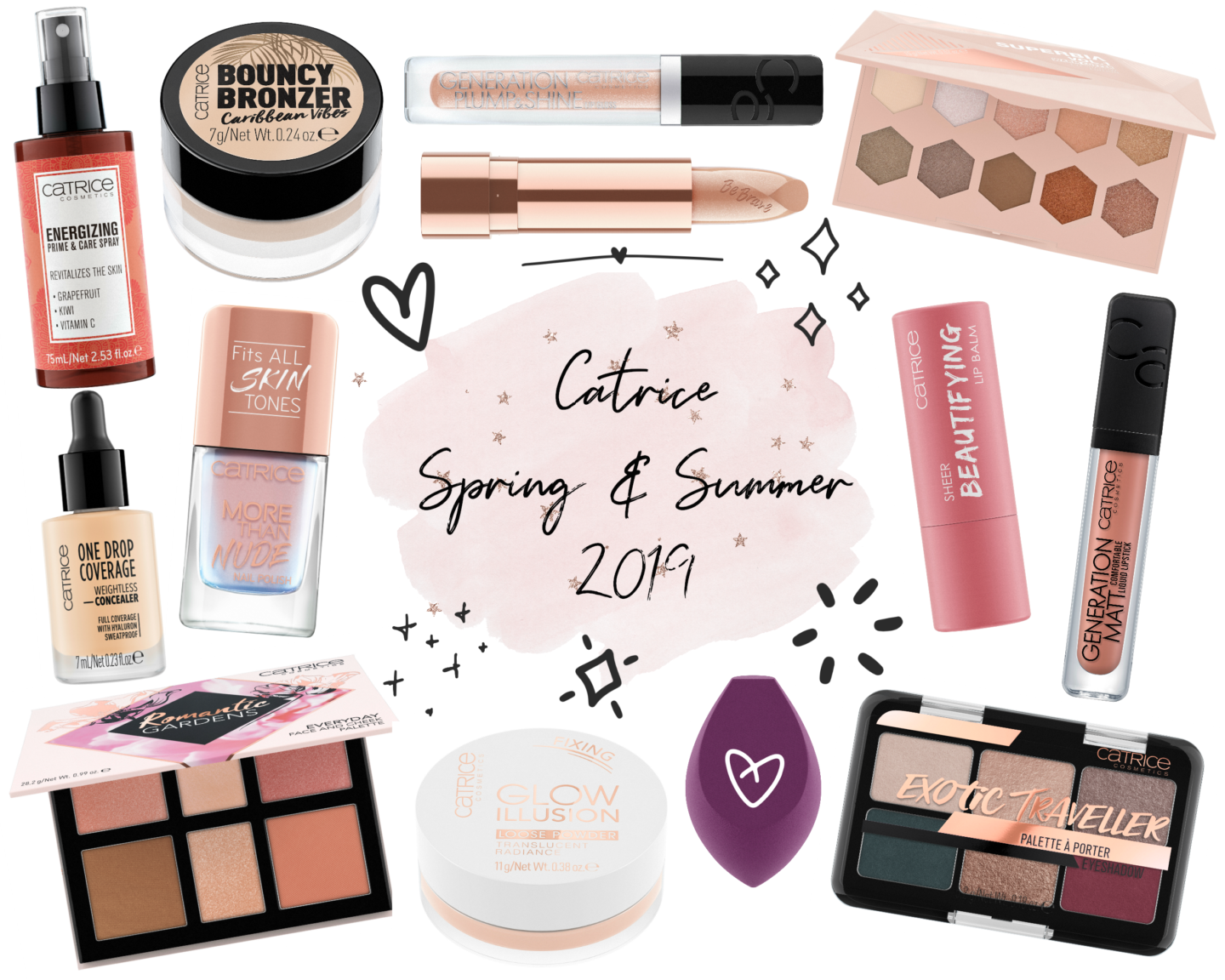 It's that time of the year again where Catrice & Essence update their permanent range! I always look forward to their press releases in which they share everything they'll be adding. As always, Catrice is a little bit earlier than Essence and I couldn't wait to share the new goodies with you. So here's a list of all the new Catrice Spring & Summer 2019 releases that will be hitting stores end of January!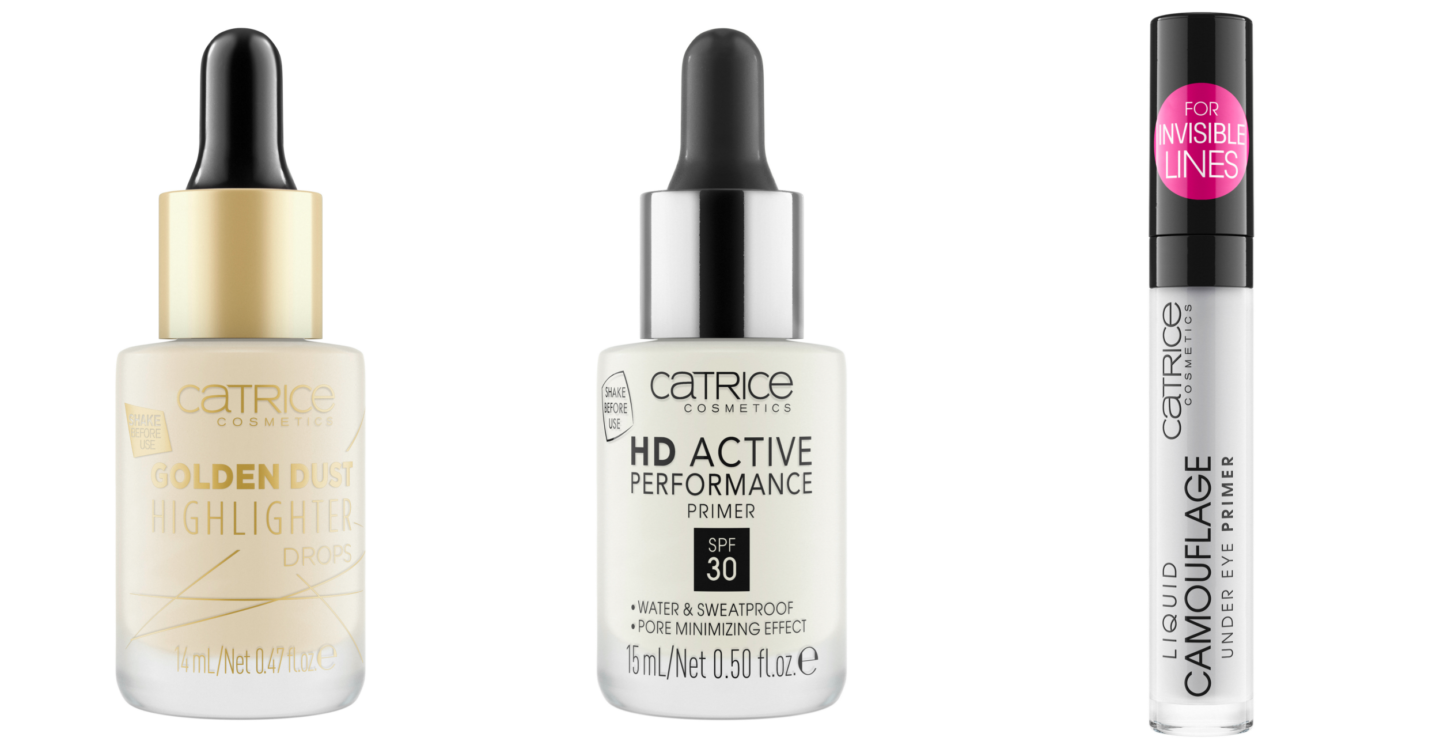 ♥ Golden Dust Highlighter Drops €4,99
Wow Glow: there's a new addition to the Galactic High- lighter Drops – light-reflecting pigments in a surprising texture provide the cheeks, brow arch and décolleté with a gold dust shimmer.
010 Spacegold
♥ HD Active Performance Primer €4,99
The transparent, liquid primer with
a sun protection factor of 30 offers that little bit extra for active lifestyles. No matter whether outdoor, during sporting activities or in the city: the HD Active Performance Primer preps the skin for foundation and makes it last longer. The sweat and waterproof texture also offers an instant soft-fo- cus effect and minimizes the pores.
010 Active Life
♥ Liquid Camouflage Under Eye Primer €3,59
Skin Perfection: liquid, transparent primer that perfectly prepares the lower eye area for concealer. Fine lines around the eyes are visibly filled.
010 Primed & Smooth
♥ HD Liquid Coverage Foundation €6,99
Newcomer: the CATRICE bestseller is welcoming four new nuances. A very light shade and three darker colours offer even more choice for different skin types.
002 Porcelain Beige
036 Hazelnut Beige
060 Latte Macchiato Beige
080 Caramel Beige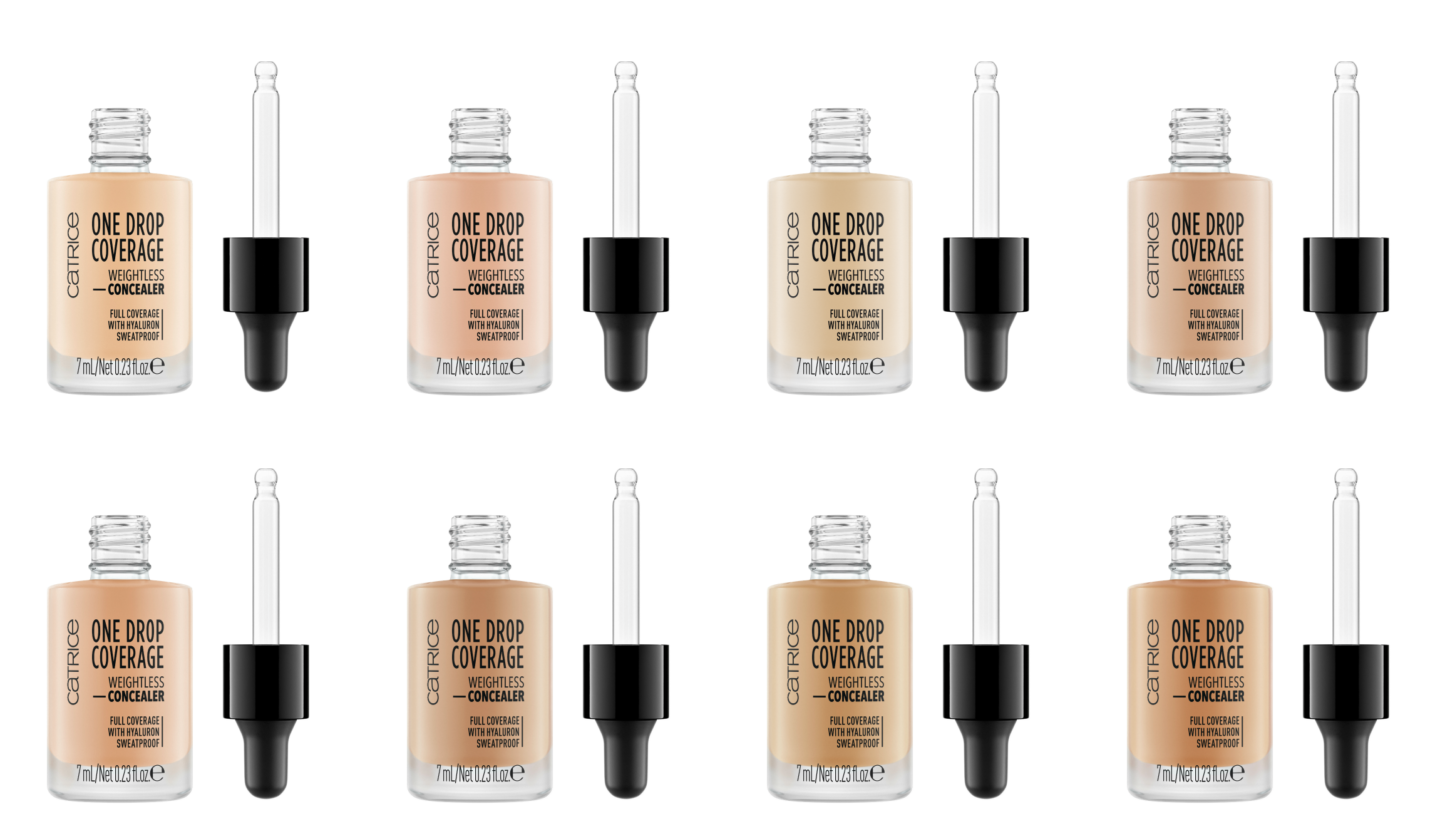 ♥ One Drop Coverage Weightless Concealer €4,59
One drop is all you need: long-lasting, sweat-proof con- cealer with strong coverage and an ultra-light texture. Just
a drop of the concealer is enough for full coverage. At the same time, it moisturizes thanks to hyaluronic acid. Available in 8 different colours.
003 Porcelain
004 Ivory Rose
005 Light Natural
010 Light Beige
020 Nude Beige
030 Rosy Ash
040 Camel Beige
050 Bronze Beige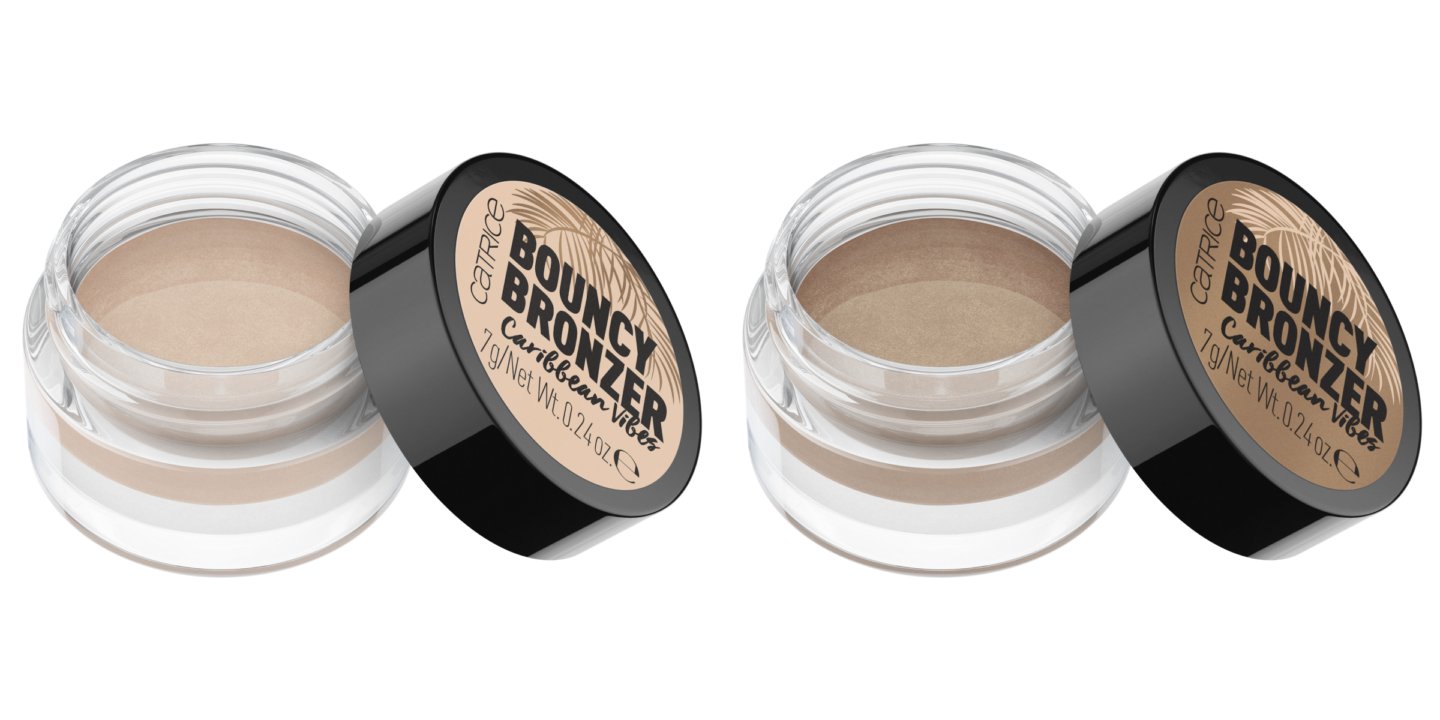 ♥ Bouncy Bronzer Caribbean Vibes €3,99
Refreshing bronzer with a soft coconut fragrance for a sun-kissed look. The gel-texture is sure to make beauty hearts beat a little faster: it is surpri- singly bouncy and creates a gorgeous Caribbean glow.
010 Aruba
020 Cuba Vibes Vibes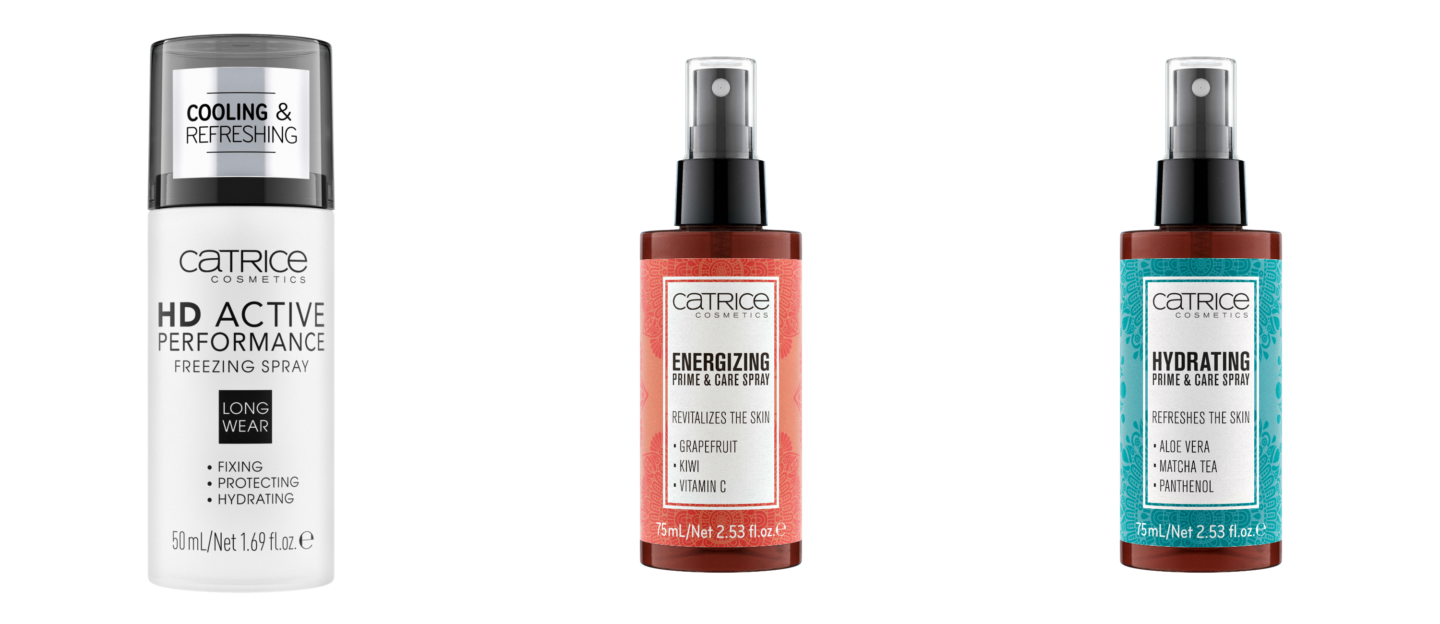 ♥ HD Active Performance Freezing Spray €4,99
For Performers: light, fast-drying fixing spray with a cooling effect that sets make-up in place – the ideal partner for the HD Liquid Coverage Foundation. Offers a perfect finish for all looks that have to keep up with an active lifestyle.
♥ Energizing Prime & Care Spray €4,99
The perfect spray-on primer: the two refreshing face sprays pamper the skin and optimally prepare it for foun- dation. The fruity-fresh energizing version with grapefruit, kiwi and vitamin C has an invigorating effect. The face spray enriched with aloe vera, matcha tea and panthenol calms the skin and replenish it with moisture.
♥ Hydrating Prime & Care Spray €4,99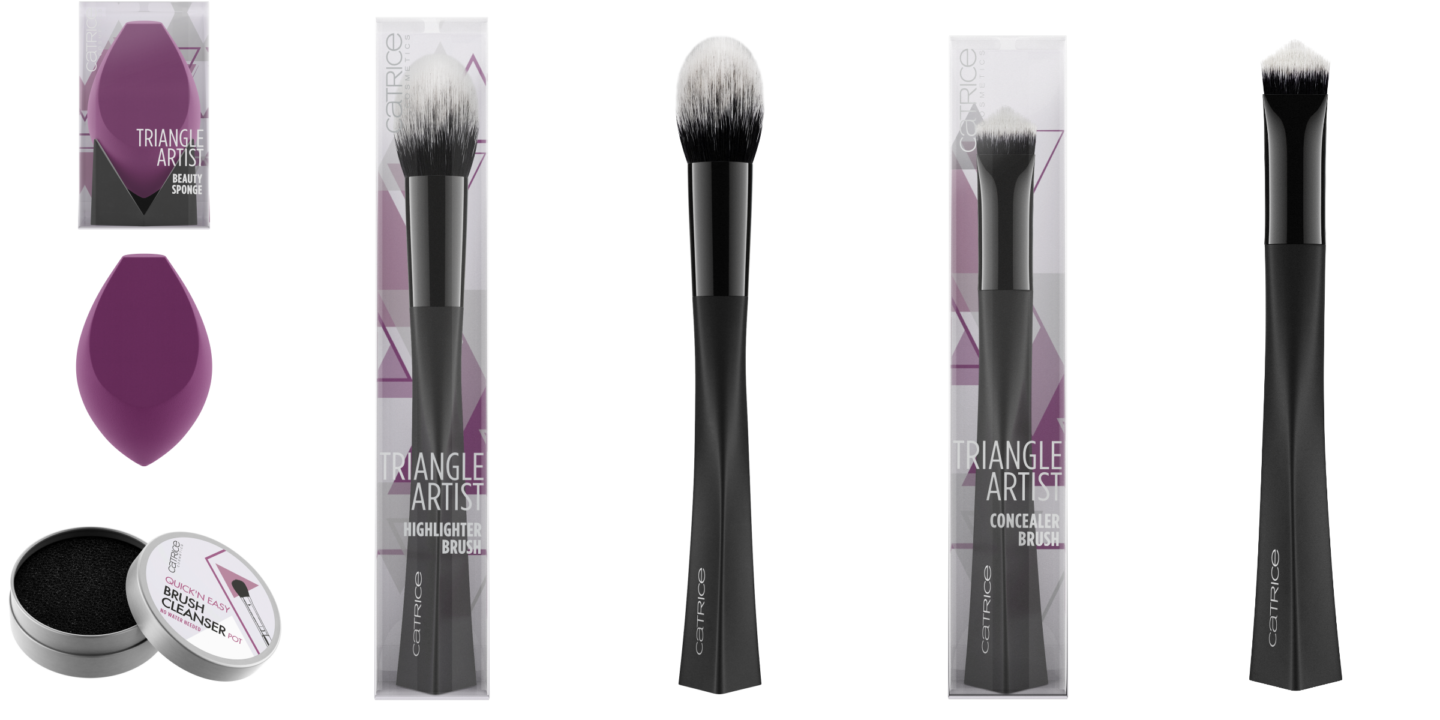 ♥ Triangle Artist Beauty Sponge €4,99
Softie with an edge: The Triangle Artist Beauty Sponge has a unique shape that allows targeted as well as generous, large-surface appli- cation. The rounded, pointy and flat shapes turn this soft make-
up sponge into a flexible beauty helper. With a holder for storage and drying.
010 Flawless
♥ Quick 'n Easy Brush Cleanser Pot €3,99
Specially structured sponge that allows a water and soap-free cleansing of make-up brushes for powder products. Ideal when you're on the go.
010 It's Magic!
♥ Triangle Artist Highlighter Brush €4,99
Stylish and steady: The new concealer and highlighter brushes with synthetic bristles allow an accurate application of concealer and high- lighter for professional looks. And thanks to their special shape, they can even stand upright.
010 Impeccable
♥ Triangle Artist Concealer Brush €4,99
010 Precise

♥ Everyday Face & Cheek Palette €11,99
Three powder palettes for flexible daytime looks. From romantic and playful to sun-kissed, to pro- fessional and elegant: The three Everyday Face and Cheek Palettes each contain six perfectly aligned colours with a matching blush, bronzer and highlighter. Includes a practical mirror for application on the go.
Aloha Sunsets
Powerful Elegance
Romantic Gardens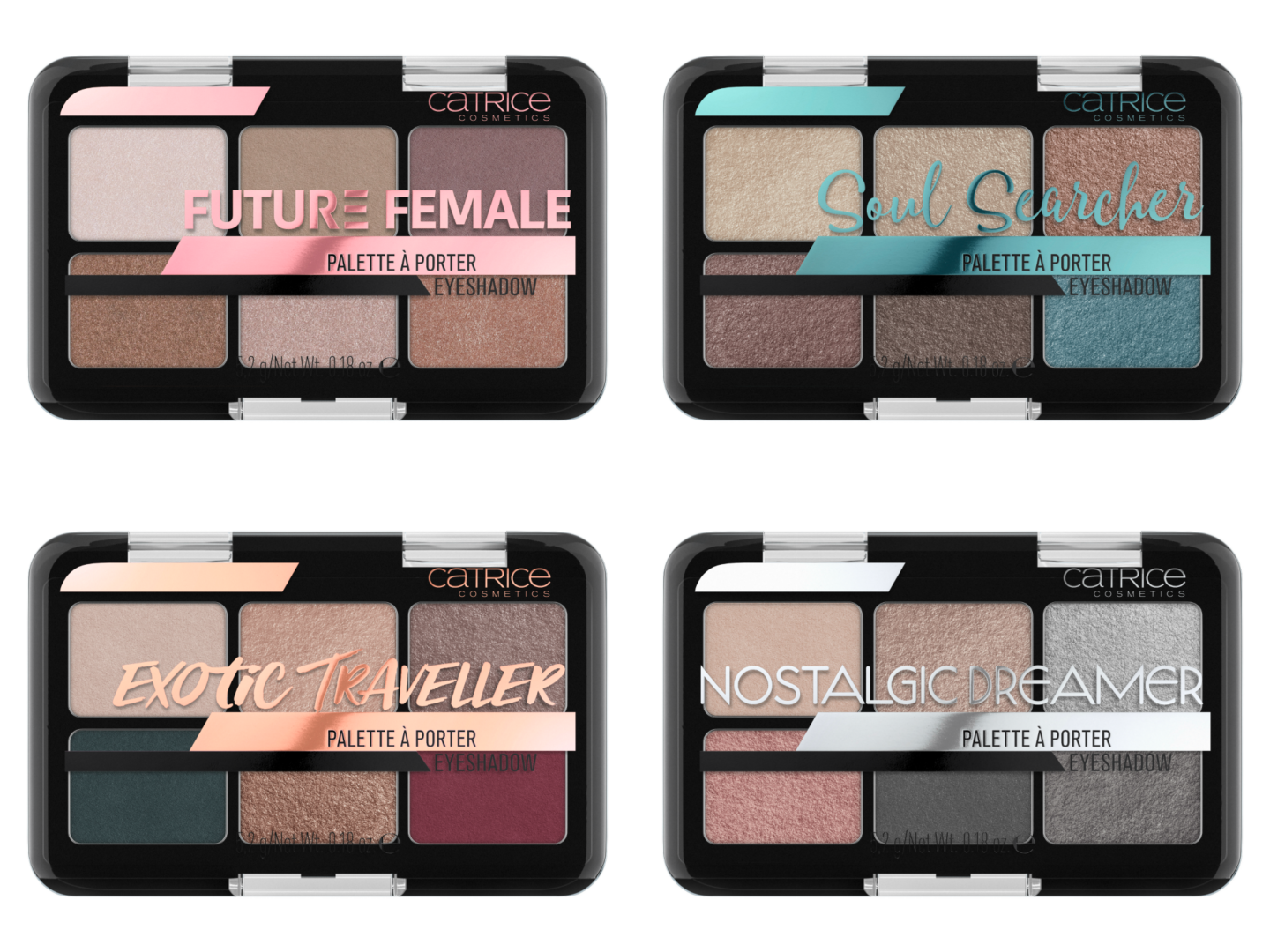 ♥ Palette à Porter Eyeshadow €3,99
Beauty on the go: this practical, slim palette is sure to fit into any handbag. All four mini eyeshadow palettes offer their own colour scheme with six nuances each. So there's something to suit every type.
Future Female Palette À Porter Eyeshadow 010 Afraid Of Nothing
Exotic Traveller Palette À Porter Eyeshadow 030 Wanderlust
Soul Searcher Palette À Porter Eyeshadow 020 Namaste All Day!
Nostalgic Dreamer Palette À Porter Eyeshadow 040 Still Living It

♥ Superbia Eyeshadow Palettes €8,99
The high-quality powder eyeshadow is available in two palet- tes with 10 colours each and an exciting packaging design: No matter whether nude and bronze tones or cooler nuances ranging from ice-blue to taupe – the diversity of effects from matt to holographic makes any look "superb".
Superbia Vol. 1 Warm Copper Eyeshadow Edition 010 Bronze Upon A Dream
Superbia Vol. 2 Frosted Taupe Eyeshadow Edition 010 I Cy Fire

♥ Magnetic Accent Lashes €7,99
With the magnetic lashes, applying false lashes is as easy as child's play – and there's no need for lash glue. Simply place a strip each above and below your natural lash line. Thanks to the magnetic force, the lash strips lock into place for a dramatic look – with significantly longer or more voluminous lashes, depending on the selected version.
010 LashGangVolume
020 LashGangLength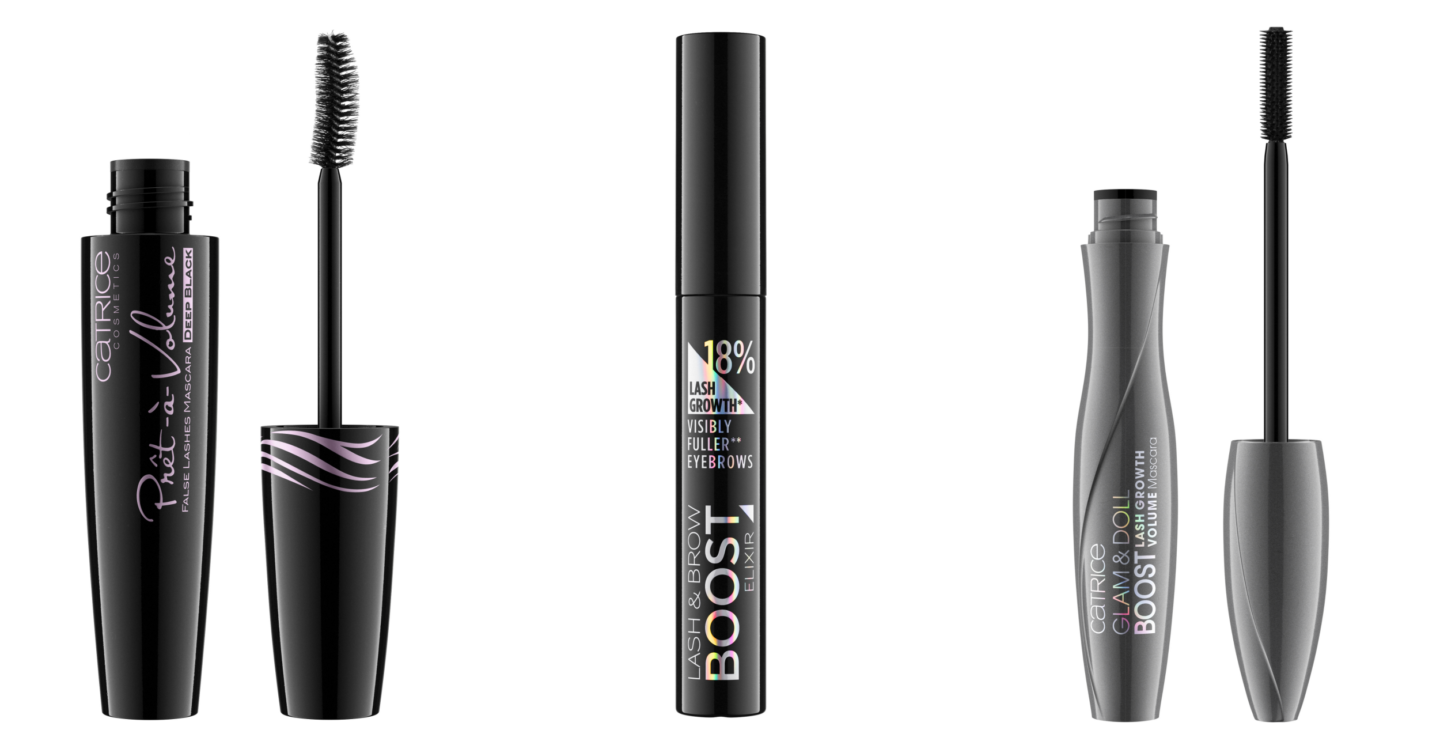 ♥ Prêt-à-Volume False Lashes Mascara €4,59
Ready for extravagant looks: A curved fibre brush allows a "special applica- tion" and creates an exciting false-lash effect thanks to the light texture of the mascara.
010 Deep Black
♥ Lash & Brow Boost Elixir €4,99
Long lashes and full brows are the ultima- te trend duo. This transparent serum makes both wishes come true: applied on the lids like eyeliner every evening, the 2in1 growth-activa- tor elixir provides 18% longer lashes within 30 days.1 Daily application on the brows ensures visibly fuller lashes within four weeks.
010 Transparent
♥ Glam & Doll Boost Lash Growth Volume Mascara €4,99
The Glam & Doll family is growing: The new long-lasting mascara covers the lashes with a deep black texture and stimulates lash growth at the same time – without the need for a serum. In just six weeks, the mascara ensures double the lash growth as well as 54 percent more volume.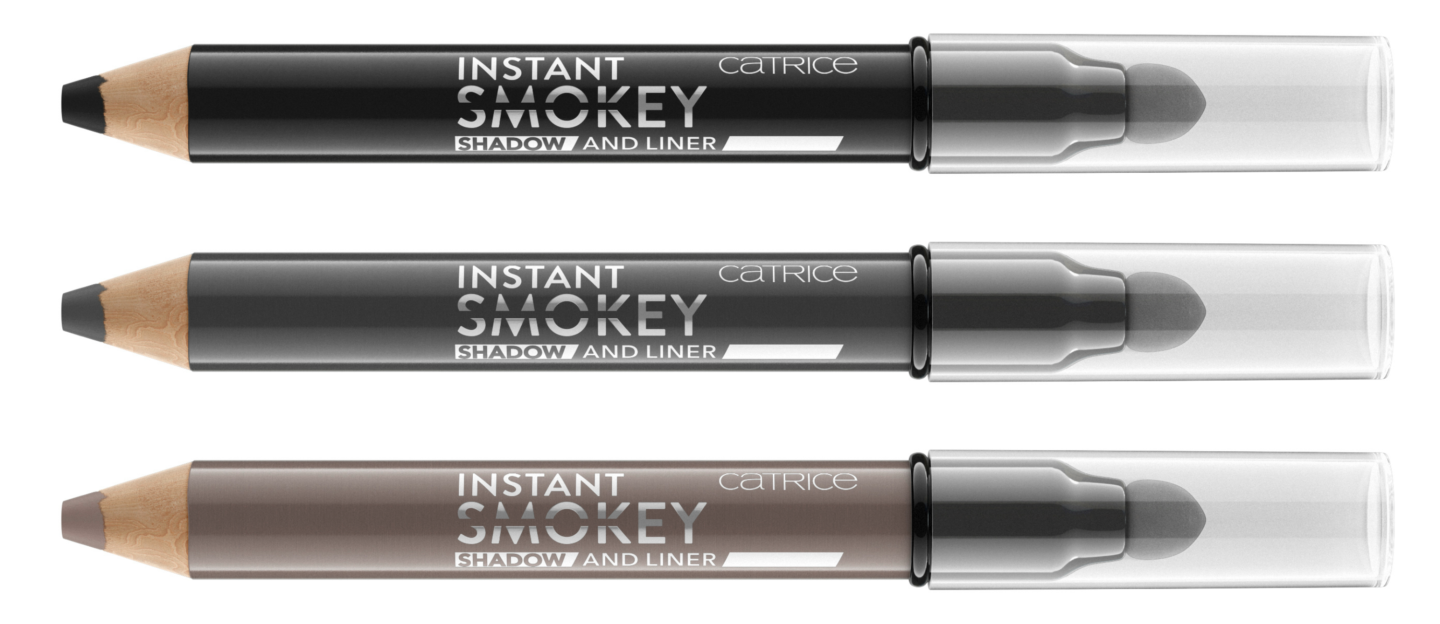 ♥ Instant Smokey Shadow & Liner €3,59
For an instant effect. With the jumbo pen in three colours and an integrated sponge, it's easy to draw and blend seductive Smokey Eyes.
010 All Black Everything
020 Campfire Smoke
030 Truely Taupe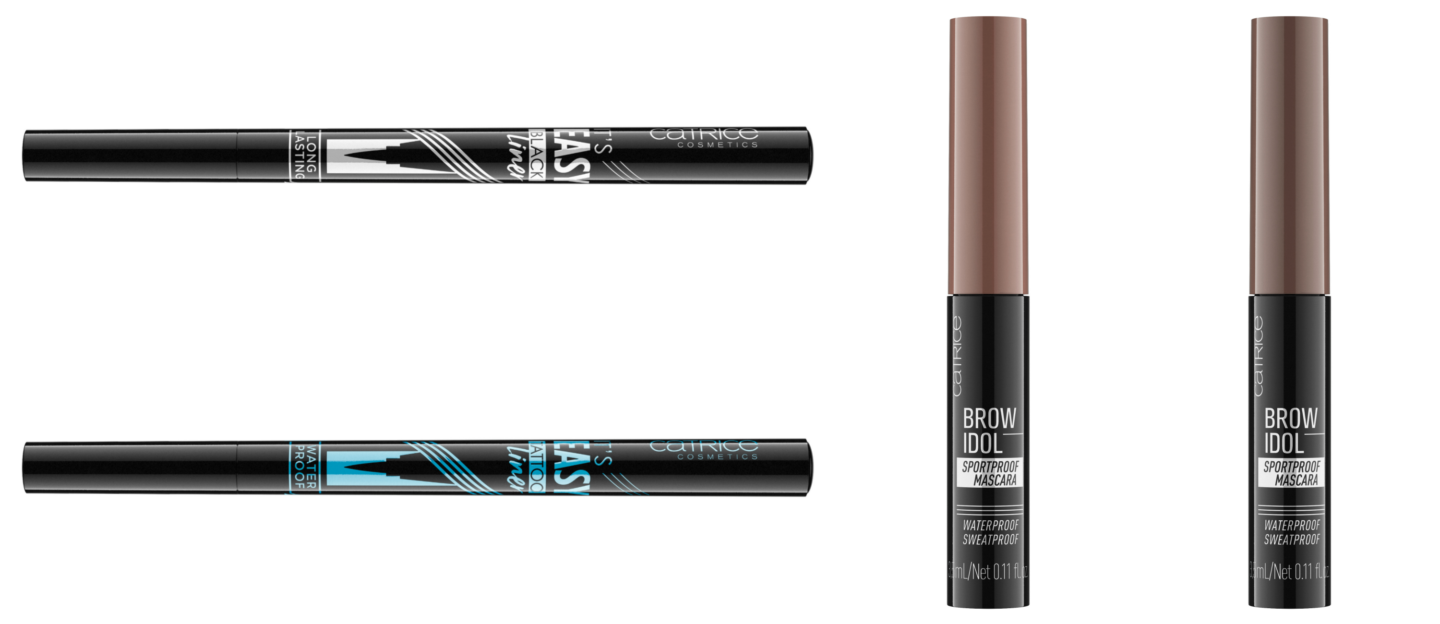 ♥ It's Easy Black Liner €2,99
The It's Easy Black Liner is a true precision artist: It creates super fine lines in seductive black for long-lasting looks in a flash.
010 Blackest Black
♥ It's Easy Tattoo Liner €3,39
The waterproof It's Easy Tattoo Liner provides extra power and ensures an accurate application: It can even handle sweat, tears, heat and rain.
010 Black Lifeproof
♥ Brow Idol Sportproof Mascara €3,59
A must in every cosmetics and sports bag. You can accurately conceal tiny gaps in the brow arch with the small brush of the brow-filler mascara. Thanks to the water and sweat-proof formula, the wow-brow style can handle even the toughest challenges.
010 Medium Brown
020 Dark Brown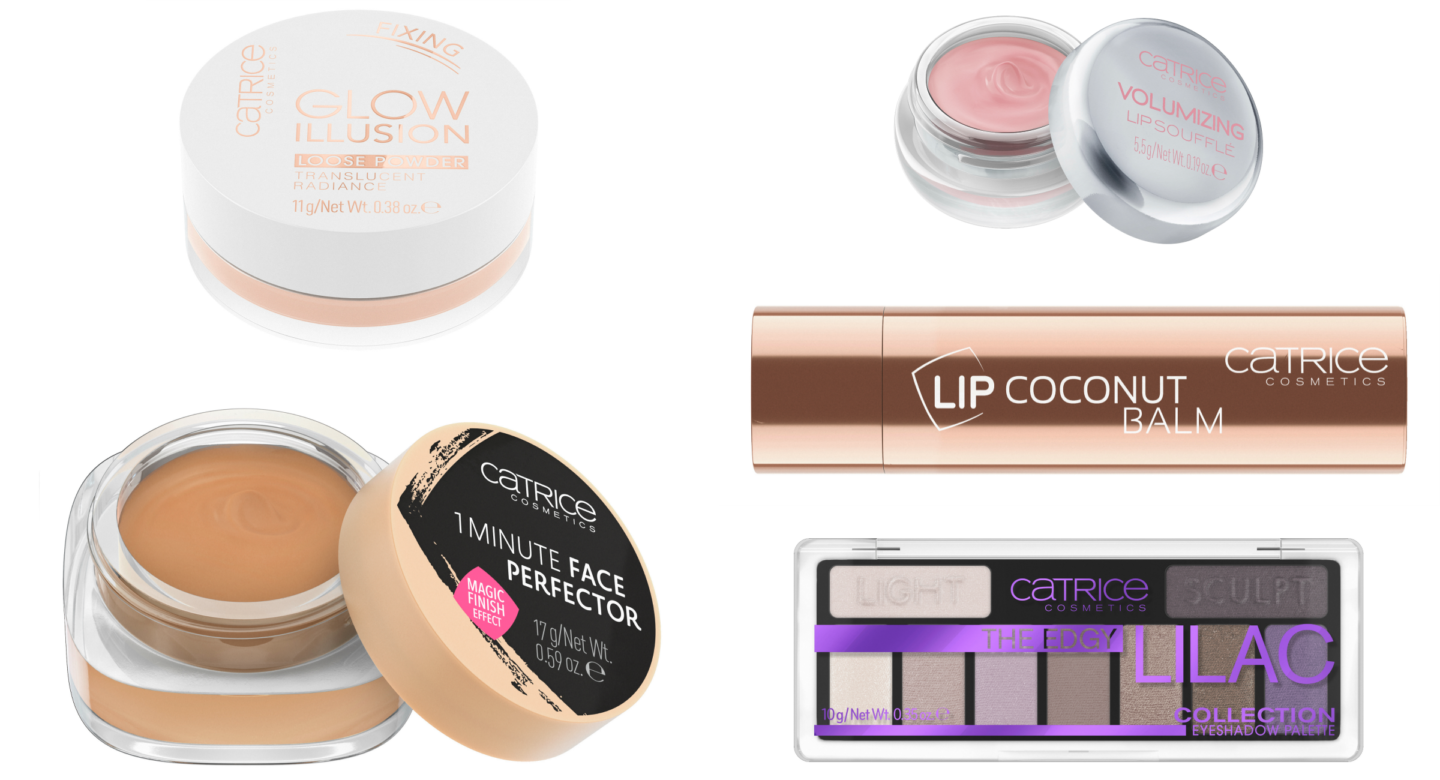 ♥ Glow Illusion Loose Powder €5,59
This ultra-light loose powder contains micro- fine, light-reflecting pigments for a smooth finish with a natural glow. Can be applied on its own or to set make-up in place.
♥ 1 Minute Face Perfector €5,99
Light mousse with a soft coverage that adapts to any skin tone, has a mattifying effect and ensures a flawless complexion. Makes pores and skin irregularities visibly disappear and can replace primer as well as foundation, depending on the desired coverage. The multi-talent amongst our bases.
010 One Fits All
♥ Volumizing Lip Soufflé €3,99
Volume Booster: The mint aroma in the airy, light Lip Soufflé provides freshness, feels pleasantly cool on the lips and offers a visible plumping effect. Leaves a soft-pink shimmer on the lips and complements the existing volumizing products.
010 Frozen Rose
♥ Lip Coconut Balm €3,99
Coconut Kiss: The new addition to the family of lip rituals repairs damaged lips with pampering coconut oil, vita- min E and argan oil. It also replenishes them with moisture and ensures a gorgeous natural shine. With a coco- nut fragrance, the Lip Balm comes in high-quality rosé gold packaging – to go with the product range.
010 Coconut Kiss
♥ The Edgy Lilac Collection Eyeshadow Palette €4,99
Beauty Favourite: The 9-piece palette from the Bestseller Collection captures a true colour trend with its lilac shades, which are sure to make the eyes shine. The tones are main- ly cool with pearly and matte finishes, and they're easy to combine for exciting Smokey Eyes.
010 Purple Up Your Life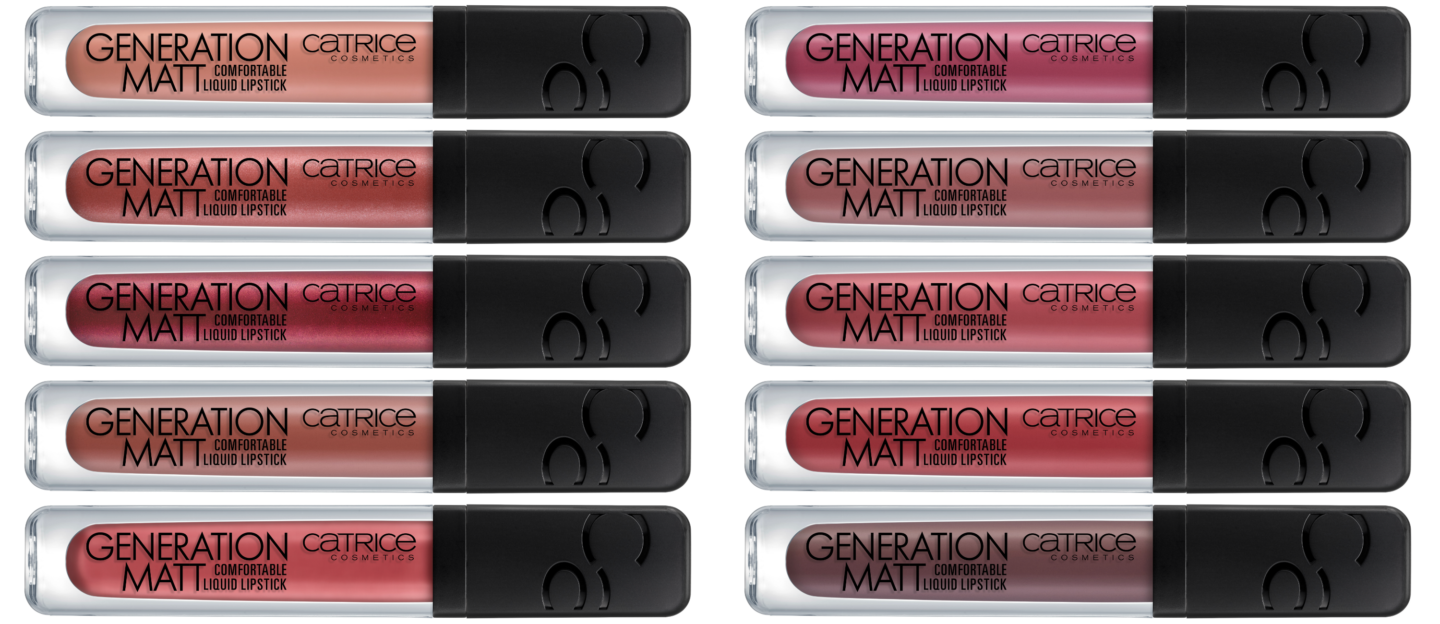 ♥ Generation Matt Comfortable Liquid Lipstick €3,99
Next Generation. Ten Liquid Lipsticks with a velvety-matt finish in high-cover- age colours, enriched with jojoba-oil for a soft feeling on the lips. Eight nuances in rosewood and nude shades as well as two with metallic effects.
010 Nudetown Express
020 The Metalist
030 Exotic Rebel
040 Muddy Madness
050 Danger Lips
060 Blushed Pink
070 Mauve To The Rhythm
080 Pillow Fight
090 Girls Bite Back
100 Llama Pooh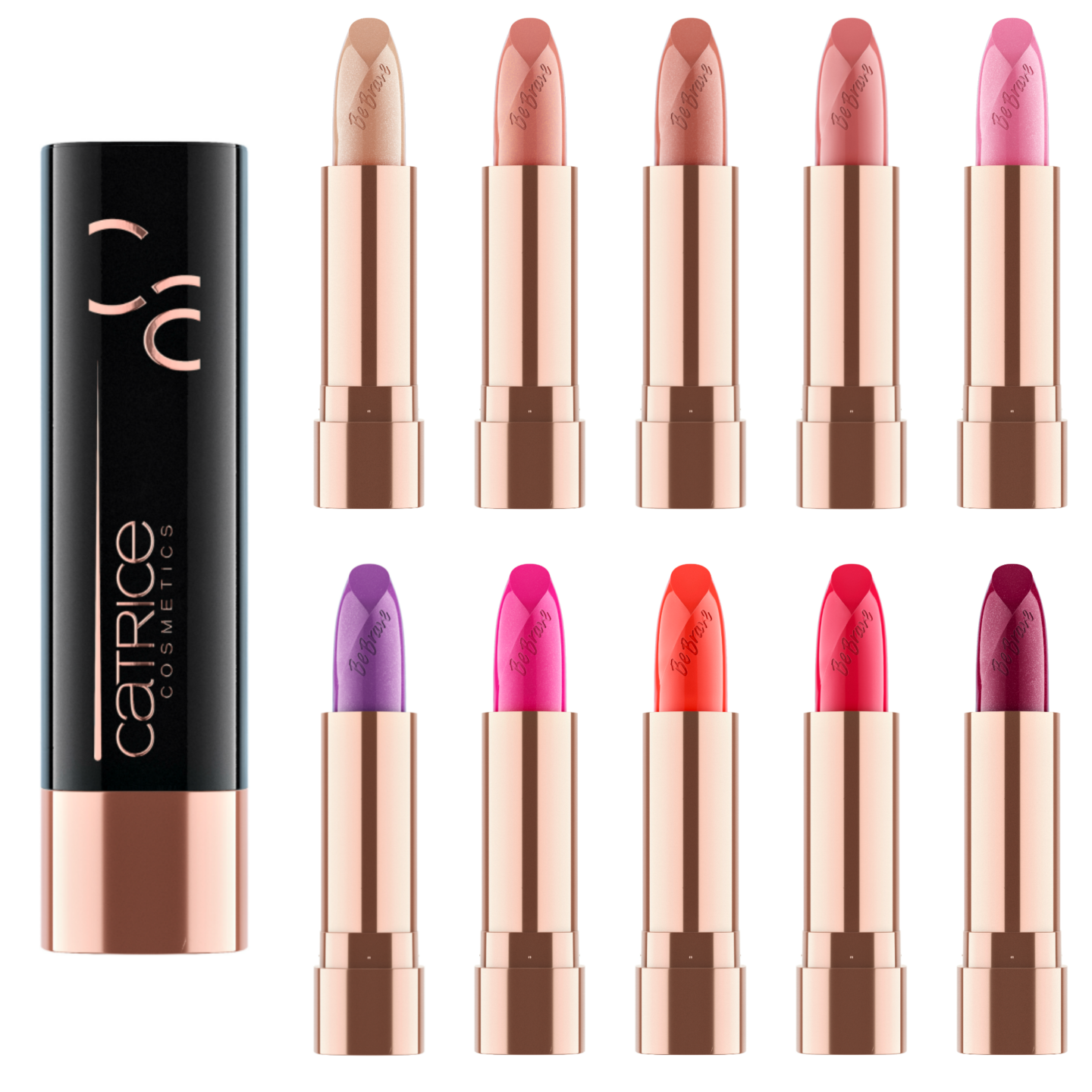 ♥ Power Plumping Gel Lipstick €3,99
For expressive lips: The high-shine lipstick with moisturizing hyaluronic acid ensures smooth, visibly full lips. The Gel Lipstick feels plea- santly light on the lips. Available in ten trendy colours with medium to high coverage.
010 My Lips! My Rules!
020 My Lip Choice
030 Speak Up!
040 Confidence Code
050 Strong Is The New Pretty
060 Be A Superwoman
070 For The Brave
080 Feminista
090 The Future Is Femme
100 Game Changer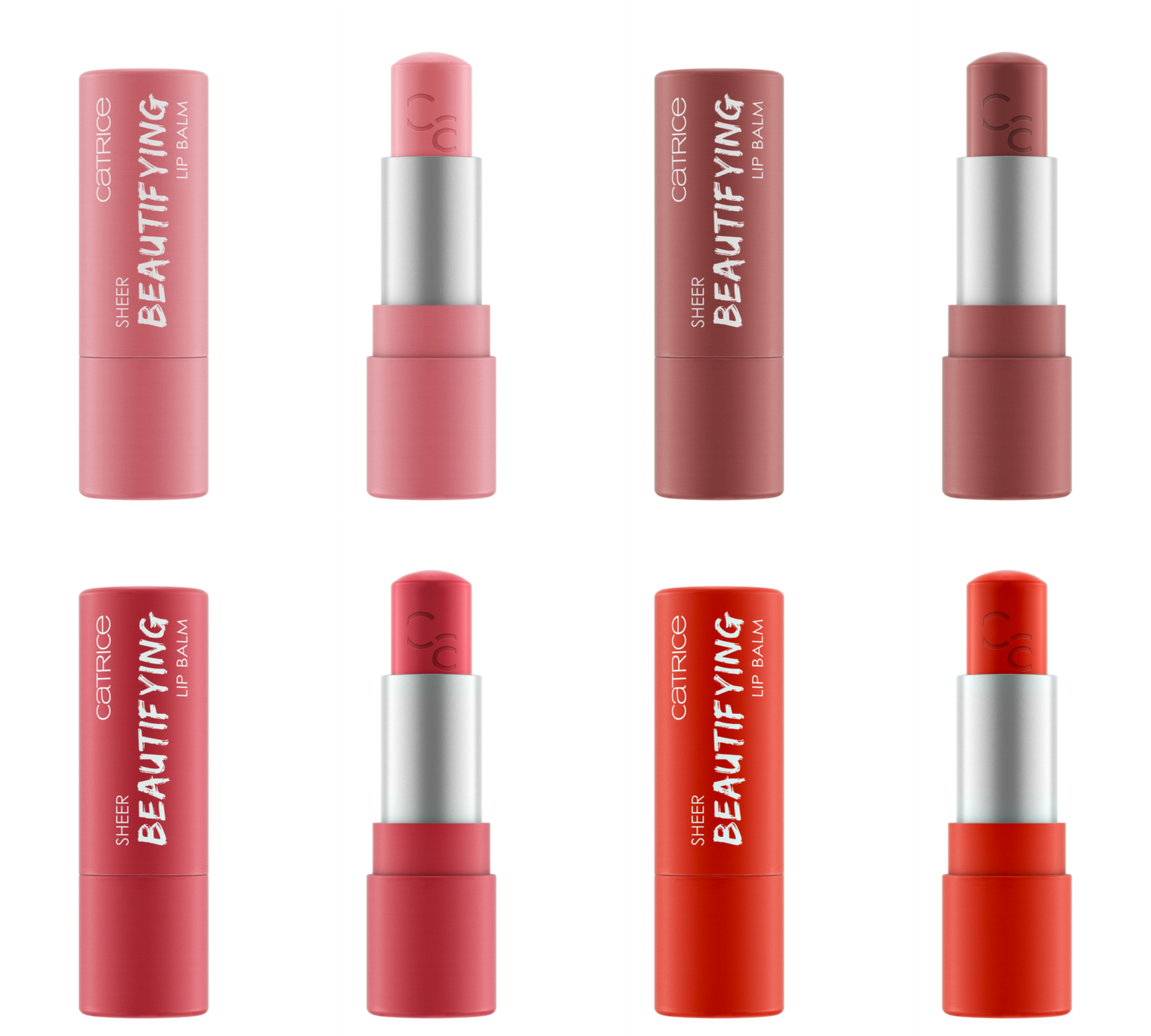 ♥ Sheer Beautifying Lip Balm €3,59
No mirror needed: The creamy texture practically melts with the lips – each lipstick colour is individu- ally enriched with pampering oil (e.g., macadamia oil or argan oil). The four shades offer care with a touch of colour and ensure a natural glossy finish. The Lip Balm comes in a fashionable paper packaging.
010 Flirty Rose
020 Fashion Mauvement
030 Untold Story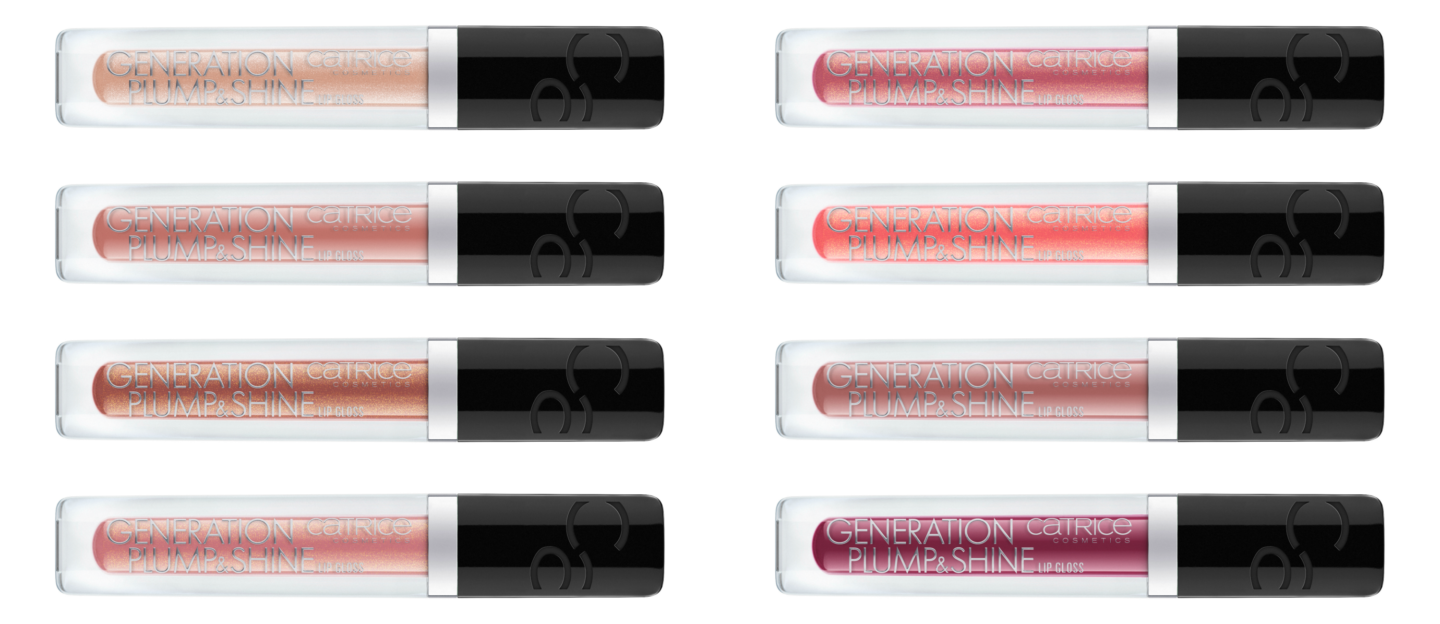 ♥ Generation Plump & Shine Lip Gloss €3,99
For maximum radiance: High-shine lip-gloss with medium coverage and a creamy texture. The high-gloss finish and pearl-shine effects visibly plump the lips. Availa- ble in eight wearable colours with and without pearl-shine effects. Long-lasting and non-sticky.
010 Crystal Rock
020 Rosy Amber
030 Shimmery Goldstone
040 Dusty Rose Quartz
050 Pink Topaz
060 Sparkling Coral
070 Nude Sapphire
♥ Galactic Glow Translucent Effect Nail Lacquer €3,59
Off to distant galaxies! The eight iridescent and translucent effect polishes give the nails a fascinating galactic shimmer.
01 Night-Time Stargazing
02 Enchanted By Prismatic Spell
03 Capture The Northern Lights
04 Fast As Lightning Speed
05 Watch Out! Universe Blaze
06 Conquer The Auroral Belt
07 Feel The Cosmic Vibe

♥ More Than Nude Nail Polish €3,59
Everybody's Darling. The five translucent, softly shimmering nude nuances of the nail polish suit any skin type, visibly lighten the nails, are easy to apply, and on top of all that, they're vegan, too!
01 Milk It Shine
02 Pearly Ballerina
03 Luminescent Lavender
04 Shimmer Pinky Swear
05 Rosey-o & Sparklet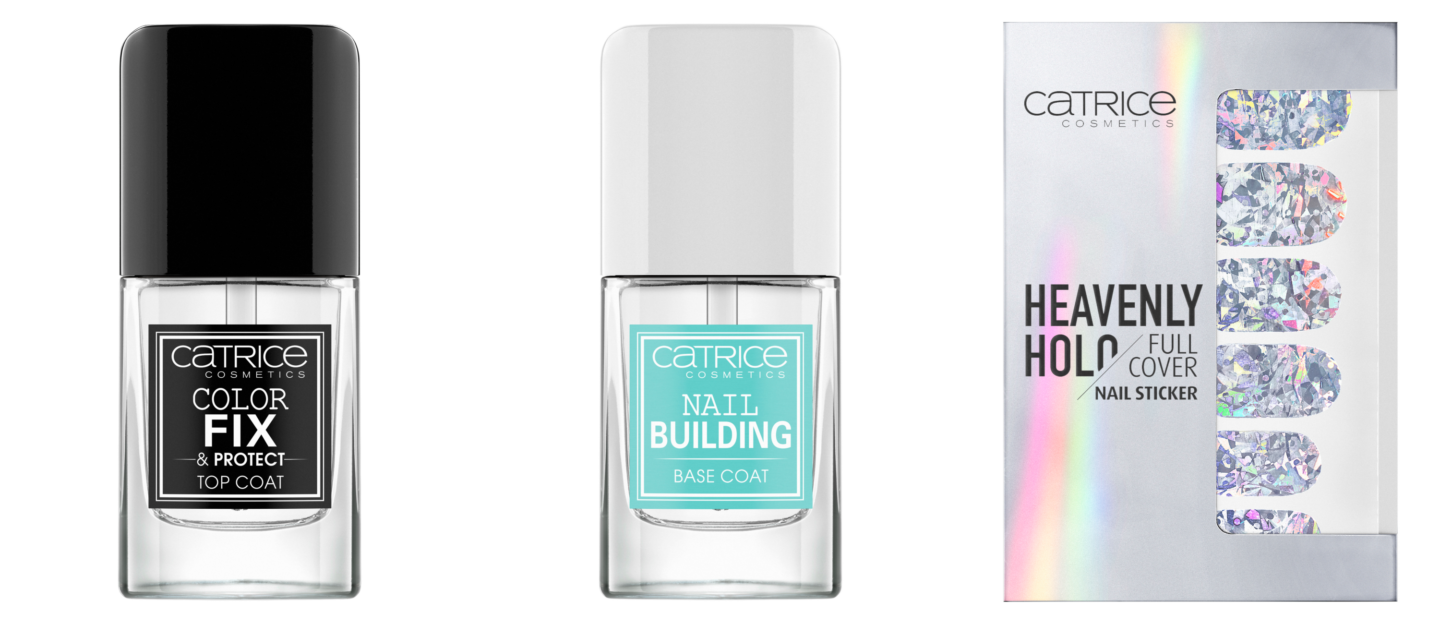 ♥ Color Fix & Protect Top Coat €2,99
The little brother of the Super Dry Gloss Top Coat and the Power Gel 2in1 Base & Top Coat. The transparent, fast-drying all-round top coat sets the colour in place and protects it to make the nail polish shine and last longer.
♥ Nail Building Base Coat €3,59
Power for pampered, strong nails. With a mine- ral complex consisting of silicon, iron, magne- sium and zinc. Protects and strengthens the nails. Apply solo twice a week for a three-week cure or use as a base coat.
♥ Heavenly Holo Full Cover Nail Sticker €2,99
Give us a holo effect! Self-adhesive foils to quickly conjure-up extreme holo effects that are stronger than any polish could ever offer. Stick the flexible stickers on the nail and carefully file away any excess. The thin foils are just as easy to peel off – without the need for nail polish remover.
01 XOXO Holo
I can't wait until these new goodies hit the drugstore! The products I'm most excited for are definitely the new matte liquid lipsticks and their new concealers. As always, I'll be picking up a full face of their new makeup so that I can film a first impressions and also review everything here on my blog!
What are you most excited for?