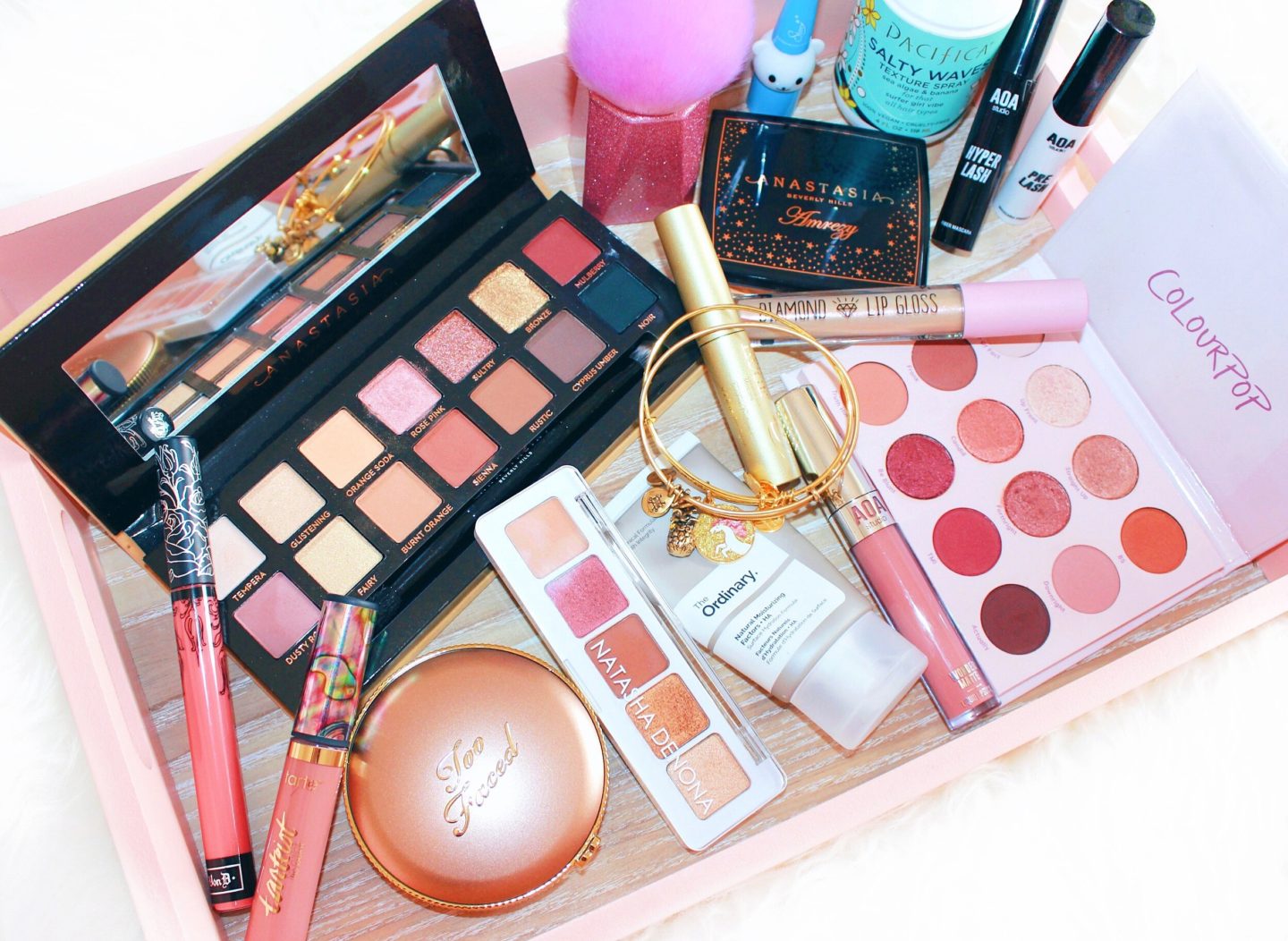 Hey loves! It's that time of the month again where I share my hits & misses of the past 30-ish days. As you all know, I've been trying a lot of different brands on my channel and I also did a huge Sephora haul in May. So it's safe to say I've been playing around with makeup a lot during the month of May. Most of the items I tried I really enjoyed, but of course there are also a few things I didn't like as much. Keep on reading to find out what I've loved and didn't love as much in May!
HITS
♥ Pacifica Salty Waves Texture Spray
If you like texturizing salt sprays, this is a really good cruelty-free & vegan option! It smells good and works wonders when it comes to adding volume and texture to my hair.
♥ The Ordinary Natural Moisturizing Factors + HA
During the warmer months my skin is a little bit more oily and therefore I need a moisturizer that's a little bit less heavy on the skin. This one by The Ordinary is really lightweight and moisturizes my skin perfectly!
♥ Too Faced Natural Bronzer in 'Sun Bunny'
The formula, shade and packaging of this Too Faced bronzer is perfection! They recently rebranded their bronzers and I finally decided to pick one up. Sun Bunny is a beautiful warm bronzer with a hint of sheen that looks stunning on the face!
♥ Real Techniques Brush Crush 306 Kabuki Brush
This entire new Brush Crush collection is freaking gorgeous, but the kabuki brush in particular is the one I've been grabbing for the most. It's amazing for applying setting powder all over the face since it's so soft and big.
♥ Anastasia Beverly Hills Amrezy Highlighter
Eversince I got my hands on this highlight I haven't been able to put it down. The formula is so soft and gel-like and the shade is beautiful!
♥ Colourpop Give It To Me Straight Shadow Palette
This is such a stunning everyday palette with beautiful shades in it. As we all know, I adore the Colourpop pressed shadows and this is no exception to that!
♥ Anastasia Beverly Hills Soft Glam Eyeshadow Palette
One of my favorite eyeshadow palettes ABH has ever come out with! The shade range in this palette is so on point and the quality is out of this world. There is quite some powder kick-up though, but I personally don't mind it that much.
♥ Stilla Huge Extreme Lash Mascara
Even though I only got a mini sample of this mascara, I'm already obsessed with it. It's very volumizing, but you do have to be careful not to build it up too much otherwise it can get a little bit clumpy.
♥ AOA Studio Wonder Matte Liquid Lipstick in 'Work It'
For only $1, this is such a good liquid lipstick! This shade in particular is so beautiful, but you do have to reapply it more often than higher-end liquid lipstick formulas.
♥ AOA Studio Diamond Lip Gloss in 'Glitz'
Again, for only $1 this is a gorgeous lip topper with a super shimmery finish! It's not too sticky, but the lasting-power isn't the best.
♥ Kat Von D Farm Sanctuary Everlasting Liquid Lipstick in 'Julia'
This shade is SO beautiful, I've been wearing it a ton these past few weeks. It's a muted peachy pink shade that looks really good on my skin-tone.
♥ Tarte LE Be A Mermaid & Make Waves Collection Tarteist Quick Dry Matte Lip Paint in 'Exposed'
Even though I already own a million of these neutral shades already, I love this shade and formula! This was part of Tarte's mermaid collection, but I think the shade is also in their permanent range with regular packaging.
♥ Alex & Ani Pineapple & Unicorn Charm Bangle
I've been collecting Alex & Ani charm bangles for quite some time now and I recently got my hands on a few new ones that I'm obsessed with! The pineapple and unicorn charm look so good paired together and I just love how they look overall.
MISSES
♥ Starry Waterproof Eyeliner
This eyeliner is SO dry and it doesn't even show up on my eyes at all. Even though it only costs $1 and looks really cute, it's really not worth it!
♥ AOA Studio Hyper Lash Lash Primer & Fiber Mascara Duo
The lash primer didn't do anything for my lashes and the fiber mascara was horrible. Fibers kept falling down my face, getting into my eyes,… throughout the entire day, what a nightmare! Again, even if it's just $1, NEVER pick this up!
♥ Natasha Denona Mini Sunset Eyeshadow Palette
I'm including this one in my misses simply because I was so underwhelmed by this palette. It's not bad at all, but Natasha Deanna palettes are so expensive and hyped-up and I was expecting so much more from this.
What were your hits & misses for the month of May? Anything you absolutely loved or hated? Let me know!