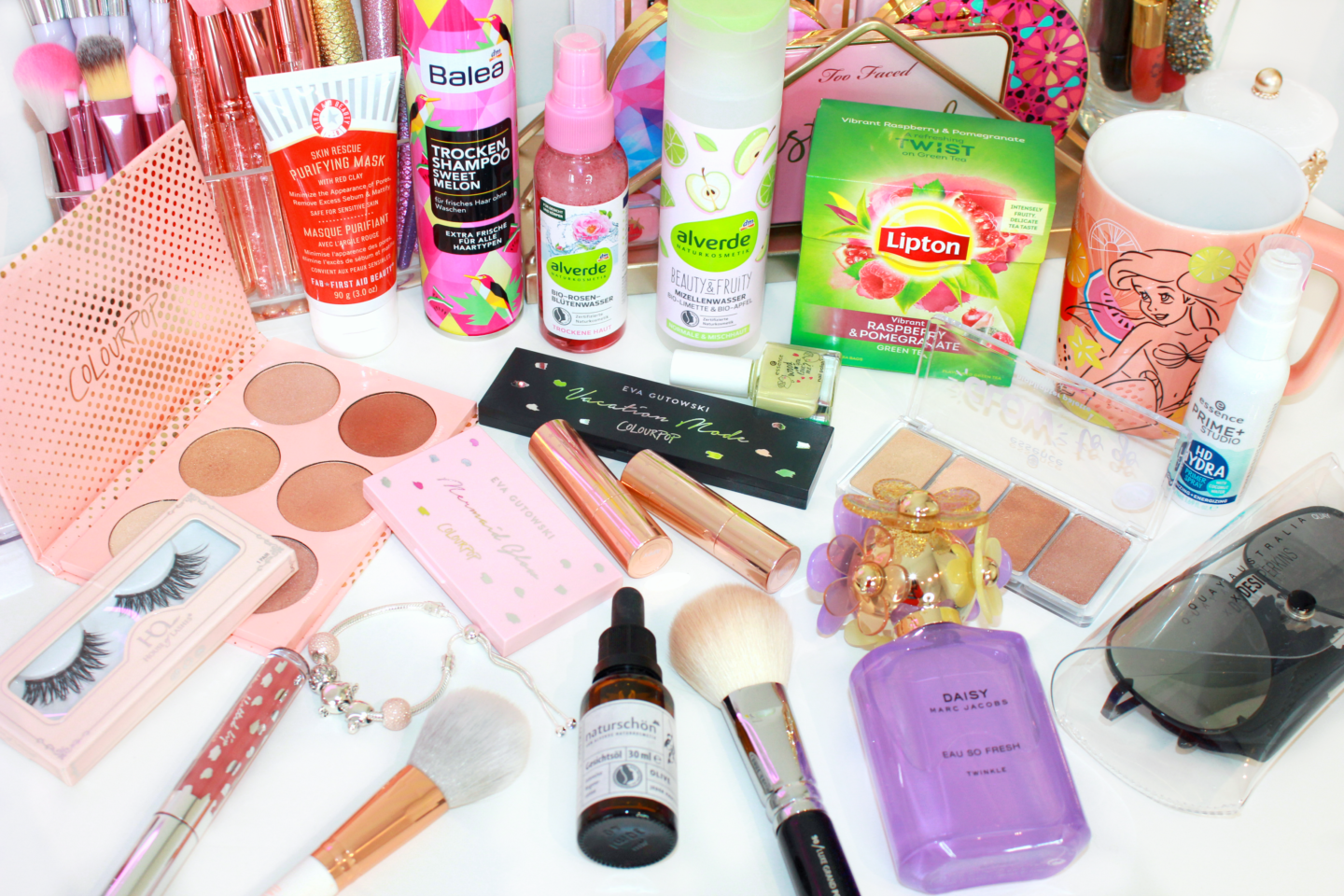 My favorite month out of the entire year has come to an end. April is my birthday month, nature starts to blossom again and the weather is slowly but surely heating up! It's safe to say I love April! But since another month has come to an end, it's time I talk about all of the beauty & lifestyle products I've been loving most recently. Not only did I discover a ton of new favorites, I also found a few items just not worth your time or money. Keep on reading to find out my hits & misses for the month of April!
HITS
♥ Disneyland Paris Ariel Mug
I bought this mug when I went to Disneyland last week because I simply couldn't pass this up. It has my favorite Disney princess on it, Ariel, AND has freakin' pineapples on it!! It's also the perfect size for my evening tea hehe!
♥ Lipton Vibrant Raspberry & Pomegranate Green Tea
I've mainly been drinking this tea throughout the entire month of April, which says a lot! I'm a huge tea drinker, and this one tastes like straight up candy!
♥ Balea Dry Shampoo in 'Sweet Melon' €1,95
If you need your hair to last you a long time in between washes, this is the perfect dry shampoo for you! It's super inexpensive, smells amazing and works wonders.
♥ Alverde Rose Water Face Spray €2,45
This rose water is super hydrating and easy to use thanks to the spray. It's again really inexpensive and it feels SO good on my skin!
♥ Alverde Olive Face Oil €6,95
I'm so happy I finally found a cruelty-free alternative for my Kiehl's Midnight Recovery Serum! This one by Alverde smells and feels the exact same way and it does such a great job at moisturizing my skin.
♥ First Aid Beauty Skin Rescue Purifying Mask $30
I love peel-off masks so much and this one by First Aid Beauty is great if your pores are a bit clogged or you just need a good cleanse. It smells very menthol-like and feels super refreshing on the skin. Peeling it off is also such a joy, you really feel all the dirt coming out of your skin.
♥ Essence Prime + Studio HD Hydra Primer Spray €3,59
Such a great, easy to use primer if you're in a hurry or you just have a more lazy makeup day. I just spray this on my face, let it sink into my skin for about a minute and start applying the rest of my makeup right after. It hydrates my skin really nicely and preps it for makeup.
♥ Zoeva 90 Luxe Grand Powder Brush €24,80
This brush has the perfect size & density for bronzer application and I love how luxe and soft it feels on my skin!
♥ Essence Flat Powder Brush €3,59
When it comes to the shape, this is actually a great dupe for the Zoeva 90 brush. This one is just a little bit more precise and denser, which is why I use this one for my contour.
♥ Eva Gutowski x Colourpop Mermaid Glow Face Duo $10
This face duo comes with a stunning neutral blush and a golden-toned highlight that I absolutely love! The formula is great and the packaging is perfect to travel with (it's also really cute & pink).
♥ Essence Glow To Go Highlighter Palette in 'Sunkissed Glow' €4,59
This is hands down the best highlighting palette at the drugstore! It's crazy how affordable this palette is considering it's better than a lot of high-end highlighters I've tried. They're not glittery whatsoever and they apply beautifully on the cheeks!
♥ Colourpop In-Nude-Endo Pressed Powder Highlighter Palette $18
If you love a blinding highlight just like me, you have to get your hands on this palette! It's decently priced and the quality is absolutely amazing. These shades are crazy pigmented, smooth and would suit a lot of different skin-tones.
♥ Eva Gutowski x Colourpop Vacation Mode Shadow Palette $12
This is such a beautiful & versatile eyeshadow palette! I can create both dramatic and natural looks with this and as usual with Colourpop, the formula is right on point.
♥ House Of Lashes False Lashes in 'Iconic Lite' $12
The Iconics by House of Lashes have been my go-to falsies for years now. However, they're very intense and for some looks even a bit too intense. That's why I decided to order the Iconic Lites and I'm in love with these! They have the exact same shape as the Iconics, but just a little bit thiner right at the lash-band.
♥ Eva Gutowski Colourpop Ultra Blotted Lip in 'Love Bite' $6
The Ultra Blotted Lip formula in general has been a favorite of mine this past month! They're so effortless and quick to apply, perfect for work or school. The shade Love Bite in particular has been my go-to lip color recently. It's a soft pink with a beautiful powdery matte finish that I love!
♥ Colourpop Lux Lipstick in 'Boy' & 'Appy' $7
These lux lipsticks do feel super luxe and creamy on the lips! The shades Boy & Appy are a perfect nude combo that I've been wearing a lot the past month or so. They feel super comfortable on the lips and stay on for a few hours.
♥ Marc Jacobs Daisy Twinkle Eau So Fresh €77,50
Okay, I have to admit it was the packaging that initially drew me in after KathleenLights talked about this perfume on her channel. But then I went ahead and smelled it in store, which made me fall in love even more! It has that typical Daisy undertone, but with a violet twist to it.
♥ Pandora Moments Silver Sliding Bracelet €59
I've been addicted to Pandora charms & bracelets for quite some time now. Aside from their regular bracelets, they recently added a new tennis-like bracelet to their line and I'm absolutely obsessed with it! It's more casual, yet still very chic thanks to the little rhinestones and I've been wearing it a ton. The great thing about this bracelet is that you can also put your charms on it as well!
♥ Quay Australia x Desi Perkins Black & Silver High Key Sunglasses €60
These sunnies had been on my wish-list for over a year, so I finally decided to purchase them a few weeks ago and I'm so happy I did! These aviators are rather big, but since I have a larger head they actually suit my face-shape pretty nicely.
MISSES
♥ Alverde Beauty & Fruity Apple Micellar Water €2,75
I love Alverde as a brand, but this micellar water just isn't for me. It stings my eyes and has a pretty harsh scent, which I don't think micellar waters should have.
♥ Essence LE Wood You Love Me Nail Polish in 'Soulmate' €1,99
Although I'm obsessed with the shade of this polish, the formula is simply horrendous. It's difficult to apply and it chips instantly, which is such a bummer!
What were some of your favorite products for the month of April? Any misses you discovered??