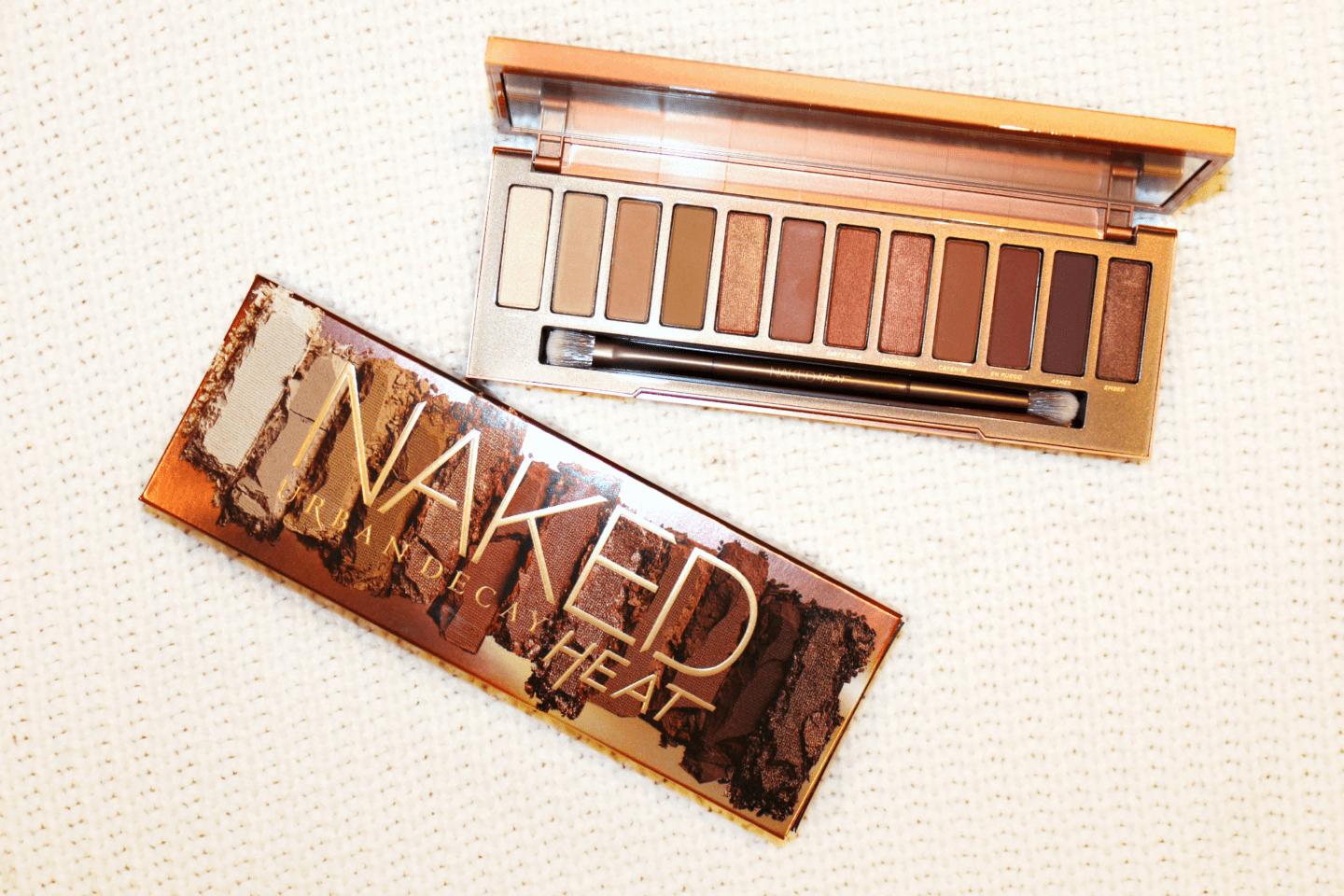 Out of nowhere Urban Decay decided to drop a bomb on us beauty lovers by releasing the sixth addition to their Naked palette series: Naked Heat. Filled with warm browns, burnt oranges and bronzes, this palette is destined to be a best-seller. At first, there was some controversy surrounding this launch, because of the Allure post that showcased really poor swatches of this palette. Although I thought the shades in this palette looked gorgeous, I initially was going to pass on this palette since I have so many warm-toned palettes in my collection already. But then I walked into Sephora the other day and this palette was luring me in the moment I stepped foot in that store. I have been playing with this beauty all week long & today I can finally share my thoughts with you!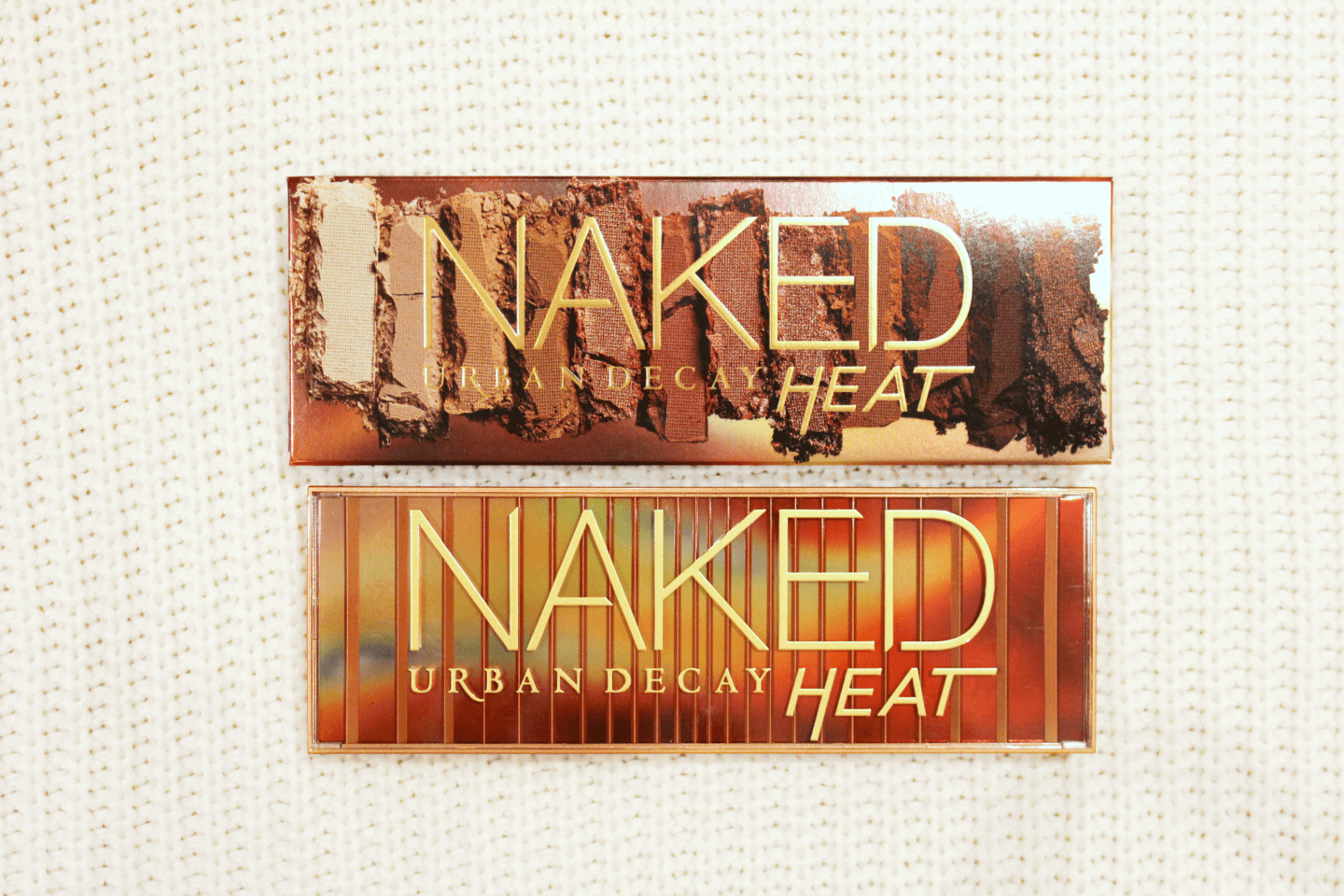 The Naked Heat palette comes in a stunning cardboard box which you can slide open to reveal the actual palette. The eyeshadow palette itself is housed in a sturdy plastic rectangular compact. The bronze-colored packaging with gold details is such an eye-catcher! Everything about this design is very well-thought off, well made and looks super bad-ass, way to go UD!
The palette closes thanks to a strong magnet inside and comes with a decent sized mirror and dual-ended brush.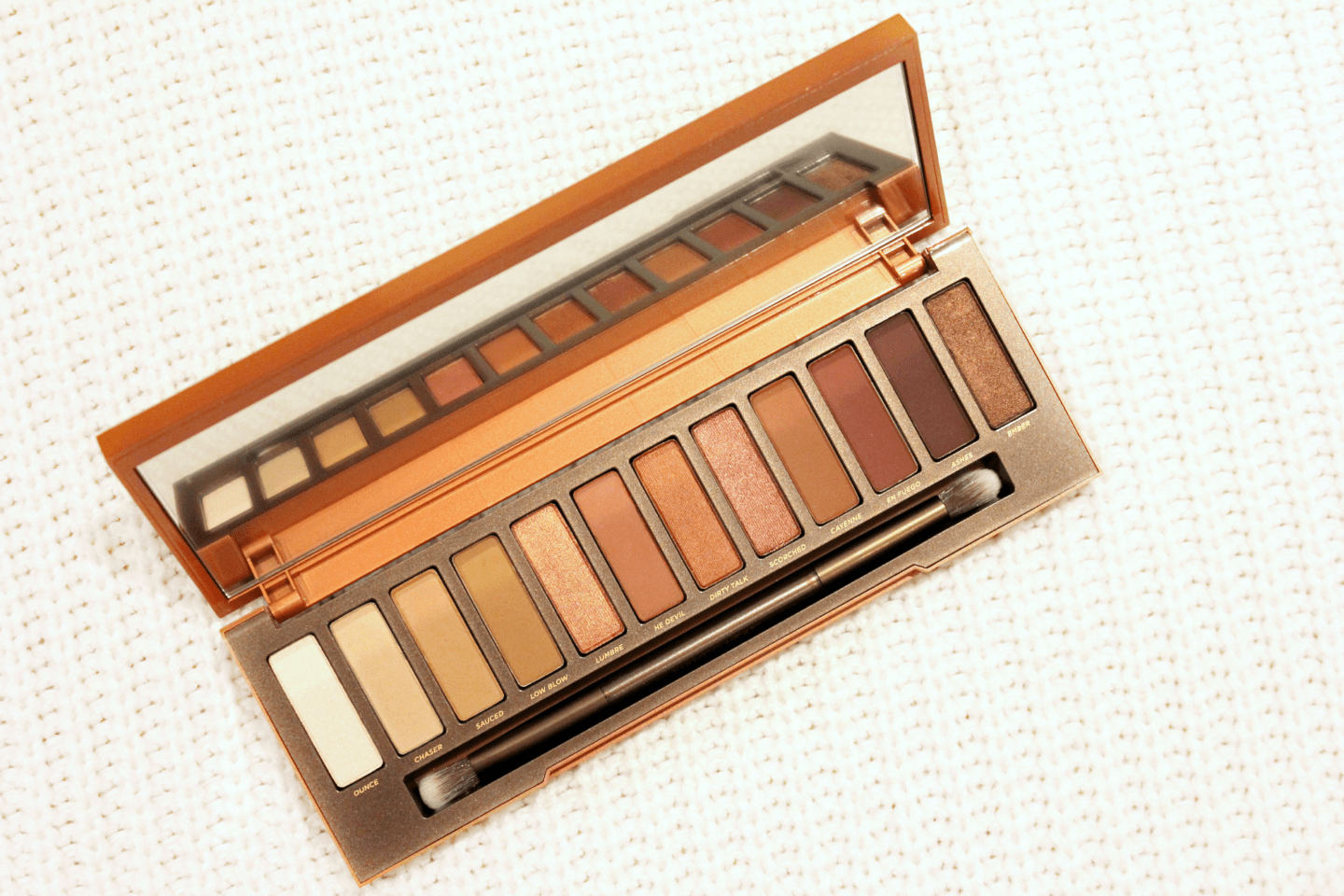 Brand's description:
"Give in to the heat of the moment with 12 ALL-NEW, can't-live-without, amber-hued neutrals—including warm browns, burnt oranges and rich siennas. The most shade-driven Naked palette we've ever done, this palette takes Naked in a whole new direction. From a super-smooth red-brown matte and a glimmering copper to a deep, shifty bronze, this palette has everything you need to create sultry daytime looks, intensely smoky nighttime looks and everything in between."

The Heat palette comes with 12 warm tones with a range of finishes from matte to metallic. The shades in this palette are unlike anything else we've seen from Urban Decay so far. I would even go as far as saying it's almost not 'naked' anymore as these shades look darker and warmer (which is a good thing in my opinion).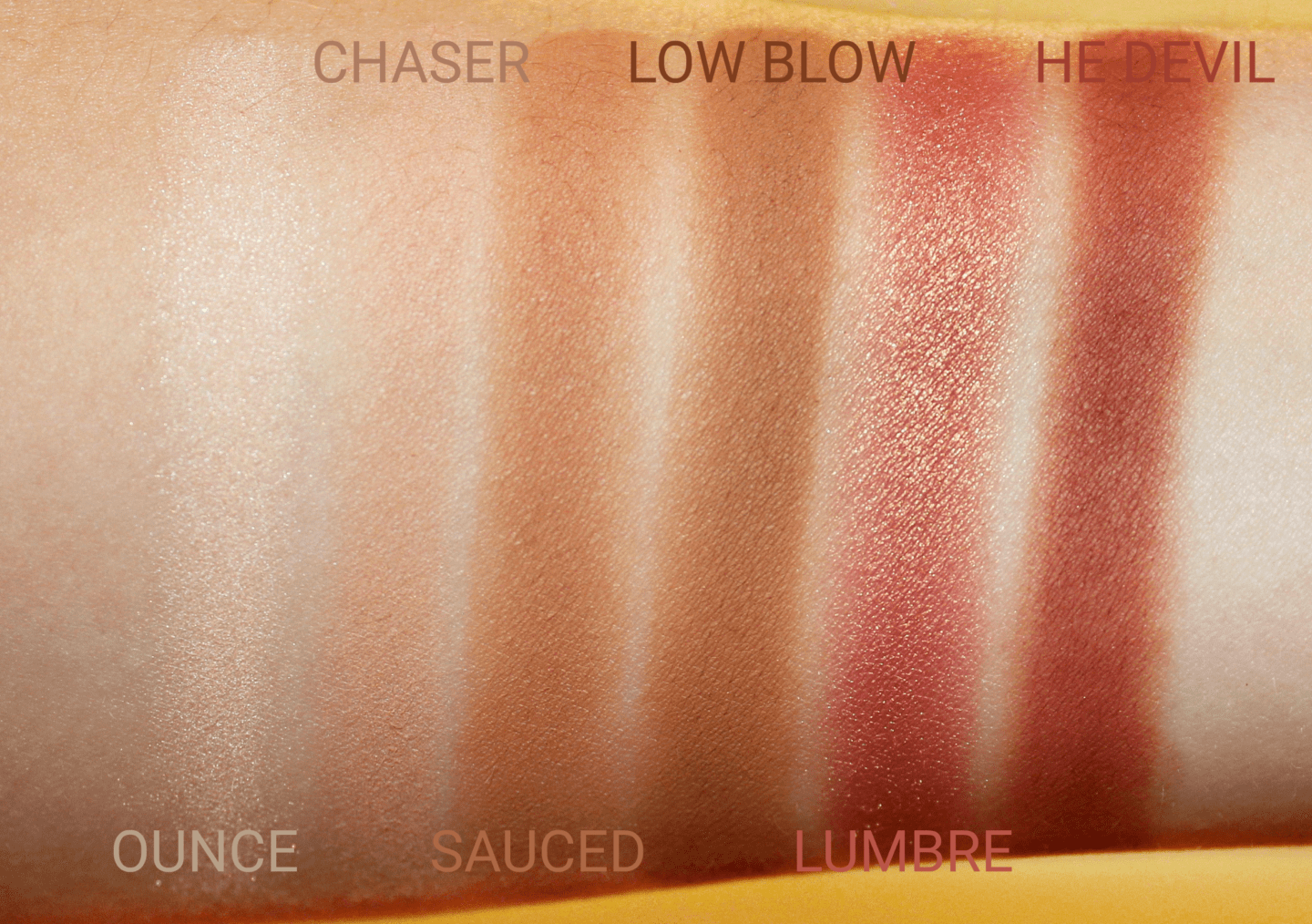 ♥ Ounce: A warm light creamy beige with a hint of subtle shimmer. The finish was more on the sheer side but the texture is soft and easy to apply.
♥ Chaser: A light warm creamy brown with peach undertones and a matte finish. Chaser has a smooth finish and is nicely pigmented.
♥ Sauced: A medium warm orange brown with a matte finish. The color pay-off is excellent and it blends very effortlessly.
♥ Low Blow: A medium to dark warm brown with a matte finish. Again, Low Blow is nicely pigmented and feels really smooth and buttery.
♥ Lumbre: A medium warm peachy red with a golden shimmer. The formula is a little bit dry, but it applies evenly and the pigmentation is excellent.
♥ He Devil: A warm medium to dark reddish brown with a matte finish. The formula is smooth with amazing pigmentation.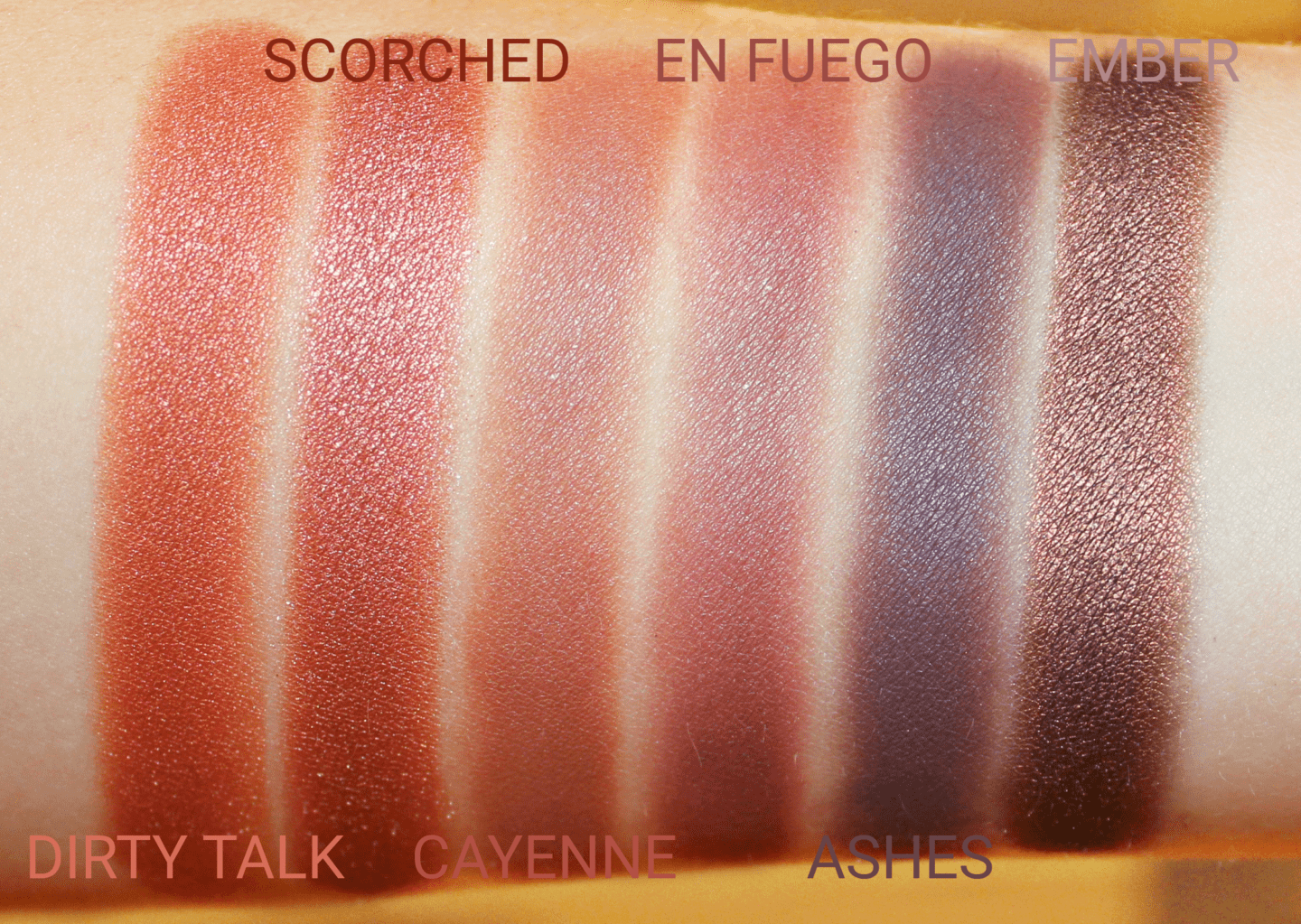 ♥ Dirty Talk: A warm medium to dark coppery brown with orange undertones and a frosted finish. The color pay-off is amazing and the formula is very buttery.
♥ Scorched: A warm darker brown with red undertones and a golden shimmer. The pigmentation is one of the best in the palette and it's super soft.
♥ Cayenne: A more muted warm dark brown with a matte finish. Cayenne is decently pigmented and easy to blend.
♥ En Fuego: A darker warm muted plum with a matte finish. The formula is a bit on the dryer side and the color pay-off is quite sheer, but buildable.
♥ Ashes: A warm deep chocolate brown with a matte finish. The formula is nice and it's nicely pigmented.
♥ Ember: A dark olive brown with a bronzed metallic finish. The pigmentation is amazing and it applies evenly.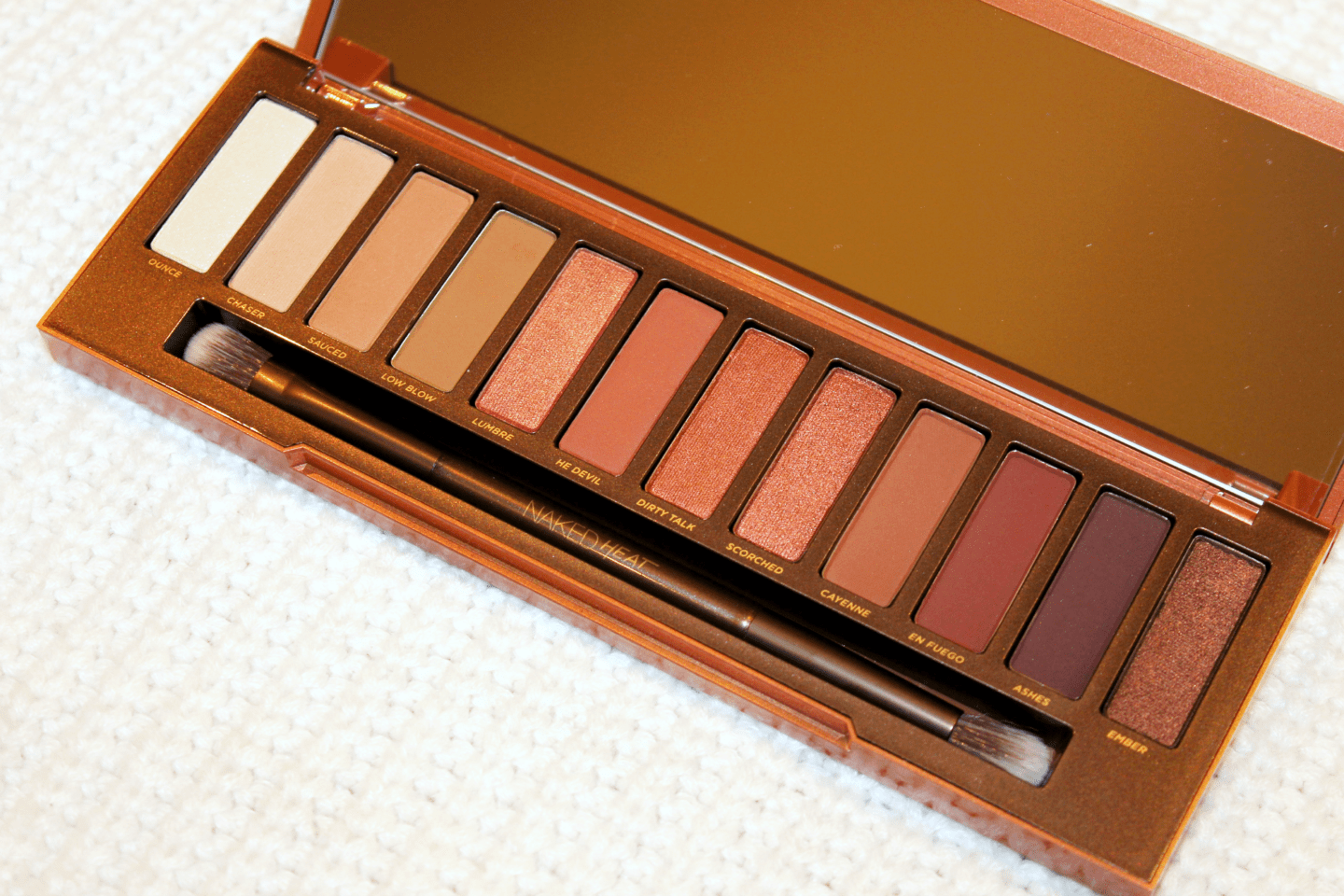 As with most UD palettes, there are some hits and misses, but overall the pigmentation is great. Some of the shades are missing that 'umph', but most of them have great color pay-off, especially Scorched & Ember. There was only one shade that had a dryer formula (En Fuego), but all the other shadows were very soft and smooth. I also think each and every one of these shades blends effortlessly onto the eyelids. Even the mattes blend easily into the crease.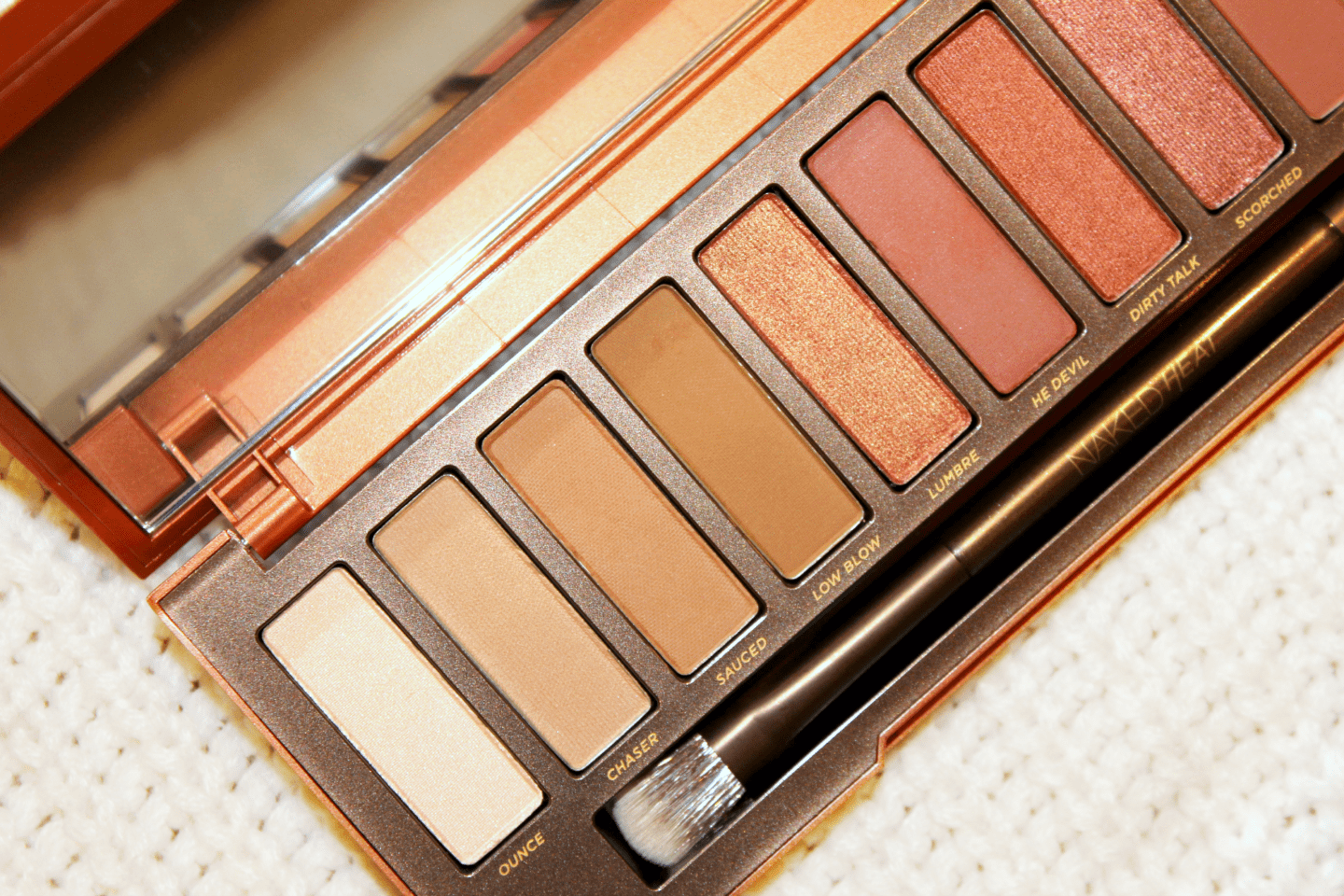 What I love about the shades in this palette is that they're geared towards such a variety of different skin-tones. For paler skin-tones, this palette might not be the most neutral ever, but for those with darker skin-tones it definitely is.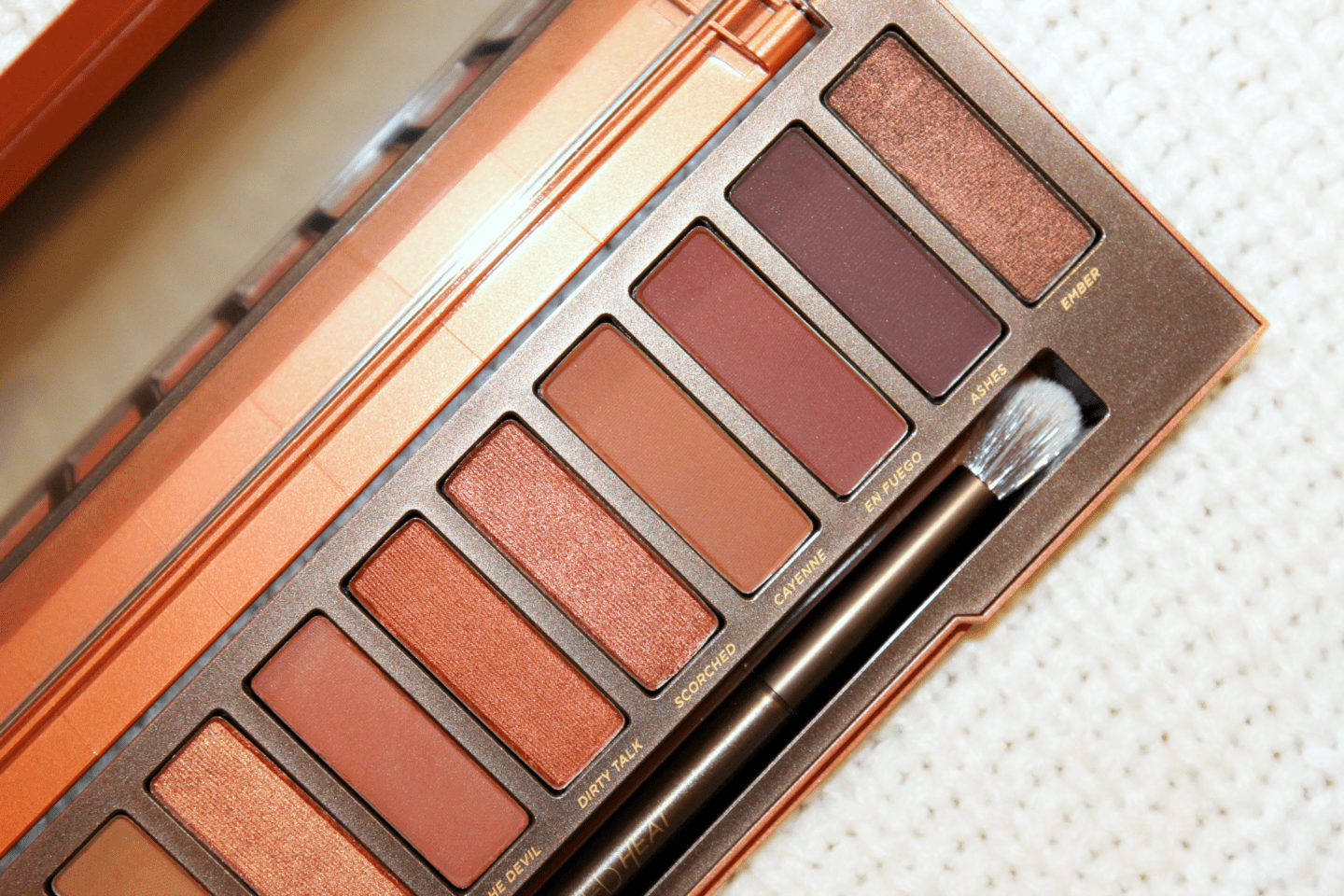 Even though there are 12 different shades in this palette, I do think you're quite limited with the different looks you can create with it. Don't get me wrong, you can definitely go for a more subtle look or build up a more intense evening look. But I'm personally missing a few shades such as a lighter shimmery lid shade, a medium orange for my crease and darker brown or black. Or maybe that's just me being too demanding!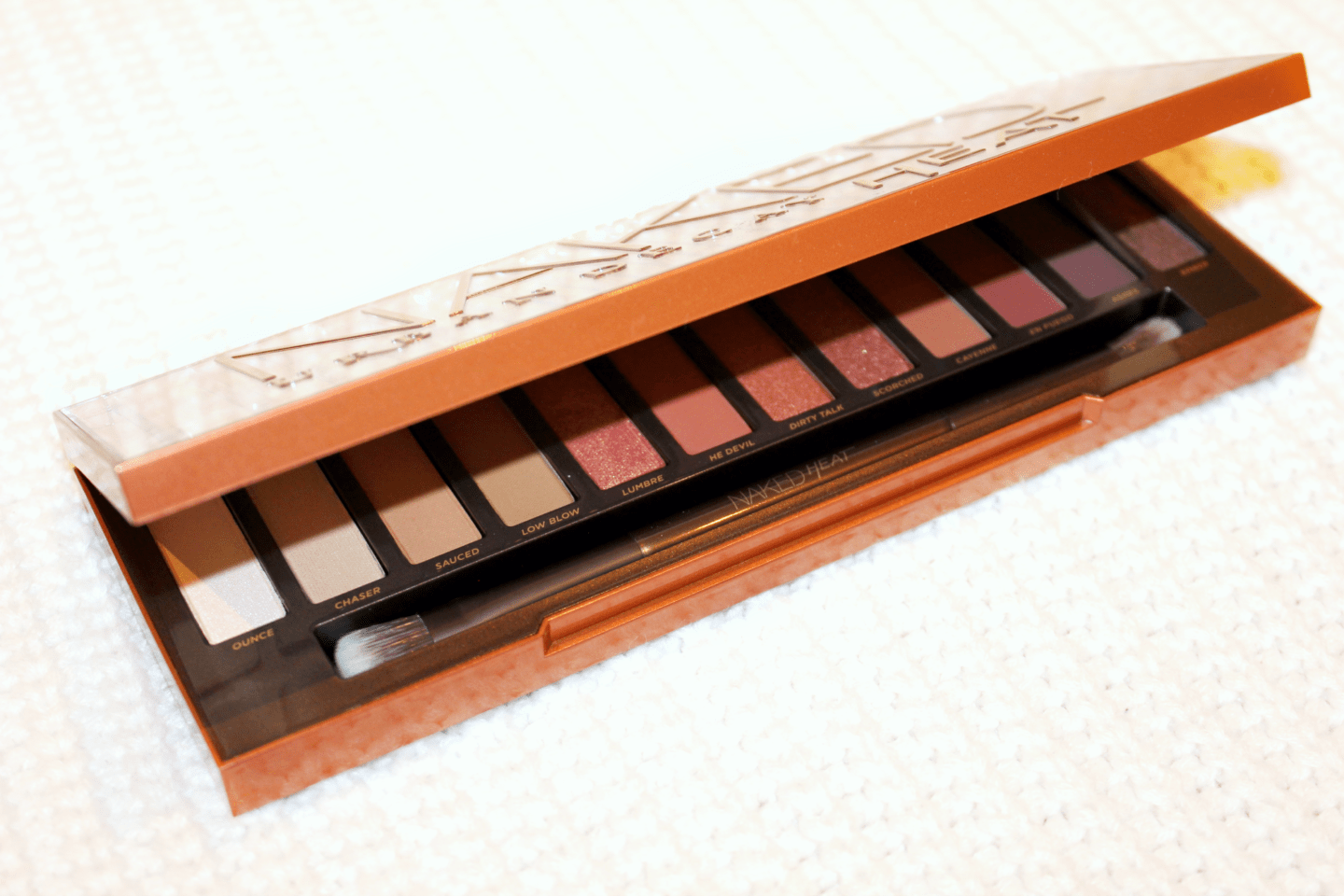 Using a good eyeshadow primer, these eyeshadows lasted pretty well on my eyelids for about 8 hours. After the 8-hour mark I noticed a hint of creasing, but nothing too noticeable. I would say the lasting-power is mediocre, since the eyeshadows also tend to loose a bit of intensity by the end of a long day.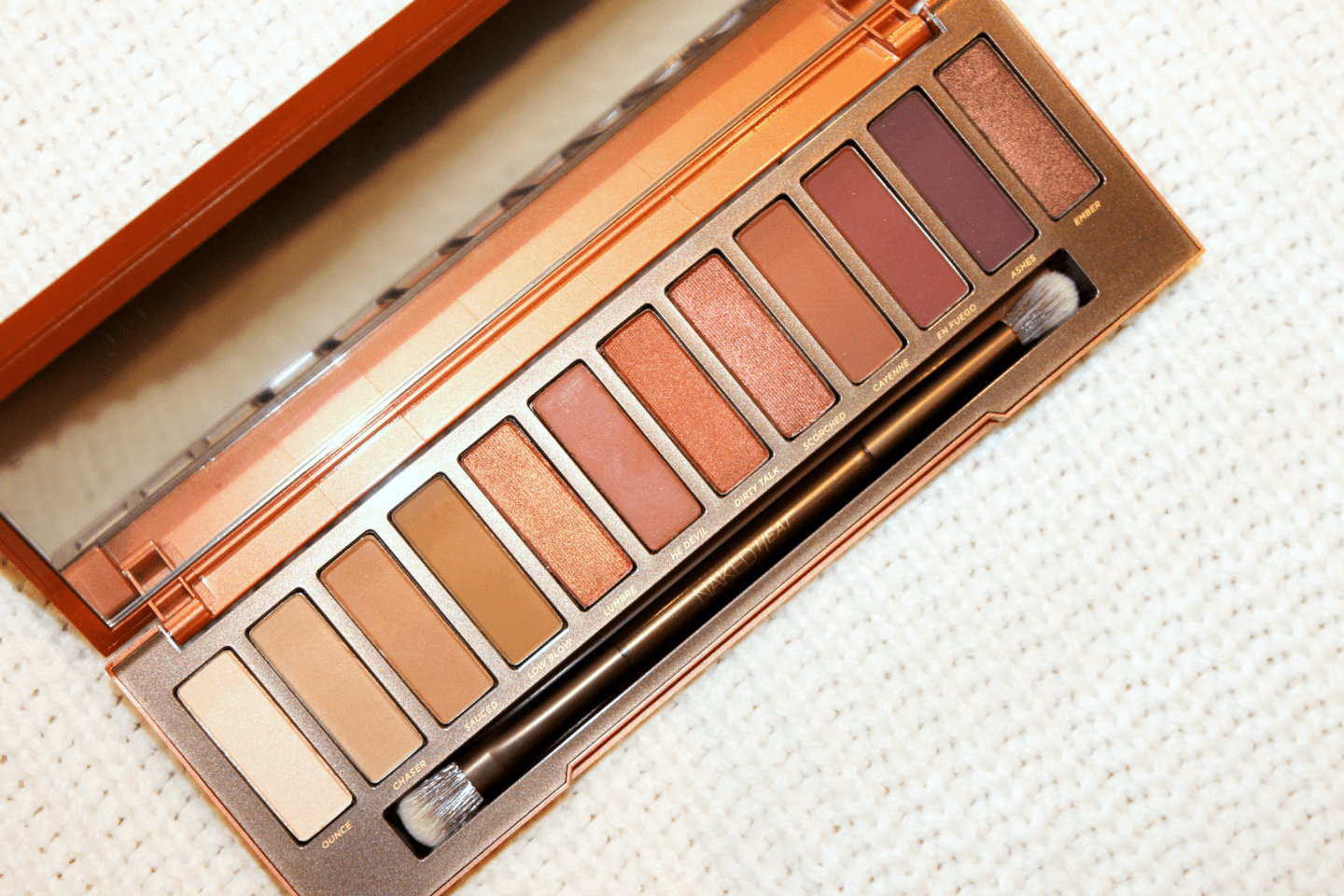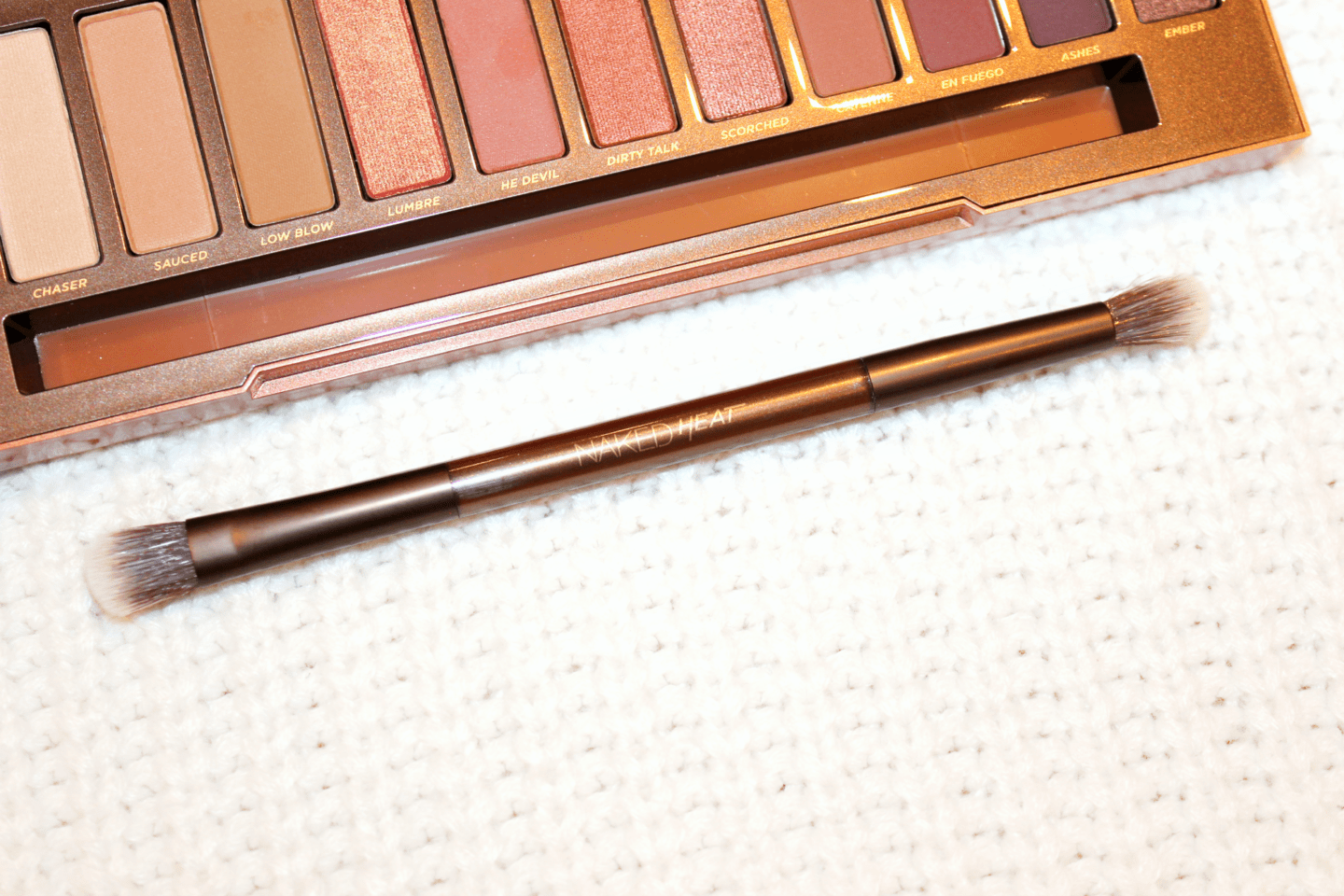 The palette also comes with a double-ended blending / detailed crease brush. Usually, I'm not the biggest fan of brushes that come in palettes since I think they're just a waste of space. However, that's definitely not the case for the brushes UD adds into their palettes. This one doesn't feel cheap and it's actually a brush I would use to apply my eyeshadow. One side is a more pointed crease brush and the other side is more of a flatter dense crease brush.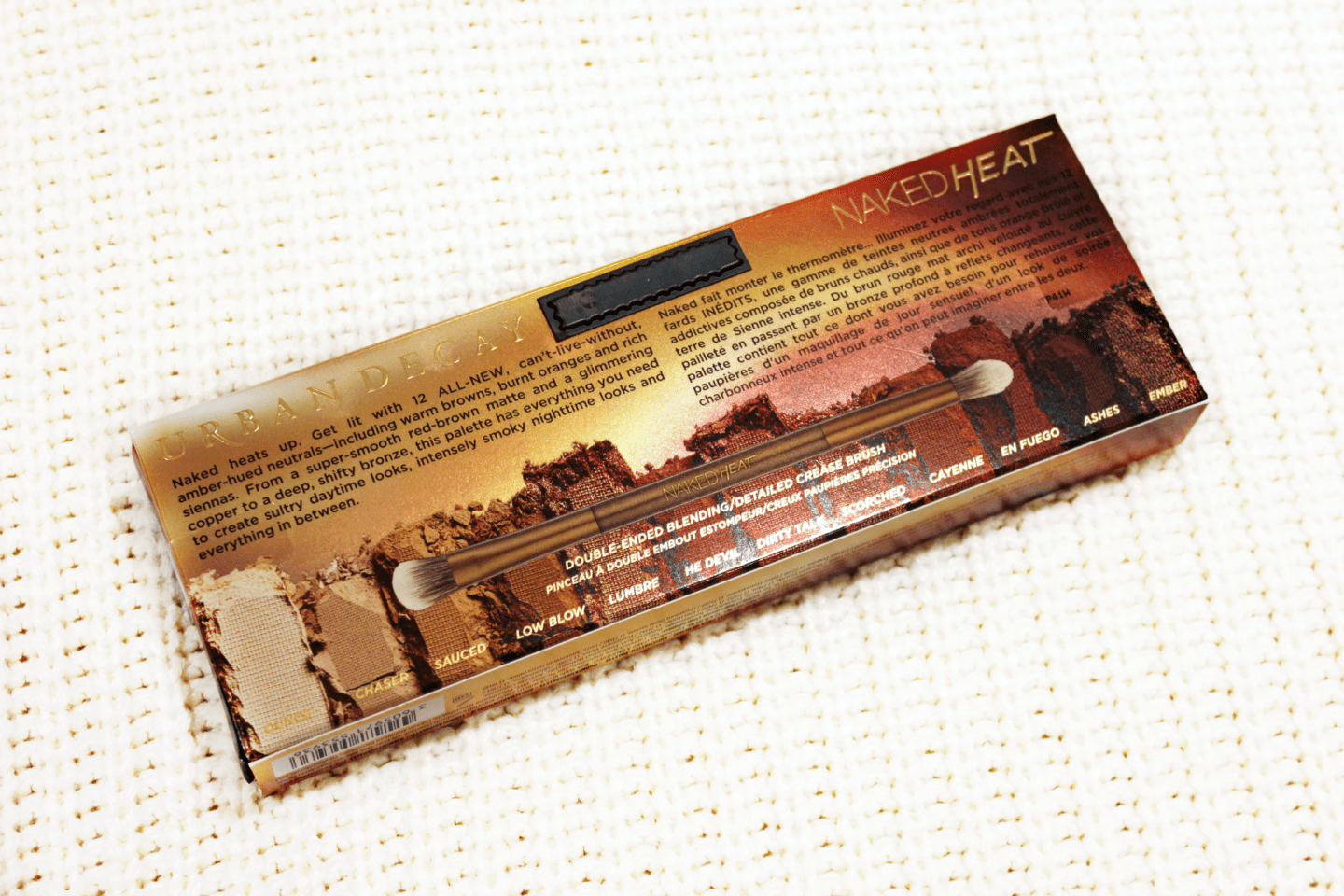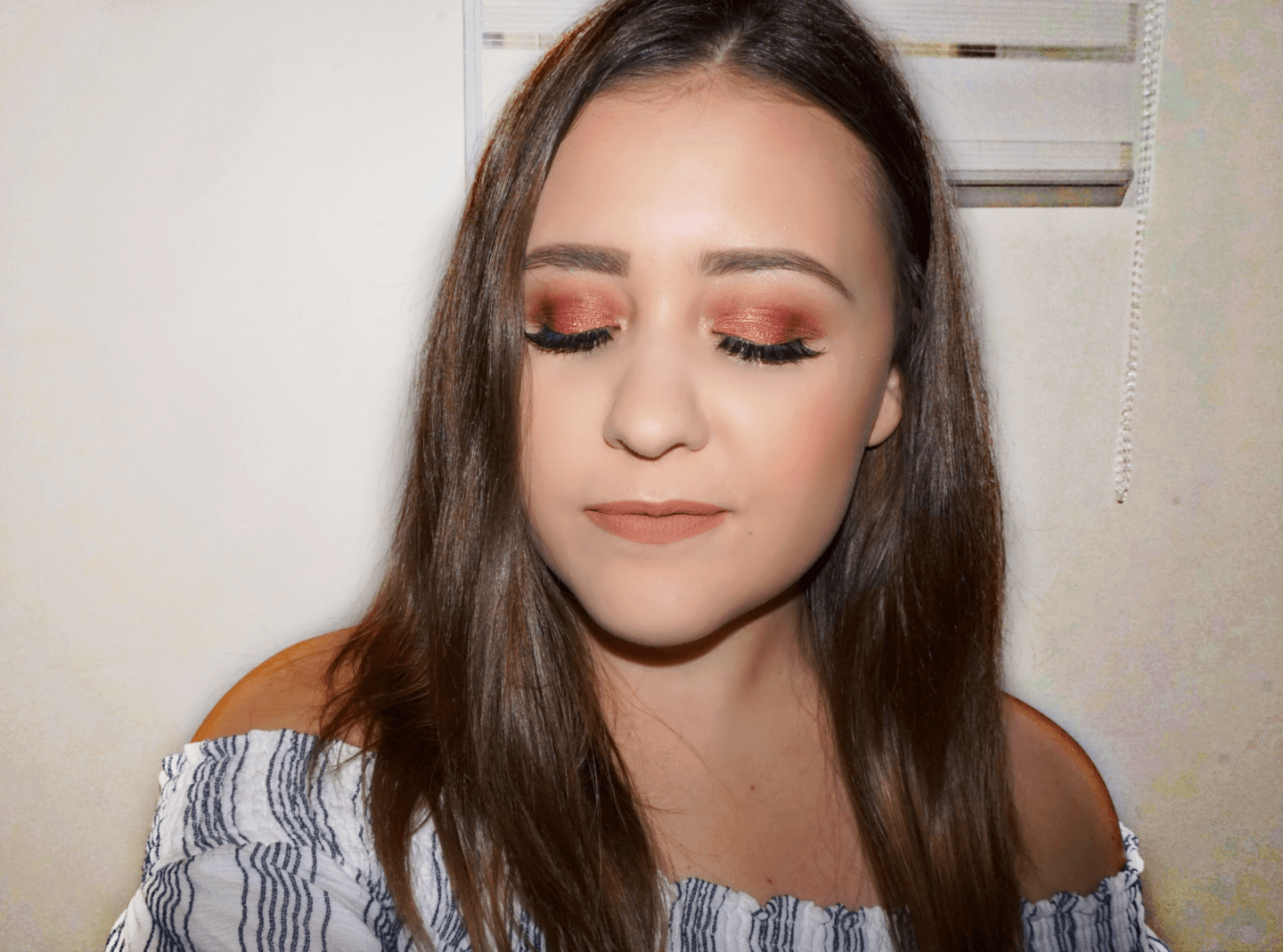 Eyeshadow Look
As you can tell, the look I created looks very warm-toned and in my opinion it's an excellent Fall look. I will post a tutorial on this look in the near future, so keep an eye out on my channel!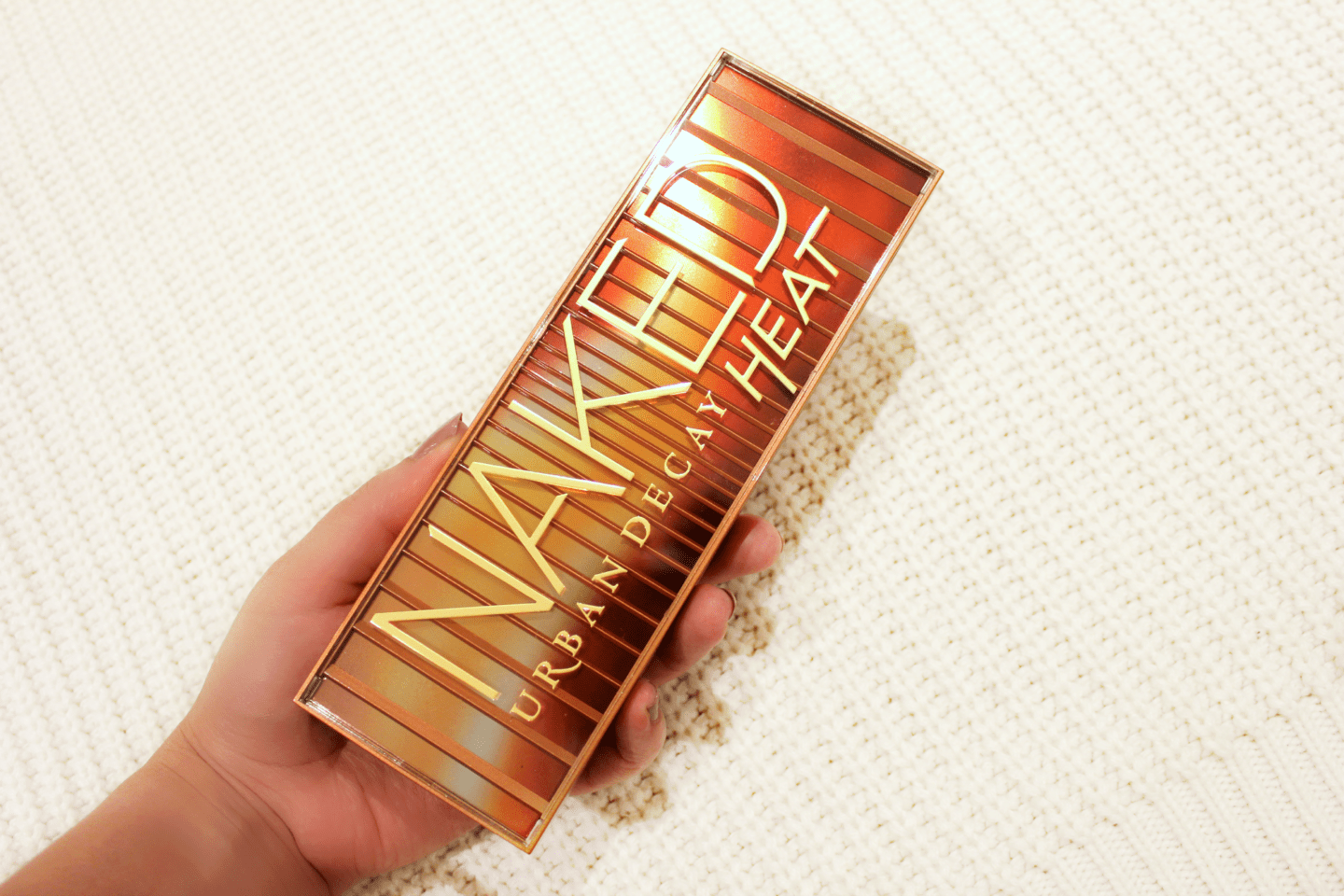 The Urban Decay Naked Heat palette is a gorgeous warm-toned palette with excellent quality. Do I think you absolutely need it in your life? It depends. If you already own a lot of warm-toned eyeshadow palette such as the Anastasia Beverly Hills Modern Renaissance, I think you can skip this. BUT, if you're a makeup junkie, warm-toned lover that can't get enough or just a starter, I think you should totally get your hands on this! The shades also look flattering on just about any skin-tone, which is always nice!
Availability
The Urban Decay Naked Heat eyeshadow palette is now in available in Sephora (online and in stores) and on the official Urban Decay website for US $ 54 / CAD $66 (15.6 g). It retails for the same price as the other Naked eyeshadow palettes, which I think is a bit expensive, but the quality is definitely worth it. Also, if you live in Belgium or The Netherlands, this palette is expected to hit the shelfs by the end of August!